THERE IS ONLY one topic of discussion around Donegal and Mayo this week.
And we sought to get an insight into the respective counties mindsets ahead of Sunday's All-Ireland showdown
Alan Foley, a sportswriter with the Donegal Democrat, and Mike Finnerty, the sports editor of the Mayo News and the GAA commentator with Mid-West Radio, stepped forward to reveal all.
Describe the hype in your county?
Alan Foley: Yes, it's going a bit too far. Jim McGuinness said after the semi-final win over Cork that he wouldn't be able to control the public reaction to an All-Ireland semi-final and he was spot on. He will not let that seep into the players' thoughts and that's the most important thing.
Everywhere you look things are painted green and gold – lamp posts, cars, buildings, sheep! At the last count we did, there were 18 new songs doing the rounds!
Mike Finnerty: It's not as manic to the naked eye. People in Mayo are making such a conscious effort to stay on top of their personal hype, probably because of the previous defeats.
But the hype has become more expressive around the county this week with flags and bunting appearing all over the place. I think James Horan put it best recently when he said the team has matured and so have the supporters. They're better able to deal with the build-up.
What game made you believe this current team could finally succeed and win the All-Ireland?
AF: Confidence grew once Jim McGuinness was appointed and the Kildare game last year when Kevin Cassidy scored the winning point showed how far Donegal had come in just a few months under McGuinness.
I would forgive him for the tactics against Dublin – he tried to pull a stunt like Chelsea did against Barcelona and it almost worked. This year, the tactics have evolved and that's something Jim always said would happen. I backed Donegal  at 10/1 in early June to win Sam!
MF: It's been a strange season in that it was mainly slow and steady, and going into the All-Ireland semi-final, I don't think we realized what state this Mayo team were in. But the first 50 minutes of that match saw them produce excellent football.
I felt they had really turned a corner after that and while Dublin did peg the back in the finale, Mayo did enough in the early stages to suggest they were capable of winning the All-Ireland title.
What has been the biggest disappointment since your county last won the All-Ireland title?
AF: The 2003 All-Ireland semi-final against Armagh. Donegal were awful at the start of that summer, losing in the first round in Ulster to Fermanagh.
But they got a head of steam in the qualifiers, beating Longford, Sligo, Tipperary and Down, before beating Galway in an All-Ireland quarter-final replay in Castlebar. Donegal were huge underdogs in the semi-final against All-Ireland champions Armagh, but performed wonderfully, with Christy Toye scoring a brilliant goal before half-time.
However, Raymond Sweeney was really unfortunate to get sent off for two fouls, while Kieran McGeeney stayed on the pitch when he might've walked. Armagh ground Donegal down and won thanks to two late goals, 2-10 to 1-9. It was heartbreaking.
MF: The 1996 All-Ireland final against Meath. To lose it in a replay after being six points up in the drawn game heading down the home straight was very difficult to take. Mayo were in control of their destiny and then the score that Meath got to level it in the drawn match at the finish just compounded matters.
That Colm Coyle point was outrageous when you think about it, a long ball punted forward that could not be cleared and it bounced over the bar. It was such a freakish thing to prevent a team from winning an All-Ireland.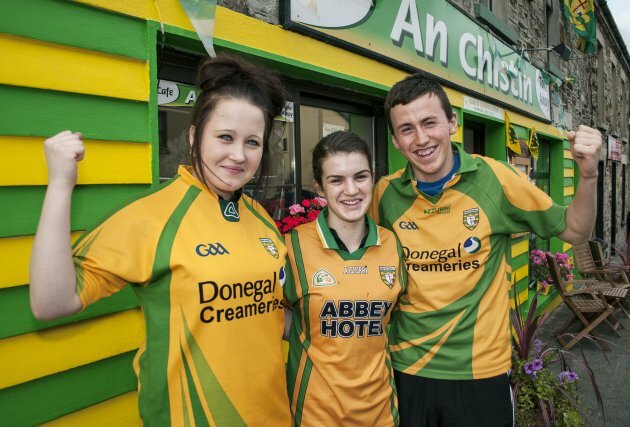 Donegal supporters Kiara Murphy, Karen Durning and Daniel Deak from Dunfanaghy. Pic: INPHO/Kieran Murray
Describe the hunt for tickets in recent weeks in your country?
AF: It's ridiculous. The clubs only distributed them at the start of the week so before that nobody had one in their hand. There are a couple popping up here and there that you hear of, but I've been to a lot of sporting events and never seen anything like the demand there is in Donegal and Mayo for this final.
People are moaning about how Croke Park distribute the tickets but every adult member of every club in the county has been sorted and the clubs are the grassroots of the association. The only people complaining as far as I can see are the folk that would never go to a club match.
MF: It's different to previous years. I don't think Mayo people are as strung out about it. They're not bombarding the county secretary or ringing in radio stations to give out about the allocations. I've got a certain amount of texts and calls from people looking for tickets but it's definitely not on the same scale that it was for previous finals.
I think there are two reasons for that. The costs involved are definitely a deterrent in comparison to other years and also the fact that we have lost a few finals in the recent past. As a result people are slower to commit to buying tickets.
Is there many emigrants returning home for the match?
AF: A friend of mine, Nigel Ruxton from Letterkenny, arrives into Dublin around 7pm tonight. His trip started when he left Brisbane with his Austrian girlfriend Birgit. They have a stopover in Bangkok for a few hours before getting a flight to Vienna, a few hours wait before flying to Graz, where Nigel drops Birgit off to see her family.
He then gets a Ryanair flight about 3 hours after arriving in Graz to Stansted and then a another one to Dublin. It's $1800 to Austria, a further €300 to Ireland and worth every penny he reckons if he gets to the match.
MF: There'll be a huge influx of Mayo people from around the world. As far as I am aware Trevor Howley, who was playing for Mayo in recent years, is flying home from Perth for the game. A good friend of mine is coming back from Sinapgore and there will be the usual Mayo crowds coming back from the States.
We have received plenty of emails as well though from people not coming back, They'll be listening to the local radio or going to Irish bars to watch it. It'll be a very unique final with such a huge Mayo disapora all round the world.
How would you feel after 5pm next Sunday if your team captain is about to lift Sam Maguire?
AF: I'd be absolutely delighted. If Donegal win on Sunday, they would've had to beat Cavan, Derry, Tyrone, Down, Kerry, Cork and Mayo to win the All-Ireland. You can't knock that.
MF: I think it'll be a mixture of joy and great relief. Winning would mean the world to every Mayo person but it's impossible to know how we would react.