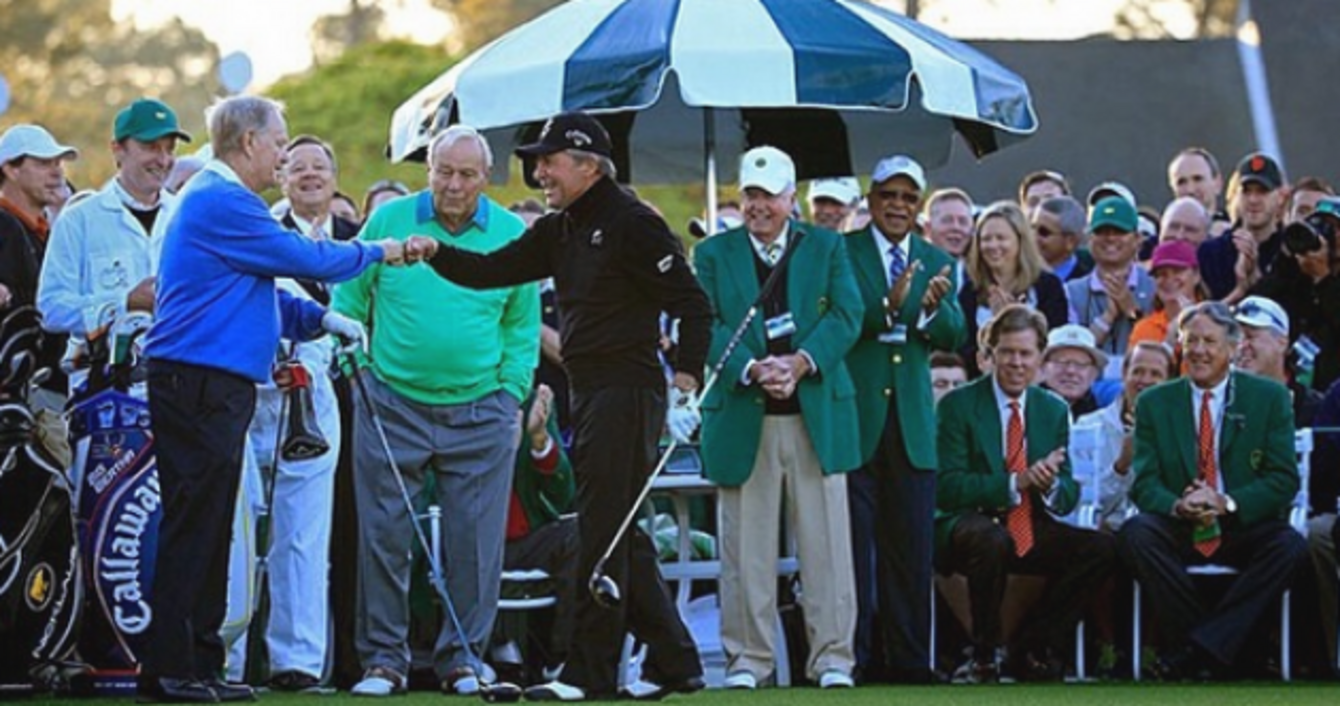 Jack Nicklaus and Gary Player locks fists with Arnold Palmer watching on.
Jack Nicklaus and Gary Player locks fists with Arnold Palmer watching on.
THE 78th MASTERS got underway under blue skies at Augusta National this afternoon with living legends Arnold Palmer, Jack Nicklaus and Gary Player hitting the first balls as honorary starters.
Another legend of the game, though, was missing as, for the first time since he made his debut as a willowy amateur in 1995, Tiger Woods was absent.
The world number one and four time Masters winner announced on 1 April he would not be competing following surgery to repair a pinched nerve in his back that had been troubling him for months.
It was a huge blow for a tournament he has come to symbolize over the last 17 years since his first win in 1997, but players and fans agree that the Masters will always work its magic no matter what.
Even with a fully fit Woods, the tournament would have been as wide open as it has been for years.
Rory McIlroy, with two majors under his belt at the age of 24 following his wins at the 2011 US Open and the 2012 PGA Championship, is generally regarded as being a narrow favourite.
The Irishman, who lost his world number one ranking to Woods last year, was poised to win the Masters three years ago when he carried a four-shot lead going into the final day, only to self-destruct in nightmare fashion with an eight-over 80 which left him tied for 15th place.
McIlroy insists that the scars he endured that day have healed and that he is ready to compete again at Augusta National.
I thought it was a very important day in my career," he said. "It was a big learning curve for me."
"I learned exactly what not to do under pressure and contention and I definitely learned from that day how to handle my emotions better on the course."
McIlroy will go out at 10:52 a.m. (1452 GMT) in the company of two players younger than himself — Patrick Reed (23) and Jordan Spieth (20) — who have both won on the PGA Tour recently.
Reed and Spieth are part of a record haul of 24 Masters first-timers who are threatening to turn the game inside out as the generation that spawned such talents as Woods, Phil Mickelson, Ernie Els and Vijay Singh starts to fade.
Mickelson, who won the British Open at Muirfield last year for his fifth major, still looks a good bet at Augusta National, where he has won three times previously.
The 43-year-old left-hander, who was doubtful for a while with a pulled muscle in his side, is in the first day's penultimate grouping at 1:48 p.m. (1548 GMT) alongside Els and reigning US Open champion Justin Rose of England.
Also among the favorites in a field of 97 are defending champion Adam Scott, who became the first Australian to win the Masters last year, and his countryman Jason Day, who was third last year and tied for second in 2011.
Scott is bidding to become just the fourth player to win back-to-back Masters titles after Nicklaus, Nick Faldo and Woods, the last man to achieve that feat in 2002.
Rose and McIlroy apart, hopes for a first European Masters winner since Jose Maria Olazabal in 1999 rest mainly with in-form Sergio Garcia of Spain and world number three Henrik Stenson of Sweden.
And then there is a menacing-looking group of recent winners — Bubba Watson, Angel Cabrera, Zach Johnson and Charl Schwartzel — who are all perfectly capable of winning again.