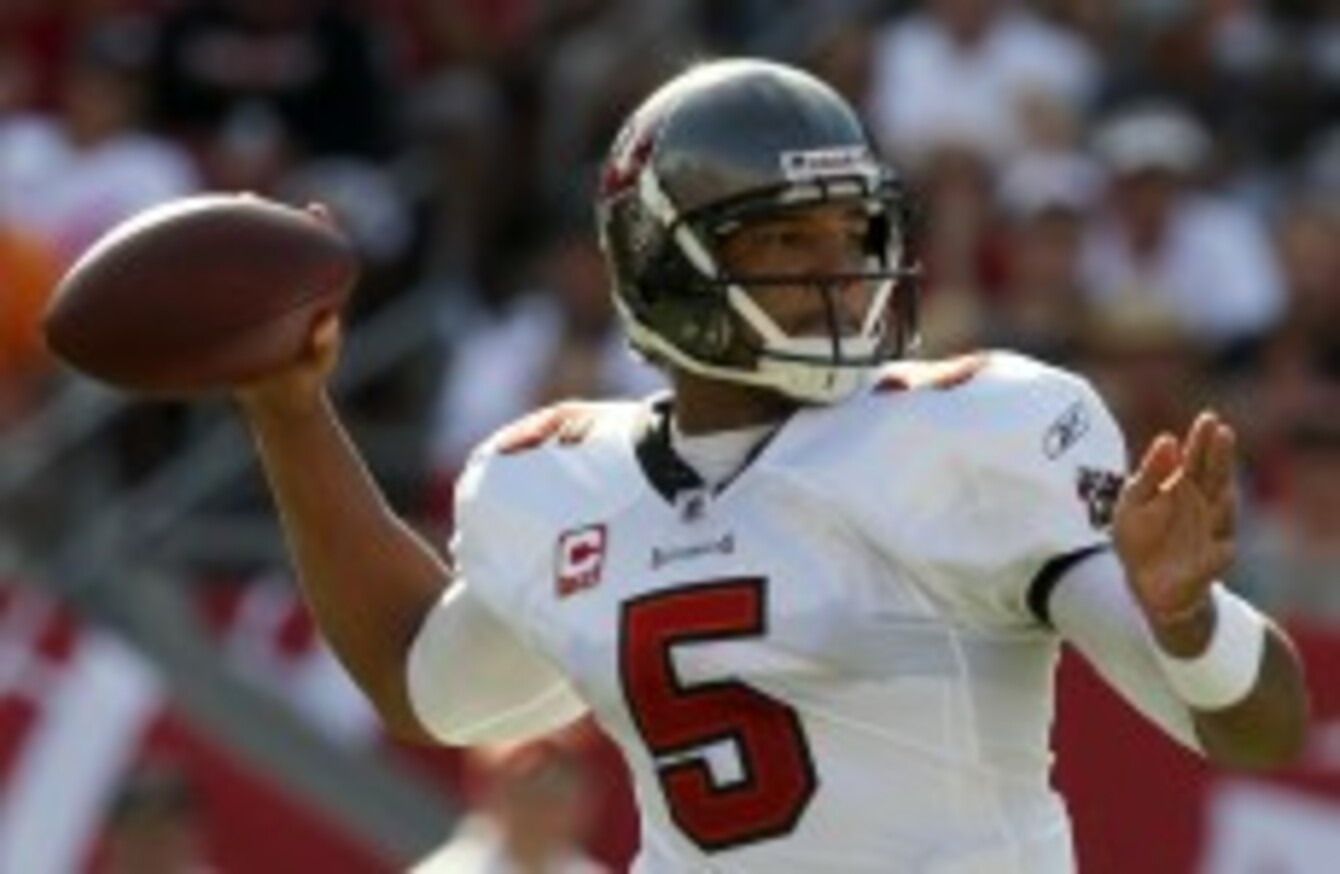 Tampa Bay's Josh Freeman picks out a pass during last week's clash with the New Orleans Saints.
Image: Margaret Bowles/AP/Press Association Images
Tampa Bay's Josh Freeman picks out a pass during last week's clash with the New Orleans Saints.
Image: Margaret Bowles/AP/Press Association Images
Kansas City (2-3) @ Oakland Raiders (4-2)
I really didn't want to talk about the Raiders again, but when they bet the franchise– in the shape of two potential first-round picks– on a retired quarterback with more questions than practices behind him, it made them nigh-on impossible to ignore.
There are many who think the Raiders have overpaid for Carson Palmer. After all, he did have a shockingly bad final season with the Cincinnati Bengals, throwing his way to 20 interceptions and the lowest 16-game quarterback rating of his career.
However, Palmer didn't have much running back support in Cincinnati. At the Raiders, where he can count on arguably the league's best running back, Darren McFadden (Run DMC), he won't have to carry the offensive effort in the same way he was at the Bengals.
He also represents a deep threat that Jason Campbell, for all his good points, couldn't offer the silver and black. Last year, Palmer attempted 266 passes of 21 yards or more resulting in 14 touchdowns. In comparison, Campbell had just one touchdown from 42 attempts over the same distance.
With the likes of Jacoby Ford, Darrius Heyward-Bey and even Denarius Moore, the Raiders have receivers who can burn defences if the ball is thrown far enough. Against a Chiefs defence who are giving up 366 yards per game and are ranked 31st in sacks, the new Raiders QB should have plenty of time to settle in.

Verdict: The Raiders need to get close to the AFC Championship game this year to justify Palmer's acquisition. This will be their first step. Raiders by 10+
The Raiders unveil new signing Carson Palmer. (Marcio Jose Sanchez/AP/Press Association Images)
Atlanta Falcons (3-3) @ Detroit Lions (5-1)
Winning is a habit, and unfortunately, so is losing. With that in mind, all eyes will be on Detroit this weekend to see how the Lions rebound from their first loss of the season.
But results aside, recent events in the Detroit backfield have shown that football can sometimes become a matter of life and death.
On Tuesday, as their first-choice running back Jahvid Best was recovering from a concussion, the Lions tried to trade their back-up, Jerome Harrison, for the Philadelphia Eagles' Ronnie Brown.
The deal was voided, however, when Harrison was found to be suffering from a brain tumour. While his condition is reported to be very treatable, the fact is that his diagnosis was little more than a matter of chance. Had Best not suffered a concussion, Harrison would not have been involved in a potential trade and wouldn't have undergone the tests that indentified his tumour.
When you consider the implications of that, football doesn't seem quite as important. That said, the Falcons can't afford to show sympathy and will look to take advantage of the Lions' problems by putting lots of pressure on Matthew Stafford, who will have to throw 20-30% more than he's used to.
Verdict: While the running game is not as important as it once was in the NFL, it's still necessary to have some threat at RB. Without that, you become one-dimensional, an outcome that that makes defensive co-ordinators salivate. Atlanta Falcons by 3+
Chicago Bears (3-3) @ Tampa Bay Buccaneers (4-2)
London, baby! Yeah!
The NFL's International Series returns to Wembley, where Tampa Bay will give up a home game as part of the league's continuing effort to "promote the brand" internationally.
I'm not sure how I feel about these games. It's clear, up to now at least, that the players don't really like them. And who can blame them? On a cold, wet October day, I'd rather be in Florida than London, too.
It looks like they're here to stay, though, and the Bears will be hoping to put apparent differences between players and coaching staff aside–QB Jay Cutler directed some choice words at his offensive co-ordinator Mike Martz last week– and capitalise on their destruction of the Minnesota Vikings.
They'll be meeting a Jekyll-and-Hyde Buccaneers team who recovered from a 48-3 defeat to the 49ers to beat the New Orleans Saints last week, a game during which QB Josh Freeman contributed his best performance of the season.
Verdict: It's hard to see how the Bears defence will cope with Freeman. Bucs by 6+
All fixtures and predictions
Washington Redskins @ Carolina Panthers – Panthers
Seattle Seahawks @ Cleveland Browns – Browns
Atlanta Falcons @ Detroit Lions – Falcons
Denver Broncos @ Miami Dolphins – Broncos
San Diego Chargers @ New York Jets – Jets
Chicago Bears @ Tampa Bay Buccaneers – Buccaneers
Houston Texans @ Tennessee Titans – Texans
Pittsburgh Steelers @ Arizona Cardinals – Steelers
Kansas City Chiefs @ Oakland Raiders – Raiders
St. Louis Rams @ Dallas Cowboys – Cowboys
Green Bay Packers @ Minnesota Vikings – Packers
Indianapolis Colts @ New Orleans Saints – Saints
Baltimore Ravens @ Jacksonville Jaguars – Ravens
Steven O'Rourke is the Offensive Co-ordinator of Tullamore Phoenix American Football Club, winners of the IAFL DV8s national title in 2010 and 2011. Tullamore are always recruiting new players so, if you'd like to play football and not just read about it, Steven would love to hear from you.