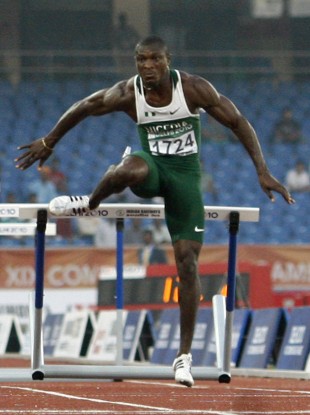 Samuel Okon, the second Nigerian sprinter to fail a doping test, had come 6th in the 110m hurdles final.
Image: Anja Niedringhaus/AP
A THIRD NIGERIAN ATHLETE has failed a drugs test at the Commonwealth Games, causing the squad to lose yet another medal.
Folashade Abugan, who had claimed a silver medal in the women's 400m, gave a urine sample which showed traces of steroids and will forfeit her medal to Guyana's Aliann Tabitha Pompey. Christine Amertil of the Bahamas rises to bronze.
Moreover, however, Abugan's failure also means that her 4x400m relay team – which had also finished second – is also disqualified from the games, with the English foursome assuming the silver and Canada promoted to bronze.
Abugan is understood to have accepted full liability and responsibility for the findings, and has waived the right to have her B sample tested.
The result pours further shame on Nigeria, which has been responsible for the bulk of the inevitable drugs offences at the games. Just two days ago, hurdler Samuel Okon – who had finished sixth in the men's 110m hurdles – tested positive for methylhexaneamine.
The same substance had been found in a sample given by Damola Osayomi who had 'won' the women's 100m.
Gavin Cooney
Reports From Qatar
Get Gavin's exclusive writing and analysis from the 2022 Fifa World Cup
Become a Member
Okon also waived the right to have the B sample tested for the same stimulant.
In Abugan's case, however, the banned substance was an anabolic steroid, prohormone, a separate substance.
The president of Nigeria's athletics federation, Solomon Ogba, had attributed the presence of the banned substance in Osayomi's system was due to medication she had been given  to fight a toothache.