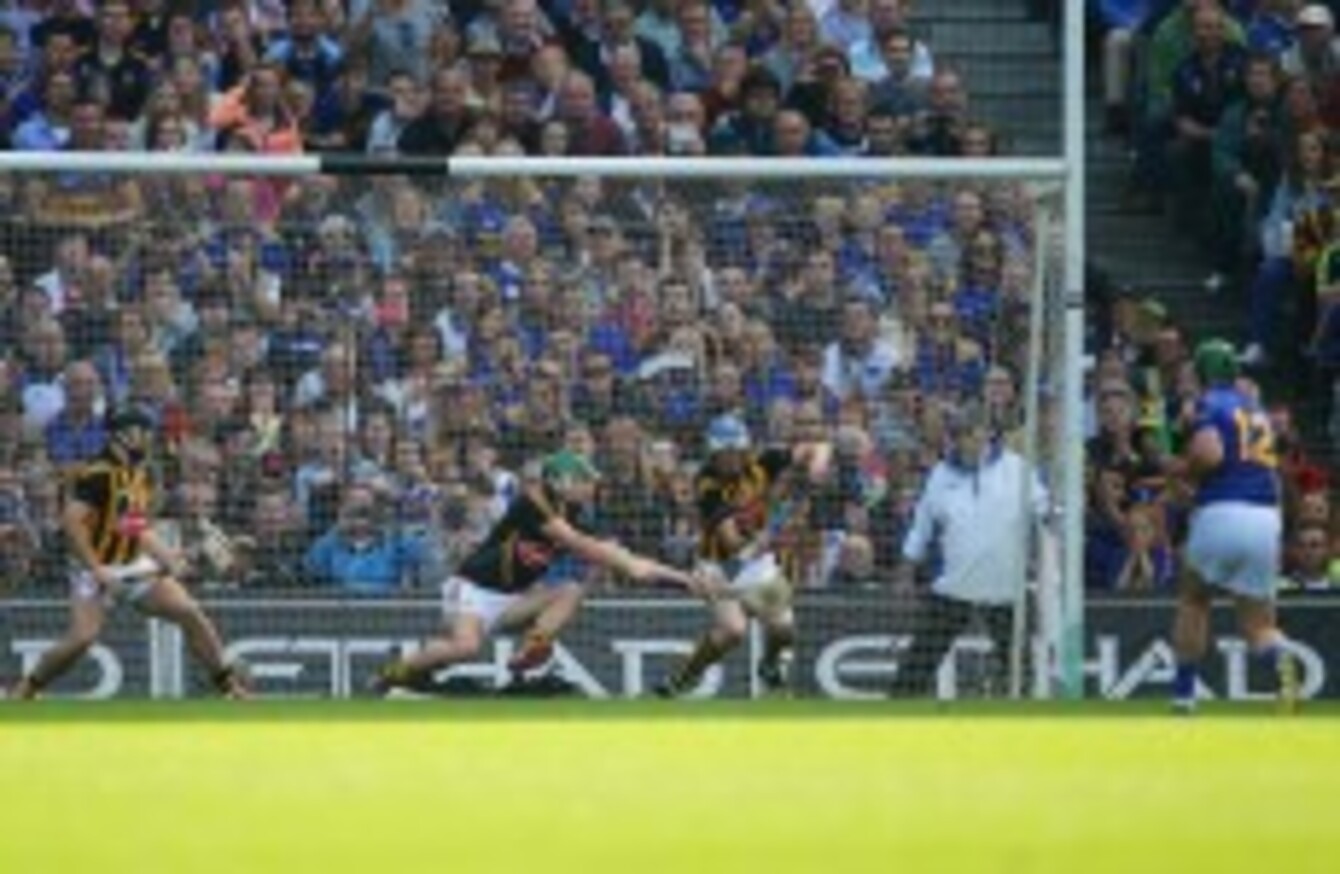 John O'Dwyer sees his second-half penalty for Tipperary saved.
Image: Cathal Noonan/INPHO
John O'Dwyer sees his second-half penalty for Tipperary saved.
Image: Cathal Noonan/INPHO
A YEAR AFTER Anthony Nash's penalty taking style was a major talking point after an All-Ireland hurling final, the issue of penalty striking came into sharp focus again on Sunday.
But now there is a growing view that attacking teams are being punished for winning a penalty as it has become more difficult for them to hit the net in such scenarios.
Tipperary saw their two penalty efforts in Sunday's decider yield no return as Seamus Callanan and John O'Dwyer had their strikes blocked by Kilkenny goalkeeper Eoin Murphy.
Tipperary selector Michael Ryan believes the GAA will now be prompted to change the rule once more.
"The implication is that it is nearly safer to foul. That is not right, that is not the spirit of the intent of a penalty. We got zero out of two penalties
"The intent of a penalty is not that it should be a better option for the backs to pull down a player who is bearing down on goal. I don't know what they are going to do but it has changed everything.
"We weren't entirely happy with what was not known as the "Nash penalty" because that was dangerous stuff. but now we need to find a middle ground. We just need to be careful here that the scales has tipped, the advantage has gone away from the forward.
"I think the GAA will react to it but it won't have reacted by three weeks time. The rules are the rules. They're the same for both sides. Isn't it funny, we tried to correct what was an anomaly earlier on this year and we've probably made it slightly worse."
Ryan reckons players are too focused on striking the ball before the 20-metre line and that it is preventing them concentrate on getting their technique right.
"I think it being still in its infancy, we've had to get used to it. That being a strict line and you can't cross it. Maybe we should more concentrated on and making sure your strike is a yard behind.
"If you're to unleash your greatest shot, you can't be thinking of where your left foot is or where you'll strike the ball. The advantage isn't quite equal in my opinion."