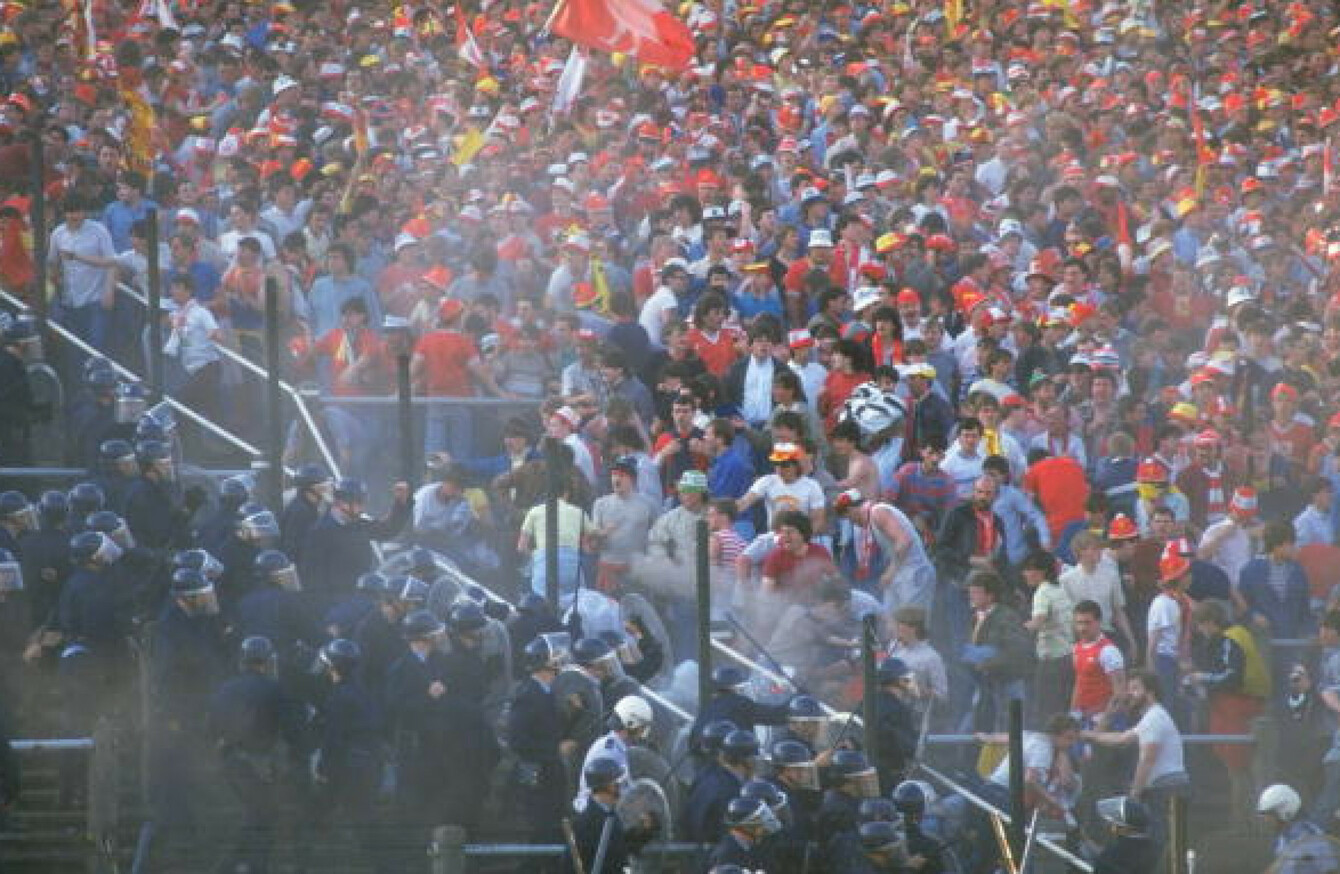 Fans pictured at Heysel in 1985.
Image: Getty Images
Fans pictured at Heysel in 1985.
Image: Getty Images
Updated at 23.07
FOR ANYONE SEEKING to understand English football and how the Premier League came to fruition, a good knowledge of the mid-1980s is pivotal.
A new book, 'Two Tribes,' gives a fantastic insight into this period.
Written by football journalist, Tony Evans, the book provides a detailed look at the 1985-86 football season, with a particular focus on the two best sides in the country at the time, Everton and Liverpool.
The campaign took place under the shadow of the Heysel Stadium Disaster, a tragedy that had occurred months earlier, where 39 people were killed and roughly 600 injured after escaping fans were pressed against a collapsing wall prior to the 1985 European Cup final between Juventus and Liverpool.
The book explores the impact of Heysel on Merseyside and the wider football world, in addition to outlining the political, social and economic problems in Britain at the time.
Featuring interviews with some key figures of that era, 'Two Tribes' highlights how the sport was increasingly vilified by people in positions of power and how the beautiful game ultimately managed to overcome these obstacles and transcend the negative stereotypes associated with it.
The42 recently caught up with its author to chat in detail about 'Two Tribes' and the various issues it examines.
What was the inspiration behind the book?
I'd been thinking about it for a long time, originally around the time of Heysel.
A couple of people said to me you should write a book about Heysel and the build up to Heysel. I kind of thought there were people who were better equipped to do something like that — people with closer ties in Italy and all that.
I was interested in how football bounced back from arguably its lowest point. Given what happened in 1985, with the Millwall riots at Luton and Ian Hambridge being killed in Birmingham against Leeds. The Bradford Fire, of course, wasn't hooliganism, but it added all into the mix.
Football was really on its knees and I remember the television blackout. I was talking to one of the editors at [book publisher] Transworld and he said he'd love to read a book about that era. He'd read my 1983-84 season book — 'I Don't Know What It Is But I Love It'. He said: 'Why don't you put yourself into it and say what your experiences were like?' Because it was basically the players' experiences. I said 'that's the way the publishers wanted it.' He said 'well, if you're going to do this book, put yourself in it.' Get a sense of what it was like to be there in the middle of it. So from that point, it sort of moved on.
The other thing that I wanted to get off my chest was the way the Thatcher government treated the people they considered the enemy within — the miners, the Republicans in the six counties, the Scousers and the brutal attitude they took towards them.
I wanted to give a sense of the political turmoil at the time, because it's similar in many ways to the political turmoil today. So that was my starting off point really and I went from there.
You clearly knew this period very well before writing the book. Was there much that surprised you when you were looking back over the era?
I think in terms of the general political state I was pretty familiar with it all, because I'd done a lot of work in that area in the past. In football terms, the things that surprised me are stuff I don't remember.
Chelsea played a league game the day before they played the Full Members' Cup final and you think: 'How mad was that?' And what I'd forgotten, mainly, was how small-minded the people running football were. How they completely missed the fact that television was their biggest friend rather than their greatest enemy.
In the years gone, they've all put themselves forward as proud founders of the Premier League and its global effect. [Former Chelsea chairman] Ken Bates beams with pride and says: 'I helped create this.' Well actually, you didn't. It was all by sheer luck, because everything that's made the Premier League the huge business it is you tried to stop. So that didn't quite surprise me because you go 'oh yeah, it was bad in those days, but we had a great time,' but doing the research and going deeply into it, you go back and you recall it in much more vivid detail.
They were awful times and the saddest thing is, we're seeing it replicated in Britain at the moment with this government austerity, which is an act of political vindictiveness, it's not an economic policy.
And Brexit again is an act of ideological vindictiveness, it's not meant for the masses, and yet people have fallen for it, the same way they fell for Thatcherism. What I'm trying to say is the biggest surprise is you think: 'We won't get fooled again.' We're being fooled again.
Explain how out of touch Margaret Thatcher was with football and the people that watched the game.
One of the things that Peter Reid and Neville Southall got right [in the book] is they said that 'the Heysel ban wasn't really about football, it was an attack on working-class culture'. Football was the greatest expression of working-class culture in Britain at the time. Thatcherism was conducting an all-round assault on it — the miners, Liverpool in particular was the thorniest problem for Thatcher. It was the only city that refused to back down and continued to fight.
In London, Ken Livingstone backed away from the fight. David Blunkett in Sheffield backed away. Liverpool City Council stood firm and fought them. They had to change the rules and change the laws to get rid of a democratically elected council that pushed through all the initiatives and actually followed through the manifesto. It was an absolute scandal. And Liverpool has resisted, being a thorn in conservatism's side for a long while. The strikes of the '70s, they really loathed the city for that.
It's unimaginable to think, but they actively discussed and managed the decline of the city in cabinet. They actually were withdrawing resources from the city, forcing people to move away. It's mind-boggling to think of it, that they treat a whole section of society that way, and demonise and criminalise them while this was going on.
At a time when we were politically, economically and socially under pressure, the thing we had as flag-bearers were the football teams, who were the best in Europe.
How far did the Heysel Ban set English football back?
There are two ways of looking at it. It set it back by 15 years in comparison to what was going on, on the continent.
But in another way, that's where the first steps began towards the Premier League. Whether you think the Premier League is a good thing or a bad thing is a different question, but it's where the first steps of the Premier League started.
Everyone talks about Hillsborough being the big catalyst for the Premier League — it wasn't. Heysel was the disaster that was the catalyst for the Premier League. Heysel was when football began slowly to get its house in order, to make the grounds a little bit safer, in part as well from Bradford. I'm sure if Bradford had happened in isolation without Heysel, we wouldn't see so many changes. And obviously, we wouldn't have the ban and the impact.
At that point, football started rebuilding. So I think Heysel was the catalyst for the Premier League, but it also really set English football back, but that was the least of the problems [caused by it] — 39 people died, and people shouldn't die going to football matches, football's supposed to be fun.
How significant was the mainstream media's role in how hooliganism and the people of Liverpool in general were perceived?
The accent was criminalised. You should have tried to spend a £20 note in London in the mid-80s with a Scouse accent. Blimey. They examine it, hold it up to the light, show it to their mates and then they wouldn't want to take it.
They assumed you were a criminal. They assumed that you were on the rob. Basically, they de-humanised us. We were untrustworthy, we were dangerous, it's bizarre, it's mad, but the roots of it are in bigotry. They stretch it back to the anti-Irishness of the late 18th and early 19th century.
And they stretch it back to the potato famine and Liverpool's increasingly separate identity after the famine from the other English cities that surrounded it. The roots of all the suspicion and invective lie there.
Football's popularity hit a low after all the controversies of the mid-80s, didn't it?
One of my favourite bits in the book is talking to Mark Bright and when he started. He was saying that 'when you said you were a football player, it was almost as bad as being a football fan'. Polite society didn't approve of you.
Because you weren't on telly all the time and people didn't recognise you, you'd go out for a drink, someone would say: 'What do you do for a living?' They'd go: 'I'm an accountant.' Can you imagine that now? A footballer denying his job? It's reflective of the times.
You'd go to the match and we'd get off in another city and there'd be hundreds of police waiting for you. That was bad enough, but there was also thousands of local scallys waiting for you as well.
I've mixed feelings about [the manner in which football violence was perceived], because when I say it was a dangerous business, it sort of was. But all the time I went, I travelled away on my own without my dad from '75, because he died in '75, regularly through to Hillsborough. In all that time, I probably threw five punches. Two of them were at Liverpool fans. I was beaten up probably once badly. I was kicked around a little bit. And bear in mind, I was doing 40 tours with Liverpool every year.
So I was seeing a lot of football. I was probably seeing 60 or more games a season and there were relatively few instances of violence, but the threat was always there.
I've used the quote from [a 1985 editorial in] The Sunday Times. 'A slum sport watched by slum people in slum stadiums.' You're like 'hang on'. And there's this dismissal and deriding of working-class culture, which was one of the key threads of Thatcherism — to destroy working-class culture, to destroy working-class unity, to destroys the unions, to destroy the mass participation sports that people went to. The sense of community and the sense of togetherness, one of the keys to the whole Thatcherist philosophy was to destroy that.
Would it be fair to say much has been lost now that football isn't really a working-class sport anymore?
You can't imagine the Liverpool and Everton players all being out in the same club, all drinking together, all being mates and when the game comes, wanting to kill each other. Craig Johnston said: 'The thing about derbies was you wanted to kill each other.' He said 'derbies were meatier'. They were all friends, but they all didn't want each other to get one over on them.
Also, they all lived within the community. Bear in mind, the highest-paid player in the First Division would have been earning about 60 grand a year, which was probably three times the average wage at the time or in that ball park.
So they weren't mega stars, they weren't like Hollywood stars in their mansions. They lived very much in the community they came from. So they felt the pressure every day and they saw the effect that derbies had on people.
Graeme Sharp, when he first came [to Everton], people were saying to him: 'Graeme, don't let those red bastards beat us, I won't be able to go to work on Monday.' He thought they were having him on, and then he realised that they were telling him the truth.
I think that's sort of gone and it'll never be like that again, which in one way is a shame, because some of those games, to say they were red-blooded was an understatement. Some of the tackles were like car crashes, and we loved them. Even the 0-0 ones. You have a 0-0 derby now and it's just a boring game. Some of the 0-0s back in the late '70s and early '80s, they were like unarmed combat with studs, they were brilliant.
How good were those Everton and Liverpool sides in comparison to previous incarnations of both those teams?
I think Liverpool were in a period of transition obviously with a new player-manager in Kenny [Dalglish] taking over. There was no moment in the season when I thought we were going to win the league until that night in Leicester [the penultimate league game of the season].
We had a clear idea that we needed to rebuild, we were playing catch-up, we weren't as good as the '84 side, who themselves weren't as good as the '78 and '79 side. We were very conscious that we weren't that good and Everton were so good. The year before, 84-85, they'd been brilliant — they should have done the treble. They were beaten at Wembley by Man United [in the 1985 FA Cup final]. They were very good that season. That side of the mid-80s is one of the great largely forgotten teams of post-war football.
Peter Reid and Paul Bracewell were just magnificent. The way they worked together, they had strength and power all round. They were a formidable side. I'd place them in the top five teams I've seen. One other more remote thing — I'd put them in the top 10 of all First Division or Premier League teams. They were that good. They had everything. What they had most was character. If you wanted to fight them, they'd fight. If you wanted to play with them, they'd beat you.
They had the best goalkeeper in a long time in Neville Southall. Derek Mountfield at the back was superb. They had an amazing spine. Graeme Sharp up front. And when they got Gary Lineker, they were just so dangerous and so quick up front. It really was a titanic battle and the margins were so small. We did the double, but it wouldn't have taken much to switch the other way and them do the double.
Though both sides enjoyed more success after that season, they have not been as strong for most of the years since, particularly from the 1990s onwards. Was the reason for the slump simply a matter of poor player recruitment or were there deeper reasons?
I think there were deeper reasons. Both clubs were run badly. Everton lost an awful lot when [legendary manager] Howard Kendall left for Spain. Then they were run so badly in the ensuing years. They really got themselves into a mess and by the end of the '90s, they were still a stable and fairly rich club, but then the Bill Kenwright era began — all their assets disappeared and with them, most of the hope. They appointed the wrong managers many times, there was chaos in the boardroom and with Liverpool, it was kind of a similar thing.
Kenny Dalglish resigned [as he had been feeling emotionally drained owing to the impact of the Hillsborough tragedy] — what they should have done was told him to go away, get himself together and then make a decision at the end of the season. But they didn't, they brought in Graeme Souness, who wanted to change everything.
David Moores, the owner, didn't think creatively about how he could develop Liverpool and in the meantime, Manchester United were looking at other sports like American football and thinking how they could market themselves globally. They entered the Premier League era with a much sharper business sense and an awareness of what they wanted, plus they had a manager in place [Alex Ferguson] who was about to have one of the most glorious periods in the game's history. They'd already started rebuilding the stadium — it was ready by '96. They knew the extra matchday income would give them more financial firepower in the transfer market. Liverpool and Everton fell asleep at the wheel.
You explore in the book how Liverpool and Everton fans really came together in the immediate aftermath of the FA Cup final and started chanting 'Merseyside' in unison. How important was this moment for the city's image?
I think it was a real crucial moment — it's unprecedented and I can't ever imagine it happening again. It was an awareness that the eyes of the world were on us.
What happened at Heysel had not only blackened the name of Liverpool fans, it blackened the name of every Scouser. There was a consciousness that any misbehaviour or shows of petulance would reflect badly on us all in the city.
For me, Everton and Evertonians are the heroes of the book. It was difficult to talk to the players, because it was a year they don't want to talk about. It's probably the worst year of their careers. But they all understood it. They didn't hold a grudge against Liverpool over Heysel. They were aware it could have happened to anyone.
In fact, they also believed that Liverpool were the least likely team for it to happen to, because our support was not jingoistic, it was left wing, it wasn't anti-foreigner. They understood that and they understood immediately as it happened, Thatcher used it as a stick to beat the city. The rest of the country, who already were pre-disposed to see us as scumbags, saw this as further confirmation of it.
The way the Evertonians stood with us afterwards singing 'Merseyside' and the way the Everton players behaved with the utmost dignity, it just projected the city in a really good light, Scousers in a really good light, and as a wider thing for the game, it confounded expectations that the terraces were populated by hooligans who wanted to rip each other's heads off, drink themselves senseless and kill each other, because they weren't. It was one of the greatest expressions of unity and working-class togetherness I've ever experienced in my life.
I look back now and ask: 'Would I have been as generous as the Evertonians in the same situation?' I hope so, but I'm still in awe of their generosity.
'Two Tribes: Liverpool, Everton and a City on the Brink' by Tony Evans is published by Bantam Press. More info here.