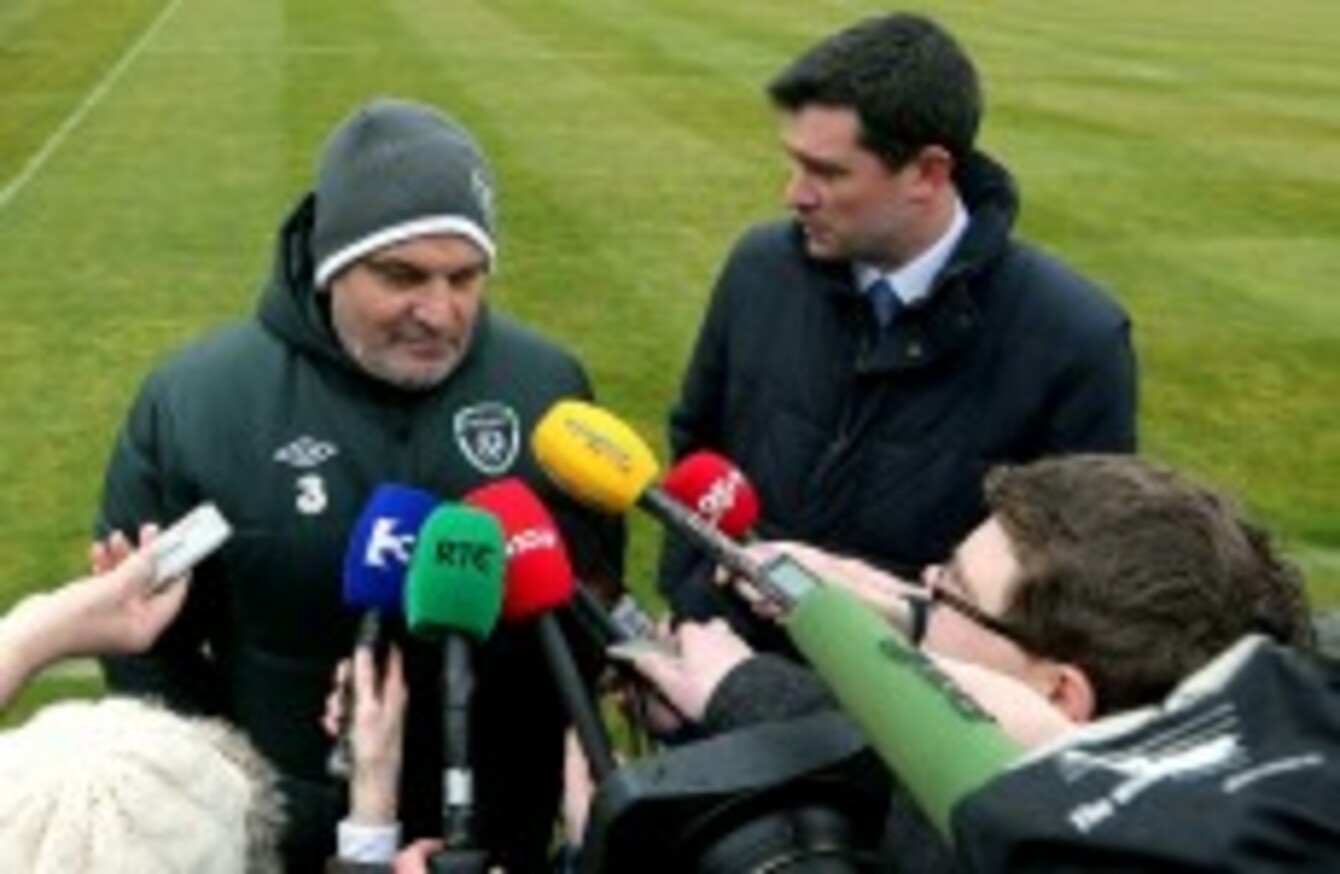 Image: ©INPHO/James Crombie
Image: ©INPHO/James Crombie
IRELAND ASSISTANT MARCO Tardelli this morning defended the decision to drop Kevin Doyle via text message and insisted that the striker's absence does not signal the end of his international career.
Doyle, who has 53 international caps, hit out at Giovanni Trapattoni's communication and said he is "very disappointed" that the manager did not call him in person.
"I thought I might get a phone call but it wasn't to be and I haven't spoken to the manager about it," he said. "Maybe he will speak to me about it in the future and for now I just have to get on with it."
Ahead of the squad's departure for Sweden this afternoon, Tardelli spoke to the media about Doyle's absence. Here's the transcript from the relevant section:
Kevin Doyle has come out and spoke of his disappointment at being dropped from the squad and especially the manner of it by getting a text as opposed to a call. Did he deserve more?

We love Kevin Doyle like we love all the players, but we need some time to choose players for the Irish team. We think at this moment it's better for him to stay out and take another player. We know that he's a good player for us and it's possible in the future that he will come back.

Do you think because he's been such a loyal servant to his country that he deserved to at least get a phone call rather than a text message?

If the boss had called him, you'd say to me that it was better to send an SMS. If the boss sends him an SMS, you'd tell me it's better to call. It's the same thing. We love all the players that give us success. I think all players deserve the same thing and the boss can't call all the players. We know, for us, Kevin Doyle's time is not finished. We know that he is a good player. We know that in the future it is possible for him to come back here.

He said in the interview that he's unhappy because he got a text message. Do you think you might give him a phone call now?

I think Kevin Doyle knows that the boss loves him.

Will you call him now? He said he's disappointed, he said that he's not happy with the way it was done.

(Laughs) I don't know. I must call my daughter and my son some time.

But you can understand that he would have preferred a call as opposed to a text?

No, no, no, don't tell me that. All players deserve everything. I don't know if in the club, the manager calls him or sends a message because they are together every day. I think this is normal. I don't think you always call the player. Why? We have 40 players and the squad is 23 players. It's normal.

What happened when you were a player, Marco? Did you get a call?

No, no. Nobody called me if I stayed out or not, but I was always in the squad (laughs). When I finished in the squad, nobody called me to say stay out. It's football. It's life.

Do you think he's being overly sensitive?

No, no. He's a player. He's a good player and he's a player for the Irish team. We know that he's in the squad always. He's in the 30, 35 players that we decide to call.