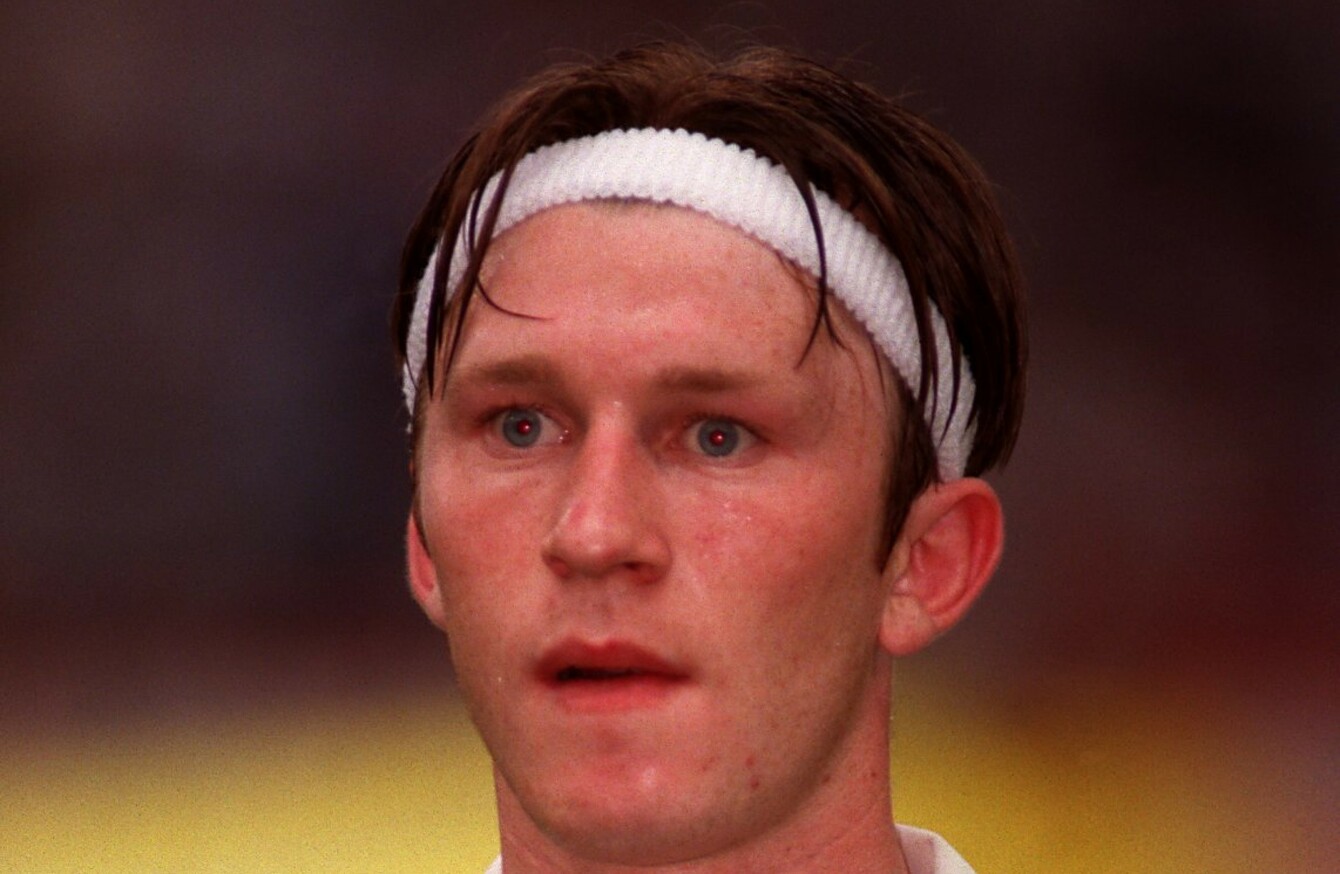 Trevor Molloy had some memorable times with Ireland at underage level before going on to star in the League of Ireland.
Image: EMPICS Sport
Trevor Molloy had some memorable times with Ireland at underage level before going on to star in the League of Ireland.
Image: EMPICS Sport
LOOKING BACK ON the 1997 World Youth Championships, which took place almost 20 years ago now, there are a number of names that catch the eye.
Many players to feature in that tournament would go on to bigger and better things — Michael Owen, David Trezeguet, Juan Román Riquelme, Pablo Aimar, Thierry Henry, Esteban Cambiasso, Jamie Carragher, Nicolas Anelka, William Gallas and Walter Samuel, among others.
1. A memory to last a lifetime
Examining the list of goalscorers during those halcyon days for Irish underage football, one name stands out for different reasons — Trevor Molloy scored twice in that tournament, which was one less than Henry and Owen, one more than Aimar and Cambiasso.
It wasn't bad going for a 20-year-old who had been allowed to leave Shamrock Rovers to join Athlone Town a year previously. If Ireland were the surprise package of that tournament, Molloy was perhaps the team's most unlikely star.
There were more talented individuals playing for bigger clubs in that fabled Irish squad, but Molloy held his own in such esteemed company. As one of three League of Ireland representatives, he was a less than obvious pick initially, but gave himself the best possible chance of travelling to Malaysia by hitting a hat-trick in a warm-up match. Nevertheless, the young attacker still faced an anxious wait ahead of the squad announcement. When the good news was confirmed, he could barely contain his joy.
I remember sitting in my ma's in the hallway, just sitting on the stairs waiting for the phone to ring," he tells The42. "It was amazing. I don't know how Brian Kerr saw me. I didn't know what was going on, I went and had a trial match up in Drogheda against the UAE. I scored. He was making a decision on the team. I got the phone call from him and I remember just jumping up and down roaring crying in front of my ma saying: 'I'm going, going, I'm going to play for Ireland.'"
The team weren't necessarily overly confident travelling over, though Kerr instilled the group with the necessary self-belief. As Molloy later recalled in an interview with The Irish Independent: "The first day we met up in Clonshaugh for training before the World Cup, Brian told us we'd be in Malaysia for a month and to make sure we brought enough underwear. Some of the players didn't believe him and had their holidays booked for three weeks later."
The Irish side got off to a rocky start despite Molloy scoring, as they were beaten 2-1 by Ghana in their opening game. However, a win over the US and a draw with China was enough to see them through the group stages. A 2-1 extra-time victory against Morocco in the last-16 set up a quarter-final clash with Spain. In front of a crowd of 9,000, it was Molloy who scored the game's only goal, slotting home a penalty after 52 minutes. The Boys in Green then bowed out in the semi-finals, losing 1-0 to a richly talented Argentina side, before gaining revenge on Ghana with a 2-1 triumph and earning a bronze medal in the third-fourth place playoff.
It was the start of a golden era for Irish underage football. Kerr would go on to oversee successes at the U16 and U18 European Championships, feats never matched by a team from this country before or since.
As impressive as Molloy performed back then, there was no doubting the star of the team — Damien Duff. Just how good was the future Chelsea winger in those early days of his career?
Oh Jesus, he was amazing," Molloy says. "The best thing about it was he was probably the nicest bloke there. He knew he was special, but he didn't flaunt it. He was one of the lads. And when you're looking at someone like that, he gives you inspiration to go out and do your best.
"He was very shy, but when you have talent like him, you can't be shy on the football pitch, because people want to give you the ball. So he expressed himself in that way on the football pitch."
Source: sp1873/YouTube
2. Where it all began
To come home from Malaysia with a bronze medal having represented your country was the stuff of dreams for a football-obsessed kid from Sheriff Street in the north inner city of Dublin.
I remember kicking the ball in the back garden with my brother William, he had a good career as well," Molloy says, recalling how he first fell in love with the game. "He played for Shels and Home Farm and teams like that. He was a big star with Sheriff YC, he won everything with them.
"Me and him out the back garden. That would probably be my earliest footballing memory. Just putting him in goal and bouncing the ball off his head.
My dad played a couple of games with Sheriff. I remember my ma just saying 'there's a ball, get out and play'. We had a really good five-a-side pitch down in Sheriff Street at the time. All the kids of my generation, all we wanted to do was play football."
Molloy eventually graduated from street football to organised games. He started off with Sheriff YC before joining top Dublin schoolboy club Stella Maris at the age of 13.
It was heart-breaking, leaving Sheriff," he recalls. "I'd always wanted to test myself. Even at a young age, if I saw a player better than me I wanted to get him in a one-on-one situation. That was just a natural step, I was doing well with Sheriff and then Stella came knocking.
"(The club's developement officer at the time) Tom Kavanagh was a really big influence on my career. He looked after me and got me trials. He actually got me into League of Ireland with Shamrock Rovers at the time (who were managed by) Ray Treacy.
Stephen Carr played in the middle of the park (at Stella). Glen Crowe was with the younger age group. Stephen was around the same size as when he was captain of Spurs when he was at Stella Maris. He was a big lad — Spurs and Arsenal were chasing him at the time. We also had Tony Grant there, he went on and had a great career. And Stuey Byrne, he had another good career.
"We had some smashing players. We had a centre half called Damien Cantwell, he was brilliant. There were a lot of players who didn't make it."
And what separated Molloy from the many who failed to carve out a career in the game?
I don't think it's (too much) to do with talent and I don't think it's to do with a lot of stuff. I think it's a lot to do with luck and timing.
"At the time (I was coming through), the League of Ireland was crying out for centre forwards. I was a centre forward and got a couple of goals in my first few games and kicked on from there.
Hard work meets opportunity (is what it is)… I was lucky enough that (then-Shamrock Rovers boss) Ray Treacy took a shine to me. At that time I was a cheeky little chap, I was only 16 and I wouldn't take 'no' for an answer.
"I'd go in playing in the reserves (at Rovers) and I wanted to know why I wasn't starting in the first team. I was scoring goals at Stella and I was scoring goals with the second team, so I couldn't understand why I wasn't starting for the first team.
I was naive and immature, and I suppose I was immature throughout my career. That's just the way I was. If there was a match at the time on the Saturday, I wanted to play that. If there was a match on Sunday I wanted to play that and I wanted to play Sunday night (too). I had a real love for the game.
"I remember scoring a couple of goals in a (reserve) game in Dalymount Park and we beat Bohs 2-1. The following night we played Bohs in the league and I wasn't playing. I remember being disappointed over that."
3. A baptism of fire
Ultimately, Molloy made just a handful of appearances for Shamrock Rovers before opting to join Athlone Town while still a teenager. Terry Eviston, a legendary League of Ireland figure in his own right, was player-manager at the time, and placed his faith in the young striker, who duly delivered.
After being given a sustained run of first-team action, Molloy emphasised his potential with 12 goals in 18 appearances during his one and only campaign with the First Division club.
I was hungry. I really wanted to succeed. Things were going well for me — I was scoring goals and full of confidence, I was full of beans. Terry Eviston took a chance on me and at the time, he needed a centre forward. That's where the timing comes into it for me. When I look at football, it's all about timing.
"(Terry) just let me loose. He said: 'I'm not going to tell you where to play, just go out and play.
I know there's underage football now, but I think you need reserve-team football. I was going out and playing against all the players that were coming back from injury (at Rovers) and I was doing well against them.
"I was going: 'Hold on, I did him for pace in the reserve league, so why can't I do him for pace in the first team?' That was my attitude. And the attitude was, if you kick me, that's a compliment.
"I used to enjoy getting kicked and booed, I thrived on it when I was getting lashed out of it. That was in the First Division, which wasn't nice at the time. You'd get a tackle from behind and there were big, bad centre-halves at that stage. But I remember Terry used to say to me: 'Just go out and enjoy yourself, do what you did on Thursday night (in training).' Then I hit the ground running."
4. The glory years
After catching the eye for Athlone, Molloy agreed to join St Pat's before going over to the World Youth Championships in the summer of 1997. Two of his Ireland teammates in that tournament, Colin Hawkins and Thomas Morgan, also moved to the club around this time.
I think they paid Athlone a bag of balls or a couple of cones or something (to sign me).
"I heard other clubs came in for me after the World Youth Championships, but I had a ball at St Pat's — it's a real family club, they look after you.
(Then-manager) Pat Dolan was a big influence on me. He told a lot of lies but he was a big influence on me. He was telling me that I was doing the 100m sprints in 10.1 seconds. They were world records at the time and I was believing the bleeding man. He was getting my confidence up. Pat got into my head — I would have run through a wall for him.
"We played against Lazio in a Carlsberg tournament and I remember me, him and Sven-Goran Eriksson sitting down at nighttime having a cup of tea in the Davenport Hotel. (Sven's) telling me he's going to watch my career and I'd done great. There were some great memories.
(Pat) was brilliant for me. He had us in training twice a day. He made me very aware about the technical side of it. Terry Eviston would let me go and run amok. Pat Dolan would do the same, but he told me you had to work back as well and 'these are the reasons you have to work back and this is the part of the pitch you work back'.
"He was a bit like Roddy Collins in that you wanted to play for him. If the team didn't win, you felt like you let him down. Roddy was the same as well, he made it personal. Pat would say after the game: 'You know quite well you could have been better. Are you working on your touch? Are you working on this? Are you working on that?' And that'd be straight after the game.
"It could be away to Shelbourne and you're top of the league with two games to go, he'd pull you aside and say these things to you. It was for the benefit of the team that he did it. Looking back, I thought at the time that he was just saying these things to me (for no good reason)."
The aforementioned Lazio game also provided Molloy with one particular footballing memory he cherishes to this day.
The best player I ever played against was a fella called Ivan de la Pena… We were all sucking diesel after the game and he wouldn't swap his jersey with anyone.
"Then he came over and asked for my jersey, and I was chuffed.
He was a Spanish lad, they called him 'the Little Buddha'. He played for Barcelona (before Lazio) and then went to Espanyol… It was Dejan Stanković's first game too."
Molloy, along with his young Ireland underage teammates, were more or less thrown straight into the Pat's first-team under the recently appointed Dolan. The youngster subsequently formed a formidable partnership in attack with Scottish striker Ian Gilzean.
However, that season (1997-98), Pat's looked set to have to settle for a runners-up spot behind a talented Shelbourne side, which included stars such as Stephen Geoghegan and Tony Sheridan. The Saints trailed their Dublin rivals by two points going into the final day, but against the odds, Shels were beaten by Dundalk while Molloy and co won in Kilkenny as the club clinched an unlikely title.
The success continued the following season. Pat's again won the league three points ahead of second-place Cork, with Molloy finishing the season as top scorer on 15 goals. By now, Liam Buckley had replaced Dolan as manager.
They were two totally different teams (the 97-98 and 98-99 sides)," Molloy recalls. "With the first team under Dolan, we were very organised. We had good players in good positions.
"Eddie Gormley was probably one of the best players to ever play in the League of Ireland. He was outstanding. He'd tell me now that 'I used to just sit back and watch you play'. I thought that was funny because that's what I used to do with him. He sort of took me under his wing as well in the European games. But with that team, we worked our socks off. We never gave anybody a second or an inch.
A bit like the old Barcelona used to press high, we'd be pressing. As soon as (an opposition player) got the ball, there'd be six players on him. All the young players would be running amok. The likes of Eddie would be sitting back and saying 'go there, go there'. We'd be running around like fireworks.
"The second team under Bucko (Liam Buckley), we played 3-5-2 and again, Martin Russell would be in there pulling strings with Eddie Gormley. We had good players at the back. Me and Ian Gilzean were up front as a pair. We scored a lot of goals between us and played a lot of good football.
In my generation of League of Ireland, that was probably the only team that got the ball down and wanted to play. It was a bit naïve at times, but we did it — we played. We went down to Cork and got the ball down. Not many teams at the time went down to Cork and tried to play football. Most teams just got it, kicked it and rushed.
"Those two years at Pat's were probably my best period in football. It was just the enjoyment. Inchicore, Friday night, a bit of rain, old Harry (Boland) — God bless his soul — he'd have the pitch perfect. The lights would be on. There'd be 4,500 people there. We used to get great support."
The following season, however, was a disappointment. The club's bid for three-in-a-row fell well short, with Pat's finishing sixth, after Dolan had returned as manager midway through the campaign following Buckley's sacking.
5. European dream
Amid this unsettled environment, ahead of the 2000-01 campaign, Molloy left Pat's to join Bohemians for a club record fee of £40,000. He took little time to make an impact at his new team, scoring a crucial penalty in the away leg, as Bohemians stunned Aberdeen in the Uefa Cup.
What are they
really like?
Rare insights on sport's biggest names from the writers who know them best. Listen to Behind the Lines podcast.
Become a Member
Source: Peter O DOHERTY/YouTube
The next round was not so positive, however. Molloy was sent off in a 3-1 loss against a Kaiserslautern side that featured stars such as Miroslav Klose, Youri Djorkaeff and Mario Basler. The Irish team nonetheless managed to secure an improbable 1-0 away victory, with Glen Crowe on target, as they bravely bowed on aggregate against a team managed by Otto Rehhagel, who was less than four years away from winning the Euros with Greece.
Yet Molloy would still be an important figure at the club, helping them to a league and cup double in his first season there, pipping Shelbourne to the title by two points, while earning a 1-0 victory over Longford in the FAI Cup final. He credits Collins with getting the best out of him.
I signed for Roddy and straight away, I wanted to do well for him. He took a big chance on me. I blew my knee out in pre-season training. But I got back fit for the first game against Aberdeen. I scored a couple of goals before that. We played Aberdeen away and I scored the winner.
"I remember him pulling me aside and saying 'there's more in you, keep going, you shouldn't be here, you should be in England at this time, but you have to keep working hard,' and that's what I did for him. To be honest, I wanted it that way with Roddy. I don't know if he was a father figure or anything like that, but I just wanted to learn at that time, I started thinking about the game. It doesn't matter what people say about him, Roddy has so much knowledge about football. He's a real tactician. "
6. A move into the unknown
Bohs failed to build on this success the following season, however. Despite reaching the FAI Cup final for the third year running, they were beaten 2-1 by Dundalk this time, while they could only finish fourth in the league. Collins had left in the aftermath of their double success, having falling out with the board.
Following a brief stint as a consultant for Drogheda, Collins was appointed manager at Carlisle while the wheels were in motion for Irish investor John Courtenay's takeover of the club. Once the Dubliner took charge, Molloy soon followed him to the Third Division outfit, after playing with Shels under Pat Fenlon on a short-term deal while he awaited clearance to join the struggling English team.
Source: killianM2/YouTube
The project did not end well, however. Early on, Molloy scored but was also one of three Irish Carlisle players sent off (Richie Foran and Brian Shelley were the other two) amid a 1-0 away win over Lincoln, in which the then-25-year-old striker also scored the only goal. It was Molloy's sole strike in five appearances with the club. He was back in Ireland after just two months. The player's three-year contract was swiftly terminated as he failed to feel at home with the Cumbrian side.
Me and Roddy were grand over there," he says. "It's just that I couldn't settle. I'm a real homebird.
"The timing was all wrong going over there as well. The football wasn't bad at all. We tried to get it down, but it's hard to get it down in that league, most of them are all six-foot-five and basketball players. They're all huge, and they're all athletes, but they can't fucking string three passes together.
It's not that I didn't enjoy it, the football side of it was great, it was just the other side of it — I was a bit immature. I think I made the right decision to come home.
"If I had to do it all again, I think I'd do a little bit better but I'd still enjoy it."
7. Good times bad times
After returning to Dublin, Molloy linked up with Shamrock Rovers, the club he supported as a boy, for his second spell there. Yet like the Carlisle experience, it would ultimately turn sour. There were some promising signs initially. He became a fan favourite at Rovers, finishing the season as their top scorer in 2003 and being named player of the year at the club the following campaign.
But Molloy was joining a side that lacked stability and quality. In 2003, they finished seventh out of 10 teams in the Premier Division, while the following year they were ninth. By 2005, disaster struck — Rovers came 11th and subsequently were defeated 3-2 on aggregate by Dublin City in a nail-biting promotion-relegation playoff. For Molloy, it was "the lowest point of my career".
I made myself sick with worry and all that kind of stuff," he recalls. "I was a fan of (Rovers) at the time.
"They were my first League of Ireland club. I had an affinity and an affection for them. But football is football. The team you want to do best for, it doesn't work out like that."
When you're getting bounced around, which Rovers were doing for years, eventually something was going to happen. They had no home and the supporters got a pain in their arse. There were some players who were there to just pick up a cheque, they weren't playing for the jersey.
"And that's why I have a lot of respect for the Shamrock Rovers fans. They stood by the club. It was just a horrible time. There were money troubles, troubles on top of troubles, people mortgaging their homes to keep the club afloat.
It gets to players eventually, not having a home pitch and somewhere to train. It showed that year when we got relegated. I think I went down to 10 stone. But again, it's just the way football goes. I take it personally, I don't switch off from it.
"(Rovers' relegation) took a lot out of me, to be honest."
8. Falling back in love
This footballing trauma left Molloy in a disillusioned state. Ultimately, he reluctantly left a financially troubled Rovers side, as his contract was terminated amid an amicable departure. His next move saw him agree to a second stint at another former club, St Pat's.
In his year back at Richmond Park, Molloy registered six goals in 27 appearances. The Saints finished an unspectacular seventh in the league, though managed to reach the 2006 FAI Cup final.
Molloy scored what looked like a winner in the Irish season's showpiece event, as his penalty put Pat's 2-1 up against Derry on 74 minutes. However, a Clive Delaney goal six minutes from time brought the game to extra-time, before an incredible 30 minutes saw the Candystripes emerge as 4-3 winners in what was the last match at the old Lansdowne Road.
I went back to Pat's and had a great time. I had sort of fallen out of love with the game, but (the manager) Johnny McDonnell had got me back into it. We got to the final, I scored in the last couple of minutes, I thought we were going to end the (FAI Cup) hoodoo at Pat's.
"We had a great side. (Then-assistant manager) Liam O'Brien's training was excellent. I think Bray at the moment are getting the benefit of him. He's honest as well. He's not one to say 'you didn't have a great game,' he tells you 'you were fucking shite and you need to start working hard'. Players respect that, players want that.
"I still used training sessions of Liam O'Brien's when I was a manager (at Ardee Celtic). They're still as relevant today as they were all those years ago."
Source: Niall Conway/YouTube
The cup final would prove to be Molloy's last-ever game in the League of Ireland. Having turned 30, he joined Motherwell along with two other Irish players: Danny Murphy and Paul Keegan. Not put off by his previous negative experience playing football in Britain, Molloy seized the opportunity of a new challenge.
When it came around, I just went 'fuck it'. I'm having a pop. I want to see how good I am. That's the way it worked out. I went over. We did another pre-season. I played a couple of games, then I blew my knee out. I trained so much that my body sort of gave in on me. That's the luck and timing you need — I didn't get that over there.
"I sort of set up sticks. We got a house over there, we settled and all. I was ready to go for the new season and all of a sudden, my knee popped out on me.
It wasn't meant to be, but I went there, had a go and it didn't work out. I didn't hide from anything, I didn't do anything that I shouldn't have done, I just had a go. And that's how I'd like to be remembered in football — no matter who I was playing against, I always had a go.
"I was known for doing a few tricks, but I always worked my heart out.
"I believe I could have played near enough the top league in England if I got a bit of luck, but sometimes it just doesn't happen. There was another time I was at Pat's, Hearts came in and offered a massive amount of money. But it didn't happen."
9. Indian summer
After being released less than a year after joining Motherwell, with recently appointed boss Mark McGhee deciding he was surplus to requirements following an injury-ridden few months that encompassed just seven first-team appearances, Molloy went back to Ireland and signed for Glenavon.
While this period of his career paled in comparison to the glory days at Pat's and Bohs, the lack of trophies did not prevent Molloy from enjoying his time with the Armagh club.
We had a smashing team up there and all they wanted to do was make the club better. They had a fella called Hubert Watson, and he's probably the only chairman I still talk to now.
"He looked after all the Irish boys down there. He couldn't be doing enough for you. And I'm not talking about money or anything like that, just being nice, being a friend.
It's strange. I hurt my leg up there after two years, we were always fighting relegation, we hadn't got a great side, but we fought it with a smile and the club got better the longer I was there. We got (Tony) Grant-y up there for the last few years and a few Irish lads. It was a great time and the football up there is competitive but it's not as free-flowing (as the League of Ireland).
"I enjoyed it. I blew my knee out when I was 30 and I got another four years out of it… They told me I couldn't play anymore and I'm still playing."
Epilogue
After he was released by the club in 2011, Molloy went into semi-retirement. The former star continued to play in the Leinster Senior League with Bluebell United and also tried his hand at coaching, managing Duleek in 2014 and Ardee Celtic for their 2015-16 campaign, while he also had a short spell as Roddy Collins' assistant at Monaghan United in 2012.
However, having recently turned 40, Molloy — who counts Stephen McPhail, Glen Crowe and Paddy McCourt among the best footballers he has ever played with — is currently taking a break from football.
"My wife had a baby and the baby wasn't well, but it's going grand now," he explains.
I'm still with Bluebell and I'm still with

the Irish over-40s team

… The highlight of my career was any time I put on the Irish jersey to be honest. For the 21s, the 20s and even now, for the 40s. It brings back memories and lets you live out your dreams again."
Molloy plans on finishing his badges in the near future and aspires to become "the best coach in the League of Ireland" one day. With his young kids keeping him busy, the Dubliner rarely gets a chance to meet up with his old League of Ireland mates now, though one familiar face was recently in touch.
I got a phone call there off Brian Kerr. They're going to try to get the (1997 Ireland youth) team back together for a lunch and a walk in the park or something like that (to commemorate the 20-year anniversary of the tournament).
"Believe it or not, my brother just gave me my signed shirt from Malaysia with a medal in it and a picture of the team with a big massive frame. I was 40 there the other week, so he did that for me.
"That was a nice surprise and the thing with Brian Kerr, it's nice to do that. It'll be great to meet all the boys again."
Over the course of our half-hour conversation, it becomes clear that Molloy has had to sacrifice a lot for football, but then the sport has given him so much in return.
It was always a struggle (getting by)… I remember my dad saying to me one time: 'How much are you making?' I told him and he said: 'Jesus Christ, let me get you a job.' He wanted me to get a fucking job. I said: 'Get the fuck out of that.' You have to enjoy your football, it's only a short career.
"On a sunny morning… Well, it wasn't always sunny, but you were going out and kicking a ball with 21 mates.
I just completely focused on football. Football was everything to me. The be all and end all of everything. Play good football, come home, watch football, go back out and train on my own, come back in, watch football, go to bed. That's basically what it was.
"It's not a bad thing. My parents did a great job the way they brought me up. Where I grew up wasn't the best place in the world to grow up. But we had a ball, we had a goal and we had a pitch, so we had great times."
The42 is on Instagram! Tap the button below on your phone to follow us!