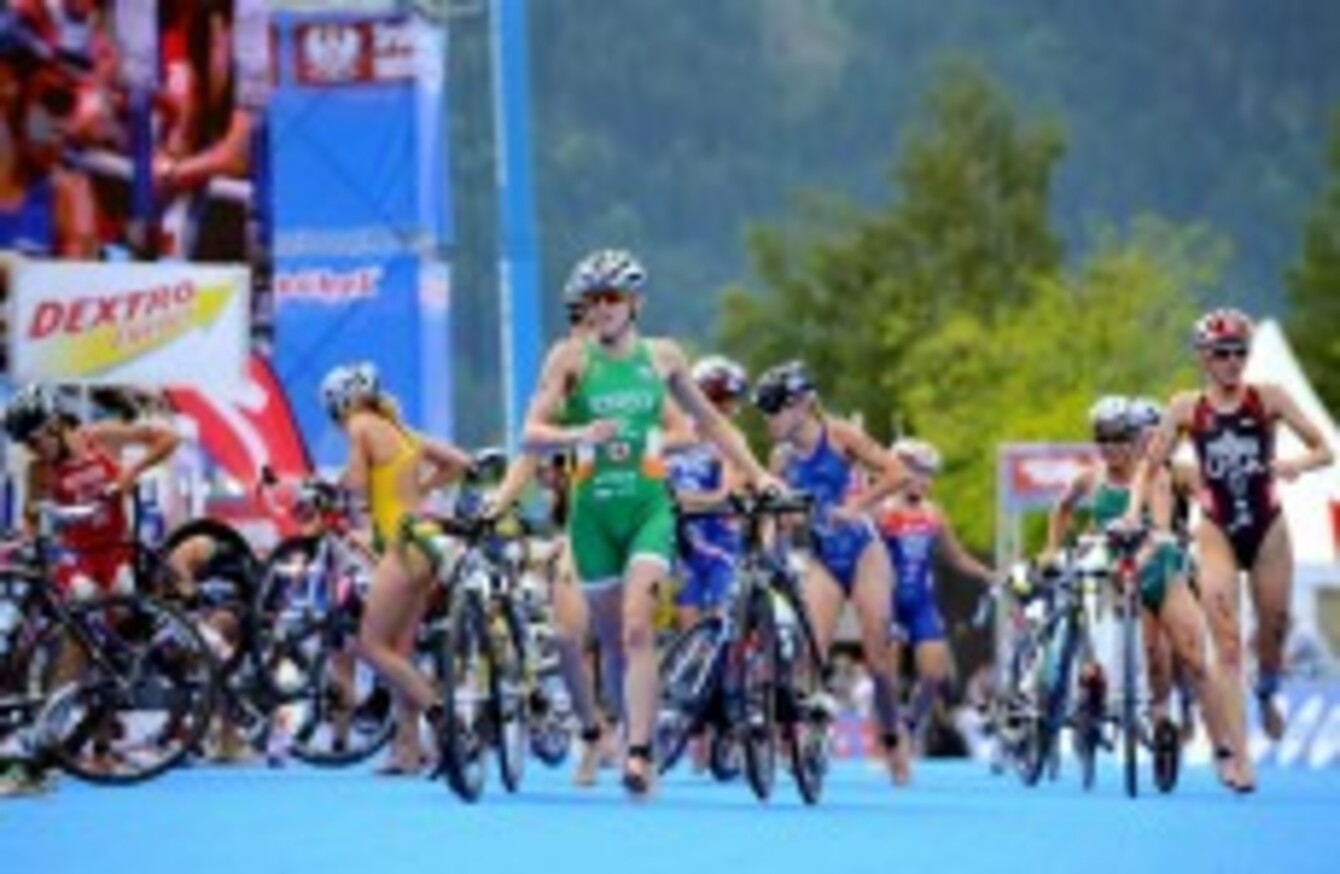 Image: Janos Schmidt ITU
Image: Janos Schmidt ITU
WHILE DERRY STAR Aileen Morrison was competing in her final Olympic distance race before the London Olympics at the Kitzbuhel ITU World Triathlon Series, almost 600 triathletes took on the infamous Hell of the West triathlon in Kilkee, Co. Clare at the weekend.
Morrison placed fourteenth at the Austrian event but was disappointed to miss the lead pack on the swim which put her on the back foot for the remainder of the race.  Despite running the same time as the eventual podium finishers she was left to fight for the minor places after she got off the bike in the chase pack.
In Kilkee, weather conditions failed to make the already challenging race any easier with wind and rain battering competitors during the 1500m sea swim, 44km hilly bike and 10km run.
Professional triathlete Bryan Keane, on the comeback trail after suffering a broken knee cap, set the early pace leading out of the water in a time of 22:19. Shane Scully of Nenagh Triathlon Club surprised everyone, however, when he made his way to the head of the field during the tough bike ride.
Contention
It was a competitive race with professional long distance triathlete Bryan McCrystal, Trevor Woods of Cork and the South African Bjorn Ludick all in close contention, but Keane outran Scully to take the win in a time of 2:09:41, with Scully finishing second in 2:10:17. In a reverse of last weekend's Hook or by Crook triathlon, McCrystal got the better of Woods and took the final podium place.
Jennifer O'Connell took victory in the women's race by over three minutes, while Vanessa Fenton picked up yet another podium finish and local athlete Andree Walkin, who last week boasted a finish ahead of Olympian Sonia O'Sullivan in the Monkstown triathlon, rounded out the podium in third.
Long distance triathlete Robbie Wade was also blazing a trail in Texas at the Buffalo Springs Ironman 70.3. Wade placed fourth overall in a strong professional field thanks to a 4:05:38 finish time. Ireland's Ironman Record Holder also finished third in the 35-39yrs age group, securing his slot at the Ironman World Championships in Hawaii.