AFTER 18 MONTHS of frustration, it feels as if Conor Davis is eager to make up for lost time.
The 20-year-old attacker joined UCD from Reading, having felt surplus to requirements at the English club long before his eventual release.
Officially made the switch to the League of Ireland side in August, Davis had the unenviable task of filling the void left by Georgie Kelly, the striker who hit 14 goals for the Students this season before moving to Dundalk in July.
Losing the league's then-top scorer was a blow for Collie O'Neill's side, nevertheless their results on the field have not been affected unduly, and tomorrow night, they need just a point at home to Finn Harps in order to be confirmed as First Division champions.
Even though his transfer only went through last month, Davis has already played an important role for his new club — scoring six goals in five starts, including finding the target last week as UCD upset Premier Division outfit Waterford to reach the FAI Cup semi-finals for the first time in over a decade. 
Despite this exciting end to the campaign, Davis insists the team are keeping their feet firmly on the ground. Although he admits there are likely to be "a few extra nerves," training and preparations are the same as always. They are treating the Finn Harps clash as if it were just "another game". They are not thinking too much about the fact that UCD have a golden opportunity to play top-flight football for the first time since 2014.
"If we could do it tomorrow, that would be great," he tells The42. "But we're not putting extra pressure on ourselves whatsoever."
He continues: "There's a great bond in the team. It helps that all the lads are in college together as well. But the work ethic since I've come in has shocked me a bit — there are no egos in the team, everyone pushes each other. 
I don't think you'd know, if you came to a match, what age we are or that we're all college students. I think you'd be pleasantly surprised at how mature the lads are as footballers on and off the pitch."
Whatever happens, the Waterford game will be seen as a season highlight. Against a side that are competing for third spot in the Premier Division, few people would have tipped UCD to prevail, but they produced a night to remember for the Belfield faithful.
"Collie said in his interview afterwards — you saw two sides of us," he recalls. "In the first half, we played really well, kept the ball, created chances, went two-up, and then in the second half, we had to dig deep because Waterford came out strong and we defended a bit more."
FAI TV / YouTube
They have a glamour semi-final against Dundalk to come, but for now, they must focus on tomorrow night as well as their final league fixture against Longford.
Davis' stint at UCD could hardly have gone much better so far. After his Reading contract elapsed, he had offers from other English clubs, but instead chose to come back home.
"I'd probably have been playing at a low level in England, but the exposure in Ireland was greater than the level I would have been playing at.
"It was easy to make the decision to come to UCD out of the Irish clubs, it was just between UCD and staying in England for another year."
O'Neill already feels his choice has been vindicated and agrees with the suggestion that the recent success of players such as Sean Maguire, Graham Burke and Richie Towell in Irish football — and the pathways that have opened up for those individuals as a result — was a big factor in his thinking.
When I first moved to England, I was young at the time, I said: 'I don't really want to go back to Ireland if it came to that.' Coming back here would have been a last resort option for me a couple of years ago. But it's funny how quickly things change. I see it as a really great opportunity for me now. It's nowhere near a step backwards. It's really just a sidestep to get to where I want to be. It shouldn't be frowned upon playing in the Irish league at all.
"I was hungry for games — I haven't played a lot of games in the last season or so. I was really looking forward to getting in, getting my chance and just showing the lads at UCD, the manager and everyone else."
In addition to the exceptional facilities, the talented young team-mates, the relatively relaxed atmosphere and the attractive style of football, Davis cites education as integral to his recent transfer.
Moving to England at 16 meant he couldn't complete his Leaving Cert. As a consequence, he is currently undertaking an open-learning course at the college — an alternative route to him ultimately being able to do a degree. He has six modules for the year and all going well, he could potentially be an undergraduate next year, likely in something finance-related. Though of course, everything depends on how his football career pans out and whether he sees greater opportunities elsewhere.
Sport remains the youngster's primary passion and has been for quite some time. Davis lined out for local side Knocklyon United at U11s before later moving to Templeogue, where he credits coaches Alan Kinsella and Eric Stokes as key to his development. His paths intersected at underage level with several current UCD team-mates, while family members were always positive as he pursued the kind of life most Irish teenagers only dream about.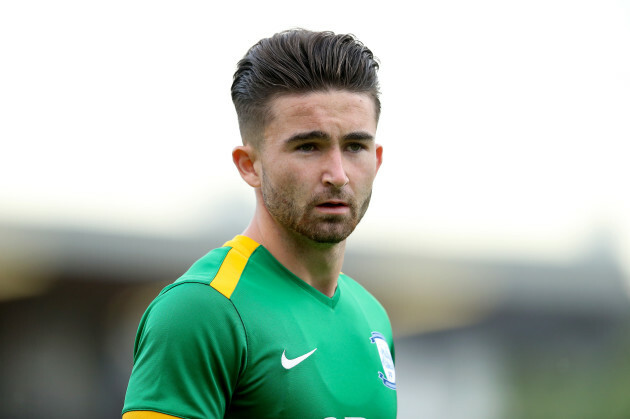 Oisin Keniry / INPHO The success enjoyed in Ireland by players such as Sean Maguire has served as an inspiration to Conor Davis. Oisin Keniry / INPHO / INPHO
"My dad passed away before I was three but my mother was always encouraging. My mum has always been very supportive, pushing me to be the best I can be in terms of football and education. When my dad died, my brother would have been the father figure, because he's 10 years older than me.
"I've really great support from my mum, my brother, my sister and all of my family."
Like his childhood hero Damien Duff, Davis made waves for Ireland at underage level, scoring a hat-trick in an U16 match against Estonia. He was leaving the international fold as a young Declan Rice was entering it, but talented players were not in short supply before then.
"In my age group, the standout players would have been Steven Kinsella and Conor Masterson. Conor's still at Liverpool and Stephen's had some terrible luck with injuries. But I still keep in touch with Steven and he's hopeful he'll be back fit for next season and I know he has a really bright future ahead of him."
Moving to Reading from Templeogue, Davis says, was not "daunting at all". 
"London's not even an hour from Reading and lads from there would be more homesick than I would be," he adds.
Fellow young Irish players, despite being slightly older than him, including Sean Long, Shane Griffith, Pierce Sweeney and Conor Shaughnessy helped him adjust, while senior pros Stephen Quinn and Paul McShane were similarly accommodating.
They were really good to me, helped me out if I ever needed to talk or had a problem — they were always there for me," he says.
There was another familiar face in the form of ex-Manchester United defender Jaap Stam, who was manager for a considerable portion of Davis' time at the club.
"A lot of people when he first came were almost intimidated by his presence, because he's such an icon and what he's done in the game is unbelievable. I never spoke to him personally, but he would always talk to the young players. When the lads came to training, he was always very welcoming."
Davis says the player who stood out most at the club was another former Irish underage international — Liam Kelly.
"He's even smaller than me and he had some adversity. When Steve Clarke was the manager, I believe he was told that he'd never play in the first team, so he went out and was on loan in the lower leagues. Then when Jaap Stam came in, he broke into the first team. His technical ability was never in doubt, he's one of the most technically gifted players I've ever seen.
"When Steve Clarke was there, [there were reservations] about his height and his build, but he's shown that doesn't matter. [It shows how] even when playing at the highest level, it doesn't matter how small you are, if you can play football, then you can play in the first team."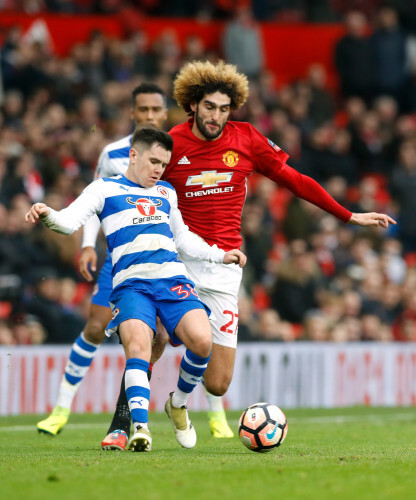 Martin Rickett Davis was particularly impressed by former Ireland underage international Liam Kelly, pictured above, at Reading. Martin Rickett
The fortunes of Kelly demonstrate how luck, as well as talent, is crucial to success in football. Sometimes, it's just a case of needing the right manager at the right time.
"When people think about footballers, they think they earn a lot of money, they come in, train for a few hours a day, they have a really easy life with no problems, but they couldn't be more wrong," he adds. 
"The mental side of the game is probably one of the least talked about sides, but it's probably one of the biggest sides. If you're low on confidence, it can affect you, not just when you're in football, but at home too. People don't notice that or take it into account when they talk about footballers. People think it's easy being a footballer, but it's a bit more difficult than they think."
Davis' release by Reading, he says, "wasn't a surprise" to him.
It was something I'd known about for 18 months. Before my contract ended in June, I hadn't been told anything, but I had a feeling that was coming. I wasn't getting a look-in even with the 23s. I trained with the 23s, they were my age group, sometimes I'd train with the first team, but I was very rarely included in squads for matches. I was out on loan a few times to lower-league teams and it was more for game time than anything else.
"The experience of having 18 months knowing that at the end of it, you'll probably be released — as hard as you work in training, whatever you do in friendly games isn't going to affect the final decision. That's a long time to be thinking: 'I'm working so hard here and nothing's paying off.' So that would be the lowest period of my career. I've no doubt there'll be more lowpoints, there always will be. But hopefully I won't have that magnitude of lowpoint for a while."
Sensing the end was coming over a year before he left Reading, Davis made the decision to take up an accounting course in his spare time.
"I didn't know but I had a feeling that if it doesn't work out at Reading, I need something to fall back on. If I didn't [take the accounting course], I'd have so much extra time to think about it, to think negative thoughts, as things aren't going the way you'd like them to be going. That was good that I picked that up and it wasn't a shock to me then when I did find out that I'd be released. I had a backup and thankfully, it happened for me at UCD — I was able to come here and I haven't looked back since."
Given the difficulties he experienced at Reading, Davis is well aware of the pitfalls that exist for young footballers. The Dubliner is consequently keen to share his experience so that others may learn from it.
If I could give one bit of advice it would probably just be to work as hard as you can and be resilient when things aren't going your way. There's no point in stopping and being too down about it. There are things you can't affect — you can't affect other people's opinions. So it's wiser to move on — keep working hard and you'll get your break if you work hard enough. I'm a big believer in that.
"If things aren't going well, reach out to people who can help you — if it's your manager or a player you look up to. I'd be always available if any young player needed to talk to me if things weren't going well for them. If they wanted to reach out, I could give them advice in terms of my experience."
The42 is on Instagram! Tap the button below on your phone to follow us!