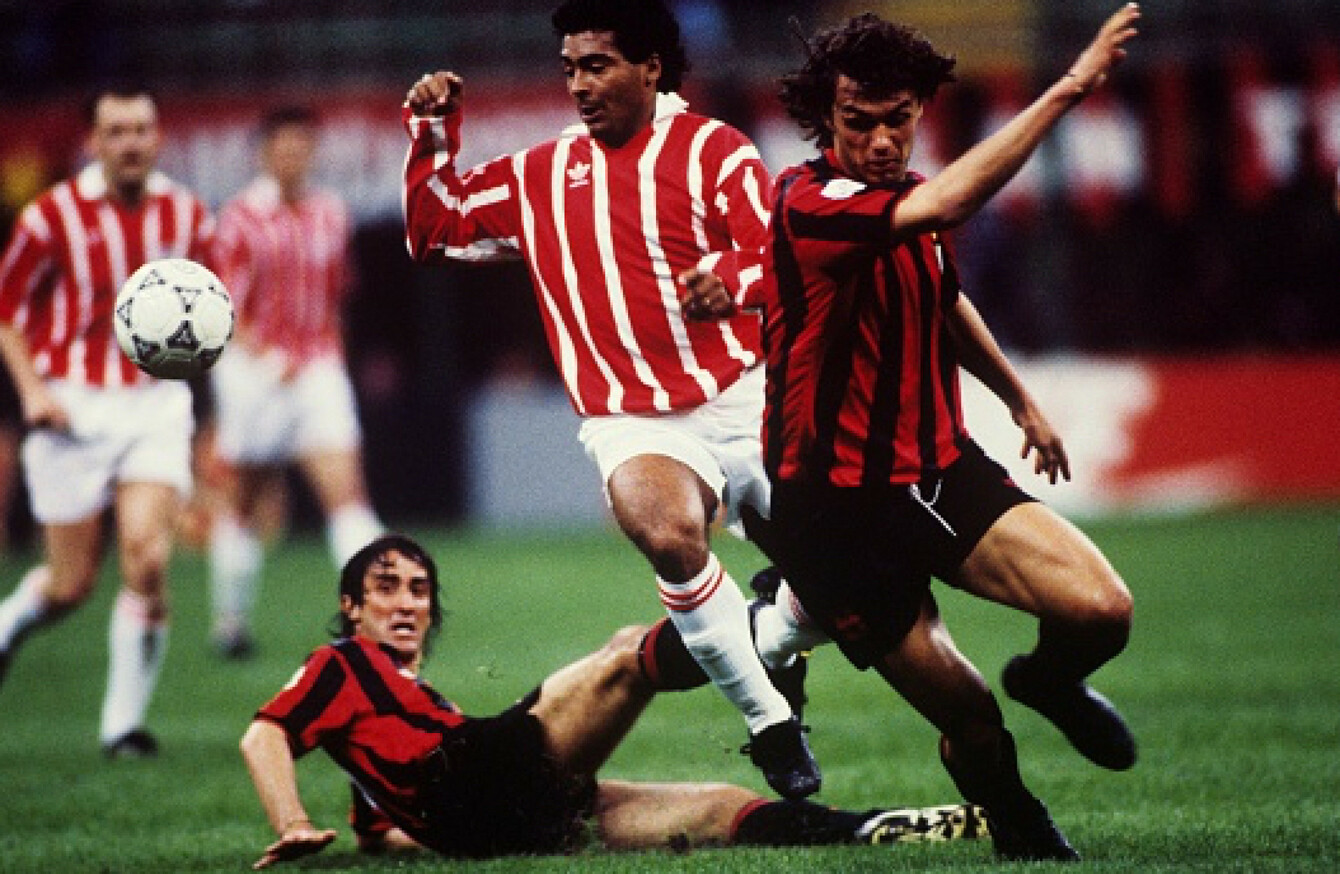 Image: VI-Images
Image: VI-Images
IT'S A QUARTER of a century since the Uefa Champions League made its debut and replaced the European Cup as the continent's premier football competition.
There had been a paradigm shift. Clubs were becoming increasingly aware of commercial opportunities and the potential for increased revenue streams. So too were football administrators. Uefa felt there was an opportunity to cultivate a club tournament that could borrow heavily from the World Cup's playbook.
Under Joao Havelange, Fifa had sold the competition to numerous global sponsors and partners and it proved lucrative for the governing body. The other money-maker was individual TV deals for various countries.
Uefa fastened onto the same approach and lined up an array of high-profile, internationally-renowned businesses for their rebranded competition like Ford, MasterCard, Carlsberg and Coca-Cola.
Everything was on point and every little detail seemingly thought of. Uefa had approached a recently-established Swiss-based firm called TEAM to oversee and execute the centralised marketing strategy which meant broadcasters around the world would carry the same Uefa branding on screen, the same graphics packages, the same sponsor 'stings' before kick-off and at half-time, the same opening titles, the same anthem.
And it worked a treat.
Overnight, a beloved football tournament became an international brand.
So, the origins of the Champions League are tied to the notion of stakeholders wanting to increase income. Hardly the most romantic of stories.
And still, when the draw was made last week for the quarter-finals of this year's edition, it was hard not to look back and lose yourself in nostalgia.
25 years ago, the competition was radically different but it stayed that way for only a few seasons. By the turn of the century, it had already changed complexion. Even the name of the tournament became a lie. It was no longer a place for champions. In 1997, the runners-up in domestic leagues were allowed compete. Just two years later, there was a further expansion to the current model of a 32-team group stage.
It makes you wonder what it really tells us about clubs and leagues.
In the original format, there was a first and second round of qualifying. That meant the strongest, most high-profile sides still had to navigate four games against a lower-calibre team. But it was knockout. Yes, there were some inevitable cricket scores early on but also some genuinely classic encounters like when Rangers and Leeds met in the Battle of Britain or when reigning champions Barcelona were done by CSKA Moscow. If teams didn't hit the ground running, they were punished. When a side was crowned European champion, it seemed an ultimate achievement. A reflection of perseverance and graft as well as ability and talent.
Still, economics usually worked the same. The bigger teams with the bigger budgets normally won. Between '93 and '95, Milan reached the final each year. But, you still had success stories. In '95, Ajax were the first Dutch team to appear in a final since PSV seven years earlier. The following season, they became the first Dutch side to appear in back-to-back finals since they did it themselves in 1973. When Borussia Dortmund beat Juventus in '97, it was the first time a German side had won the tournament since Hamburg in 1983.
But you also had a certain type of club reach the latter stages.
The teams that featured in the last-eight in 1993 were: Marseille, Milan, Rangers, Club Brugge, CSKA Moscow, IFK Goteburg, Porto and PSV Eindhoven.
The following year, there were the likes of Galatasaray, Monaco and Werder Bremen. Memorably, in the 1994/95 edition, Manchester United were eliminated in the group-stage after a thrilling Goteburg side seemed to surprise everyone. The following year, it was the turn of Blackburn Rovers and Rangers to suffer early embarrassment and crash out.
Each year there was variety and the likelihood of an upset. And it was ruthless. The teams were domestic champions – some iconic organisations – but their status mattered little.
Put that in the context of the modern-day Champions League model.
Yes, last week, Manchester United were knocked out by Sevilla. A shock, absolutely. But United finished in sixth place in last season's Premier League table, 24 points behind Chelsea. Sevilla finished fourth in La Liga and were 21 points back from Real Madrid. What either club was doing in the Champions League to begin with is pretty staggering.
In fact, you need to go back to Barcelona's victory in 2011 under Pep Guardiola to find the last winner of the Champions League who was the reigning winner of their domestic league.
And maybe that's how we should define the value of the current incarnation of the tournament. Maybe the only Champions League triumph that should be properly lauded and celebrated is when a side wins their own league and tastes European success the following season.
Using that logic, only a handful of clubs and coaches are deserving of the highest praise when it comes to Champions League success.
Barcelona, 2011 (Pep Guardiola)
Inter Milan, 2010 (Jose Mourinho)
Manchester United, 2008 (Sir Alex Ferguson)
Barcelona, 2006 (Frank Rijkaard)
Porto, 2004 (Jose Mourinho)
Real Madrid, 2002 (Vicente del Bosque)
Bayern Munich, 2001 (Ottmar Hitzfeld)
Real Madrid, 1998 (Jupp Heynckes)

As mentioned, since 1997, the competition has stopped being exclusive to domestic champions.
From the eight teams left in this season's tournament, only three are champions: Real Madrid, Juventus and Bayern.
Manchester City (Reigning domestic champion: Chelsea)
Real Madrid (Champions)
Juventus (Champions)
Sevilla (Reigning domestic champion: Real Madrid)
Roma (Reigning domestic champion: Juventus)
Liverpool (Reigning domestic champion: Chelsea)
Bayern Munich (Champions)
Barcelona (Reigning domestic champion: Real Madrid)
To a point, it's understandable. The quarter-finalists are sexy, marketable teams (United's elimination spoiled things a little for organisers). And ultimately, when you trace the line back to the early-90s, that's precisely what Uefa wanted when they rebranded the competition.
But, in the Champions League era, we've never seen such dominance by one league before. A Spanish side has won the title for each of the last four seasons and there's a pretty sizeable chance that the narrative will continue this term.
In contrast, between '93 and '99, there were seven different champions.
Be part
of the team
Access exclusive podcasts, interviews and analysis with a monthly or annual membership.
Become a Member
There are inevitable counter-arguments. Without an expanded Champions League format we wouldn't have experienced those spine-tingling moments like United's comeback against Bayern in 1999 or Istanbul in 2005. Without an expanded format, Lionel Messi wouldn't have got the chance to give that masterclass against Chelsea. Making it a larger tournament has enabled smaller clubs qualify and get a slice (however small) of the mammoth TV revenue.
And there's also the Champions League brand – the very thing that was conceived, nurtured and developed 25 years ago – and how it's followed the well-worn philosophy taken by every other successful, internationally-recognised business: there's no such thing as too big.
But sometimes, depending on the product, bigger isn't necessarily better. Sometimes, a small, exclusive gathering is the hottest ticket in town only because only a select few tickets are available.
Back in 1993, the last-eight of the Champions League was a curious mix of countries: the domestic winners from France, Scotland, Belgium, Russia, Italy, Sweden, the Netherlands and Portugal. The German champions (Stuttgart) were knocked out in the first round with the English (Leeds) and Spanish (Barcelona) champions eliminated in the second round.
So, how would that all look in 2018?
Group A
PSG (France)
Celtic (Scotland)
Anderlecht (Belgium)
Spartak Moscow (Russia)
Group B
Juventus (Italy)
Malmo (Sweden)
Feyenoord (Netherlands)
Benfica (Portugal)
Different, certainly. But exciting because of it.
At 25 years old, the Champions League should be young, vibrant and energetic. Instead, it's tiresome, predictable and stale.
And it makes you nostalgic for an era that's long-gone and forever buried.
The42 is on Instagram! Tap the button below on your phone to follow us!