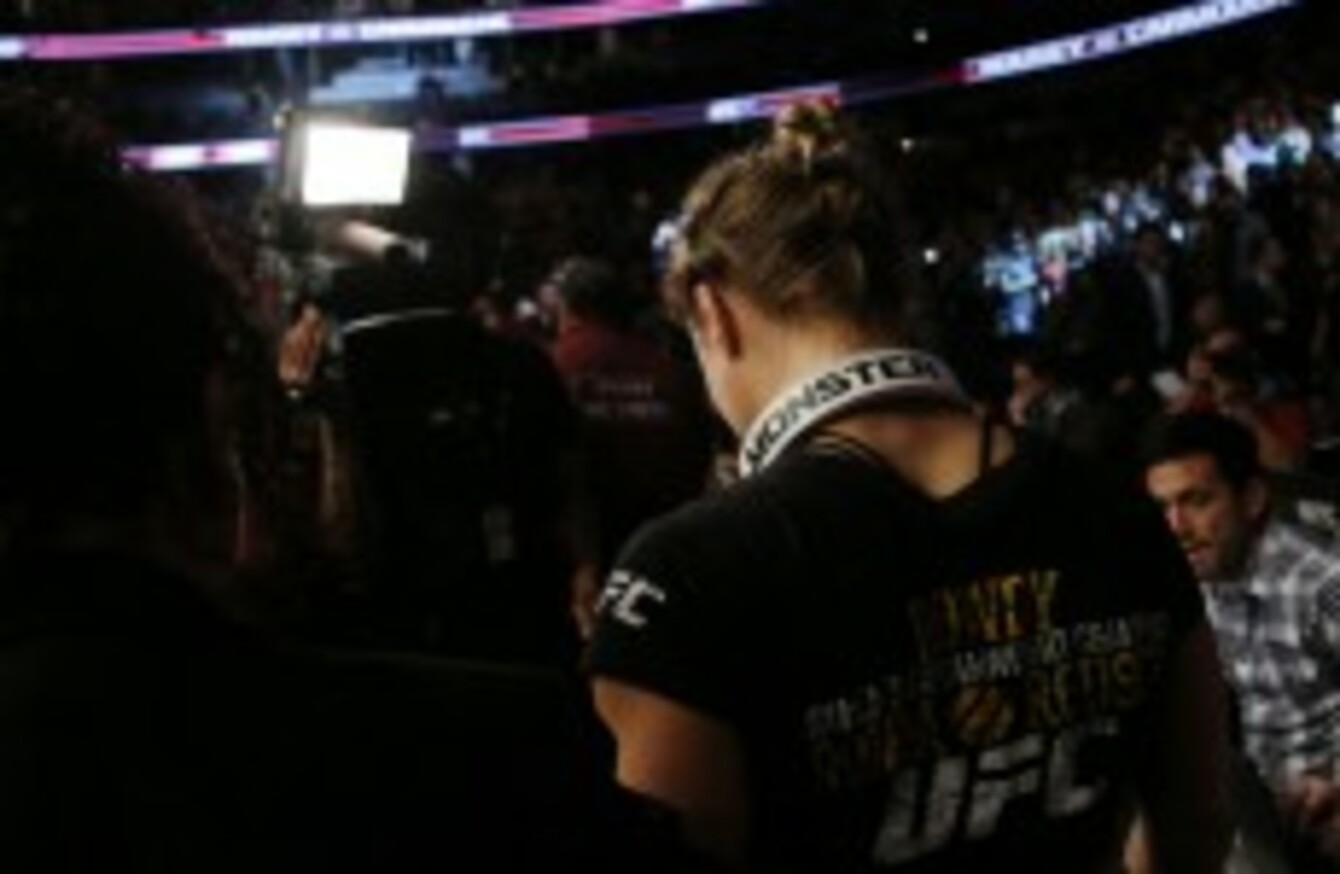 Ronda Rousey: headlines UFC 170 against the unbeaten Sara McMann.
Image: Jae C. Hong
Ronda Rousey: headlines UFC 170 against the unbeaten Sara McMann.
Image: Jae C. Hong
DESPITE BEING DESTRACTED by the massive news that Dubliner Neil Seery has joined the ranks of the MMA elite in the UFC, there is an event in Las Vegas to feast our eyes over this weekend.
Ronda Rousey's unbeaten run and bantamweight championship are on the line against 2004 Olympic medallist Sara McMann who is also unbeaten in her MMA career as the two headline a solid card on Saturday.
Rory MacDonald and Damian Maia are both looking to get back on their feet after suffering defeats last time out in the first of three main card welterweight fights. Robert Whittaker versus Stephen Thompson and Mike Pyle against TJ Waldburger are the other two.
The most intriguing fight of the night has to be Daniel Cormier against former teammate and UFC newcomer Patrick Cummins who has stepped in at short notice to take part in a genuine grudge match.
Battle of the Olympians
It can be viewed a smart marketing ploy, or just a plain coincidence, but pitting two former Olympians smack bang in the middle of the Winter Olympics makes for a perfect recipe for selling pay-per-views. But gimmicks aside, Ronda Rousey versus Sarah McMann can claim to be a legitimate headline event.
Ronda has quickly cleaned out an already shallow woman's bantamweight division but McMann's Olympic credentials make her a genuine threat and she is pretty well suited to try and defend "Rowdy's" most lethal attacks.
Her wrestling background means that she might not be a complete rollover against Rousey, but McMann's stand-up skills aren't as advanced as Miesha Tate's were so you get the feeling that it may only be a matter of time before Rousey reaches for that arm again.
McMann's physicality counts in her favour but that alone will not be enough to stave off the number of ways in which Rousey can triumph. It's hard to see anything other than another Rousey victory but it would be nice to see her finish the fight in a different manner.
Source: deadlystrikers
DC completes his drop to light heavyweight
Daniel Cormier was due to face Rashad Evans at UFC 170 before "Suga" was injured and the search started for someone to step in and face DC. Step forward his former training partner Patrick Cummins.
When Cormier was training for the Olympics, Cummins, amongst others, helped him prepare and he came out during the last number of weeks with some controversial comments to try and get his shot at the big-time.
Cummins had claimed that he used to get the better of Cormier in training, so much so that he made him cry, but it has since been revealed that Cormier was dealing with the loss of his daughter at the time and comments haven't been well received by all quarters.
Nevertheless he has been given the fight but Cormier has since said that he is going to make Cummins pay for those comments and all indications point towards a debut light heavyweight win for DC as he will cancel out Cummins best form of attack, wrestling.
The fact that Cummins has taken this fight on at such short notice as well as the fact that this is his first time competing in the Octagon means that he is not just fighting his opponent. The event could prove too much for him but even if it doesn't, DC is too strong in most departments and should pick up the victory.
Source: MMAWeekly.com
Best of the rest
In the space of a couple of fights Rory MacDonald has gone from a genuine contender to someone who needs to adapt and show some of the form of his early career as his defeat at the hands of Robbie Lawler has knocked him back a couple of steps.
You forget that he is still just 24-years-old and still has plenty of time on his hands, a luxury which his opponent Damien Maia doesn't have, but he needs to show a bit more urgency both inside the cage and with his career.
Maia had been on a charge before losing a split decision to Jake Shields but still has three creditable wins at welterweight and he will test MacDonald's resolve to the maximum. It feels like MacDonald's back is against the wall here so he must come out fighting. Abandoning his slow and measured approach may prove to be fruitful but it is a very close fight to call.
The super-aggressive TJ Waldburger may have to rein in his attacking instincts if he wants a victory over veteran Mike Pyle but at 38 years of age Pyle isn't getting any younger and may struggle to keep up with Waldburger's frenetic pace in this match-up.
Robert Whittaker has just about enough in his locker to take Stephen Thompson in the first fight on the main card.