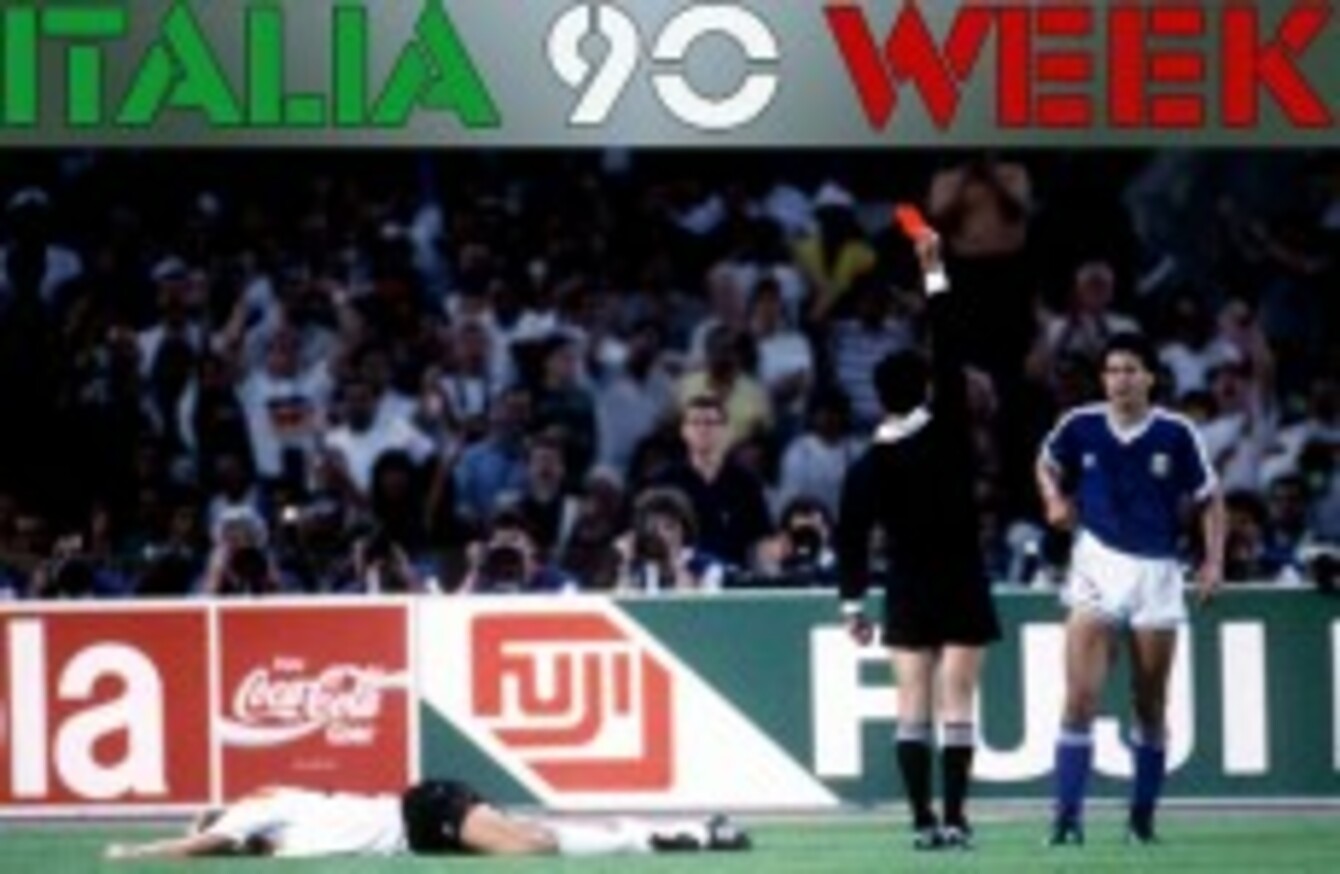 Image: EMPICS Sport
Image: EMPICS Sport
ULI HESSE IS a freelance journalist who writes for a number of publications including ESPN. He is the author of a number of acclaimed books, including 'Tor! The Story of German Football' – the first extensive English-language history of German football.
How are the 1990 side viewed in Germany. Are they fondly remembered?
They will not be as fondly remembered as this young [2014] team. Not as popular as the 2004 team, maybe even the 2002 team was quite popular — one reason that team was popular was because Rudi Völler was coach and Rudi Völler is one of the most beloved players in German history. The teams that followed weren't very popular. And the teams that preceded the 1990 team weren't very popular.
Maybe the 1990 team is even more fondly remembered than the 1974 team. I wouldn't say they are not fondly remembered. They won the tournament deservedly. If you followed the press coverage, that's what everyone said after the tournament. Yes, it was an ugly tournament, the football wasn't good, but basically, they were one of the few decent teams that showed up and won it in the end.
There was a huge difference between 86 and 90. The 86 team was not popular but not unpopular. I don't know if people outside of Germany are aware of this, but the country was really fed up with the national team in 1984.
The team had won the Euros in 80, they had gotten to the World Cup final in 82, but everybody hated the football and the 82 tournament was an unmitigated disaster. There was the game against Austria where the two teams colluded against Algeria. There was the Patrick Battiston incident (see below). We felt they needed to change and that was the reason they brought in Beckenbauer. He'd never coached a team before.
Source: Classic Football Store/YouTube
But there was a general feeling that things had to change. Beckenbauer came in and said 'I'm sorry, it will take me a while,' because there aren't any good players coming through. Nobody expected much in 86 — it was a surprise that the team got [to the final].
It was different in 1990 — I wouldn't say that people expected the team to win, which is because you're against an Argentina or Brazil, Italy were the hosts. But people said that team had a good chance to win. There were so many players active in Italy at the time. We really did have so many world-class players.
It was the team's last World Cup under the 'West Germany' moniker. How much impact did this transition have on the team subsequently?
There was this general euphoria after reunification. In 89, the wall came down in November. For a certain period of time, there was a great optimism in Germany. So in a way, the national team rode the crest of that wave.
I think it's difficult to analyse World Cups because they could have gone out in 1990 at the semi-finals on penalties to England. I know people in England will say 'never,' but it was a penalty shootout. They dominated the final, but they just couldn't score. Maybe that could have gone to another penalty shootout — Argentina weren't specialists, but they might have lost in 1990 and they might have progressed in 1994.
Source: EveryFourthYear/YouTube
Beckenbauer made this famous statement after the [1990] World Cup, which came to haunt his successor Berti Vogts. Beckenbauer said that we're going to get those fantastic players from the East, so we'll be successful for many years to come. In a way, it was typical Beckenbauer — he's the sort of person that makes flippant remarks. The East German team at the time was really good — they just narrowly missed out on qualifying for the World Cup.
I think they only needed a draw in the final game against Austria and they lost — the players said it was because of reunification. Everybody was glued to the TV set and watching what was happening back home, and no one could really concentrate on the game. There were all these fantastic players — there was Matthias Sammer, a future European Player of the Year. So there was the feeling that it was going to be easy. 'Once we incorporate those players, we'll be even better.'
One thing that happened was that reunification turned out to be much more complicated than people imagined. No one who grew up in a western society can imagine what it must have been like for the East Germans and especially, the East German athletes. They were suddenly thrown into a pool of sharks and they had to swim. They never really became the superstars that we thought they would be.
So German football wasn't on the map in the 90s. We sat on our laurels and there was no restructuring of the youth set-up. Everybody felt it would go on forever, and we'd produce another Klinsmann and another Lothar Matthäus and another Rudi Völler. But it wasn't the case and the team in 94 was almost the exact same as the one that had been to the 1990 World Cup. Players weren't getting on and the famous story is that Rudi Völler was dying of hair. He was going grey. It's a good picture for that World Cup. The team were just a little bit over the hill.
One of the most famous and infamous players was Jurgen Klinsmann, who was often accused of diving. How was this controversy viewed in Germany?
Source: ntn1987/YouTube
To be perfectly honest, I can't remember the uproar either in or outside of Germany. I was in my mid-20s, so I can remember that period very well. As far as I can recall, this only became a big subject when Klinsmann moved to Spurs. In the German press conferences, there were jokes about a diving school. I think that was the first time most Germans learned what the English word for going down easily was — and secondly, that Klinsmann had this reputation for going down easily.
That thing in the [1990] final, if you watch it now, it was a foul. If you watch the real match coverage, you see that it is a foul. Klinsmann looked as if he's dying, so you think: 'hey, that looked strange'. There are two more replays after that and both those replays stop with Klinsmann hitting the ground, before he does these gyrations. You look at that and you think 'my God, they're killing him'. It was a direct red card, there was no booking before it, he was just sent off.
The interesting thing is that Karl-Heinz Rummenigge was co-commentator on German television, and Rummenigge immediately said 'that's a red card'. And the commentator said, 'before the tournament I wouldn't have been sure, but the way this tournament is going, yes, this is a red card'. And he was right — there was twice as many red cards in 1990 as there had been in 86 and three times as many as there had been in 82.
Source: KINGofSOCCERhistory/YouTube
The 80s were a very rough time, and Fifa were trying to clamp down on that, because they were trying to kick players like Maradona to pieces. So maybe there was a feeling that something had to be done and referees were more strict.
So the feeling was that yes, [the Klinsmann incident] is a clear red card. Maybe, since this was the 1990s, he could have got away with a dark yellow, but the incident that was much more debated was the penalty. That was a soft penalty. The feeling in Germany was that about five or six minutes before the incident, there was a clear penalty, which wasn't given.
Klinsmann came to be associated with diving anyway. What specific incident do you think caused this reputation?
It's not as if Germans accepted diving. One thing that was astonishing about the thing at Tottenham was that we always thought the Italians or the Spanish were divers. That probably goes back to the infamous 1970 World Cup semi-final between Germany and Italy, where there was a lot of play-acting and time-wasting from the Italians.
In a Bundesliga game, Andreas Möller made a dive and he was the only player [in the league] who was retrospectively suspended for diving. There was a huge furore, but that was a blatant dive — there was no contact at all, in contrast to the Klinsmann thing. So Klinsmann's reputation in Germany was not that he was a diver. His reputation was that he wasn't technically very good and he made up for that when he went to Bayern.
Source: Adrian Houghton/YouTube
In Germany, his nickname is 'flipper' and that's the German for pinball machine, because the ball would bounce off his feet, but he made up for that with his boundless enthusiasm, working hard and his running and everything, but he was not [thought of as] a big diver.
What are they
really like?
Rare insights on sport's biggest names from the writers who know them best. Listen to Behind the Lines podcast.
Become a Member
Is Klinsmann as loved in Germany now as he would be, say, with Tottenham fans?
It's more ambivalent. And the crazy thing is that he was the most popular man in the country for the 2006 World Cup. One of the reasons he wasn't so revered and loved is that he travelled a lot — he played in Italy and England and so on, and he was always very much his own man. Someone like Völler is a regular guy, whereas I wouldn't say Klinsmann was aloof, but he was a bit of an intellectual, a bit of a free thinker. People tend to view such people with suspicion.
Then, of course, he went to America and people had no idea what he was doing there. Then he became national coach. The tragic aspect is that he's been written out of the story of the German resurgence since then, and that's mainly because he made the grave mistake of accepting the job of Bayern coach, which turned into a major disaster. And ever since, the general opinion was that Klinsmann was just doing the prep talks and Joachim Löw was doing all the work.
Source: leroy1210/YouTube
But people have short memories. They forget that in 2004, Klinsmann took the job because no one else wanted it. It was literally a dozen coaches they approached and everybody else said 'no'. We knew they were wrong in hindsight, but everybody thought the World Cup would be a major disaster.
So he came in and changed everything, and after the World Cup, he was immensely popular. And people were shocked that he stepped down. In 2006, he was phenomenally popular in Germany. In a way, it's typical of Klinsmann that he wasn't able to capitalise on that — he just went away again. And now, everybody says it was just Joachim Löw's work.
What are the key differences that have taken place in German football between 1990 and now, and has it changed ultimately for the better do you think?
Everything has changed. After the World Cup in 1990, there was a gradual decline, both at club level and at the national team level, which people have failed to notice, mainly because there was this crazy dip in 1996 and 1997. When Germany won the 1996 Euros in England, and the year after that Dortmund (see below) and Schalke won European trophies, and after that, everybody noticed that there was a general decline.
Source: NIXBLACK/YouTube
We only realised at the turn of the century, when suddenly the clubs weren't competitive anymore — they didn't have much money that teams in other European countries had. It was really hammered home in 2000 and 2002.
Germany got to the World Cup final in 2002 and you looked at the team, and you suddenly realised they had a few promising young players, a few veterans, but the whole generation in between was totally missing. Ballack and Frings were the only players in the age bracket you'd expect them to be in when they play at the World Cup. And that's when everybody realised that somewhere along the line, we made a major mistake and that there were no good players coming through.
Then, the by-now famous entire restructuring of the youth system was set in motion around 2000. It was a big change in how people looked at football. I know that, especially in England, people think that on the continent, everybody's a tactical genius and these things are really interesting. But that was not the case at all in Germany.
We never discussed tactics or strategies. We played with a sweeper for about a quarter of a century and we looked at the Italians and the Dutch as being really strange, because they talked about how to play football all of the time. But that changed at the turn of the century with a few young coaches that suddenly came in and turned things around. So basically, the entire game has changed since 1990.