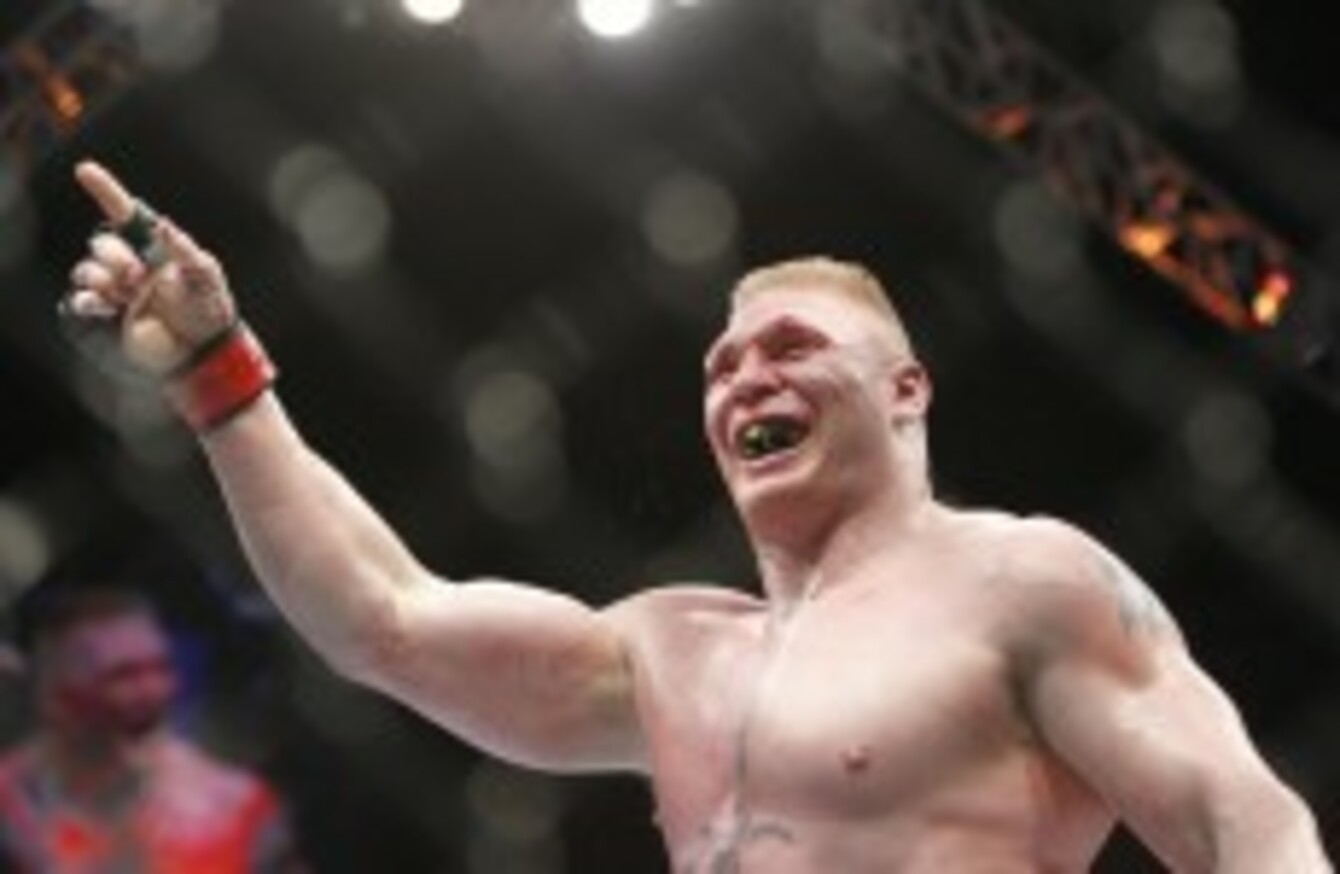 Brock Lesnar: reality show mentor.
Image: Eric Jamison/AP/Press Association Images
Brock Lesnar: reality show mentor.
Image: Eric Jamison/AP/Press Association Images
WITH THE SCHEDULED pay-per-view UFC event not due to happen until the March 19, a rare opportunity to grab a breather and take in some other news presents itself this week.
However, with the cast of the new season of The Ultimate Fighter 13: Team Lesnar Vs Team Dos Santos announced, Dan Henderson once again a champ at 40, and the results of last week's UFC Fight Night to run your eye over, there is, as always, plenty to keep you occupied in the busy world of MMA.
"TUF" Returns.
The ever-popular TV series "The Ultimate Fighter" returns on the March 30 with Brock Lesnar and Junior Dos Santos mentoring a group of 14 welterweights looking to fight their way to a six figure UFC contract.
To those who are unfamiliar with the show it is usually broken down into two teams, picked by each coach. Once they are assigned teams you get to see how they deal with training and fighting each other every week, as well as seeing how they all get on with each other as they usually live together in one large house for the duration of the show.
I think the show is so popular as you get an insight to the training methods of UFC superstars and you have all the usual shenanigans of tension boiling over in the house as group politics and massive egos take over, and that always make good TV. Dana White usually throws in a few curveballs like wildcard picks and coach's challenges at different stages on the show that keep it fresh and entertaining.
You also have the chance to see a bout at the end of every episode and watch as feuds are settled inside the Octagon. The fights are always action packed and fierce as there is a UFC contract on the line for the winner. The show is a renowned breeding ground for prospective UFC superstars as such names as Forrest Griffin, Diego Sanchez, Kenny Florian and Rashad Evans all started out in previous series of TUF.
Diego Sanchez takes controversial decision victory over Kampmann
Dana White's mantra of "never leave it to the judges" was once again shown to be spot on as Diego "The Dream" Sanchez overcame Martin "The Hitman" Kampmann in the most recent UFC Fight Night event that had most fans and fighters once again scratching their heads at the judge's decision.
The ever-colourful American entered the cage to the song "La Bamba" and looked bloated after moving up to middleweight to fight the dangerous Dane before being held at bay by "The Hitman's" jab which left him bloodied and bruised after the first round.
Kampmann then seemed to abandon his game plan and got caught up engaging in a slugfest for the next two rounds, and while Sanchez landed with a few decent shots, it was plain to see from Sanchez's face, who had caused the most effective damage.
The man formally known as "The Nightmare" picked up yet another Fight of the Night bonus cheque but Martin Kampmann has every right to feel aggrieved as all three judges scored it 29-28 for Sanchez.
Two weeks' notice
Elsewhere on the card Chris Weidman won his first UFC outing after taking the fight against Alessio Sakara on two weeks' notice.  The Matt Serra protégé managed to utilise his wrestling skills to take Sakara down in the first before opening him up with a nasty elbow in the second and seeing the fight out to gain an impressive decision victory. There were wins for Mark Munoz and Brian Bowles on the main card also.
Meanwhile, one-time PRIDE Welterweight and Middleweight Champion and former UFC star Dan "Hendo" Henderson tasted glory once again at the ripe old age of forty, when he TKO'd Rafael Cavalcante to claim the Strikeforce Light Heaveyweight Championship belt. This had lead to rumours circulating of a possible super-fight against Fedor Emelianenko although Fedor's camp has denied any negations have taken place thus far.
Finally, it seems that throwing an illegal knee and spitting towards your opponent's corner is a good way to get people to queue up to fight you. That's the case for Michael Bisping as in the past week Vitor Belfort, Alan Belcher and Chael Sonnen have all called him out.  It seems as if notorious trash talker Sonnen is his most likely opponent and the mind games have started already with Sonnen naming the British fighter, Michael "Spitsbing"!