UNDERDOGS RETURNS TO TG4 tonight (9.30pm), and the newest addition to the management team is glad that ladies football is in the spotlight for the latest series.
Sinead Farrell speaks to former Waterford footballer Michelle Ryan about getting involved in the programme this year and balancing her own commitments. 
Eamon Ward This year's Underdogs management team: Kevin Cassidy, Michelle Ryan and Mickey Ned O'Sullivan. Eamon Ward
The famous GAA series is back on our screens as trials begin to assemble a squad that, in just six months, will face one the best football teams in the country in a challenge match.  
Players who believe they can reach the Underdogs standard must never have played Gaelic football at a junior, intermediate or senior inter-county championship level before. 
It's a simple concept that presents a colossal workload for both the management and players. 
The trio on the sideline this year are Kerry legend Mickey Ned O'Sullivan and former Donegal star Kevin Cassidy, who have previous experience on the programme.
They are joined by 2015 intermediate All-Ireland winner Michelle Ryan, who enjoyed a 19-year-career with Waterford before retiring in 2020.
"It's been a long time in the works," Ryan begins.

"I was first contacted about this in February 2020 in the hope it would be done in 2020, but obviously Covid interrupted those plans.
"The call went out for players 12 months ago when it looked like things were opening back up. Then when things were allowed return to pitches at the end of spring, the start of summer, it meant that filming could get underway. We were able to get out on the pitch, start holding the trials and meet the girls face to face.
"We've been filming the show since then and it's been fantastic. It's been a very interesting and new experience from my perspective.
It's something I haven't been involved in before and I suppose for me, I was delighted it was ladies football involved. I'm genuinely thrilled about that because there is so much being mentioned and said and done regarding women in sport over the last number of years.
"Underdogs has had a focus on men for quite a long time, and even though ladies football was included in the series, it was years ago. So, it's fantastic that it's come around to being ladies football."
Journal Media Studio / YouTube
Ryan, who is the daughter of legendary manager Michael, explains that the programme received over 500 applications from players hoping to get a chance to become an Underdog. From there, they held trials and callbacks before eventually trimming it down to a squad of 35 or 36, which they brought on training camps throughout the summer.
"We've had three-day training camps all over the country," says Ryan, "and at the end of each one of those camps, a player is sent home and that is one of the toughest things. We just finished up a camp there recently and it's not a nice process to go through those things. We still have another six weeks before the match so we're very close to settling it down to the final panel.
They all have different motivations for doing this, so whether it is to become that inter-county player eventually or whatever it is, they can take it back to their clubs and drive it on. Those kind of things are what I was hoping it would be about, and I have to say, it really has been about that.
"I've learnt a lot from the players, from Mickey Ned and Kevin, and I hope we are helping the players bring that about in their footballing lives and in their own lives as well."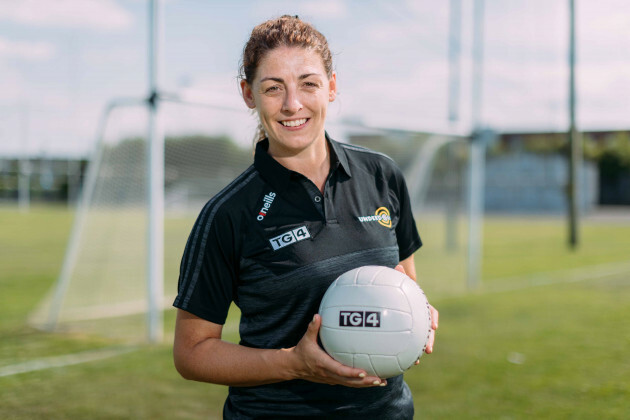 Eamon Ward Michelle Ryan. Eamon Ward
The identity of the team that the Underdogs will be playing at the end of the series is not known yet, and the management team are still working to finalise their panel.
Committing to a project like this can be tricky for club players at this time of year. That includes Ryan, who is still togging out for Ballymacarbry as they aim for an incredible 40 Waterford senior county titles in-a-row this year.
But it's a happy headache for her.
"I'm delighted to still be playing with my club. You sacrifice so much club time when you're playing inter-county.
"Most weekends are pretty busy, whether it's Underdogs or my own club. When you're playing inter-county for a long time, balancing these things becomes second nature and I'm very lucky with my own club that they're very understanding.
"Having said that, I haven't missed too much the way things have fallen. I've been lucky. It's something we're very mindful of as a management that when we're putting these camps together, that it's a very busy time for clubs. Players have had to juggle that with their commitment to the Underdogs.
"As club season comes to a bit of a close in the next few weeks, we'll be hoping that we can fully get into a good training regime leading up to big match."
The first episode of the new Underdogs series airs at 9.30pm on Thursday, 4 November. You can catch it on TG4 or worldwide on TG4 Player.
The42 is on Instagram! Tap the button below on your phone to follow us!