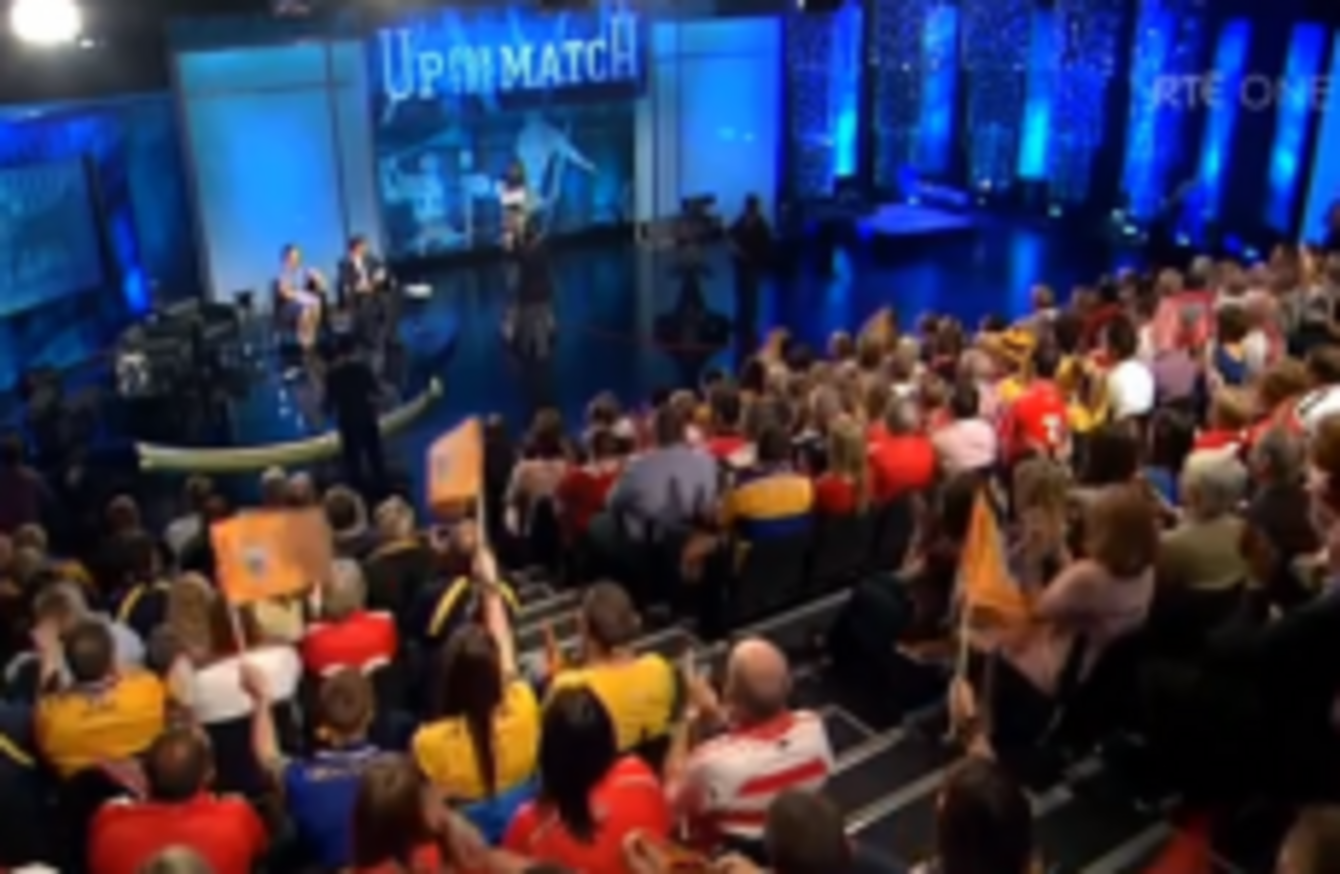 Up for the Match: demand for audience tickets is always high.
Image: RTE
Up for the Match: demand for audience tickets is always high.
Image: RTE
ITS CRITICS DISMISS it as whooping and hollering with little sporting content but in sitting rooms around the country, you can be sure you'll find 'Up for the Match' on the TV the night before an All-Ireland final.
Why then has RTÉ's traditional big match jamboree endured in its many forms for almost 40 years?
"I don't know anybody who says they watch it but the figures are always great," admits Des Cahill who again joins co-presenter Gráinne Seoige this evening to look ahead to the clash between Dublin and Mayo.
"It's the classic line, people say they're stuck at home watching 'Up for the Match,' but it's certainly not cool to say you're watching it."
The critics have a point. If you've come looking for a preview or tactical analysis, you've come to the wrong place.
But that is not what 'Up for the Match' or its previous incarnations profess to be. Aside from one or two exceptions, the programme has long been the domain of RTÉ's entertainment department rather than sport.

YouTube Credit: rte
Instead the focus is on tapping into the mainstays of Irish culture, its songs and its stories, and channeling the energy of All-Ireland weekend. The emphasis is on colour and atmosphere, a microcosm of the excitement that comes with every Championship final regardless of the participants.
Bye bye, sweeper system; hello, seannós songs and set dancing.
"It's not meant to be in-depth analysis," Cahill explains. "On Saturday night that's not what people want. It's more about the stories.

YouTube Credit: effineddie1
"I remember when I went in thinking that we should get young bands in from the counties and make it cool and hip.
"But the longer I'm there the more I realise, people don't want that. On the night of 'Up for the Match,' they want the county song, they want to be able to sway from left to right if it's a slow song, waving the county flag. They don't want to do anything else.
"It's an important expression of that culture."

YouTube Credit: kennydead2008
It's not everybody's cup of tea but its longevity, and a glance at the viewing figures, tell you that someone is watching.
With the Irish disapora swelling again in recent years, that audience is spreading further afield as well.
"It's amazing when you're away from home, people tell you that they watch 'Up for the Match' from Sydney or Toronto and they get tears in their eyes when the county song comes on.
"It's amazing what it means to some people. It's about a sense of identity.
"The longer I'm there I realise, you'd don't apologise for that. This is who we are and this is our culture."