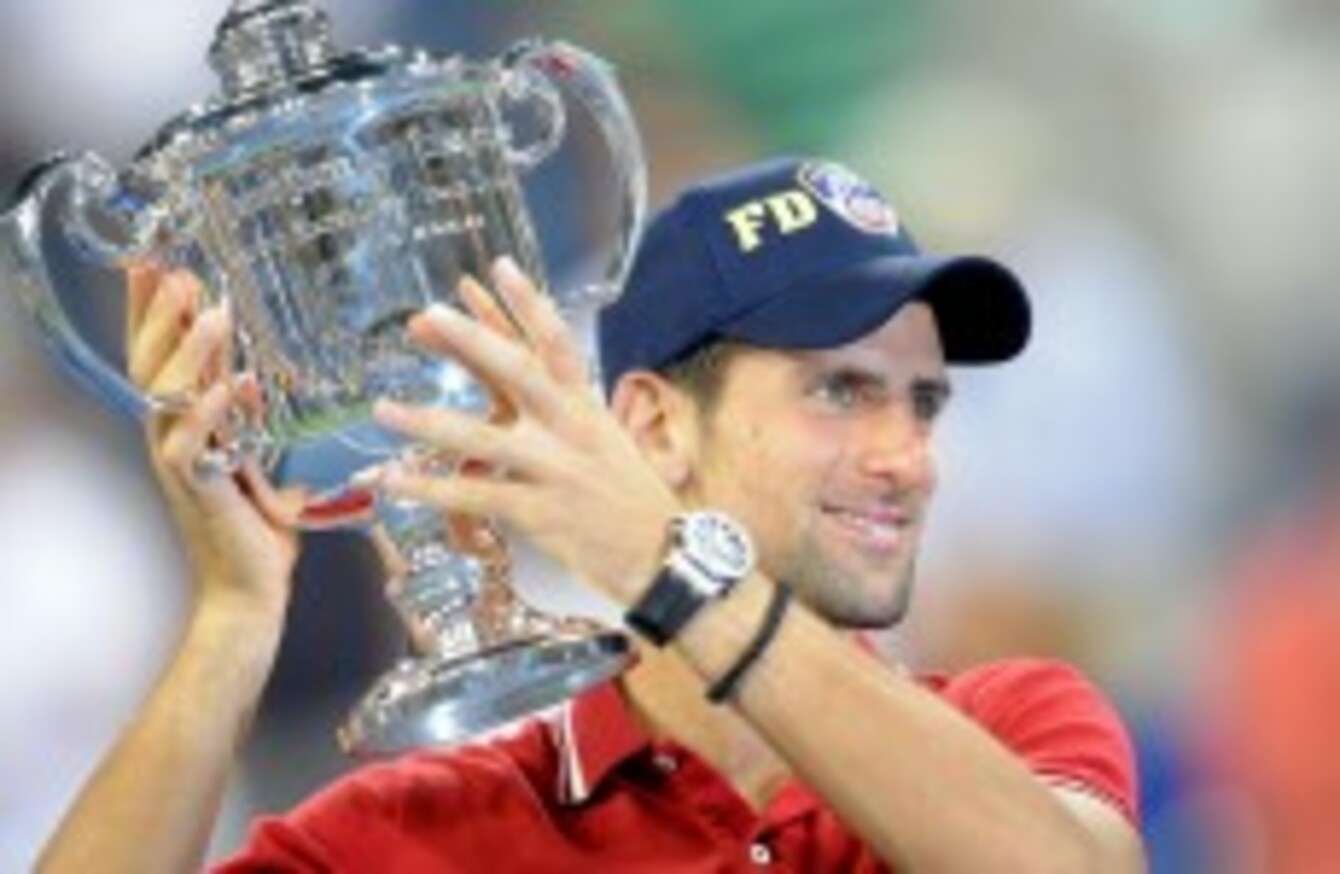 Image: Mehdi Taamallah/PA Wire/Press Association Images
Image: Mehdi Taamallah/PA Wire/Press Association Images
ANYONE WHO HAS seen Novak Djokovic in action this year will not be surprised by his US Open triumph on Monday.
The Serb showed tremendous determination, self belief and no shortage of talent in his victories over Roger Federer (semi-final) and Rafael Nadal (final) in Flushing Meadows – the manner of victories so convincing that it has led many observers to wonder if this is the best season professional tennis has EVER seen. John McEnroe did, however, win 82 matches and 12 tournaments during an incredible run in 1984
Facts & figures
Djokovic has now won 64 matches and ten tournaments in 2011, including three Grand Slam titles. One of his two defeats was because of injury; the other ended a record-breaking 43-match unbeaten run. Definitely eyebrow-raising figures, but then consider that this has been achieved while two of the greatest players the sport has ever seen are fit and active on tour…
Nadal has now been beaten six times in six finals this year by the world number one, the sort of hold the Spaniard once held over Federer. The latter has been beaten four times in five matches by Djokovic – the Swiss' sole win coming at the French Open – and with three months left and the likes of the Shanghai and Paris Masters to come, there is still time for those stats to improve further.
The world number two has already admitted that he hasn't been able to figure out how to beat this new, more confident Djokovic and is one of the players best placed to explain the difference between September 2011 and 12 months ago, telling reporters: "He's having less mistakes than before.
"He has enough confident in every moment to keep believing in one more ball, one more ball. Don't know if he's bringing tennis to another level. For sure this season he's doing fantastic. But when one very good player stays with that confidence and winning so many matches, and the matches you have a big chance to lose you keep winning, the season is probably impossible to repeat."
New attitude
Seven-times Grand Slam winner Mats Wilander believes Djokovic can get even better, explaining to Reuters: "I think this is the very beginning. He may be riding the wave, but it's not like the wave is going to end. This is how good he is."
However, the man of the moment is keeping his feet firmly on the ground – stating that his 2011 form is down to a change in attitude and a more positive mental approach to bigger matches. (Roger Federer would probably disgree).
"I had difficulties approaching semi-finals and finals. I would wait for players to make mistakes (and) I didn't have the positive attitude. That has changed now – the 2010 US Open (where he was beaten in four sets by Nadal) was the turning point. I guess it just clicked in my head. I'm hitting the shots now that I maybe wasn't hitting in the last two, three years now. I'm going for it."
Where once Djokovic might have been a little volatile and physical vulnerable in the final stages of a Grand Slam, against Federer and Nadal he had the belief to take the best of what they could throw at him and not only cope but return their shots with even more vengeance. He has beaten both men on the biggest stage now, the idea no longer holds any fear and that cannot be underestimated.
The power of self belief

The 24-year-old broke Nadal's serve 11 times during the US Open final and the Spaniard, to give him credit, did try a range of different tactics in an effort to uncover any possible chink in his opponents' armour. However, Djokovic's returning game has become as good and as effective as his serve. He has the patience and physical ability to stay in and control brutal, punishing rallies and he now goes into every single contest knowing he can win.
It's a crucial difference that Ladies Champion Sam Stosur is also feeling this week following her defeat of title favourite Serena Williams on Sunday. The Australian gave tennis fans everywhere a timely reminder that there is more to the women's game than the Williams sisters when she crushed the American's challenge in straight sets, curiously admitting afterwards that she now felt "deserving" of the attention she receives in her native Australia.
If the 2011 US Open proves nothing else, it's that a little confidence and self belief can blossom and go a long way.