STEPH CURRY SCORED 36 points to lead the Golden State Warriors to a 96-88 victory over the Oklahoma City Thunder last night and into an NBA title rematch with the Cleveland Cavaliers.
The Warriors, trying to cap a sensational season that included a record 73 regular-season victories with a second straight title, sealed the 4-3 series victory in the Western Conference finals on their home floor in Oakland, California — clawing back after trailing 3-1 in the series.
The Warriors, who became the 10th team to rally from a 3-1 deficit to win a playoff series, host LeBron James and the Cavaliers in game one of the finals on Thursday.
"You've got to be appreciative of this accomplishment — and look forward to getting four more wins," Curry said.
NBA / YouTube
The Warriors will be trying to become the league's first repeat winners since the Miami Heat — then featuring James — in 2012 and 2013. And they had to dig deep to get the chance. After twice fending off elimination, GSW trailed by as many as 13 in the first half and by eight early in the third quarter.
Curry, who earned Most Valuable Player honours for the second straight season, hit five of the Warriors' 10 second-half three-pointers as the reigning champions rallied again to oust the third-seeded Thunder.
"I knew we were ready for the moment," Curry said. "We were a mature basketball team that tried our best not to listen to the noise when we were down 3-1. … In that locker room, the talk was positive."
Moving on
Down by six points at half-time, the Warriors out-scored the Thunder 29-12 in the third quarter to power into the lead
Back-to-back three-pointers by Klay Thompson and Draymond Green gave them an 88-77 lead with 4:44 to play in the contest. The Thunder wouldn't go quietly, with a scoring drive from Russell Westbrook and seven straight points from Kevin Durant pulling the Thunder within 90-86 with 1:40 remaining.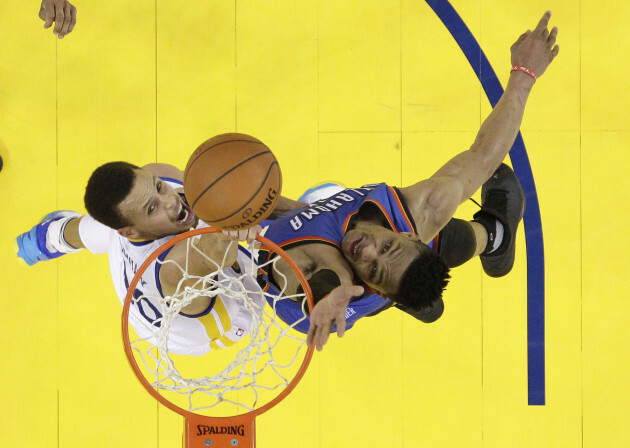 Marcio Jose Sanchez Marcio Jose Sanchez
"We survived by the skin of our teeth," Golden State coach Steve Kerr said. "We were able to pull it out, and we're moving on."
Curry, fouled on a three-point attempt, made all three free-throws, then produced a three-pointer that put the Warriors up by 10 with 26.8 seconds to play.
NBA / YouTube
Thompson's six three-pointers made up most of his 21 points. Green finished with 11 points and a team-high nine rebounds for Golden State.
"No one had any doubts that we could get this done," Green said. 'it took a great, tremendous effort and fight to overcome (the 3-1 deficit)."
Curry, who has dealt with ankle, knee and elbow injuries in the post-season, echoed his team-mate.
"We never lost confidence, and every game just played with fearlessness and that confidence we could get back to the finals however we had to get it done," he said.
Durant, who led the Thunder with 27 points and pulled down seven rebounds, admitted that surrendering that 3-1 series lead was painful:
You've got to give credit to them. They came out and played well the last three games of the series and won three in a row."
Westbrook had 19 points and 13 assists, but connected on just seven of 21 shots from the field.
Overall the Thunder shot just 38.2% from the field — which helped doomed their bid to become the first team in NBA history to beat two 65-win teams in the same post-season.
The Thunder had eliminated Western Conference second seeds San Antonio in the second round.
NBA / YouTube
"This could have played out entirely differently," Thunder coach Billy Donovan said. "There was opportunity for us to close the series out in (games) five and six and seven, and we came up a little short."
The42 is on Snapchat! Tap the button below on your phone to add!