Results
Galway 0-21 Dublin 0-19
Waterford 5-25 Antrim 1-8
************
Afternoon all, welcome along to our hurling coverage with the Bord Gáis Energy All-Ireland U21HC semi-finals taking place in Semple Stadium today.
Waterford v Antrim, 4pm

Galway v Dublin, 6pm
We've three provincial champions in action today with Waterford, Antrim and Dublin coming off the back of title wins in Munster, Ulster and Leinster last month. It's Galway opening game in the 2016 season.
Later on we'll be turning our attention to the clash of Dublin against Galway but first up it's the meeting of Waterford and Antrim. The Deise are huge favourites on the back of their Munster success and the possession of a clutch of senior stars in their side.
Austin Gleeson, Conor Gleeson, Patrick Currna, Shane Bennett, Stephen Bennett and Tom Devine are all named to start today just seven days after they all featured during the All-Ireland senior semi-final replay between Waterford and Kilkenny in Thurles.
Here's the starting Waterford team:
Waterford
1. Jordan Henley (Tallow)
2. William Hahessy (Clonea)
3. Conor Gleeson (Fourmilewater)
4. Darragh Lyons (Dungarvan)
5. Míchéal Harney (Bunmahon)
6. Austin Gleeson (Mount Sion)
7. Conor Prunty (Abbeyside)
8. Mark O'Brien (Ferrybank)
9. Mikey Kearney (Ballyduff Upper)
10. DJ Foran (Portlaw)
11. Tom Devine (Modeligo)
12. Colm Roche (Shamrocks)
13. Stephen Bennett (Ballysaggart)
14. Patrick Curran (Dungarvan) – (Joint Captain)
15. Shane Bennett (Ballysaggart)
One late change in goal for Antrim with Ryan Elliott coming in for Colin Heyden. Here's how Antrim will start.
Antrim
16. Ryan Elliott (Dunloy)
2. Gerard Walsh (O'Donovan Rossa)
3. Tomás Burns (Armoy)
4. Eoin McManus (Ruairí Óg Cushendall)
5. Damon McMullan (Loughgiel Shamrocks)
6. Paddy Burke (Ruairí Óg Cushendall)
7. Ryan McCambridge (Ruairí Óg Cushendall)
8. Cormac Ross (Whitehall Colmcilles)
9. Alec Delargy (Ruairí Óg Cushendall)
10. Maoi Connolly (Loughgiel Shamrocks)
11. Domhnail Nugent (Lámh Dhearg)
12. James O'Connell (Clooney Gaels)
13. Saul McCaughan (Ballycastle MacQuillans)
14. TT Butler (Ballycastle MacQuillans)
15. Ryan McKee (Loughgiel Shamrocks)
Game on between Antrim and Waterford in Thurles.
David Hughes the referee for this one.
Waterford 0-1 Antrim 0-0
2 mins – A trademark Austin Gleeson score, soaring catch, surging run and a fine point.
Waterford 0-2 Antrim 0-0
4 mins – Patrick Curran clips over a point for his score of the day for Waterford.
Waterford 0-4 Antrim 0-0
9 mins – More senior players are pointing the way for Waterford here. Stephen and Shane Bennett have both raised white flags now.
Goal for Waterford from Tom Devine!
Waterford 1-4 Antrim 0-0
11 mins – Superb strike to the net from Modeligo player Devine. Patrick Curran played a free short to him – whipping it on the ground after missing his pick – and Devine gathered, stepped inside a couple challenges and unleashed a bullet to the net off his left. Looked like he had over-carried though before shooting.
Goal for Stephen Bennett for Waterford!
Waterford 2-6 Antrim 0-2
19 mins – A flurry of scores there. Tom Devine and Mikey Kearney points for Waterford sandwiched a Stephen Bennett goal when he flicked home after DJ Foran's initial shot. Damon McMullan has pointed a free to finally get Antrim off the mark while Domhnail Nugent has also registered.
Waterford have taken off Shane Bennett with Peter Hogan – goalscorer in Munster final – coming on. It looked like Bennett injured himself in the warm-up before throw-in.
Waterford 2-7 Antrim 0-3
24 mins – Points traded with Maoi Connolly hitting over a free for Antrim before Austin Gleeson replied for Waterford.
Waterford 2-7 Antrim 0-5
25 mins – Antrim are hanging in there admirably. Saul McCaughan points from play and then slots a free after being fouled himself.
Waterford 2-8 Antrim 0-5
29 mins – A pointed free for Waterford from Patrick Curran.
Goal from Patrick Curran for Waterford!
Waterford 3-9 Antrim 0-6
30 mins – Waterford just have that ability to push clear on the scoreboard. Curran bats the ball to the net after Bennett's initial shot was blocked. McMullan strikes a point for Antrim in response but then that is quickly cancelled out by DJ Foran.
Waterford 3-10 Antrim 0-6
32 mins – Curran slots over another free.
Half-Time: Waterford 3-10 Antrim 0-6
Waterford 3-11 Antrim 0-6
31 mins – First point of the second half courtesy of Waterford's Mikey Kearney.
Goal for Antrim from Saul McCaughan!
Waterford 3-12 Antrim 1-6
32 mins – Fine strike to the net from Saul McCaughan for Antrim to give them a real boost but Mark O'Brien does reply with a score for Waterford.
Waterford 3-13 Antrim 1-6
36 mins – Fine point for Waterford again from Kearney.
Waterford 3-15 Antrim 1-7
42 mins – Devine and Curran push Waterford further ahead.
Goal for Waterford from Stephen Bennett!
Waterford 4-15 Antrim 1-8
45 mins – Excellent interplay between Patrick Curran and Bennett, resulting in the latter netting.
Waterford 4-16 Antrim 1-8
49 mins – Peter Hogan grabs a point for Waterford.
Fifth goal for Waterford comes from Patrick Curran!
An injured Austin Gleeson comes off for Waterford with Dermot Ryan replacing him.
Waterford 5-17 Antrim 1-8
52 mins – Super point from a sideline by Mikey Kearney.
Waterford 5-18 Antrim 1-8
55 mins – This game is a done deal. Waterford keep tacking over the points with DJ Foran adding another.
Waterford 5-20 Antrim 1-8
57 mins – Chance for another Waterford goal but Stephen Bennett's shot is blocked by Ryan Elliott. Foran has notched a brace of points for Waterford.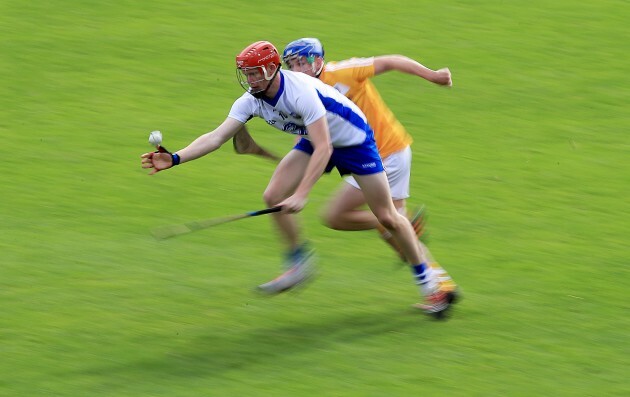 Donall Farmer / INPHO Waterford's DJ Foran with Antrim's Eoin McManus Donall Farmer / INPHO / INPHO
Waterford 5-23 Antrim 1-8
59 mins – Classy score for Waterford from Patrick Curran from play, then Adam Farrell scores from play and Curran adds another from a free.
Waterford 5-25 Antrim 1-8
61 mins – Another pointed free by Curran and one from play by Fagan.
Full-Time: Waterford 5-25 Antrim 1-8
And that's it, Waterford advance to their first All-Ireland U21 hurling final since 1992 with comprehensive win over Antrim. A hugely one-sided game as Waterford finish 29 points clear and will contest the decider on 10 September. Next up it's Dublin and Galway at 6pm to see who will face the Deise.
But these games do raise question marks over the current U21 hurling system as one of our commenters points out.
Seamus McSpud: Waterford v Antrim. As big and all a joke as the senior championship is the U21 really takes the biscuit. Galway playing their first game of the year and Antrim going to get completely and utterly hammered out the gates and back up to Belfast. What's the point
We'll be back shortly with the build-up to Dublin and Galway but it's been a good night for Waterford hurling, providing a tonic for them after last Saturday's heartbreaking senior loss to Kilkenny.
Here's the Dublin team named to start, we'll let you know if there's any late changes.
Dublin
1. Jonathan Treacy (Na Fianna)
2. Eoghan O'Donnell (Whitehall Colmcille)
3. James Madden (Ballyboden St-Enda's)
4. Fionn Ó Riain Broin (St Judes)
5. Cian MacGabhann (Kilmacud Crokes)
6. Shane Barrett (Na Fianna)
7. John Bellew (Lucan Sarsfields)
8. Jake Malone (Cuala)
9. Mark McCallion (Kilmacud Crokes)
10. Séan Ó Riain (Setanta)
11. Séan Treacy (Cuala)
12. Eoghan Conroy (St Maur's)
13. Andrew-Jamieson Murphy (Na Fianna)
14. Cian Boland (St Oliver Plunkett's Eoghan Ruadh)
15. Rian McBride (St Vincent's)
And here's the Galway team that is selected.
Galway
1. Cathal Tuohy (Tommie Larkins)
2. Conor Jennings (Loughrea)
3. Darragh O 'Donoghue (Kilnadeema Leitrim)
4. Declan Cronin (Cappataggle)
5. Fintan Burke (St Thomas)
6. Shane Cooney (St Thomas)
7. Sean Loftus (Turloughmore)
8. Darragh Dolan (Cappataggle)
9. Dan Nevin (Cappataggle)
10. Kevin McHugo (Tommie Larkins)
11. Brian Molloy (Kilnadeema Leitrim – Capt.)
12. Conor Whelan (Kinvara)
13. Thomas Monaghan (Killimordaly)
14. Eanna Burke (St Thomas)
15. Cian Burke (Athenry)
Set for throw-in in tonight's second game in Thurles.
Chris Bennett a late inclusion in Dublin team for Mark McCallion.
Dublin 0-1 Galway 0-0
3 mins – Lovely point from Andrew Jamieson-Murphy gets Dublin off the mark.
Dublin 0-3 Galway 0-1
6 mins – Backed by the wind, Chris Bennett hits over a monster point for Dublin from a free. Then Cian Boland hits over another splendid score. Galway need something to settle them and midfielder Dan Nevin supplies it with a point.
Dublin 0-3 Galway 0-2
8 mins – Eanna Burke points for Galway but it was a brilliant chance for a goal as he turned, raced clear before clipping his shot over the crossbar.
Dublin 0-5 Galway 0-2
10 mins – Murphy and Rian McBride stretch the lead enjoyed by a Dublin team backed by the wind in Thurles.
Dublin 0-5 Galway 0-3
12 mins – Senior panellist Brian Molloy pulls a point back for Galway.
Dublin 0-6 Galway 0-3
13 mins – Dublin cancel out that Molloy score courtesy of Rian McBride.
Dublin 0-8 Galway 0-4
15 mins – Points traded by the freetakers Bennett and Molloy before Eoghan Conroy's excellent score leaves four between them.
9. Mikey Kearney (Ballyduff Upper)
10. DJ Foran (Portlaw)
Dublin 0-9 Galway 0-5
18 mins – Neat score by Dan Nevin for Galway – his second – but Dublin respond through McBride. They're just keeping distance between the teams on the scoreboard.
Dublin 0-10 Galway 0-6
25 mins – Every time Galway try to make some inroads, Dublin respond. Dan Nevin splits the posts with a sublime sideline cut but Shane Barrett retaliates with a score that restores Dublin's four-point advantage.
Couple of big goal chances. AJ Murphy for Dublin sees his effort stopped by Galway netminder Cathal Tuohy and then Conor Whelan gets free for Galway and smacks in a fierce drive that is touched onto the bar by Dublin's Jonathan Treacy.
Half-Time: Dublin 0-10 Galway 0-7
Galway grab a point before the break through Brian Molloy but Dublin still three to the good at the midway mark.
We're set again for the second half action in Thurles. Who's going to qualify to face Waterford on 10 September?
Early pressure for the Dublin defence as Galway threaten the goal but Dublin hold out to deny Conor Whelan.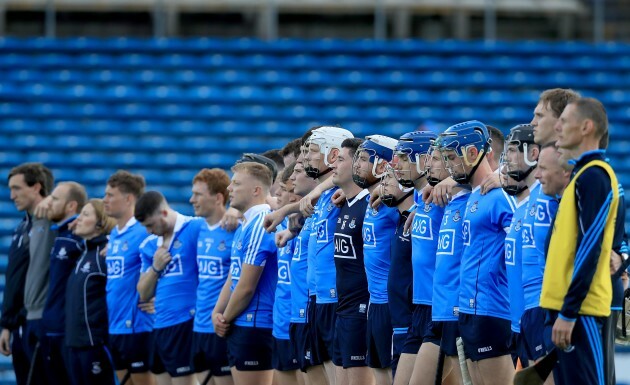 Donall Farmer / INPHO The Dublin team stand for the national anthem before the game. Donall Farmer / INPHO / INPHO
Dublin 0-11 Galway 0-7
32 mins – Dublin push it back out to a four point game again as AJ Murphy is fouled and Bennett snaps over the resultant free.
Dublin 0-11 Galway 0-8
33 mins – Captain Brian Molloy points the way for Galway with a super score.
Dublin 0-11 Galway 0-9
34 mins – Then Molloy turns provider and Darragh Dolan splits the posts for Galway.
Dublin 0-11 Galway 0-10
35 mins – Stylish effort by Thomas Monaghan, his first of the game for Galway, and they've cut the deficit to the minimum.
Dublin 0-11 Galway 0-11
36 mins – Now we're all square thanks to Conor Whelan. Galway have made an explosive start to the second half.
Still all square with 20 minutes left in Thurles.
Dublin prise apart the Galway defence as Sean Treacy cuts through but his attempt at a goal is foiled by a hook from defender Fintan Burke.
Galway 0-12 Dublin 0-11
43 mins – Galway push ahead through a Brian Molloy free.
Galway 0-13 Dublin 0-11
45 mins – Another huge point for Galway, this time by Monaghan again.
Galway 0-13 Dublin 0-12
46 minus – Dublin needed something to inspire them and Cian Boland may well have done that. Terrific skill to gather the ball and an excellent score then from the wing.
Galway 0-13 Dublin 0-13
51 mins – And we're level with ten minutes left through Dublin's Fionn O Riain Broin. Dublin have bounced back well after a faltering badly in the third quarter.
Massive chance for Dublin to go ahead but despite having plenty time, AJ Murphy blazes wide when going for a point.
And another wide for Dublin by Cian Boland. That's 18 they have hit so far today with Galway amassing 11 wides.
Dublin 0-14 Galway 0-13
55 mins – Dublin break the scoring impasse and hit the front. It's Ballyboden St-Enda's player James Madden who obliges, coming up from his full back role and scoring.
That's three in a row now for Dublin after they were outscored by 0-6 to 0-1 in the third quarter of this game.
Dublin 0-14 Galway 0-14
56 mins – When the game is tight, you need your senior players to stand up and Conor Whelan does that for Galway with a brilliant point. Level again.
Galway 0-15 Dublin 0-14
57 mins – And Galway hit the front! Moments after Brian Molloy had banged a long-range free wide, he makes amends in style with a shot from distance from a placed ball to point and put them in front. It was Shane Cooney who had been fouled. Can Dublin respond?
Galway have a chance to go two ahead after Whelan sets up Eanna Burke but his shot drifts wide.
Dublin 0-15 Galway 0-15
59 mins – AJ Murphy takes on the responsibility to run at the Galway defence and is fouled to win a priceless free for Dublin. Sean Treacy slots it over. Are we headed for extra-time?
Galway 0-16 Dublin 0-15
61 mins – Eanna Burke switches the play with a crossfield ball to Thomas Monaghan who points.
Dublin 0-16 Galway 0-16
63 mins – Cian MacGabhann levels it!
Full-Time: Dublin 0-16 Galway 0-16
Exra time to follow.
So we're headed to extra-time in Thurles. Dublin did superbly there to work a levelling score with Cian Boland setting up Cian MacGabhann. His first shot off his right was hooked but he gathered the loose ball before turning to fire over off his left.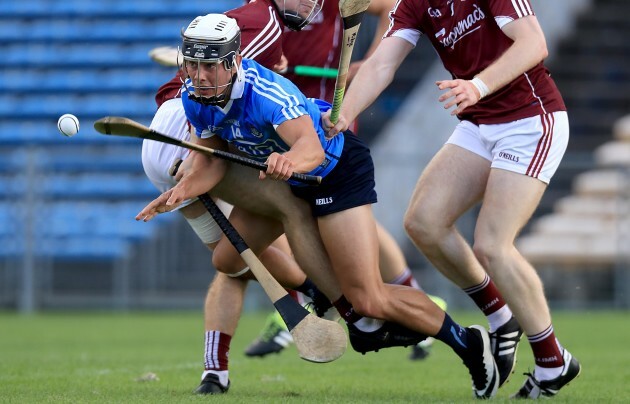 Donall Farmer / INPHO Dublin forward Cian Boland is tackled by the Galway defence Donall Farmer / INPHO / INPHO
Extra-time under way and no points as of yet.
Dublin 0-17 Galway 0-16
65 mins – First blood in extra time to Eoghan McHugh as he notches a point for Dublin
Dublin 0-17 Galway 0-17
66 mins – Level again courtesy of a point from Eanna Burke for Galway.
Galway 0-18 Dublin 0-17
69 mins – Brian Molloy nudges Galway ahead.
Galway 0-18 Dublin 0-18
70 mins – Terrific individual effort by Dublin's Cian Boland.
Half-Time (Extra-Time): Dublin 0-18 Galway 0-18
The second half of extra time has now commenced.
Dublin 0-19 Galway 0-19
73 mins – Molloy nails a '65 for Galway, then Treacy points a free for Dublin.
Galway 0-20 Dublin 0-19
75 mins – Fantastic point from a free for Molloy and Galway edge in front.
Into the final few minutes, Dublin searching for an equaliser.
Galway 0-21 Dublin 0-19
80 mins – And man of the match Molloy hits over the free that sends Galway ahead by two.
Full-Time: Galway 0-21 Dublin 0-19
And Galway get the job done after extra-time in Semple Stadium.
So it'll be Galway v Waterford in Bord Gáis Energy All-Ireland U21 hurling final on 10 September. That'll be a repeat of the 2013 minor decider.
So that's all from us then as Galway and Waterford advance. Thanks for joining us this evening.
The42 is on Snapchat! Tap the button below on your phone to add!