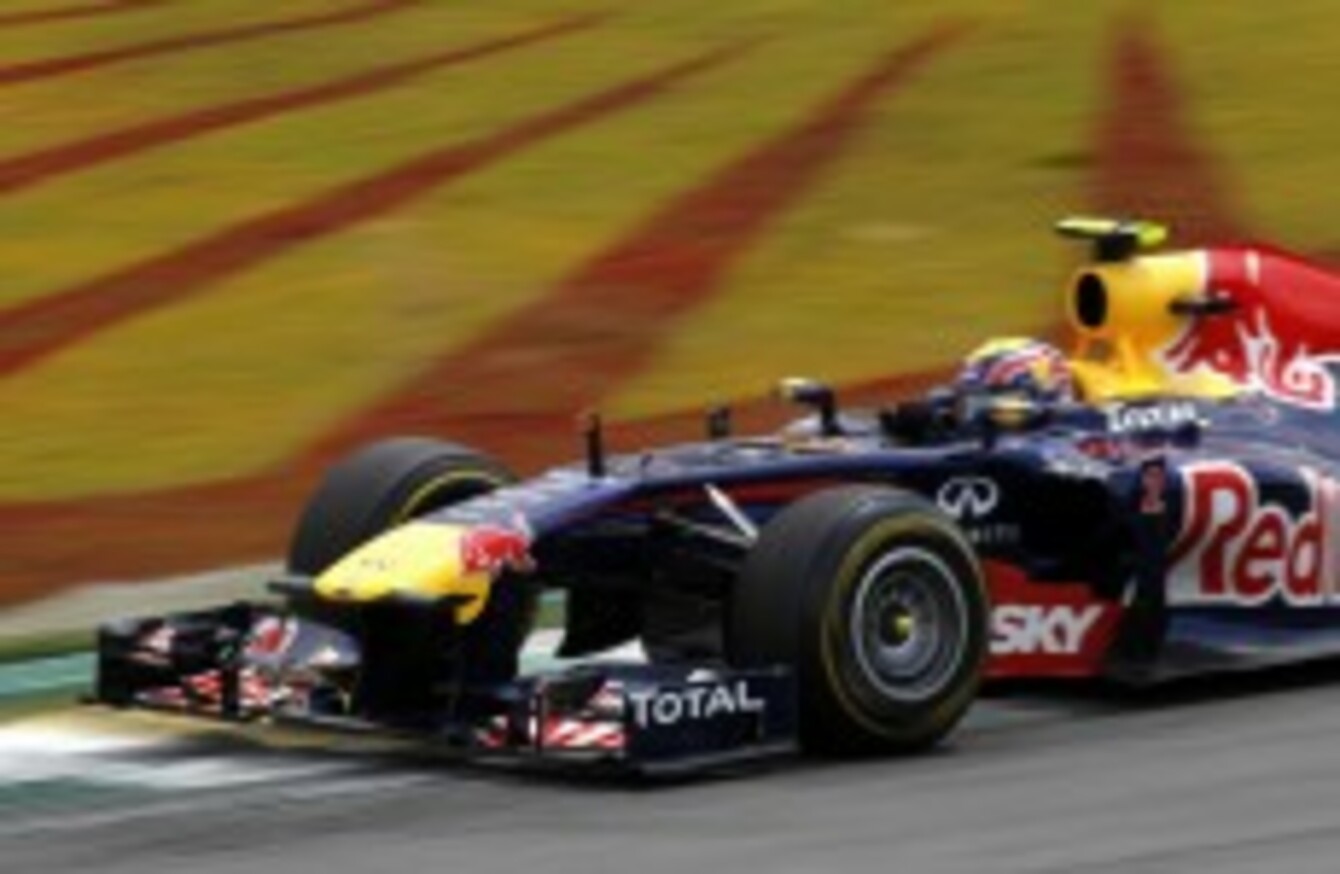 MARK WEBBER SAVED his best drive of 2011 for the last race of the season and capitalised on gearbox problems for team-mate Sebastian Vettel to win the Brazilian GP.
The Australian came home well ahead of his Red Bull colleague, who was unable to maintain his early race pace and was instructed to slow down and claim second place after being alert to a mechanical issue.
Third was Jenson Button in a McLaren with Ferrari's Fernando Alonso and Felipe Massa fourth and fifth. Force India's Adrian Sutil was sixth as Nico Rosberg (Mercedes) and Paul di Resta claimed the final points available for seventh and right.
See Formula1.com, for the full race results
Pole sitter Vettel made yet another strong start off the grid and had established a two-second lead over his Red Bull team-mate by lap three. A decent start from Alonso saw the Spaniard edge into fourth ahead of Lewis Hamilton before getting by Button and into the final podium position by lap 12.
Vettel was first alerted to a potential gearbox problem on lap 14 before being told it was "serious" issue – one that would require him to drive conservatively to finish the race – 12 laps later. That allowed team-mate Webber to close right in and nip by on lap 30.
While Massa appeared to be very competitive initially, his two-stop strategy dropped him back into the clutches of Button and Hamilton. However, the latter suffered a gearbox failure and was forced to retire on lap 48.
The racer in Vettel was not easily quenched either – the German posted his fastest lap of the event on the same lap that Hamilton retired and was quickly reminded to slow down by his pit lane team.
Button's switch to the softer compound tyres on lap 54 proved crucial to his battle with Alonso. He was able to catch and overtake Alonso on the straight after turn three within eight laps of the stop, reclaiming third position in the process.
Final Drivers' Championship standings
Final Team Championship standings