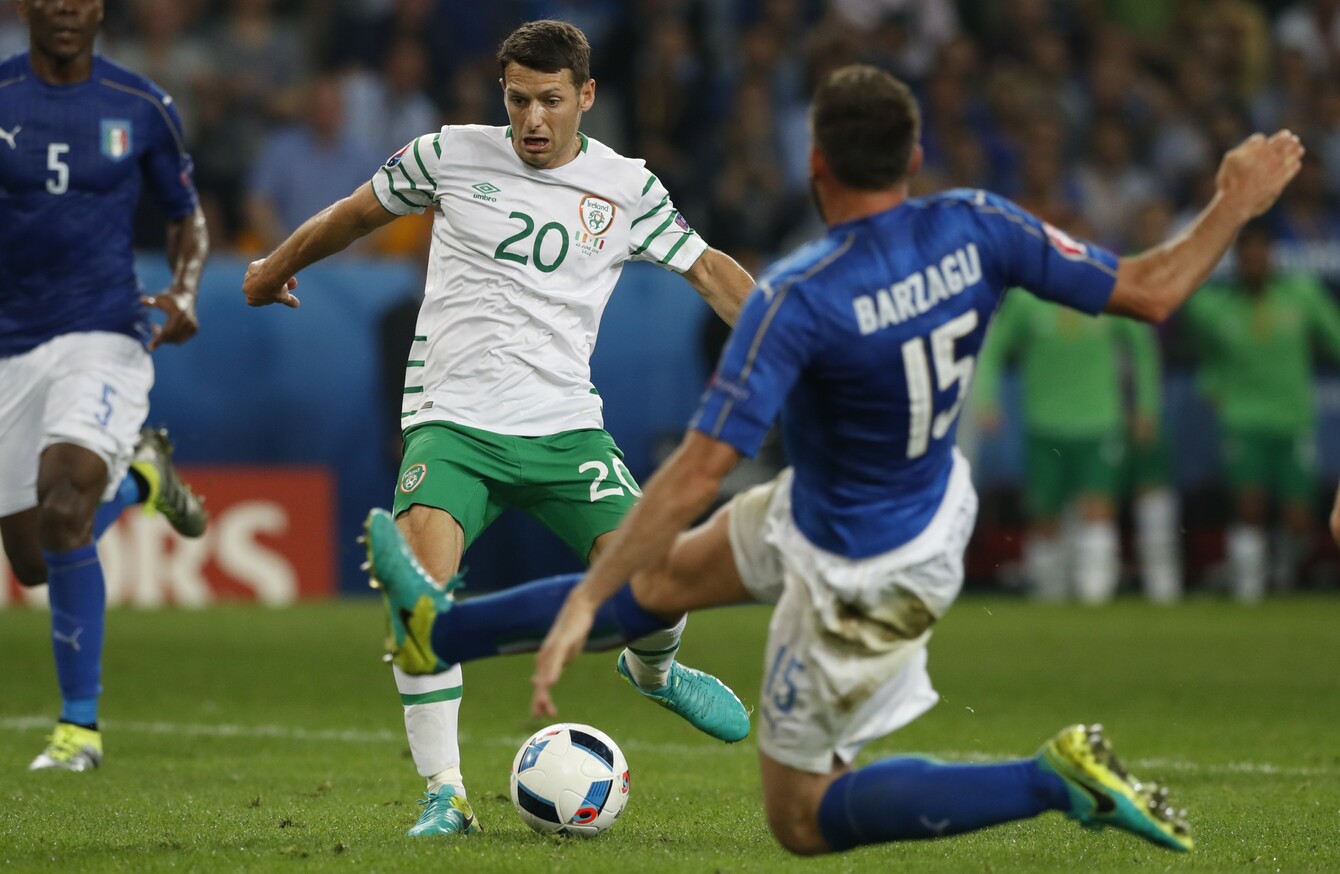 Hoolahan's shot was saved by Sirigu.
Image: Michel Spingler
Hoolahan's shot was saved by Sirigu.
Image: Michel Spingler
- Ben Blake reports from the Stade Pierre-Mauroy in Lille
WES HOOLAHAN ADMITS he owes Robbie Brady a pint after his match-winner against Italy tonight.
On as a second half substitute, Hoolahan was handed a clear goalscoring chance late on but seemed in two minds as he bore down on goal and ended up shooting tamely at Italian goalkeeper Salvatore Sirigu.
However, the 34-year-old kept his nerve to set up his Ireland and Norwich City team-mate moments later with a superb cross as the Boys in Green booked their place in the last-16 of Euro 2016.
"For Robbie to get his head on that was great," Hoolahan said afterwards. "He has run from the inside of his own half and to show that determination to get on the end of it… he was brilliant tonight."
Ireland manager Martin O'Neill joked in his post-match press conference that he wanted to rip Hoolahan's head off after the wasted opportunity in question.
"I was thinking when it happened 'Oh no, what's going to happen at the end (with O'Neill)', but luckily enough Robbie got the goal," added Hoolahan.
"I just kept my concentration and thought another chance might come or I might be able to create something.
There are always going to be ups and downs in football — that's life. You need to stay focused and in control to the last minute. Luckily enough, Robbie has got on the end of it and I probably owe him a few drinks!"
Under O'Neill, this team has mustered up several late goals in big games so there was a belief there they could eventually break down the Italian defence.
"Not really because we have scored so many last minute goals so we knew we would get a chance in the end," replied Hoolahan, when asked if he thought the result was slipping away.
"We showed great determination, character and the will to go on until the end.
"The fans were great as well and they pushed us on to the end. Even when we scored, they kept us going."
A latecomer to international football, Hoolahan says the past two weeks have made up for years of missing out on wearing the green shirt.
"The last ten days have been brilliant, just being around everybody and experiencing this.
"It has been a great honour to play for my country, to play the first two games and then come on tonight. To be a part of it is amazing."