A COACH WORKING in Irish underage football recently doubted whether good football was truly appreciated by many of those working within the game in this country.
This individual's teams placed an emphasis on creative, possession football. Often, they came up against a well-organised and defence-oriented team with no intention towards playing positively.
On the occasions when they lost, he could hear the murmurs from the opposition on the sideline: "Yeah, they play this attractive football, but at the end of the day, we beat them."
When I heard these words, I immediately thought of Wes Hoolahan and more specifically, how many Wes Hoolahans have been lost to the the system.
The public message, at least in recent years, has been positive. FAI CEO John Delaney has spoken of how he wants Irish youngsters to 'learn to love the ball'.
In the League of Ireland, Dundalk are one example of a team brave enough to play attractive, passing football, even after qualifying for the Europa League group stages and coming up against infinitely better-resourced sides.
The recent overhaul to the underage system in this country is still in its relatively early stages and may yet bear significant fruit.
But generally speaking, of late, it is fair to say that Hoolahan has been an anomaly — a player who is comfortable on the ball in all areas and is constantly demanding it off others.
With the exception of Roy Keane circa Saipan, it is hard to think of any Irish footballer who has prompted such heated debate among fans over so consistent a period in the last 30 years.
Let's be clear though: Hoolahan is not and never was a world-class player. No one has ever argued that to be the case. But break down the stats and it is hard not to draw the conclusion that the Dubliner was under-utilised by Ireland. He earned 43 caps officially, but only 22 of those were competitive fixtures and just 15 were competitive starts.
The competitive games that Hoolahan started were, in chronological order — Faroe Islands home (2014 World Cup qualifier), Gibraltar home (Euro 2016 qualifier), Poland home (Euro 2016 qualifier), Scotland home (Euro 2016 qualifier), Gibraltar away (Euro 2016 qualifier), Georgia home (Euro 2016 qualifier), Germany home (Euro 2016 qualifier), Bosnia away (Euro 2016 qualifier), Bosnia home (Euro 2016 qualifier), Sweden (Euro 2016), Belgium (Euro 2016), Moldova away (2018 World Cup qualifier), Austria away (World Cup qualifier), Moldova home (2018 World Cup qualifier) and Serbia home (2018 World Cup qualifier).
Of these games, Ireland won nine, drew four and lost two.
In addition, Hoolahan completed 90 minutes for his country on just three competitive occasions — the 3-0 win over Faroe Islands (under Giovanni Trapattoni), the 1-1 draw with Poland and the 1-0 victory over Germany.
All the way back in 2012 and probably before then, there were calls for Hoolahan to be in the Irish team. And it was not only journalists and fans who thought this way. Speaking on Off the Ball this week, former player Keith Andrews suggested that Ireland were "crying out for" Hoolahan at Euro 2012, due to his ability to offer something different to the majority of players in the squad. Instead, Ireland's rather unsophisticated four-man midfield was overrun by teams such as Spain and Croatia in the only major tournament in which the side has been present that has swiftly been extinguished from most supporters' memories.
James Crombie / INPHO Pictured above, Ireland's Glenn Whelan and Andres Iniesta of Spain. Keith Andrews believes Ireland suffered at Euro 2012 without Hoolahan's guile. James Crombie / INPHO / INPHO
It would be harsh to blame successive Ireland managers for Hoolahan's absence, however. The Dubliner's first season in the Championship was the 2007-08 campaign. Steve Staunton's last match in charge was October 2007. To play him in the team during his League of Ireland or League One days and leave out someone like Kevin Doyle or Robbie Keane (both of whom were Premier League regulars around this era) would have been asking a lot of the coaches in charge, even though in hindsight it was arguably the right call.
Nevertheless, Trapattoni's consistent neglect of the player, even when he was regularly starring in the Premier League, is less excusable.
O'Neill certainly embraced Hoolahan more so than past Irish managers. All those starts mentioned above bar one were with the Derry native as manager.
It is telling, however, that Hoolahan played from the outset in just four away competitive games in his Boys in Green career, and two of those were against minnows of international football (Gibraltar and Moldova).
There is an idea that Ireland need to be 'hard to beat' away from home rather than adventurous, though it is ironic that the team have for the most part been relatively underwhelming on the road in recent times.
Defeats of Austria (in which Hoolahan enjoyed a rare start) and Wales in the 2018 World Cup qualifiers have been the only victories against top international teams on the side's travels since the Charlton era ended.
So there is no doubt that, while he has become infinitely more involved since the O'Neill era, there has never been a period when Hoolahan was entirely trusted compared to how the solid, hard-working types such as Jon Walters, James McClean and Jeff Hendrick tend to be.
The Hoolahan debate and whether he was overrated or underrated ultimately became a recurring subplot over the course of the O'Neill era. His detractors pointed to his age, his supposed defensive shortcomings and his sporadic appearances at Premier League and (sometimes even) Championship level. His supporters, meanwhile, argued that Ireland nearly always played better with the Norwich man in the team and highlighted his parts in many of the Boys in Green's most memorable moments of recent times — in 2016, for instance, every Ireland goal of the year nominee was either scored or assisted by Hoolahan.
O'Neill himself ostensibly veered from one side of the argument to the other. The manager initially seemed reluctant to use him and it was only a couple of games into the Euro 2016 qualifying campaign that Hoolahan was trusted to play a big game — Poland at home. From that point on, the ex-Shelbourne player had better fortune, and the fact that he started both Bosnia play-off fixtures as well as the opening two Euro 2016 matches was a big show of support from O'Neill.
Conversely, the manager appeared to lose faith in Hoolahan to a degree after the 3-0 defeat to Belgium at the Euros. He would not start again until the following October in the match away to Moldova and it was probably only due to a number of injuries in the team that he featured the next month in Vienna.
Exclusive Six
Nations Analysis
Get Murray Kinsella's exclusive analysis of Ireland's Six Nations campaign this spring
Become a Member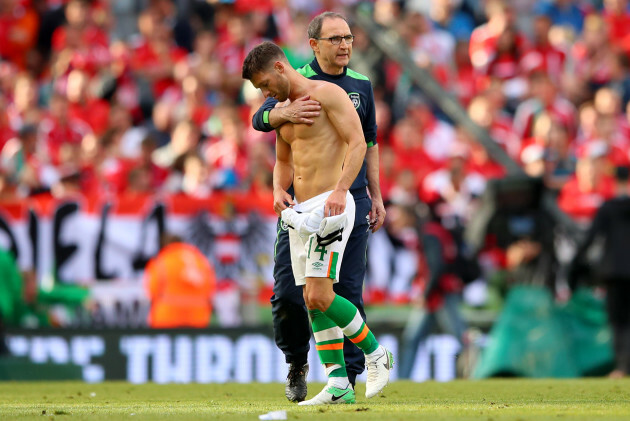 James Crombie / INPHO Martin O'Neill and Wes Hoolahan at the final whistle following Ireland's home game against Austria. James Crombie / INPHO / INPHO
After being withdrawn on 62 minutes against Serbia amid a 1-0 loss last September, Hoolahan would only start again for Ireland against Moldova at home. His last act in international football was coming off the bench at half-time against Denmark at the Aviva Stadium, an almost impossible task when Ireland were 2-1 down and in need of at least two goals to have any hope of progressing from the ill-fated World Cup play-off.
In many ways though, the Hoolahan argument transcended the individual himself. An Ireland team with the Norwich star were a much different proposition to a side without him.
In his absence, the Boys in Green were basically, in RTÉ pundit Damien Duff's words, "a long ball team". Once he was put into the mix, they suddenly appeared capable of constructive football that was occasionally inspired and rarely as one-dimensional as the team so often otherwise appeared.
For football romantics, who believed Ireland could still replicate the football of the Eoin Hand/John Giles eras and be successful, Hoolahan was an essential ingredient. Yet for those who felt the team were better off focusing on their supposed strengths and adopting a Jack Charlton style of football based on physicality and long balls, the Norwich star was basically a less high-achieving and talented modern equivalent of Liam Brady — a gifted player but a dispensable one nonetheless.
And this was not a specifically Irish problem. John Giles, on Off the Ball during the week, recalled how during Hoolahan's Shelbourne days, he recommended the player to a Premier League club but the Dubliner was rejected by them because he was "too small".
During the 2013-14 campaign, when Hoolahan aged 31 was still close to his footballing peak, he started just 10 of Norwich's 38 Premier League games, with the Canaries relegated from the division that season.
More than ever in football now, there is a reluctance among some in the game to trust their eyes or rely primarily on what they see happening on the field. Instead, people focus on other issues. 'What age is he?' 'What percentage of passes did he complete?' 'What team does he play for?' 'How many yards did he run over the course of 90 minutes?'
Hoolahan, who seldom settled for the safe sideways pass when a better option was on, did not fit easily into modern football. In a game where results and finances have increasingly become the be all and end all, safety-first players, particularly at smaller clubs, are invariably preferred over risk takers.
Over the past few decades, Irish and British football teams have consistently been shown to be inferior technically to others during big international tournaments. The former's problems cannot simply be put down to a failure to consistently play Hoolahan, but the mistreatment and suspicion with which the Dubliner was routinely viewed on both sides of the water is one telling example of a deeply flawed system, where little guys are routinely shunned by all bar mavericks like Guardiola and where athletes rather than footballers are prioritised. Consequently, perhaps more so than ever before, the beautiful game is being suffocated by groupthink.
If Irish football is to thrive in future, it cannot afford to treat creative talents of Hoolahan's ilk with such carelessness and apathy.
The 42 is on Instagram! Tap the button below on your phone to follow us!