1. Howard Webb wouldn't last 90 minutes in the Egyptian League
If a referee gets a decision wrong in the Premiership, fans hurl abuse and if it's a Manchester United game, Wayne Rooney will probably take the opportunity to show off his ever-expanding vocabulary.
In Germany, you get offered a beer – or at least that's what my St. Pauli-supporting friend told me.
Egyptian fans are slightly less cordial though. After Cairo side Zamalek had a late equaliser disallowed in their African Champions League game against Club Africain of Tunisia, this was how some members of their support took out their frustration.

2. Christmas 2011 has been cancelled by the ICC
It's a logical next step following on from their baffling decision to restrict the 2015 Cricket World Cup to the body's ten "full member" nations.
Even former England star Andrew "Freddie" Flintoff reckons the ICC have gotten this one badly wrong – and that's even factoring in his fear that Ireland will pull off a repeat of Bangalore the next time the sides meet.
Worst of all, it appears that today's announcement might finally force Trent Johnston into retirement. For shame, ICC, for shame.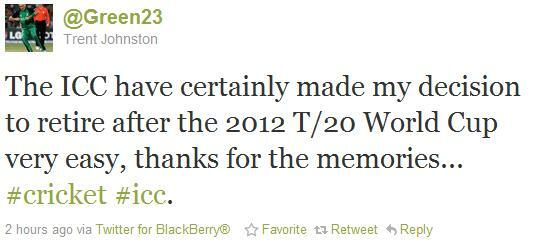 3. Great footballer, questionable driver?
Fear not Arsenal fans, it will take a lot more than a "minor car accident" to stop Cesc Fabregas from getting to training.
Thankfully nobody was hurt in this morning's incident and Cesc was able to hop back in his car and get to the club's Shenley training facility before Arsene noticed he was missing.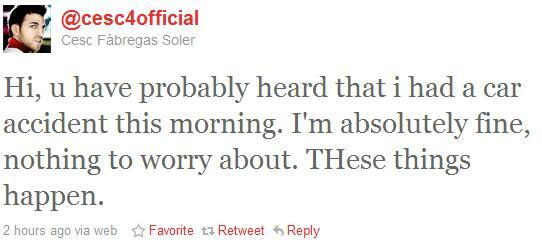 4. Charity begins at home
We always thought that charity football matches were simply an excuse for past-it pros and wannabe sports stars from Westlife or Fair City to pull on a pair of boots and lark about for a couple of hours.
Apparently neither Dubs goalkeeper Stephen Cluxton nor former Liverpool and Ireland star Jason McAteer got the memo as the two engaged in a spot of fisticuffs during a game in aid of Autism Ireland.
A couple of spectators initially suggested that it may have been a bit of belated April Fools prank, but it doesn't really look like it. Check out this wonderful photo taken by freelance photographer Paul Walsh.
5. If you want good seats to see the New York Mets, make friends with the cast of Entourage
Reports suggest that Doug Ellin, producer of hit HBO series Entourage, and cast members Kevin Connolly (Eric "E" Murphy) and Kevin Dillon (Johnny "Drama" Chase) have been approved by the MLB to bid for ownership of the New York Mets. Obviously nobody told any of them that the Mets have sucked for years now.
Then again, what good are sports teams if they can't be playthings for the rich and famous?