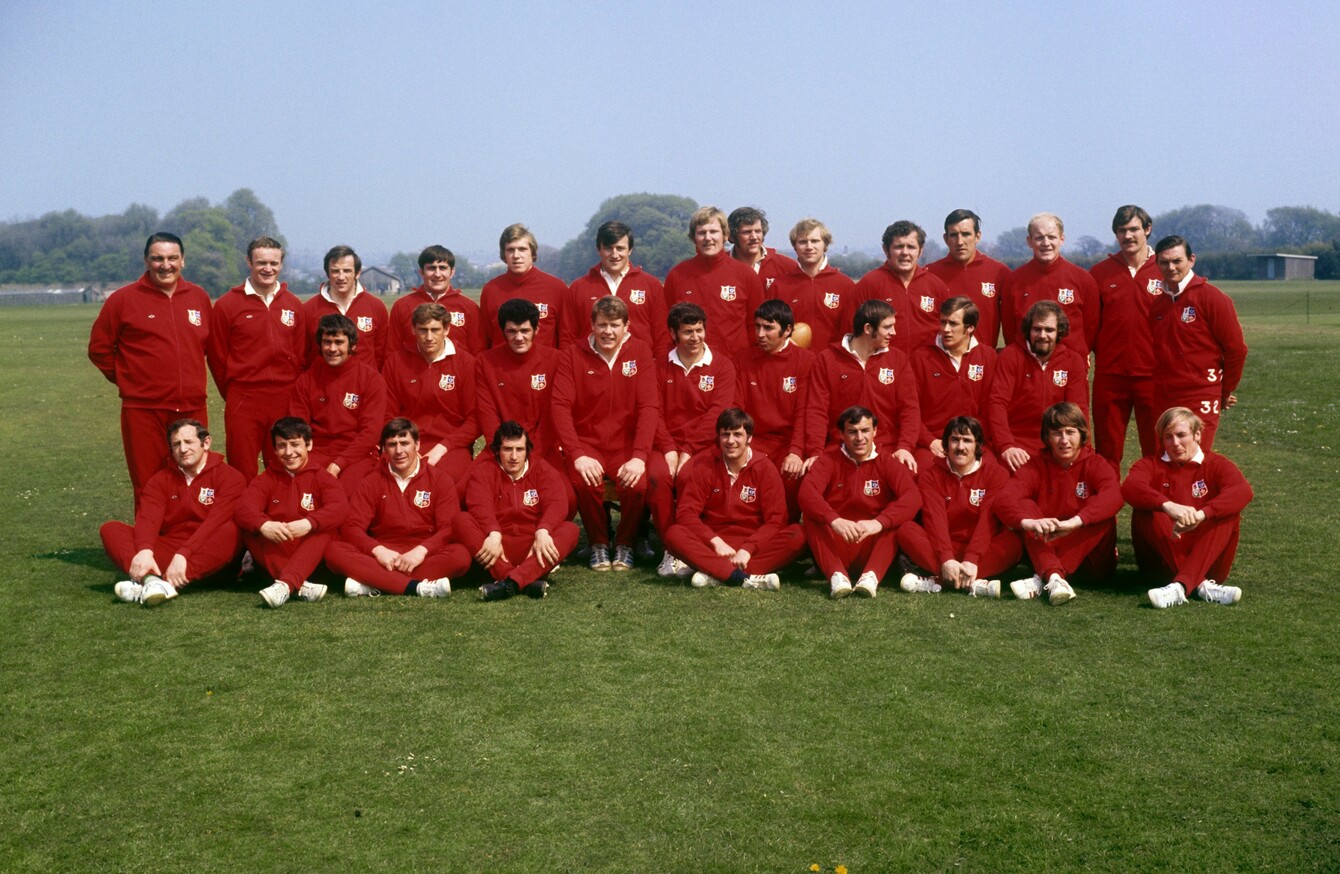 The 1971 Lions rugby squad.
Image: PA Archive/PA Images
The 1971 Lions rugby squad.
Image: PA Archive/PA Images
THE LIONS GOT their 2017 tour off to an unconvincing start last Saturday but did begin on a winning note.
The task ahead of them is a mammoth one on this tour as they attempt the emulate the class of 1971, the only Lions side to have claimed a series win over New Zealand.
Limerick native and BBC Scotland sports journalist Tom English has co-authored 'When Lions Roared', a reflection on that famous feat 46 years ago and spoke to The42 about the magnitude of that achievement.
**************
What made you want to write a book about the 1971 Lions tour?
"I was maybe a late convert to the Lions. The '97 Lions tour and the whole Living with Lions DVD, the remarkable piece of work that it was, kind of woke me up to how incredible the Lions can be.
"I went on the tour in 2001 and became utterly obsessed with it ever since then and with the history of it.
"I co-wrote a history of the Lions book a number of years ago and I learned a lot about the Lions tour and the mountains they have to climb to win a Lions tour.
"I guess the '71 tour was a by-product of that because that tour and the '74 tour for me are the greatest of all Lions tours.
"What I love to do in journalism is I look at the cast of characters involved in something like that. I thought the '71 squad had some of the greatest guys who ever played rugby.
"I thought you couldn't go far wrong with that cast of characters as potential interviewees plus the fact it was the only time they ever won a series in New Zealand."
How do those Lions players reflect now on their achievement in 1971?
"It was fascinating talking to these men. You talk to Barry John and Gareth Edwards, you're talking about two of the greatest players to ever play rugby.
"They'd amazing insight and showed amazing generosity with their time. We found so many players like that and the New Zealanders were like that as well.
"It was really interesting in how special it is to them that we're writing about them all these years later. I think they feel cherished in that way.
"They're the only ones to have beaten New Zealand in New Zealand. They'll never be forgotten, the 1971 boys will remain unique in the Lions story."
How important was it for you to get the New Zealand insight as well?
"What we wanted to do with the book was not just look at it from the Lions perspective but look at it from the New Zealand perspective as well.
"New Zealanders thought they were invincible in '71, they didn't imagine that the Lions would beat them at all. It was fascinating to see the slow unraveling of the All-Blacks mindset and the slow awakening that they had that this Lions team was not just another group of whipping boys.
"New Zealanders think that they are the be-all and end-all of rugby and they're double World Champions at the moment so there might be an element of truth to it.
"They wouldn't watch a lot of Pro12 or Aviva Premiership, they'd watch a bit of Six Nations. They obsess about their own rugby. That was certainly the way back then.
"It was interesting, Wales had toured in 1969 and had got walloped by the All-Blacks. Then in 1971 the Lions started with two matches in Australia.
"The Lions lost the first match against Queensland. Now they were jet-lagged but the New Zealand rugby nation didn't pay much notice to that, they just saw Lions had lost and Queensland were pretty ordinary at the time.
"They thought this team is going to be annihilated when they come to New Zealand. They didn't factor in that this Lions squad was full of truly great players."
Were you struck by how much of a marathon tour it was – 26 games over three months – in comparison to modern tours?
"They felt it was long but it was shorter than the '66 Lions tour to New Zealand. That was about four months and over 30 games.
"So this was 26 games including the two in Australia. It was the norm to have these epic tours. Since professionalism came in, the tours have got shorter.
"In 1971 the scheduling was brutal, not just for the number of matches they were expected to play, but the way it was constructed so that the Saturday before the first test, the Lions had to play Canterbury.
"They were one of the best teams at the time but also one of the most physical. That was purely set up so Canterbury were going to rough up the Lions and give them a physical pasting.
"That's what happened they took out two of the starting props – Sandy Carmichael and Ray McLoughlin of Ireland. Before each of the four tests, the Lions came up against not just a good side but a side with plenty of badness in them. That was not a coincidence.!
How vast is the difference between the backdrop to that tour and what the current players are experiencing?
"It's like the same sport but only just. When you think about it, Derek Quinnell of Wales the back-row forward on the Lions, he had never played for Wales up to that point.
"Peter Dixon, the same with England rugby. That will never happen again. Before they even played a match in New Zealand in '71, Barry John's room was burgled.
"A watch that was given to him by his wife as a going away present was stolen out of his bedroom while he was having a shower. That could never happen because the public could never get so close to a Lions hotel.
"There was so many things that happened in '71 that could never happen again. Thankfully the violence that happened in '71 couldn't happen again. That Canterbury game, you'd have about six or seven red cards if that happened again today.
"The Battle of Canterbury has gone down in legend as the dirtiest game of rugby ever played. Gordon Brown, the Scottish second row, said he was surprised that nobody was killed in that game.
"But it wasn't the only one, the Maori game and the game in Hawke's Bay was really, really dirty."
One of the standout characters in the book is Wales coach Carwyn James, how much were you aware of his role?
"I knew his story. He died many years ago so I never got to speak to Carwyn James. But I've read a lot about him, I've spoken to many of these Lions players about him, I've spoken to some of his Llanelli team about him as well.
"So you build up a picture of the man. There's no question he was ahead of his time. He was a deeply intellectual man. He was hewn from tough times in Wales.
"For the likes of Barry John, Carwyn James was a God. Even though he only played a couple of times, he was the star of that Llanelli team that Barry John went to watch as a kid.
"His philosophy as a player and then as a coach was to use your head, play expansive rugby and have a go. He kept on saying to this players that this was a thinking man's game.
"He was quite a political man, he was a believer of Welsh independence and yet he had the personality to bring four nations together.
"He was a very bright man and I just think that he had a brilliance about him and subsequently as we found out a kind of tragedy about him as well, which makes him such a compelling character.
"At the time in '71, I think a couple of the Welsh players knew that he was gay but nobody spoke about it. Subsequently a number of other players found out but it mattered not a jot to these guys.
"But what saddens a lot of them was that back then Carwyn didn't live in a society that allowed him to talk about his sexuality. He just felt he couldn't. If he was born in Limerick or somewhere in England or Llanelli, it didn't matter.
"Those kind of things weren't discussed. He was a troubled soul behind the scenes. He was a bit of a tortured genius unfortunately and he died in very sad circumstances in Amsterdam."
Finally can you see the 2017 Lions squad emulating the achievements of that 1971 side?
"I don't expect that. I'd wish for it but I can't see it happening. And even if it does happen the '71 team will always be the first.
"One of the documents that we found in our research for this was a magazine that was published post tour in '71 by the Dominion newspaper in New Zealand.
"It was like a scrapbook, a compilation of all the articles that they wrote throughout the tour. At the start of the tour, their journalism was utterly dismissive of the Lions, particularly after they'd lost against Queensland.
"It was saying as a matter of fact that New Zealand will beat this team 4-0. Then the Lions put 47 points on Wellington, one of the top provincial sides at the time and everything changed.
"It was almost like a eureka moment that they were watching something special in Barry John, Gareth Edwards, JPR Williams, John Dod, Mike Gibson and others. They felt like they hadn't seen anything like that in their county since the Springboks toured in 1937.
"It's amazing to see how the journalism changed and the final page of that magazine they produced, the simple headline was – 'Thank you to the Lions'. It did have an affect on the way the All-Blacks looked at the way they were playing rugby.
"At the time they were playing a very forward dominated game, a brutally physical game. The Lions came and played with imagination.
"The All-Blacks said they had to do that, this was the future of rugby. I think Graham Henry and Warren Gatland and Vern Cotter spoke about that, the legacy the Lions left behind for New Zealand and how New Zealand picked up on that to become the greatest rugby nation on earth."
The42 is on Instagram! Tap the button below on your phone to follow us!