THIS SUNDAY NIGHT, the New England Patriots will attempt to claim the Super Bowl for the third time in four years, but underdogs the Philadelphia Eagles stand in the way of Tom Brady and co. 
The spectacle kicks off at 11.30pm Irish time and, like every year, we've found dozens of places showing it live around the country if you plan to head out for the game. 
(We realise the list is extremely Dublin-centric but that's because there are a large number of late bars in the capital hosting events.)
Dublin
The Odeon (Harcourt Street) – Hosted by the Dublin Rebels, in association with Coors Light and FM 104. Ticket are priced at €10 plus booking fee and you can get yours here.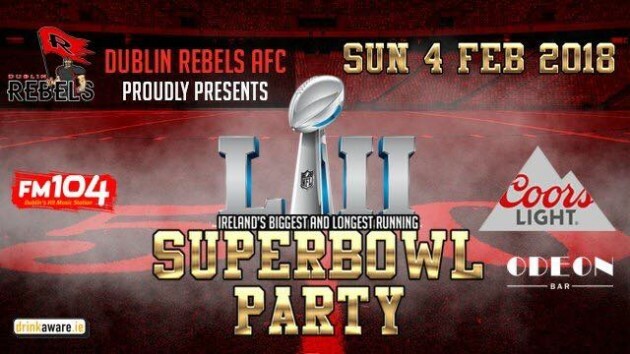 Copper Face Jacks (Harcourt Street) -  They're charging €10 in, which gives you admission to the club for the night. With limited amount of seated areas, book by emailing rory@copperfacejacks.ie or sending them a message on their social media channels.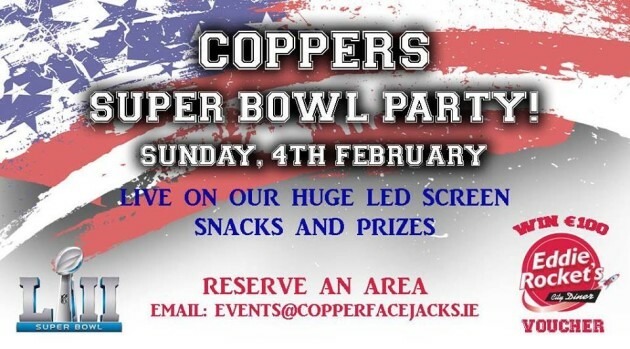 The Woolshed Baa & Grill (Parnell Street) – The pre-game party starts at 8pm and it's free in.
Peadar Kearneys (Dame Street) – Free entry but you need to get there before midnight.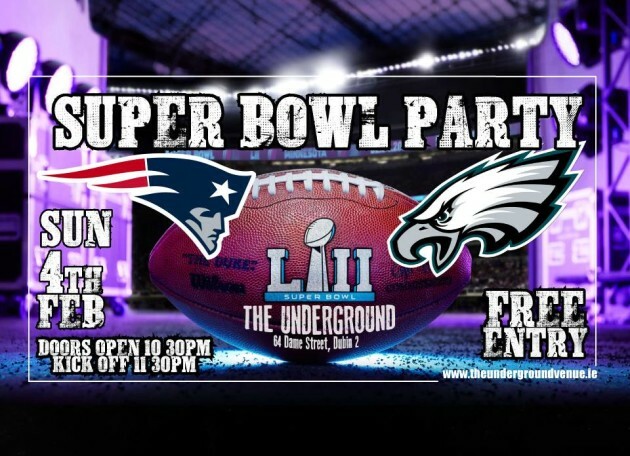 Dtwo (Harcourt Street) – Tickets are €10 at the door and to book tables call 01-4764694 or email rachel@dtwonightclub.com.

Captain America's (Grafton Street) – €5 admission and there are special offers on food and drinks. Email sarah@captainamericas.com for bookings.
Buskers On The Ball (Fleet Street) – No entrance fee and you can guarantee your spot by registering for tickets on Eventbrite.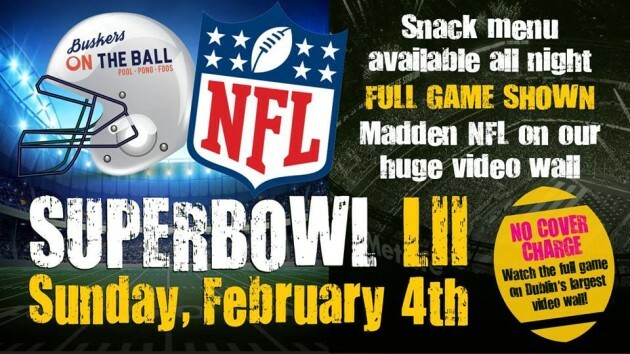 Xico (Baggot Street) – Doors open at 8pm and you can book through their website to reserve an area.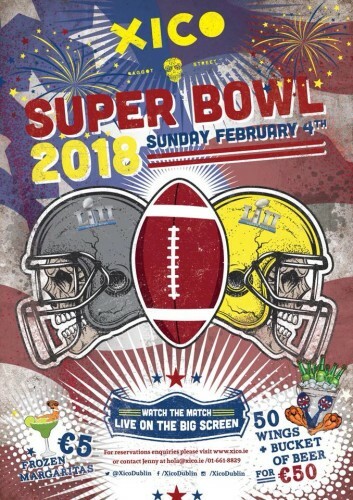 Trinity Bar (Dame Street) - Situated right next to Central Bank, food served 'til 11pm.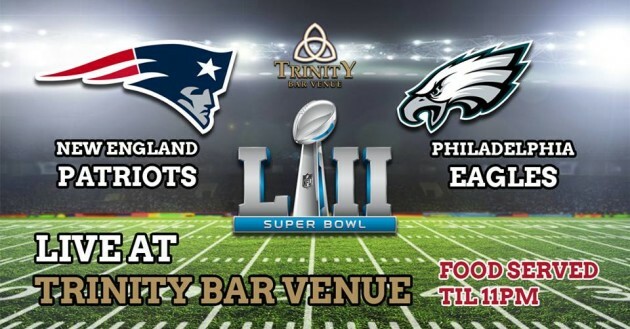 The Bleeding Horse (Camden Street) – Drinks specials on the night.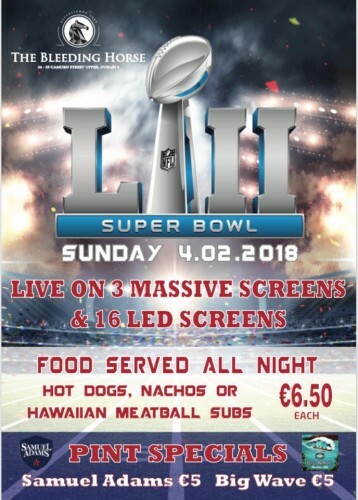 McSorley's (Ranelagh) – No admission charge but get down early to claim your spot.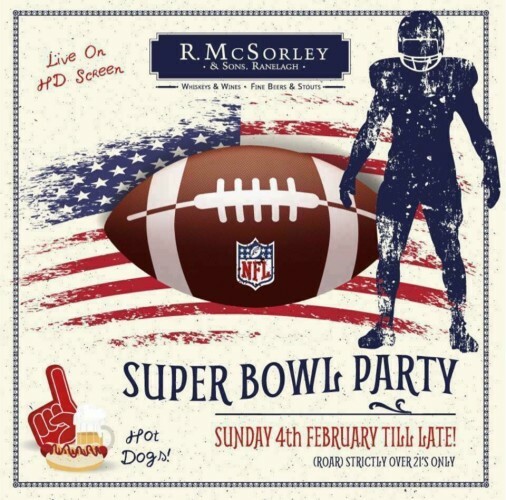 Rody Boland's (Rathmines) – Starts at 11pm and it's free entry.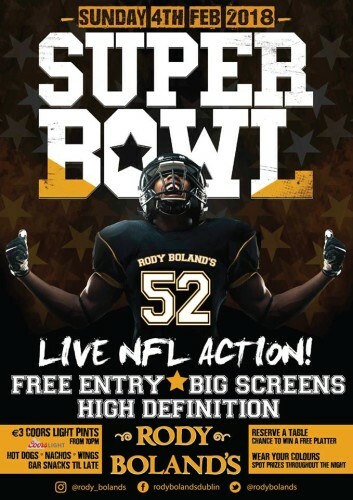 River Bar (O'Connell Street Lower) – Trinity College Dublin American Football are throwing their party just beside O'Connell Bridge. Tickets are €10 and can be bought at River Bar or by contacting one of their members.
Harry's On the Green (South King Street) – Email info@harrysonthegreen.ie to make bookings.
Sinnott's Bar (South King Street) – The South Dublin Panthers will be there and it's free admission as usual.
The Living Room (Cathal Brugha Street) - Just off O'Connell Street, there are giant screens and no cover charge.
Adelphi (Middle Abbey Street) - No cover charge. Book a table by visiting their Facebook page.
Fibber Magees (Parnell Street) – Doors open 'til 3am and it's free in.
Jimmy Rabbitte's (Camden Street) - It's free in to the new spot, which hosts its first Super Bowl party.
McGowan's (Phibsborough) – There's no admission fee and you can book a table by emailing ciara@mcgowans.ie.
The Portobello (South Richmond Street) – Free in, but arrive early to get seats and avoid disappointment.
Kildare
The Court (Naas) – This event is organised by the South Kildare Soldiers. Online tickets are €10 and it's €15 in on the night. More info here.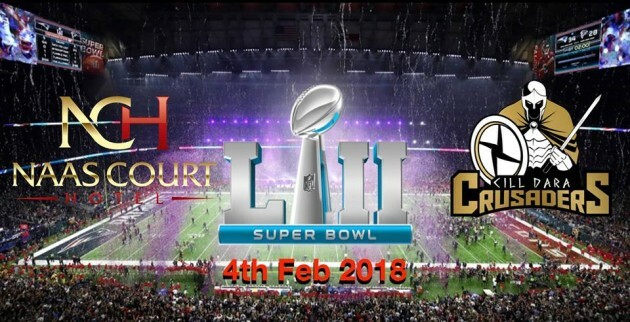 Cork
East Villa Bar (Douglas) – The Cork Admirals have moved venue this year. It's free in and they're promising the biggest Super Bowl party in the Rebel County.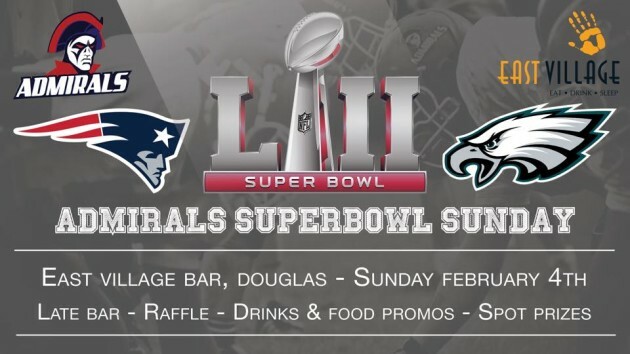 Limerick
Flannery's Bar (Upper Denmark Street) – Flannery's, the UL Vikings and Coors Light join forces again this year.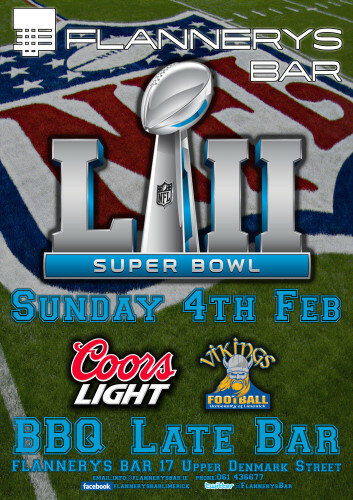 Galway
Garvey's Inn (Forster St) – The Galway Warriors are back at Garvey's Inn on Eyre Square. Tickets €12 plus booking from Eventbrite.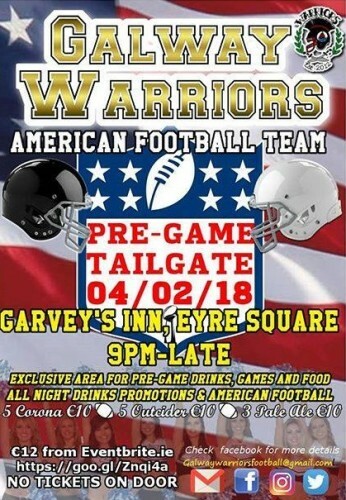 Westmeath
Annebrook House Hotel (Mullingar) – Bertys Bar is showing the game and you can make a night of it with rooms from €69 b&b or €34.50 per person.
Belfast
Wellington Park Hotel (Malone Road) – Hosted by the Belfast Trojans, tickets are £10 pre-sale or £15 on the night. There are also VIP options for groups of up to 20. Info here.
Stoker's Halt (Holywood) – No tickets requires for this Razorbacks Football event.
Armagh
The Seagoe Hotel (Portadown) – The Craigavon Cowboys are organising this one. £5 admission and £15 if you want to add entry to the beerpong tournament. Details here.
If you know of anywhere else hosting Super Bowl parties tell us in the comment section below or email ben@the42.ie and we'll add them in