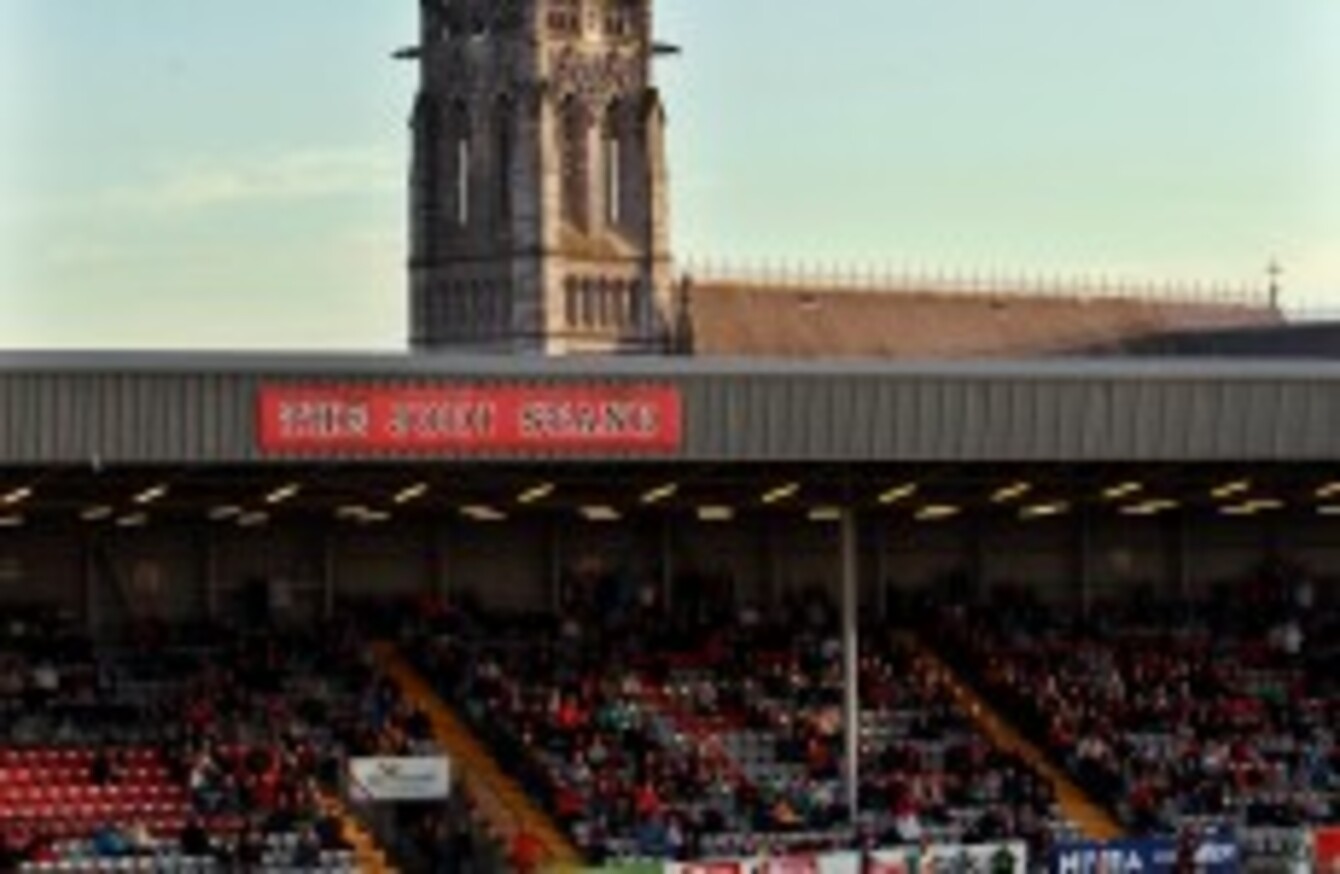 Bohs' famous ground, Dalymount Park, in Phibsboro.
Image: INPHO/Dan Sheridan
Bohs' famous ground, Dalymount Park, in Phibsboro.
Image: INPHO/Dan Sheridan
This post first appeared on cardboardshinguards>
FOR YEARS IT was all you would hear about.
Growing up as a teenager/young adult during the Celtic Tiger years I couldn't escape it, even as I discussed Ryanair flights and binge drinking with my peers.
The grown-ups could talk about little else; location, location, location.
How long was your commute? How large was your house? How much space did the kids have to play in? How much did you spend on renovating the place?
The national obsession with property was to prove our economic and (some argue, moral) downfall with the ghost estates and empty DIY stores now standing as monuments to this obsession. Within the League of Ireland there is another legacy, one which threatens institutions with a far greater longevity than the local Woodies.
Going into the end of the season with a Premier Division club on the brink of collapse is a depressingly regular occurrence. If the precarious financial situation of Bohemians leads to relegation to the First Division through a removal of their license or even a windup and reformation, they will join the ranks of clubs to have been both champions in the 21st century and then been wound up or relegated at some point after winning. It is a fate only Shamrock Rovers have managed to avoid.
Things could have been very different of course. If Shels, Drogheda and Bohs had had their planned stadium relocations come off, they might have been in a position to challenge Shamrock Rovers financially. The booming hinterlands of north and west county Dublin, where Shels and Bohs were looking to relocate to, would have provided an opportunity to tap into a growing fan base, as Shamrock Rovers are now doing.
A look at a map of latest census figures tells the tale perfectly well, with the population continuing to decline in the inner city, where the big four Dublin clubs were founded and traditionally drew their fan base from. I have excluded UCD and St Patrick's Athletic from the map just because both clubs haven't had any consistent relocation plans over the past decade, or at least not ones pursued as vigorously as those by Rovers, Shels and Bohs.
The new locations (marked in by the red and black striped dots. Rovers' location in Tallaght is the green and white dot) would have given Bohs and Shels access to the growing hinterlands of north and west Dublin.
Furthermore modern stadia and a family atmosphere have been the bedrock of rugby and GAA's success and Dalymount and Tolka are unable to provide this without serious redevelopment.
It is perhaps fitting that Rovers are now the ones reaping the benefits of a fit-for-purpose home surrounded by a supportive community, given their nomadic struggles for so long.
For Shelbourne and Bohemians, both clubs whose dreams of profiting from the boomtime value of their homes came back to haunt them, similar spells in the wilderness may yet be in the pipeline.
Lee Daly is editor of Cardboardshinguards. For the purpose of transparency, you should also know he is a Shelbourne FC fan.