WHILE THE WOUNDS from Ireland's World Cup exit will take some time to heal, William Porterfield insists his side can take pride in their performances and move forward with plenty of encouragement.
Phil Simmons' side bowed out of the tournament this morning after a seven-wicket defeat to Pakistan in Adelaide despite winning three games in Pool B.
Although Ireland finished level on points with West Indies, the Test playing nation's superior net run-rate meant they progress to the quarter-finals while Porterfield and his team mates head home.
"We've played some very good cricket during the tournament and while we're obviously disappointed we've lost this game today, we're very happy overall with how we've played in the competition," he said.
"We've won three games. The games that we have lost, we've just come up short at different stages, but to come here and win three means we've done something right. I think there's a lot of things we can take from this competition moving forward."
What should have been a memorable day for the Irish skipper was tempered by his sides' faltering display, with both bat and ball, as Pakistan's experience and class shone through when it mattered most.
The competitive nature of Pool B meant every result had a significant bearing on the eventual standings and, on reflection, Ireland will look back at the heavy defeats to South Africa and India as damaging outings.
In the end, it was the vagaries of net run-rate which decided the fate of Ireland and although they beat West Indies in the opening game, Porterfield has no complaints about the format.
"It's obviously very disappointing," the left-handed opener said. "We knew it was out there from the start and the three games that we did win, they were very close games, and we had a heavy defeat in there against South Africa.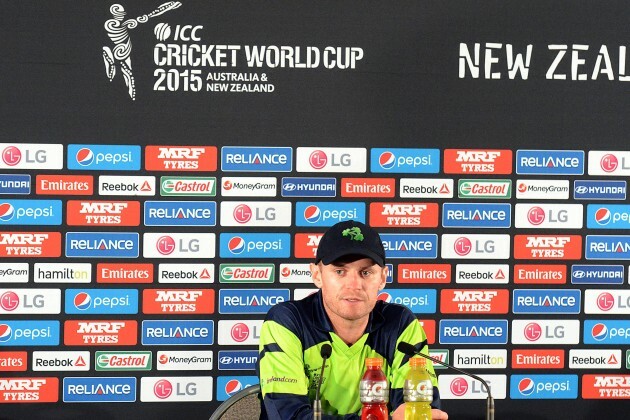 Photosport / Raghavan Venugopal/INPHO Photosport / Raghavan Venugopal/INPHO / Raghavan Venugopal/INPHO
"It's not something we're very bitter about, it's just disappointing when you lose out on net run-rate for the sheer fact that you've finished level on points with someone else, but we have to be divided or separated some way."
Moving forward, there has been plenty of positives to take from the campaign but it's not Ireland's immediate future that is at the forefront of the agenda.
Sunday's defeat in Adelaide could, conceivably, be Ireland's last World Cup outing with the ICC deciding to reduce the 2019 edition to just ten teams.
Porterfield has been particularly vocal in publicising Ireland's irritation at the governing body and the continued disrespect they've been shown by the powers that are meant to be developing the game.
Two victories over Full Members has highlighted the strides Ireland have made in a relatively short period of time and has added weight to their case for elevation.
Regardless of today's result, Porterfield maintains that the last few weeks have shown the advantage of having Associates in a tournament often criticised for being too mundane.
"I'd love to think it was not our last World Cup game," he commented.
"Obviously it will be interesting to see what their (the ICC's) vision for the game is. We need to know that and everyone wants to know that because if their vision is to grow the game, then cutting teams in world competitions will not be the right thing.
"I'm sure they're hoping everything blows over the next few weeks and they don't hear much from us. Then it will be easy to brush it under the carpet. But I think something has to be done if they want to grow the game.
"A lot of people have spoken out that it is the wrong move, a lot of influential people have said that. So I don't think the ICC can just ignore that."