STEPHEN THOMPSON EXPECTS two more wins to earn him the UFC's welterweight belt, and 'Wonderboy' says he wouldn't turn down a lucrative title defence against Conor McGregor.
The reigning UFC featherweight champion, McGregor was being tipped for a welterweight title shot before his progress was halted by Nate Diaz at UFC 196 in March.
McGregor and Diaz were due to meet in a rematch at UFC 200 on 9 July — again at 170lbs instead of in the 155lbs division [lightweight], where both fighters have competed previously — but the bout was cancelled last month when the Irishman refused to travel to Las Vegas for media duties.
While details of McGregor's next bout are still unknown, it's widely expected that he'll return to the 145lbs weight class to defend his featherweight belt against the winner of July's interim title bout between Jose Aldo and Frankie Edgar.
That would be a wise move for the 27-year-old Dubliner, according to Wonderboy Thompson, who believes it's not safe for McGregor to compete against much bigger opponents in the welterweight division.
"I really don't," said Thompson, when asked in an interview with Submission Radio if he he believes 170lbs is the right weight class for McGregor. "They both [McGregor and Diaz] weighed in at the bottom of the weight class, or very close. I wasn't there at [McGregor's] weight cut but I don't think he even had to cut weight. They weighed — what? — 169 or something like that.
"You've got Robbie Lawler [UFC welterweight champion], who's a monster, probably walks around at 200 — maybe over 200lbs. Just somebody like that [who's] that much bigger than you, it's crazy.
"It wouldn't be smart, if I was his coach, for him to go up to 170. Yeah, the people probably would want to see it, but you're thinking about your fighter, you're thinking about your sparring partner, the guy you've been training for years. That's a good way to really get somebody hurt."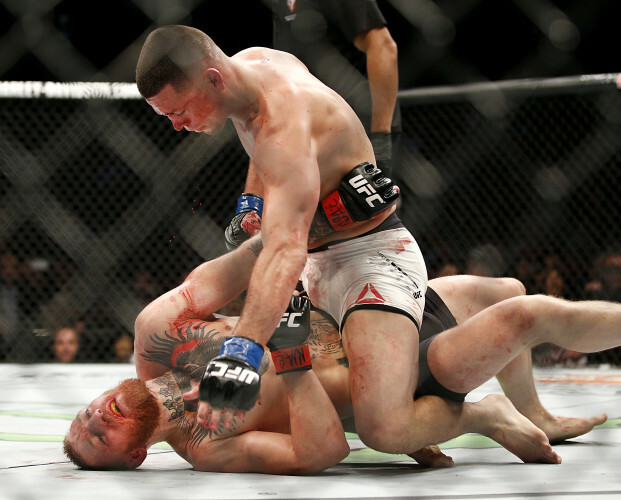 Eric Jamison Nate Diaz en route to finishing Conor McGregor at UFC 196. Eric Jamison
After making a huge statement by stopping former champion Johny Hendricks in the first round of their bout in February, Wonderboy believes a win — which would be his seventh on the trot — against former title challenger Rory MacDonald in Ottawa on 18 June will earn him a title shot later this year.
One of the UFC's most popular fighters thanks to his spectacular kickboxing and karate arsenal, if 33-year-old Thompson can get his hands on the belt, he'd relish the chance to put it on the line against McGregor.
He said: "When I become the welterweight champion, I would love to step in the octagon with Conor McGregor. He's a phenomenal martial artist and I honour him for doing what he's doing with the sport. But it would be a big payday. It really would. It would be a great payday for anybody who steps in the octagon with Conor McGregor.
"I think you would be stupid if you thought otherwise. I think all the fighters would know that. If somebody said, 'Hey, you want to fight Conor McGregor?', I'd be like, 'Heck, yeah!' — they'd all be jumping at it."
Click here to listen to Stephen 'Wonderboy' Thompson's full interview with Submission Radio.
The42 is on Snapchat! Tap the button below on your phone to add!