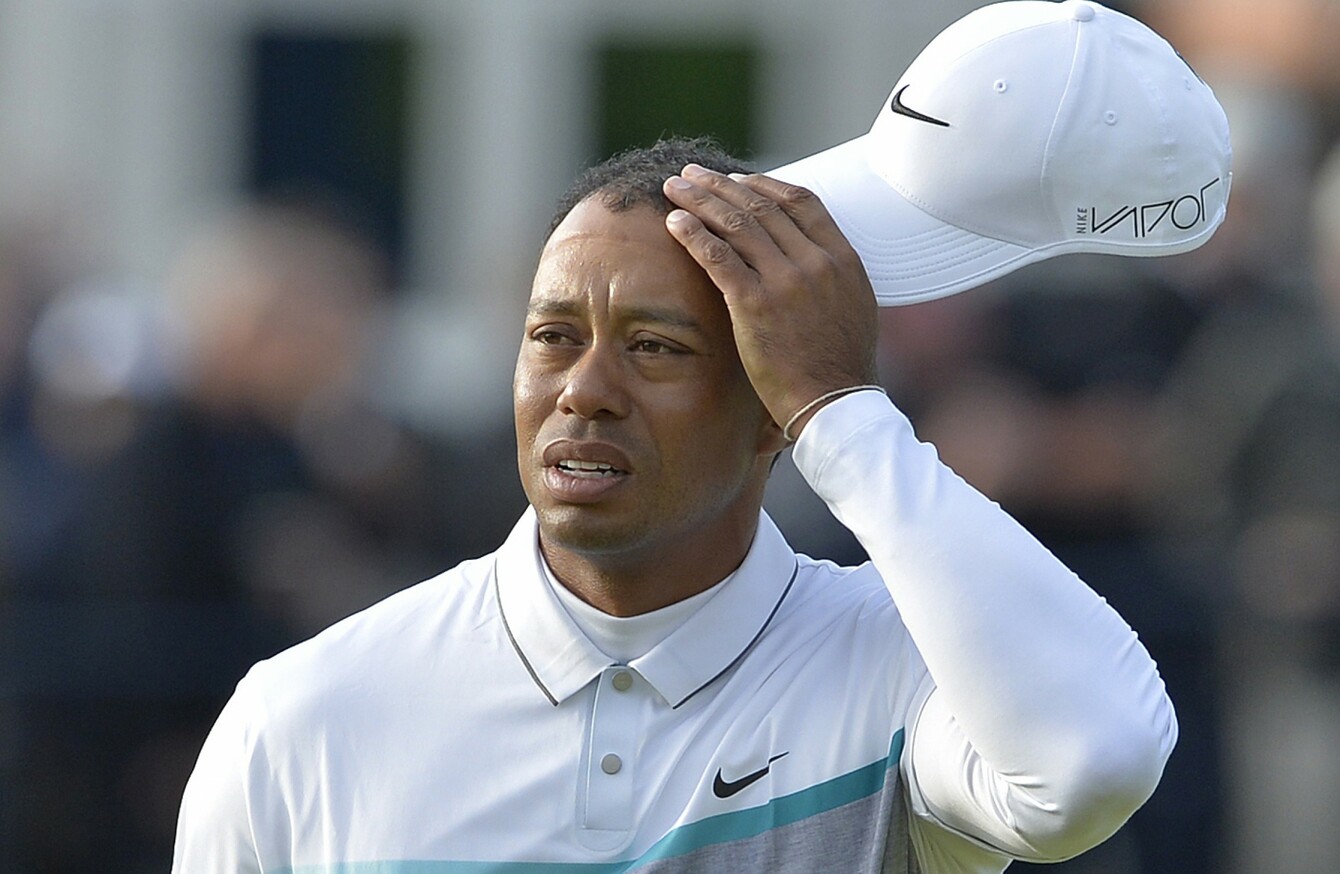 Image: Owen Humphreys
Image: Owen Humphreys
LIFE BEGINS AT 40, they say.
For Tiger Woods, who reaches that age today, he doesn't need to begin a new life but resurrect a golfing career that once looked like it would surpass all others.
Even Barack Obama gets to play golf more than Tiger Woods these days – well, so the blood-curdling Donald Trump informs us. But he's probably right, for once.
It's fair to say that Woods is no longer the widely adored superstar he once was — but a superstar he remains.
It is almost 20 years since Woods turned pro at 20 years of age in the summer of 1996. A time when Gareth Southgate hit the headlines for missing a penalty across the water.
The injuries have taken their toll — many have suggested this is a result of his muscular swing and the stress that places on the lower back. Watching Tiger rip a ball up the fairway was a spectacle in itself, a special sight in sport.
Woods has had his fair share of ups and downs in between but now he finds himself scrambling to survive on the course. His pro career has never been at a lower ebb.
Source: Slow-Mo Swings/YouTube
His recent appointment as a vice-captain for America's Ryder Cup team sounds like a death knell for one of golf's most special careers. He says he still thinks he can play at Hazeltine but he's not convincing anyone yet.
Perhaps Davis Love III sees it as a necessary boost for a man who is struggling to stay positive.
"The hardest part for me is there's really nothing I can look forward to, nothing I can build towards," he said. "Where's the light at the end of the tunnel?" he said at the World Challenge he hosted in December.
Surely this man has suffered enough, he is so immobile after his latest back surgery he does little else except play computer games, he says. And he has only recently resumed walking.
In an interview with TIME magazine earlier this month, Woods was asked if he watched golf.
"I can't remember the last time I watched golf. I can't stand it. Unless one of my friends has a chance to win, then I like watching it. I watched Jason [Day] win the PGA. But it was on mute. It's always on mute and I have some other game on another TV."
This from the same guy who, at the peak of his powers, was the most marketable man and the biggest sports star on the planet. His face was ON the computer games then.
Affection
Infidelity issues aside, his on-course demeanour and general sullen attitude in interviews has seen Woods lose the affection of the public.
In just over two weeks' time (January 15) Woods will make his final payment to his ex-wife Elin Nordegren as part of their divorce settlement. Perhaps that will also help him close a shameful chapter in his life.
And for all his seeming misery, he seems at peace with where he is at in life. While he is desperate to get back on the course and scale the heights of yesteryear, he admits that may not happen. The joy and well-being of his children remains his primary focus.
He has been passed in popularity by a wave of young golfers, the likes of Rory McIlroy, Jordan Speith and Jason Day – all of whom, particularly Day, with fascinating tales of how they reached the top. But Woods' haul of 14 major titles is just a fantasy for that trio at this stage.
Golf events don't depend on Woods' presence to be a roaring success any longer.
The roles have reversed; Tiger needs golf now, not the other way around.
As Woods begins his 41st year, he doesn't find himself at a crossroads, instead he seems to be chasing a fresh start down a cul-de-sac.
His body has broken down with worrying regularity, and we are regularly told it has been one rushed return to action after another.
In a sport that is such a mental minefield, to see someone so talented struggling so badly – he wasn't won a tournament since 2013 — is hard at times. He was 32 when he last won a major.
See Sport
Differently
Get closer to the stories that matter with exclusive analysis, insight and debate in The42 Membership
Become a Member
"The thing I'm looking forward to the most about 2016 is getting back out there again. I've missed it, and I would like to do it pain-free.
I haven't done that in what seems like a long time. I've had it in spurts the last few years and have done some pretty good things, but I'd like to have sustained health.
Golf mightn't need Woods like it once did but it would be so special and appropriate for him to bow out on his own terms and with a smile on his face.
You get the impression that 2016 will be a defining year for Woods one way or another; there are only so many comebacks from serious injury someone can tackle, even someone as dogged and determined as Woods.
A veteran golfer taking the lead in one of the majors is something that injects interest into a major tournament like nothing else, although they generally fall away when the tournament heats up.
Let's hope that's not all Woods still has to offer. Seeing him regularly compete with McIlroy, Speith and Day for the game's top honours would be glorious.
Source: John DeRolph/YouTube
His achievements can never be taken away from him, but considering he took the golf world by storm as certain clubs in the US continued to refuse entry to black people, he changed the game forever. And like few others could.
He created a dynasty. He made kids want to play golf. He made a difference.
No one will ever be the next Tiger Woods; his story is too special for that.
It would be nice if it wasn't finished just yet.