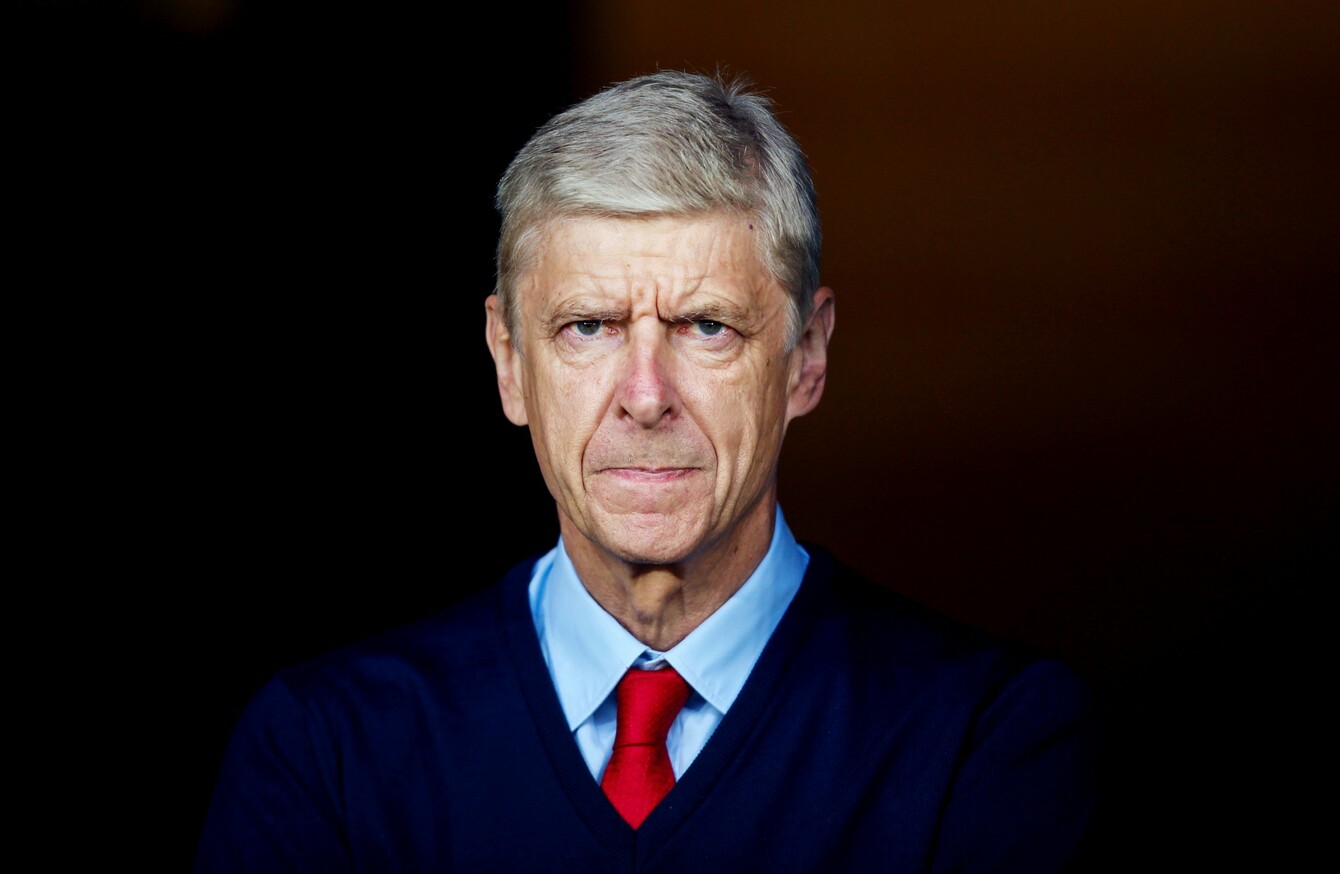 Image: Danny Lawson
Image: Danny Lawson
How much will fan protests affect Arsene Wenger?
ARSENE WENGER'S POSITION is becoming increasingly untenable and with tonight's humiliating 10-2 aggregate defeat to Bayern overshadowed by the protests which preceded it, the dissenters are wielding a more substantial daily influence.
This was Arsenal's fifth defeat in their last seven games in all competitions and the volume of the criticism must make it impossible to ignore for Wenger and the club's top brass.
But supporters don't just want a change in manager. Going by the finger-pointing at the Emirates this evening, certain fans want CEO Ivan Gazidis and owner Stan Kroenke to go too. Essentially, certain fans want the current regime burned to the ground.
Of course, some of the chanting and the abuse was just downright bizarre. Accusations that Wenger is 'killing' the club should be placed in the context of what the Arsenal identity was before he arrived: a joyless, dull and laborious place. If anything, Wenger should be forever lauded for changing the perception and overseeing a rich, exciting and thrilling product that gained the club international recognition.
But, the counter-arguments don't seem to matter anymore. There's a stereotypical Arsenal season: it hints at great things before a sorry collapse in March and April that coincides with a Champions League exit.
There certainly appears to be a fragile mentality – one that can cede complete control of games in an instant. Tonight, like in the first-leg when they conceded three times in 10 minutes, they allowed four in 17.
Wenger is an economist. Even at his most optimistic, the patterns are not good and he knows that. But, having given so much to the club for so long,  being forced out by a mob is not something he can justify to himself.
Remarkable Sergio Ramos shows goalscoring prowess yet again
Real Madrid were struggling in Naples. They had been poor in the opening period and Dries Mertens' terrific goal for the home side ensured it was 3-2 on aggregate at half-time and with everything still to play for.
And then Sergio Ramos popped up – like he tends to do – and proved the hero for the club yet again.
Two corners and two terrific headers. And, just like that, Madrid were in complete control and heading for the quarter-finals of the competition. The second goal may have been attributed as an OG from Mertens later on but it's still 80 career goals for Ramos now. 80. For a centre-half. This season alone, it's 10 in 28 games.
But crunch the numbers even more and the real story is the importance of those goals.
He really is a 'clutch' player – stepping up when his side need him to the most. Since the 2014 Champions League final, Ramos has scored 21 times. But 18 have come when Madrid have been drawing or behind.
He's a player so many love to hate but he's a ruthless defender and plays a captain's role to a tee.
Napoli hint at greatness but are they forever the bridesmaids?
Over the last number of seasons, Napoli have seemed on the cusp of a major breakthrough. There were Coppa Italia titles in 2012 and 2014, Serie A runners-up last term, a collection of terrific players.
But in a European context, they've fallen short repeatedly. There was a Europa League semi-final appearance in 2015 but usually it's a Round of 32 or Round of 16 exit.
And their inexperience showed again tonight, small errors proving immensely costly when they were in a great position to make a statement.
Their support put on an incredible show at the Stadio San Paolo and it was an electrifying atmosphere – complemented by Napoli's first-half performance.
But, they failed to contend with Madrid at set-pieces and that's where the tie was lost. The team, certainly in the opening period, showcased their flair and movement superbly. But it's meaningless without a steady foundation. If they don't rectify that, they'll continue to rack up the moral victories but fail to land the ones that matter.