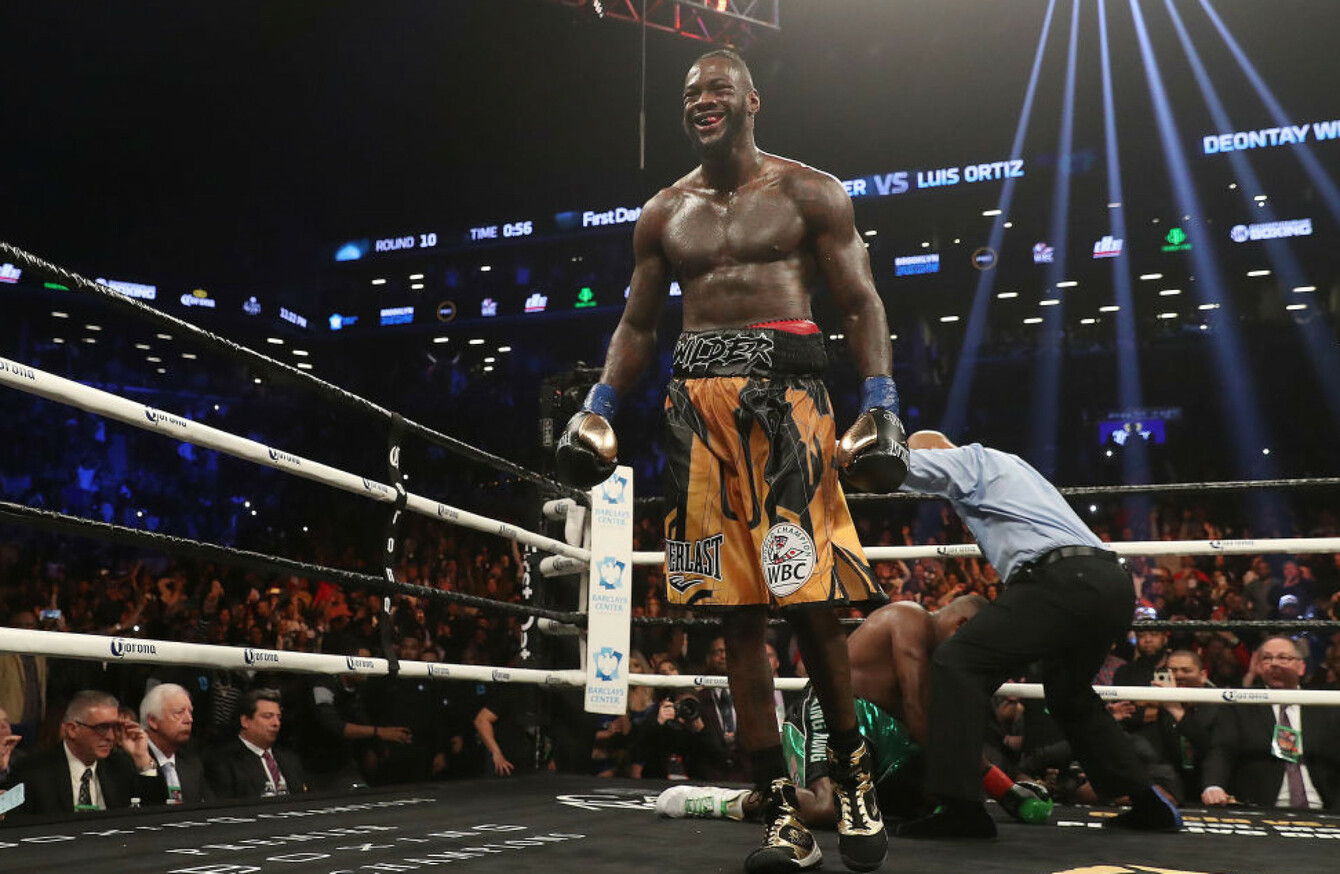 WBC WORLD HEAVYWEIGHT champion Deontay Wilder returned from the bowels of boxing hell to stop previously undefeated Cuban contender Luis Ortiz in an astonishing bout in Brooklyn, keeping alive a potentially era-defining scrap with Anthony Joshua.
Wilder [previously 39-0, 38KOs] recovered from a seventh round in which he himself might have been stopped to destroy Ortiz [previously 28-0, 24KOs] in the 10th round of a fight which ebbed and flowed, but eventually took the roof off Barclays Center.
Ortiz had cleanly and clearly taken the first four rounds when Wilder sprung his first trap a round later: befuddled by his opponent's ring savvy and superior skill, the six-foot-seven 32-year-old unleashed a scorpion-like straight right hand to deck the defensively proficient challenger. Ortiz peeled his considerable frame off the canvas and shrugged his shoulders to suggest he was unperturbed, but he's a poor liar.
Nonetheless, he regained the ascendancy at the turn of the fight, and in the seventh he had Wilder saying his prayers: a sustained barrage throughout the final minute of the verse saw the rangy Alabama native mercilessly marched around the ring like a man on stilts, Ortiz's clever timing catching him clean on countless occasions and rocking his head six ways to Sunday.
In truth, referee David Fields might – and probably should – have stopped it there and then; Wilder was fortunate to be given every chance to survive, but showed inhuman fortitude in grabbing and wobbling his way through sustained fistic abuse at the hands of his opponent. His chin and heart should no longer be questioned.
He remained in orbit for much of the eighth, too, but was gifted an extra 20-odd seconds' recovery time at its advent due to an untied lace. Make of that what you will.
While 'The Bronze Bomber' was still ropey, Ortiz looked to close the show, but again Wilder stayed upright and survived, gradually feeling his way back from the brink in miraculous circumstances.
Wilder finished a tentative ninth with two looping bombs, arguably stealing it, but would still have been well behind on the cards given the seventh might have been scored 10-8 in Ortiz's favour by anyone's estimate.
By the tenth, though, his disproportionately slight legs once more seemed prepared to hold the rest of him fully upright. Having returned to his senses, Wilder unleashed a sequence of vicious combinations to grasp victory from the jaws of career-altering defeat.
A punishing right-hand slap sent Ortiz sprawling towards the ropes, and in typically uncoordinated fashion, Wilder unleashed a four-punch assault – the first three missing, the last – a peach of right uppercut – levelling Ortiz and causing referee Fields to call a halt to proceedings immediately.
Wilder, in outstanding circumstances, not only saved his reputation but enhanced it: he's unorthodox, certainly, but fought a vastly superior boxer and survived a world of pain to emerge victorious for the 40th time. His 39th knockout win was his career-best, and will lead him to a multi-million-dollar payday versus heavyweight poster boy Joshua later in 2018.
Incredibly – or perhaps not, given the heavyweight showdown at stake and, you know, boxing – all three judges had Wilder up by a round as he pulled the curtain on Ortiz and retained his WBC bauble for the seventh time.
But that won't take away from a performance in which he blasted his way through years of scepticism not only toward his weaponry, but his cojones.
.@BronzeBomber improves to 40-0 with a chopping TKO! #WilderOrtiz pic.twitter.com/zMHBKC6oq1

— SHOWTIME Boxing (@ShowtimeBoxing) March 4, 2018
Long live the king.... #BombZquad pic.twitter.com/QW5KrCLA2i

— Deontay Wilder (@BronzeBomber) March 4, 2018