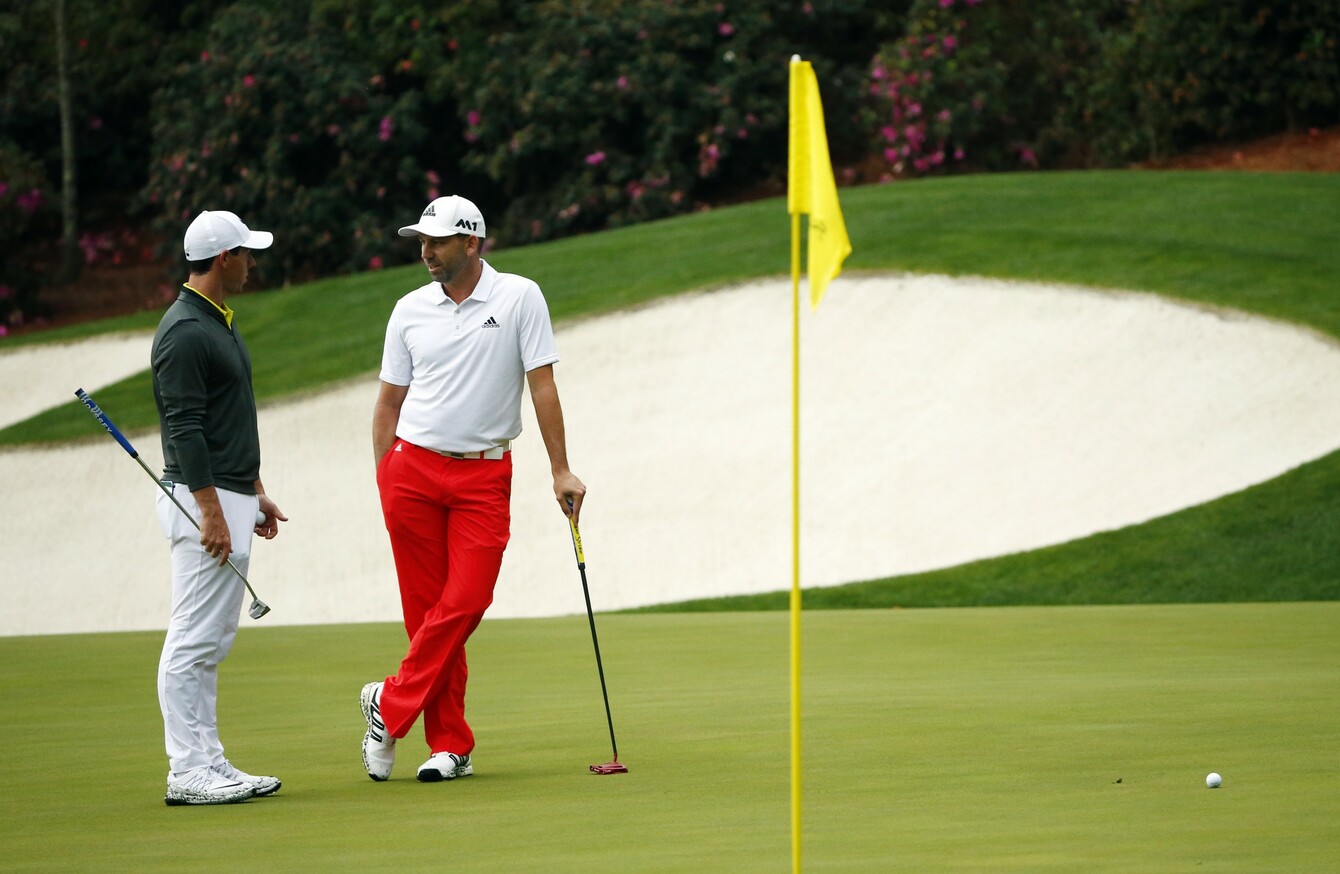 McIlroy and Garcia: Can either leave Augusta with the green jacket this week?
Image: SIPA USA/PA Images
McIlroy and Garcia: Can either leave Augusta with the green jacket this week?
Image: SIPA USA/PA Images
RORY MCILROY SAYS he would hesitate before accepting another invitation to play golf with Donald Trump after accusations of hypocrisy followed his February round with the US president.
The four-time Major champion accepted an invitation to play with President Trump in Florida earlier this year.
Ahead of the Masters, it was put to McIlroy that spending time in the company of the President flew in the face of his stance against the Muirfield Golf Club over their long-standing refusal to admit women members, which has since been overturned on a vote.
While on the campaign trail, a video of Trump from 2005 emerged in which he had boasted about unsolicited kissing, groping and trying to have sex with women.
Trump has also been the centre of numerous controversies, both before and since taking office, and McIlroy was quick to distance himself from the President's more controversial views and explained a fascination with the entourage that would come in tow with his famous opponent was behind his decision to play.
"I think Muirfield Golf Club, or the honourable company of having the golfers, and the office of the President of the United States are two completely different things," McIlroy told reporters.
I've spent time in President Trump's company before, and that does not mean that I agree with everything that he says. Actually the opposite.
"You know, we're in a day and age where… we were never in a day and age where we could say those things, but some thought it was appropriate.
"But whenever an invitation or a request comes my way, I don't want to say I jump at the chance, but at the same time, you know, to see the Secret Service, to see the scene, I mean, that's really what I was going for.
There was not one bit of politics discussed in that round of golf. He was more interested talking about the grass that he just put on the greens.
"It's a difficult one. I felt I would have been making more of a statement if I had turned it down.
"It's not a tough place to be put in, but it was a round of golf and nothing more. Would I do it again? After the sort of backlash I received, I'd think twice about it."
The42 is on Instagram! Tap the button below on your phone to follow us!