Liveblog
IT WAS MUNSTER hurling final day in Thurles and we followed all the action as it happened. 
Good afternoon everyone and welcome to The42′s live coverage of this year's Munster senior hurling championship final between Tipperary and Waterford from Semple Stadium.
Ryan Bailey here to guide you through the action as it happens while our GAA correspondent Fintan O'Toole is in Thurles to bring you the latest from the ground.
Battle lines are drawn at 4pm.
The Electric Ireland Munster minor hurling final has just finished in Thurles with Tipperary beating Limerick, 0-20 to 0-17. Is that a good omen for the Premier County as they go in search of a first senior provincial crown since 2012.
Full report from that game to follow shortly.
This is the first time these two great hurling counties have faced each other in the championship since 2012. They met in the Allianz League semi-final in May with Waterford coming out on top in that one.
Here's a look at their last five championship clashes:
2012: Tipperary 2-17 Waterford 0-16
2011: Tipperary 7-19 Waterford 0-19
2010: Tipperary 3-19 Waterford 1-18
2009: Tipperary 4-14 Waterford 2-16
2008: Waterford 1-20 Tipperary 1-18
There's a little over half an hour until throw-in so here's some of our pre-game offerings to whet the appetite.
Big crowd expected at Semple Stadium this afternoon and these Waterford fans have already set up camp.
You can't beat a cup of tae and a hang sandwich before a big game, can you?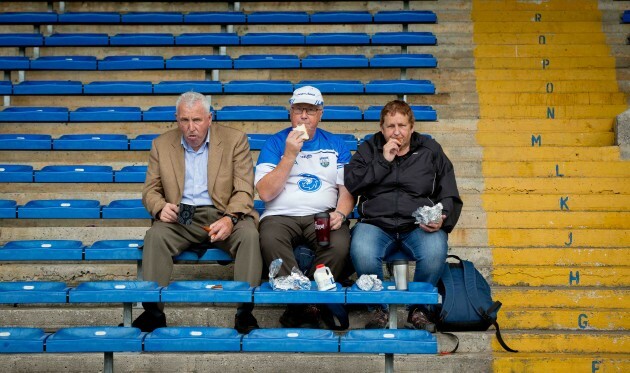 Source: Morgan Treacy/INPHO
Right, let's take a look at today's teams.
Waterford boss Derek McGrath has made one change to the side that defeated Cork in the semi-final with Tom Devine handed a first championship start after his goalscoring exploits against the Rebels.
Waterford team
1. Stephen O'Keeffe (Ballygunner)
2. Shane Fives (Tourin)
3. Barry Coughlan (Ballygunner)
4. Noel Connors (Passage)
5. Tadhg de Búrca (Clashmore/Kinsalebeg)
6. Austin Gleeson (Mount Sion)
7. Philip Mahony (Ballygunner)
8. Jamie Barron (Fourmilewater)
9. Tom Devine (Modeligo)
10. Kevin Moran (De La Salle)
11. Stephen Bennett (Ballysaggart)
12. Jake Dillon (De La Salle)
13. Maurice Shanahan (Lismore)
14. Michael Walsh (Stradbally)
15. Colin Dunford (Colligan)
Tipperary, meanwhile, have made two changes of their own with Michael Breen handed his full championship debut with a starting berth at right half-back.
In a reshaped defence, 2014 Young Hurler of the Year Cathal Barrett is fit again and takes over from injured Paddy Stapleton at right corner back.
In the left corner, Conor O'Brien loses out with Ronan Maher dropping from the half-back line to fill the number 4 shirt.
Tipperary team:
1. Darren Gleeson (Portroe)
2. Cathal Barrett (Holycross-Ballycahill)
3. James Barry (Upperchurch Drombane)
4. Ronan Maher (Thurles Sarsfields)
5. Michael Breen (Ballina)
6. Pádraic Maher (Thurles Sarsfields)
7. Kieran Bergin (Killenaule)
8. James Woodlock (Drom & Inch)
9. Shane McGrath (Ballinahinch)
10. Jason Forde (Silvermines)
11. Brendan Maher (Borrisoleigh)
12. Patrick Maher (Lorrha/Dorrha)
13. John O'Dwyer (Killenaule)
14. Seamus Callanan (Drom & Inch)
15. Niall O'Meara (Kilruane MacDonaghs)
Here's the report from Tipperary's Munster minor hurling triumph over Limerick.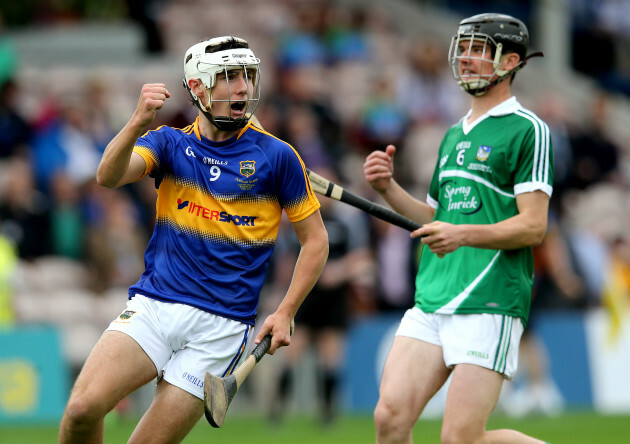 Source: Ryan Byrne/INPHO
One late change on the Waterford side with Eddie Barrett replacing Tom Devine. Tipp, meanwhile, remain unchanged from the team listed below.
Both sets of players are out on the pitch as the teams embark on the traditional pre-match parade. The atmosphere in Thurles is electric and let's hope the game lives up to it.
The preliminaries are almost complete as Michael D Higgins greets the sides.  The tension is palpable.
Before throw-in, we'll have a minute's silence for the late, great Jimmy Doyle and David Houlihan from Dungarvan who lost his life in Thailand last week.
A Tipperary fan pays tribute to Jimmy Doyle outside Semple Stadium.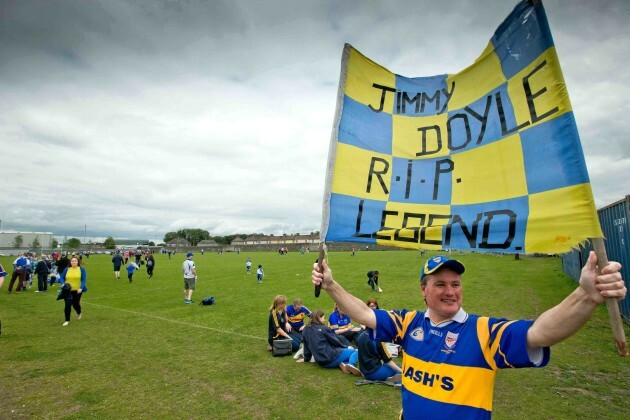 Source: Morgan Treacy/INPHO
We're off – strap yourself in, folks!
Kevin Moran with the first sight of the posts but he pulls his long-range effort wide.
Tipperary 0-1 Waterford 0-0 
Austin Gleeson fires wide and at the other end, Tipp strike first through Niall O'Meara.
Tipperary 0-2 Waterford 0-1
Seamie Callanan makes no mistake from a free to double Tipp's lead but Waterford get themselves on the board as Colin Dunford fires between the posts from a tight angle on the right.
Tipperary 0-3 Waterford 0-1
Tipp immediately restore their two-point advantage, however, as Niall O'Meara's fine start to the game continues.
Tipperary 0-3 Waterford 0-2
Kevin Moran embarks on a purposeful run deep into Tipp territory and is eventually fouled. Maurice Shanahan registers his first score of the afternoon from the resulting free.
Colin Dunford then picks up the first yellow of the game.
Tipperary 0-4 Waterford 0-2
Brendan Maher is fouled and Callanan duly obliges with a straightforward free. The Premier County have converted all four of their scoring chances so far.
Tipperary 0-6 Waterford 0-2
The intensity is fierce and Tipp are in clinical form as Patrick Maher scores from 30m out and John 'Bubbles' O'Dwyer follows suits in the next attack.
Tipperary 0-6 Waterford 0-3
Tipp have come out of the blocks quickly but Waterford are just starting to get a stranglehold of proceedings and Kevin Moran scores his second point of the day to reduce the deficit.
Tipperary 0-7 Waterford 0-3
No breeze in Thurles and Callanan strikes a '65 sweetly as Tipp continue to score at every opportunity. Shanahan had just missed a bad free for Waterford at the other end.
Tipperary 0-7 Waterford 0-4
Tipp are given a scare after Paudie Maher's misplaced pass put his team in serious trouble but Stephen Bennett's kicked goal effort trickles narrowly wide.
Gleeson does score from a monstrous free shortly after.
Tipperary 0-7 Waterford 0-5
The Déise have cut the deficit further after fine work from de Búrca creates the opening for Maurice Shanahan and he dissects the posts.
Tipperary 0-7 Waterford 0-7
We're level! Two points in quick succession from Shanahan sees Waterford level proceedings and the momentum in this game is beginning to shift towards Derek McGrath's side.
Waterford are growing in confidence with each passing minute and they're now the side dictating the running. This half has flown by with a little over five minutes until the break.
Tipperary 0-8 Waterford 0-7
First point for Tipp in 10 minutes and they're back in the lead.
Tipperary 0-8 Waterford 0-8
Not for long though as a monstrous score from Shane Fives brings Waterford back on level terms. You can't catch your breath during this one.
It's been a fierce contest so far as both sides exchange blows.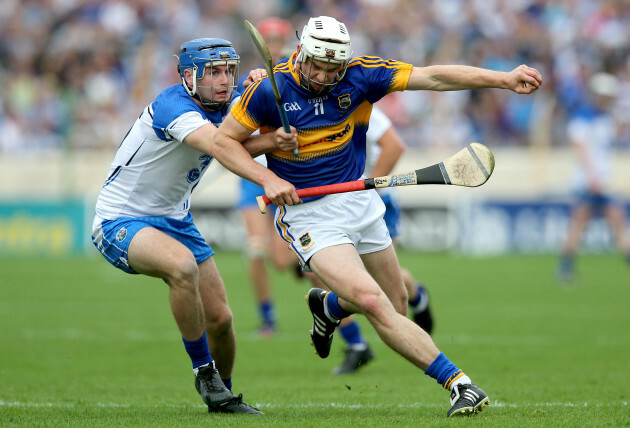 Source: Ryan Byrne/INPHO
Tipperary 0-8 Waterford 0-9
Waterford are winning all the duels now and Moran has been central to that. The Déise skipper has just registered a lovely score to give his side the lead for the first time.
Tipperary 0-9 Waterford 0-9
Nothing to separate the sides again as we're level for the third time. Michael Breen gets his name on the scoreboard as we enter injury time at the end of a truly fascinating half of hurling.
HT: Tipperary 0-10 Waterford 0-9
Right on the stroke of half-time, Seamie Callanan fires over a free from the right to give Tipp the narrowest of leads at the break. A pulsating contest so far.
On The Sunday Game, Ger Loughnane says Tipp look 'sluggish' while Henry Shefflin says the pattern of the game suits Waterford as they love to 'thrive off scraps'.
Great crowd at Semple and they're being royally entertained.
Both sides back out on the pitch and we're back underway.
One change at half-time with Lar Corbett replacing Michael Breen for Tipp.
Sloppy start to this second period with neither side able to take a stranglehold of proceedings.
Tipperary 0-11 Waterford 0-9
First score of the half and Tipp's lead is now two points after Jason Forde fires over for his first of the day. Great work from James Barry in the build-up too.
Tipperary 0-11 Waterford 0-10
Corner-back Shane Fives scores his second of the afternoon after he burst forward.
Tipperary 0-11 Waterford 0-11
Never in doubt. Shanahan levels again from a '65 and this game continues to ebb and flow.
The Waterford fans try and get behind their team as the noise levels inside Semple increase by a decibel or two.
Tipperary 0-13 Waterford 0-12
Mistakes just starting to creep into both sides' play now as we enter the final 20 minutes of this rip-roaring Munster SHC final.
Niall O'Meara scores his third point and then Waterford goalkeeper Stephen O'Keeffe is punished by Jason Forde for trying to play it short.
But Shanahan reduces the deficit at the other end. He's scored three frees, two '65s and two points from play so far.
Another wide from Waterford and they may be left to rue these missed opportunities when all is said and done. 18 minutes left on the clock and it's a one point game.
Which way is this one going?
As many are pointing out on social media, it's not exactly a game of the highest quality but it's gripping nonetheless. Both sides continue to give away possession.
Tipperary 0-15 Waterford 0-12
This could be a crucial passage of play. After Bubbles O'Dwyer points from range, Barron concedes a free for a trip on Corbett and Callanan makes no mistake from the free. Tipp's lead is now three points with 15 remaining.
Tipperary 0-16 Waterford 0-13
Shanahan has been superb all game and fires over another fine score to bring Waterford within two but they're pegged back immediately by John O'Dwyer's third point.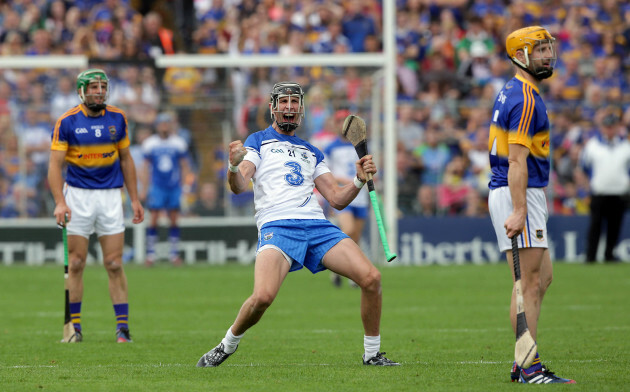 Source: Morgan Treacy/INPHO
The clock is ticking and hearts are racing. 10 minutes to go in Thurles and this one could still go either way.
Tipperary 0-17 Waterford 0-13
That is extraordinary from Corbett. He barely looks at the target but still dissects the posts to give Tipp some breathing room.
Tipperary 0-17 Waterford 0-14
That man Shanahan again. At the other end, Callanan's effort is blocked by O'Keefe and it's out for a '65.
Tipperary 0-18 Waterford 0-14
And, as we've come to expect, Callanan makes no mistake to stretch Tipp's lead to four once again. There's still time for Waterford but Derek McGrath's side need something special here.
Tipperary 0-18 Waterford 0-15
Patrick Curran brings Waterford within a goal of Tipp but Forde's effort is then wide – they can't afford to spurn those sort of opportunities at this stage. The Tipp crowd are just beginning to find their voice as chants of 'Tipp, Tipp, Tipp' ring around Thurles.
Tipperary 0-20 Waterford 0-15
Tipp are closing this game out emphatically as they score two quick points to create daylight between the sides for the first time.
Tipperary 0-20 Waterford 0-16
The writing is on the wall but Waterford continue to plug away. A point brings them within four but we've just a couple of minutes left to play.
FT: Tipperary 0-21 Waterford 0-16
Tipp reign supreme in Munster once again. It's their 41st provincial crown and it was thoroughly deserved on the day in what was a tight, edgy affair.
That brings our live coverage to an end but make sure to keep an eye on The42 throughout the evening for all the reaction to Tipperary's Munster triumph.
Contribute to this story: