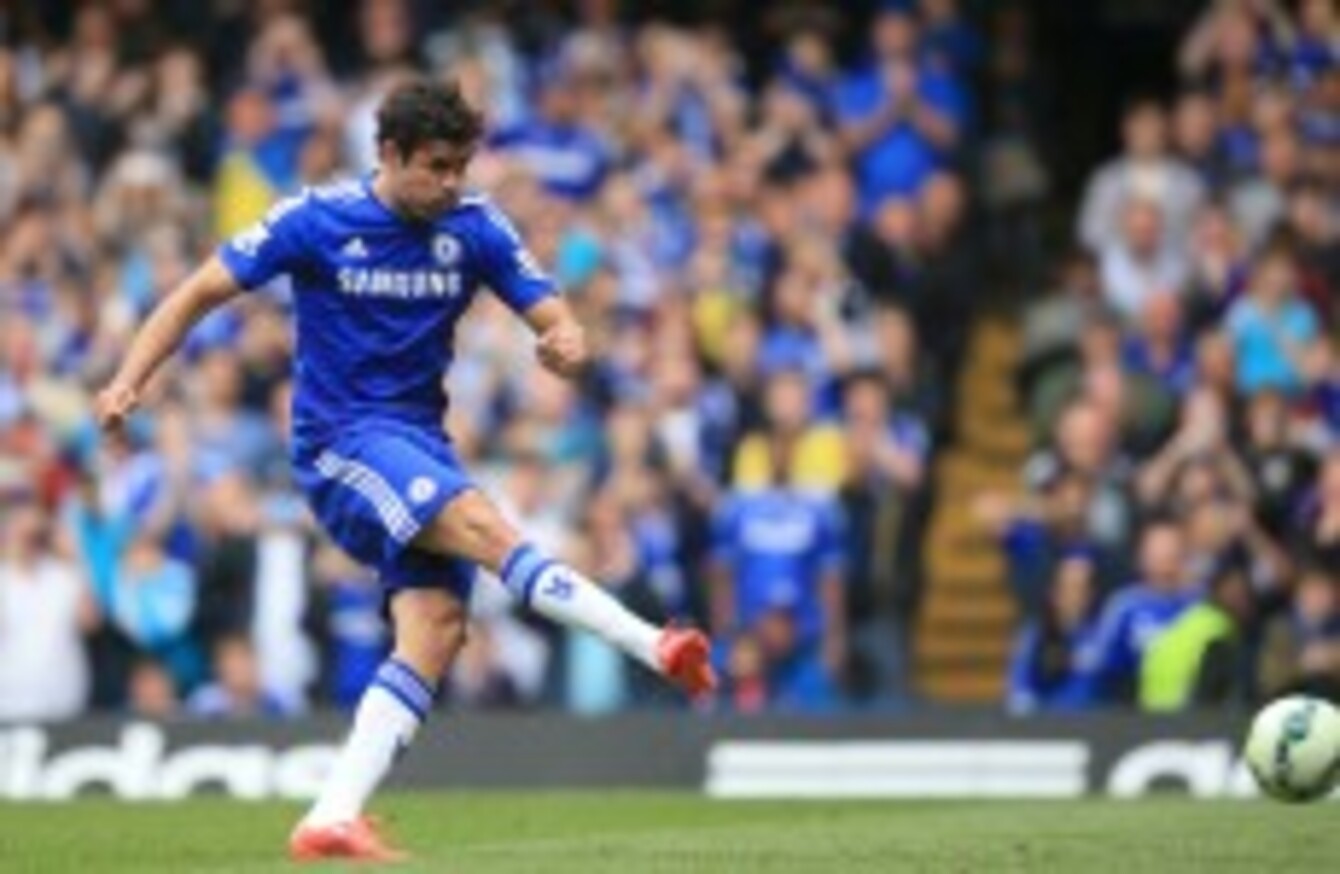 Chelsea's Diego Costa is widely perceived as one of the riskier Fantasy picks this season.
Chelsea's Diego Costa is widely perceived as one of the riskier Fantasy picks this season.
THERE ARE PLENTY of people who fancy themselves as Fantasy Football experts, but few would have matched Mark McGettigan's achievement last year.
The 24-year-old Donegal native was the winner of The42's Fantasy Football league, securing an incredible 2,325 points and finishing within the top 400 in the world (he's says he's aiming for a "top 100″ finish this year).
And so, while this may not be the first Fantasy Football advice column you've read, rest assured that the following guidance is coming from someone who can firmly back up their expert status.
Speaking to The42, he gives 10 tips that helped him enjoy such phenomenal success last season.
1. Don't ever get too obsessive about the game
"I try to stay away from it during the week. I know that people sit down during the week and they end up spending too much time on it, and it drives you mad.
"A lot of people go to so much trouble reading articles or downloading apps. It's something I don't like to spend too much time on. A lot of people spend too much time on it, and when you overdo it, you don't know what to do… The only thing I would follow would be the Fantasy Football scout. On Twitter, they're great for injury updates or whatever.
2. Keep a watch-list
"I'd be making my own assumptions on different players and I'd always keep a watch-list on the website, so I'd update the watch-list weekly.
"Even if a player wasn't scoring goals, if they were getting into good positions or whatever, I'd add them to my watch-list. And for players who weren't playing well, I'd take them off my watch-list.
"I'd never go looking through all the teams, I'd just have my own watch-list, which made it easier.
"A lot of my friends would often say 'you had a lucky week'. But you have to create your own luck with a bit of research."
3. Watch as much football as possible
"I would always try to watch or record Match of the Day… Last year, I was teaching in Abu Dhabi, so I actually had a lot of time to spend on it. At the weekends, I was able to catch as many games as I could. I think that's a big help — if you can watch a game for 90 minutes, you'll learn a lot, as opposed to just looking at the result and who scored."
4. Desperate times call for desperate measures
"In my main league at home, my friend had been winning all the way through. He used to say things like 'I can't hear you from up here,' because he was so far ahead. He was maybe 200 points ahead of me at one stage. He was 31 points ahead of me on the final day, but the Walcott move meant I beat him by two points, so that shut him up.
"Coming towards the end of the season, I wasn't winning too many of the leagues, so I had to start taking chances, and bringing in a few players that my rivals didn't have. So those little chances paid off in the end.
"Picking Theo Walcott as captain on the last day was a big one. I remember there was a lot of talk that Wenger was going to rest a few players because the FA Cup final was coming up and Walcott hadn't played many games. I wasn't 100% sure, but I was fairly sure he'd start, so I just took the chances. I knew if he did, he could be in amongst the goals. That decision won quite a few leagues for me.
What are they
really like?
Rare insights on sport's biggest names from the writers who know them best. Listen to Behind the Lines podcast.
Become a Member
"My friend that day had [Alexis] Sanchez as captain, and Arsenal won 5-0 and he didn't even get an assist."
5. 3-4-3 is the best formation to use
"Formation-wise, I always stick with 3-4-3. The three defenders are always defenders who would have an eye for goal. When it comes to defenders, I like them to be from the top five or six clubs. At the minute, I have Ivanovic, Kolarov and Alderweireld. So that's the idea.
"I tend not to spend too much money on goalkeepers. If you look at the total score of goalkeepers, there's never too much of a variation. So I'm going with the Norwich keeper and the Norwich number two as my sub keeper. So if anything happens to my main keeper, my number two will play a week later. It doesn't force me into a substitution."
6. Don't take a chance on most Arsenal players or Diego Costa (at least, not initially)
"With my team this year, there's quite a few doubts with a lot of players going into the new season. I'm going into it with players I'm fairly sure are going to be playing. I don't want to be going into it with the likes of Costa. There's a lot of talk that Walcott's going to have a big year because he signed his new contract, but I'm still not 100% sure how much game time he's going to get, so I'm not going to take any chances.
"I think Arsenal are going to have a big year, but it's difficult to pick their starting XI, so I don't think I'll have any Arsenal players at the start. I'll give it a week or two and see how things are then. One player who I didn't have last season, and I think he could have a big year this year is Mané for Southampton. A few people would have him, but not that many. Another would be Sakho, the striker for West Ham."
7. Save some money up for Sergio Aguero
"Another one a lot of people would be thinking about is Aguero. He's probably not going to play the first game. Before the season starts, I'm already thinking about him. As soon as he's fit, he'll be straight into the team.
"He's one player you can't go without. When he is fit, a lot of people are going to struggle to fit him in because he's so expensive. So I'll probably leave a little bit of cash in the bank with him in mind."
8. Don't be too eager to use free transfers or wildcards
"Another thing that helped me — as much as you can, try not to do a free transfer, so that they build up with each gameweek. If you can avoid making a transfer and then you have two the following week, it's a massive help.
"A wildcard is something I never plan for. There could always be a time where you have a horrible patch where you have three or four players out through suspension. That would usually be the time I would use it, but I always try to avoid using it for as long as possible. The second wildcard in the second half of the season, if you can hold onto it until towards the end of the season, it could make all the difference in the last couple of weeks."
9. Don't let your footballing allegiances cloud your judgement
"I have a Liverpool-supporting friend whose team might have three Liverpool players. It's important not to be biased just because you support a team. I'm a big Manchester United fan myself, but I don't have any United players in my team at the minute."
10. Some Football Manager experience can also be beneficial, but don't let it take over your life
"Ever since I was about 10 years old, I've been playing Football Manager. I'm 24 now and I'm going back to college in September. I actually got the disc and threw it in the bin there a couple of weeks ago, because I don't want to be wasting any more time on it."
Join The42's Premier League Fantasy Football League using this code: 1535685-385179