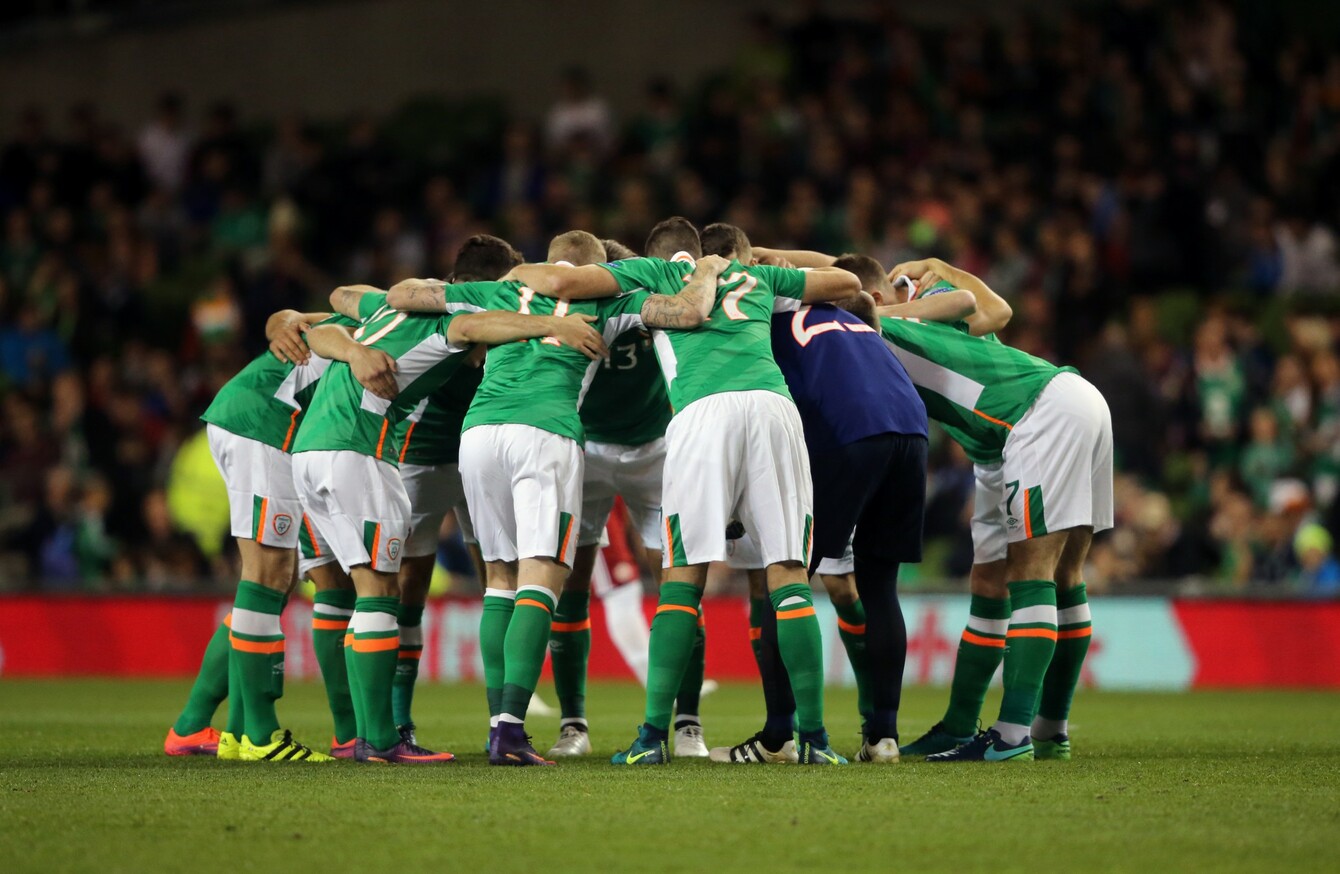 Uefa are likely to be awarded three extra World Cup spots, thereby increasing Ireland's chances of qualifying.
Uefa are likely to be awarded three extra World Cup spots, thereby increasing Ireland's chances of qualifying.
Updated at 16.53
1. How will it impact Ireland?
A 48-TEAM World Cup from 2026 on, which has been confirmed today, will obviously increase the likelihood of Ireland qualifying for future competitions, though not to the level some people might assume.
From the Boys in Green's perspective, it is not really comparable to the expansion of the Euros from 16 to 24 teams. In that instance, Ireland's chances of qualifying were greatly improved.
However, while it is yet to be confirmed, according to widespread reports, Uefa will get a maximum of three extra spots at future World Cups, thereby helping though not drastically boosting the Irish side's qualification hopes.
Indeed, assuming there will be 16 European spots available as is being reported, it will now effectively be as difficult to qualify for the World Cup as it was in the previous format for the Euros as far as the Uefa sides are concerned.
2. Who will be the biggest beneficiaries?
Nothing has been confirmed, but assuming the proposed changes go through, Africa, Asia, North America and Oceania are all likely to benefit considerably from the new structure.
The four aforementioned continents will see their representation almost doubled, with New Zealand likely to be in a particularly strong position, given that they are currently comfortably the highest-ranked Oceania nation and they'll no longer need to qualify via a playoff against a South American team assuming they prevail in their confederation's section.
Whereas they have failed to qualify in certain instances at previous tournaments, expect countries such as Ghana, South Africa, Cameroon, China and Iran to become staples of future World Cups, while lower-ranked nations including Syria, Haiti and Burkina Faso could enjoy rare qualifications.
And obviously, Fifa Council would not have unanimously approved the measure were there not a financial incentive behind it, though the organisation naturally denies that that is the primary reason for the expansion.
Uefa, meanwhile, are likely to get three further spots, in an attempt to placate some of its members' reservations about the plan.
3. How exactly will it work?
The expanded format means there will be 16 groups of three teams from the 2026 World Cup onwards.
The top two teams in each group will then progress to a 32-team knockout round.
The 32-day schedule will be retained, with four group games per day, so players will still have some time for post-season holidays once it finishes, and the extra physical demands placed on their bodies are unlikely to be too drastic.
There will also be 80 games as opposed to 64 in previous World Cups.
So essentially, the new format consists of slightly more football over the exact same space of time.
4. Will it dilute the quality/watchability of the tournament?
In truth, sitting through an extra 16 matches is asking a lot of viewers who are now expected to watch four games a day in the group stages.
It could also result in more one-sided matches that are all but over by half-time.
On the other hand, there is a case to be made to the contrary.
Football teams are arguably better organised than ever, leaving weaker sides less prone to drubbings.
For instance, the team who conceded the most goals in a single group game at the last World Cup was not Honduras, Ecuador or Iran — it was, in fact, the then-reigning champions Spain, as they lost 5-1 against Holland.
Moreover, the so-called 'weaker' nations are not as weak as many people assume. In 2014, few people were tipping Costa Rica to top a group that also included Italy, England and Uruguay, but they did just that, proving all the doubters wrong in the process.
5. Is this genuinely just about money or are Fifa sincere in their talk of 'growth'?
Almost everything Fifa do nowadays feels tainted to some degree owing to their egregious recent past, so it's no surprise that many have suggested the World Cup expansion is another example of the organisation's greed and self-serving nature.
On the other hand, there is obvious potential for the sport to grow in certain countries as a result of this new initiative, so it's not as if the move is entirely without merit.
Moreover, had it not been for the expansion from 16 to 24 teams as of 1982, Ireland would not have qualified for the 1990 World Cup.
And think of all the brilliant memories the Boys in Green would have been denied this summer were it not for the introduction of the 24-team format for the Euros — another initiative that had been widely derided at first but grew increasing support as time wore on.
Of course, there are financial motives behind the measure, but if it makes more people across the world happier, do such positives not outweigh the aforementioned negatives?
There has been plenty of criticism for the idea within the media, but Argentina legend Diego Maradona, ex-Barcelona defender Carles Puyol and Man United boss Jose Mourinho have all backed the proposals.
As Maradona put it: "I'm delighted by Gianni's initiative because it gives chances to teams that otherwise would start the qualifiers knowing they had no chance of getting to the World Cup.
"It gives each country the dream and it renews the passion for football, it appears to me to be a fantastic idea."
Evolution of Fifa's World Cup Final format
Following FIFA's ruling council's unanimous approval Tuesday of an expansion of the World Cup to 48 teams in 2026, here's a look at the evolution of the tournament since the inaugural edition in 1930.
- 1930: The first World Cup final kicked off with 13 teams in Uruguay, including four European nations – Belgium, France, Romania and Yugoslavia.
- 1934: Expanded to 16 teams for the tournament in Italy, after a qualifying stage for the first time.
- 1938: Only 15 teams take part in France after Austria, which had just been annexed by Nazi Germany, withdraw.
- 1950: The World Cup returns after World War II — the previous two editions having being cancelled — with 13 teams competing in Brazil.
- 1954: Hosted by Switzerland the tournament returns to the 16-team format.
- 1958: In Sweden, format unchanged in a tournament in which Brazilian star Pele wins the first of his three World Cups and France striker Just Fontaine is the top scorer with 13 goals, a record which still stands.
- 1970: The World Cup in Mexico is one of firsts – introduction of substitutes (two) during a match; red and yellow cards and tournament televised in colour. Format unchanged.
- 1982: As FIFA looks for new revenues the World Cup in Spain witnessed a small revolution with the passage from 16 to 24 teams and 52 matches played.
- 1986: This edition in Mexico won by Diego Maradona's Argentina introduces a knockout round of last 16 and quarter-finals.
- 1994: Football continues to modernise with 147 participating in qualifiers and Africa gaining a third team in the final in the United States.
- 1998: The tournament organised in France moves to 32 teams. 174 teams participated in qualifiers.
- 2002: For the first time the World Cup is jointly hosted by two countries — Japan and South Korea. Brazil win for a fifth time.
- 2010: The first World Cup hosted on the African continent. Format unchanged.
- 2022: To avoid the searing summer heat, the World Cup in Qatar will take place for the first time in winter, from November 21 to December 18 in the Gulf state.
- 2026: FIFA approved an expansion to 48 teams in the 2026 World Cup, with a format of 16 groups of three nations.
The42 is on Instagram! Tap the button below on your phone to follow us!