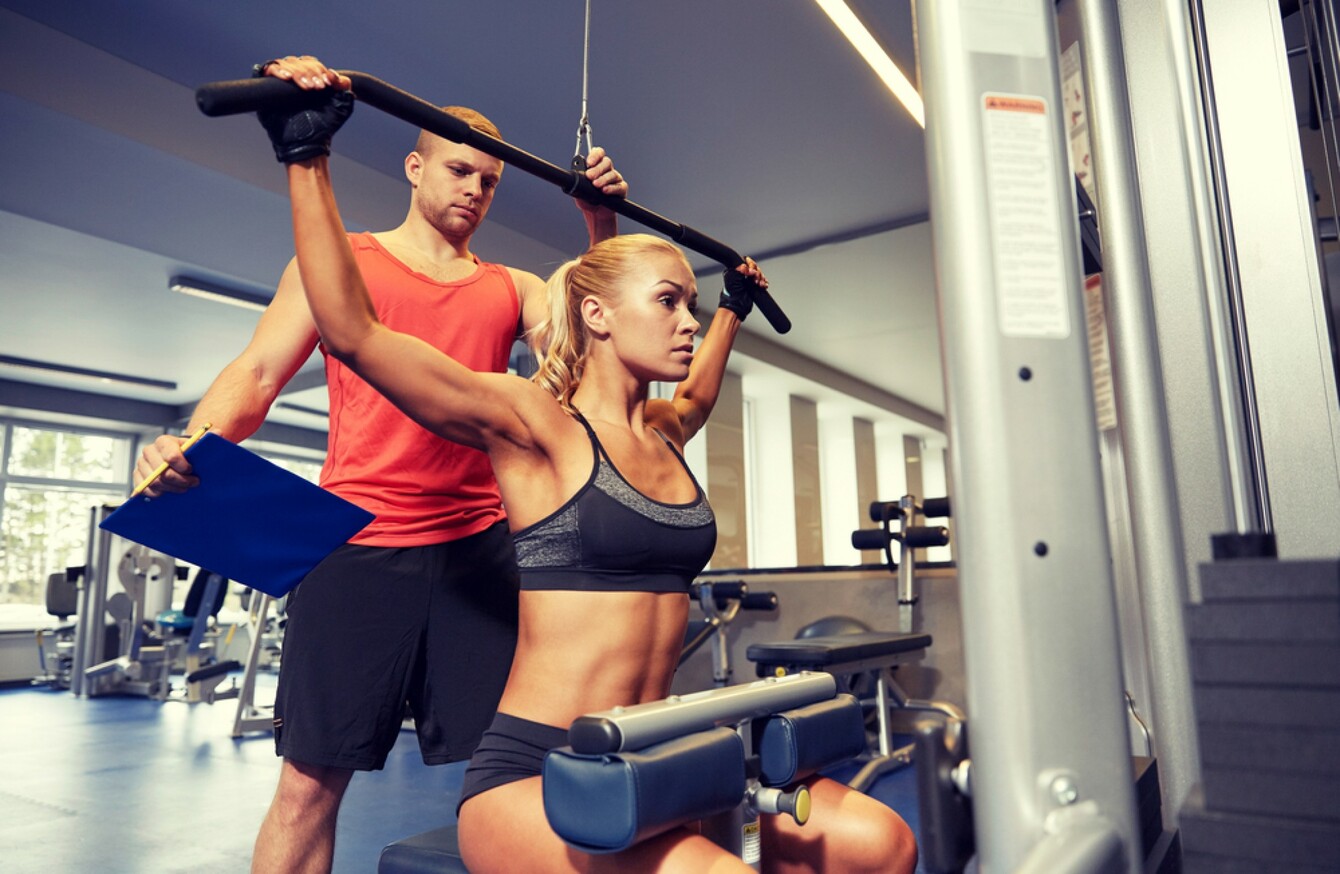 Image: Shutterstock/Syda Productions
Image: Shutterstock/Syda Productions
DESPITE THE MASSIVE amount of misleading information online on all things health and fitness, one reason remains as to why personal training is still a booming business.
People hire trainers when they feel they cannot achieve what they want to achieve on their own.
If the thoughts of summer holidays and the inevitable baring of flesh has you considering hiring a personal trainer to help whip you into shape, hopefully you will find the below helpful.
Whatever your reason for working with a professional; support, motivation, information, accountability or injury prevention, it's important to do your due diligence as a consumer and make a sound investment in your future health and wellness.
Taking the time to consider your trainer is a worthwhile endeavour and making a well-informed decision could mean the difference between achieving your goals or failing to reach your potential.
Trust your gut; you need a knowledgeable and experienced trainer who can keep you engaged and motivated and is empathetic towards your needs as a trainee.
Below are five key things to think about before hiring a trainer:
1. Qualifications/credentials
A no-brainer really, but there are certain basic standards of professionalism and competence that need to be met. Beyond that, passionate trainers will want to continually learn and expand their knowledge base to better themselves and the results their clients can achieve.
A few questions to ask:
Is their PT qualification from a reputable organisation?
Do they have further education in a related field (physiology, nutrition, kinetics, sports science)?
If you're injured, do they have the ability to adapt your training and/or refer you on?
Have they continued to invest in themselves and their education since qualifying?
Do they stay abreast of relevant research and training methods and provide programmes tailor-made for you or are they handing out cookie-cutter programs they found on Instagram?
"Jack of all trades, master of none."
Be wise to those claiming to be 'experts' in fat loss, muscle gain, TRX, kettlebells, core training, sports-specific training, injury rehab and strength and conditioning. It's simply impossible.
Save yourself a headache (and money) by finding a trainer who has a vested interest in one or two areas that match your needs.
2. Experience
Anybody can do an eight-week PT course but actually understanding the body and its movement takes time and experience. There's a big difference between somebody who likes training and somebody who understands training.
Do they just go through the motions or can they spot dysfunctional movement and understand how to correct it and adapt accordingly?
In my opinion, greater experience equals better processes and systems. Every trainer has to start somewhere, but do you really want to spend your hard-earned money being somebody's guinea pig?
Do they walk the walk?
Do they train themselves? While they don't necessarily need to look like they walked off the cover of a fitness magazine, there is an element of 'practise what you preach' here.
I believe it's essential for health and fitness professionals to lead by example and live a healthy lifestyle.
Be part
of the team
Access exclusive podcasts, interviews and analysis with a monthly or annual membership.
Become a Member
A trainer should have an appreciation of what it feels like to have a loaded barbell on your back, to swing a kettlebell or feel your heart-rate skyrocket, before asking you to do it.
If they have never gotten out of their comfort zone, how can they empathise with you when you're digging deep for those last few reps?
3. Personality and training style
Know what motivates you.
If you want to be successful in your endeavours, you will need to get comfortable being open and honest.
Are you the type of person who likes to be pushed to their limits or do you thrive on positive reinforcement and gentle encouragement?
Trainers vary from in-your-face aggressive to calm and passive, but the one that you need is the one that can cater to your personal needs.
Client-coach compatibility is so important, so find out what their training principles are. How do they develop their programmes and what beliefs do they base it on? Does it match up to your training preferences and goals?
Above all else, you need a trainer who listens and asks questions, manages your expectations and makes the experience as enjoyable as possible.
Personal training is a two-way commitment and while you don't necessarily need to love them, you do need to respect them.
In saying that, the respect should be mutual and although PTs can often have very early starts, they should be energetic, engaged and prepared for your session.
If they are yawning, checking their phone and moaning about how little sleep they got last night, it might be time to cut your losses and move on.
4. Read the fine print
Don't be shy about asking the awkward questions. Know your budget and decide on payment with your trainer before starting.
Ask what your options are. If it's too expensive; do they offer semi-private/small group training or if there is a discount for buying sessions in bulk?
Do they include programming and/or nutritional advice?
How will they be measuring and evaluating your progress?
How is their availability? How far in advance do you need to book your sessions?
Do they have a cancellation policy?
5. The proof is in the pudding
What is the trainer's reputation? Referrals are one of the best compliments a trainer can receive and happy clients that achieve long-term results are the ultimate testament to good personal training.
Beware of zealots and charlatans, unfortunately this industry is full of them; hard salesmen hawking supplements and quick-fixes or gullible trainers hopping on whatever the latest bandwagon is. It's your time and it's your money — don't waste it!
And finally, for all the newbie trainers out there: "Arrive early, stay late. Give people more than they asked for. Read an hour every day. Treat athletes or people the way you want to be treated." — Mike Boyle
The42 is on Instagram! Tap the button below on your phone to follow us!