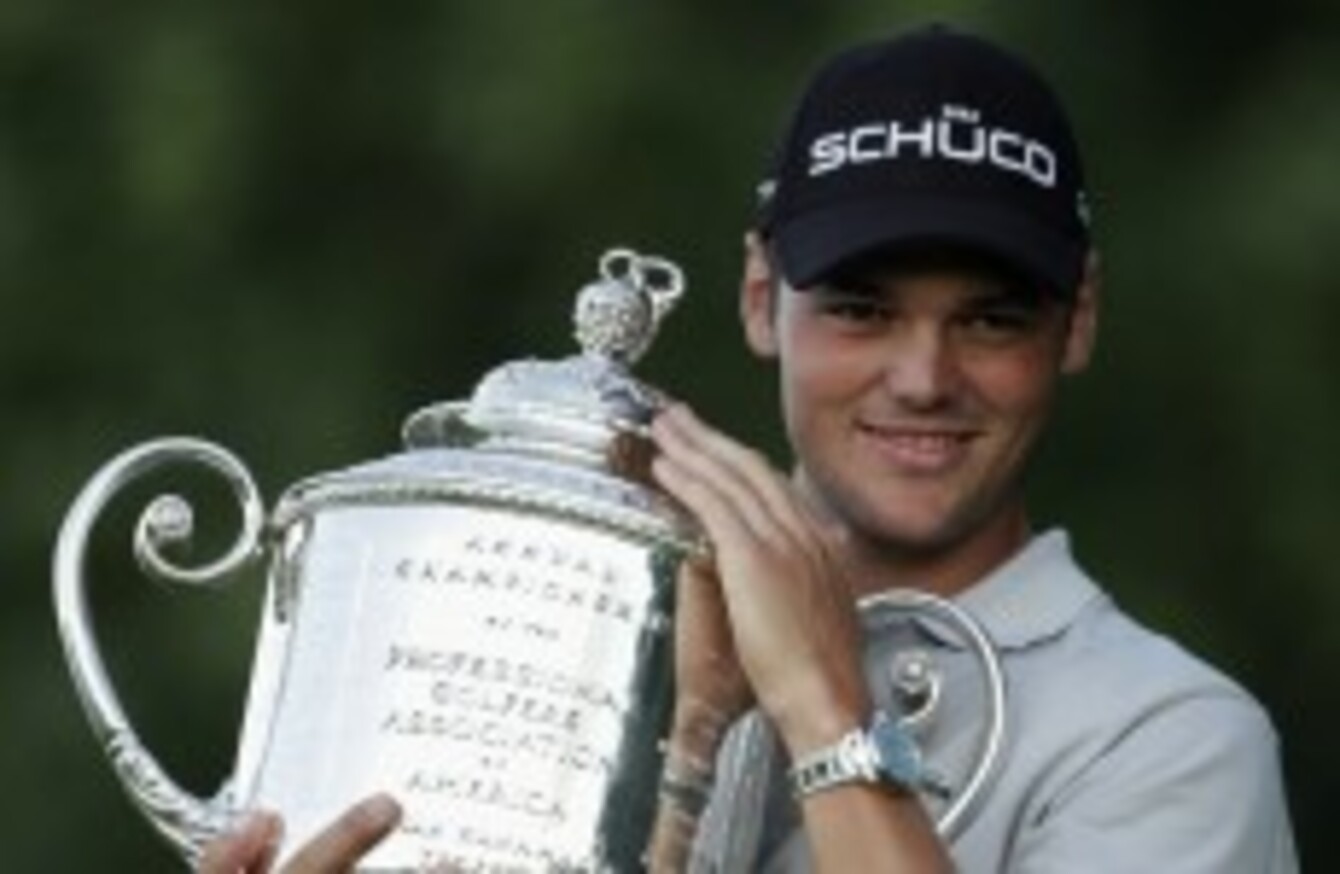 Last year's winner, Martin Kaymer.
Image: Charlie Neibergall/AP/Press Association Images
Last year's winner, Martin Kaymer.
Image: Charlie Neibergall/AP/Press Association Images
This is golf, I take it?
This isn't just golf, it's the final major of the year: the 93rd PGA (or USPGA) Championship!
The last big stop on the golfing calendar, the Americans have an annoying habit of referring to it as "Glory's Last Shot".
That is annoying. Enough of that. This has been going on a while, then?
It has.
Historically, the PGA has been seen as the least prestigious major championship, with its lack of an obvious claim to fame undermined by the USPGA's knack for holding it in the Deep South during the height of the summer (swamp ass, anyone?), picking pretty unremarkable venues and filling the field with an unnecessarily high number of club professionals. Not only that, but it's the only major to have undergone a format change. It was originally a match-play event, until money-minded TV execs applied the pressure necessary to prompt a switch to strokeplay in 1958.
But those days are gone! It might still be held in the South every now and again, but the PGA now has a legitimate claim to being the strongest, most eclectic field of the year. It's also developed a knack of producing exciting, drama-heavy final rounds.
And what about the courses– are they still rubbish?
Not at all. The event's become a bastion of good taste when it comes to selecting and preparing a venue. This year, Atlanta Athletic Club will be long and testing in most of the ways you'd expect from one of the sport's showpiece events, but it'll also yield its fair share of birdies.
SEE SPORT
DIFFERENTLY
Get closer to the stories that matter with exclusive analysis, insight and debate in The42 Membership.
Become a Member
And what of the drama? Any storylines bubbling under the surface?

For a start, be on the lookout for an awful lot of Tiger-related speculation. That the former World Number One is returning to some semblance of his former self is fast becoming a consensus opinion, but the only real change on display last week was his slightly disturbing facial hair configuration. The wild drives and inconsistent putting, on the other hand, were still very much in evidence.
Not only that, but everyone is praying for some kind of Tiger Woods-Adam Scott pairing over the weekend that would allow Steve Williams to come face-to-face with the man who fired him (and also made him a multi-millionaire… but forget about that)! The possibilities for social awkwardness look positively Seinfeldian.
If Tiger slips out of contention early, though, expect coverage of the "Chubby Slam" to take his place. So-called "super-agent" Andrew "Chubby" Chandler is on the cusp of accomplishing a golfing first: a win for one of his players this Sunday would give the Englishman's management firm (International Sports Management) a clean sweep of the year's majors.
And Chubby looks after…
Rory McIlroy, Lee Westwood, Darren Clarke, Ernie Els, Charl Schwartzel, Louis Oosthuizen, Simon Dyson… I didn't say it was improbable!
What about the Irish challenge?
Well, Padraig Harrington won the event back in 2008, but he's currently missing-in-action, lost in the depths of his own neuroses. US Open champion Rory McIlroy has become the hottest ticket in international golf, but his summer has devolved into a series of grubby tabloid stories and public bickering matches. It's unlikely he'll find his equilibrium in time for Thursday's first round. Graeme McDowell is in the midst of some serious short-game tinkering– uncertainty is not a recipe for major success, generally speaking– and displaying no real consistency around the greens. And Darren Clarke just looked in dismal form at last week's WGC-Bridgestone Invitational.
In short: it's not looking great.
Indeed. How do I watch?
Coverage of the first round begins tomorrow, Thursday, at 6pm, on Sky Sports 2.