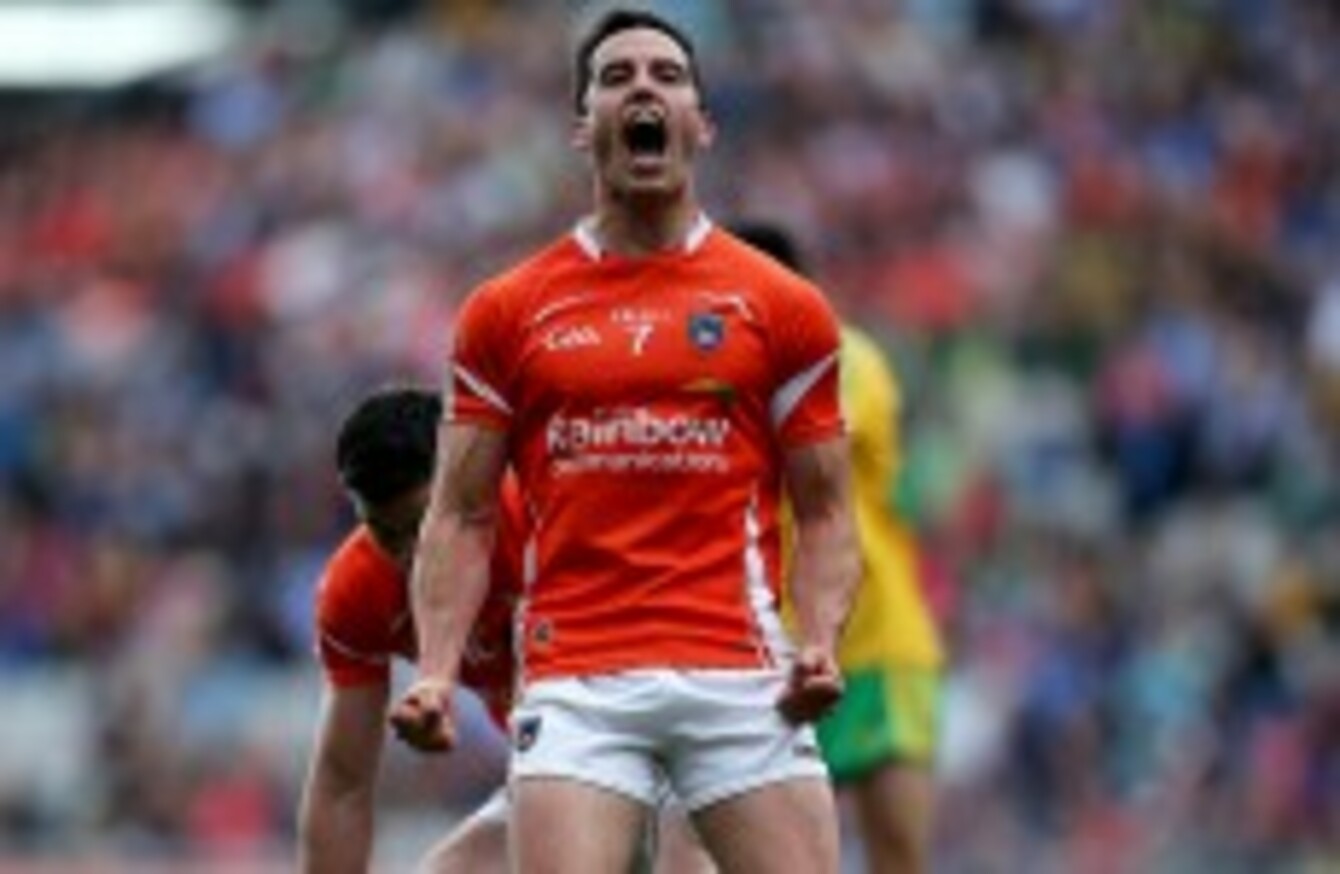 Image: Donall Farmer/INPHO
Image: Donall Farmer/INPHO
IN HINDSIGHT, IT worked — but Armagh's Aaron Kernan admits that he worried that the media ban enforced by the county's management team this summer had gone too far.
The 2005 Young Footballer of the Year, was talking to Newstalk's Off The Ball tonight -becoming the first Armagh player to speak to the media since Saturday's All-Ireland quarter-final defeat.
"I would think that's the end of it. I don't really know, it wasn't said after the game at the weekend, but I'm assuming that as it's the end of season, it's the end of how things planned out in the squad."
Armagh manager Paul Grimley enforced a media ban during this year's championship, because he was unhappy with the "biased" coverage of the pre-match brawl which took place before his team's Ulster championship clash with Cavan.
"To be honest, I passed no remarks, it was more what people were saying to me, but within the squad it had next to no influence," explained Kernan.
"You probably had this fear that it would have an influence or that it would heap the pressure on, but as the weeks went on and you're playing and then you win, and then you might just have a five day turn around again. We had enough on our plate each week that it wasn't an issue in our squad really."
As the championship progressed and Armagh reached last Saturday's quarter-final with Donegal, Paul Grimley upped the ante. The Ulster boss began pulling his players out of pre-match press conferences at the last minute, in protest of the media's coverage of his team.
"I did (question it), and I seen people thinking that this might be a step too far, or that it might hinder everything.
Despite his concerns at the time though, Kernan reiterated that the media ban had absolutely no negative effect on Armagh's performances.
"I know from my point of view it wasn't an issue. Unfortunately players can't control anything – I always say players play and managers manage.
"I did think, is it going to affect us, but no it didn't and I think if you look at our performances that will definitely back it up.
"I'm talking for myself, but I think things were blown out of proportion (after the Cavan match) and then certain other things were brushed under the carpet".