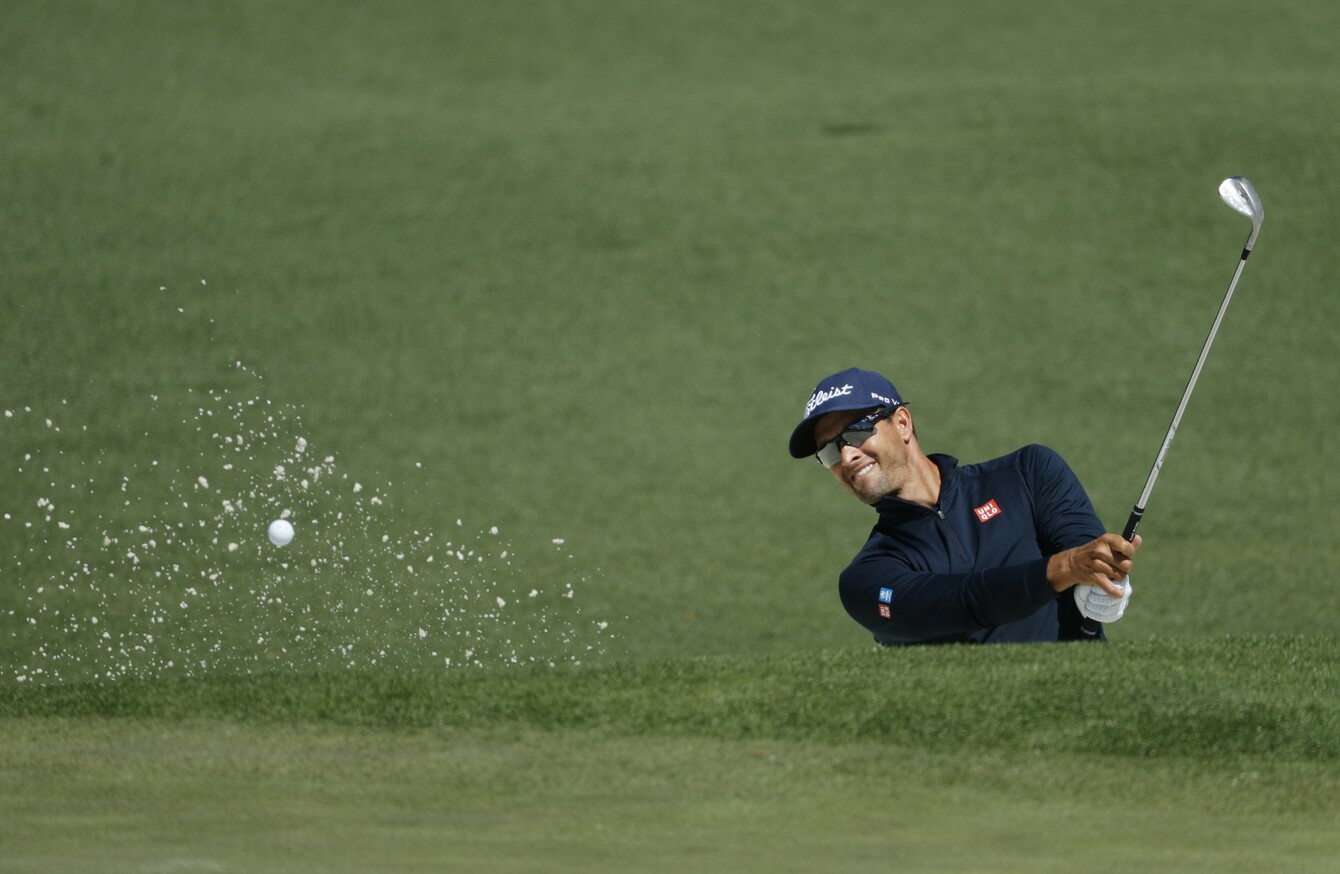 Image: Chris Carlson
Image: Chris Carlson
AUSTRALIA'S FORMER WORLD number one Adam Scott was hit by a backlash as sporting greats criticised his decision to skip the Olympics over his busy schedule.
The softly-spoken world number seven stirred up a hornet's nest over his move to miss Rio, where golf will return to the Olympics after a gap of 112 years.
Australian swimming great Dawn Fraser was strongly critical of Scott, while some commentators said it raised questions about golf as an Olympic sport.
"My decision has been taken as a result of an extremely busy playing schedule around the time of the Olympics and other commitments, both personal and professional," the 35-year-old said.
The announcement by the 2013 US Masters champion was immediately slammed by Australia's Fraser, who won Olympic 100m freestyle gold three times from 1956-1964.
"Well done Adam, great to put your country on hold so that you can fulfil your own schedule," wrote Fraser on her Facebook page, adding that she worked three jobs to realise her own Olympic ambitions.
"How much money do you want in life? I guess working 3 jobs a week to secure my place as an Olympic swimmer has given me the strength to say what I feel about sportsmen and women that do this," she declared.
"I am still trying to survive at 78 years of age but a very proud Australian."
Fraser also accused Scott of "not showing much for your country".
Eighteen-time major winner Jack Nicklaus said at the Memorial Tournament in Ohio: "I think that's sad. I think it's sad for the Olympics and for the game of golf.
"I don't know Adam's circumstances, so I couldn't comment on what he's dealing with. Obviously, he felt like he couldn't play, and if he felt that way, I understand. But it's unfortunate."
Australia's world number one Jason Day is understood to be keen to play in Rio when golf returns for the first time since 1904.
Golf Australia chief executive Stephen Pitt told the Sydney Daily Telegraph that Scott's decision would enable another player to seize his chance.
Be part
of the team
Access exclusive podcasts, interviews and analysis with a monthly or annual membership.
Become a Member
However, some US golf pundits applauded Scott's move — and said it illustrated why golf should not have returned to the Olympic fold.
The US PGA championship has been moved forward and becomes July's second major, two weeks after the British Open, in a packed 2016 golf calendar.
"Scott is not the only marquee name who doesn't embrace the Olympic golf tournament being squeezed into a such a small window in July and August," wrote Jim McCabe on golfweek.com.
"Don't be surprised if you hear from another one or two."
Another comment piece on the USA TODAY website was headlined: "Adam Scott just showed why golf shouldn't be an Olympic sport."
"An Olympic gold medal should be the highest honour there is to win in the chosen sport. Anything less devalues the entire competition. That's not the case in golf," the column read.
Last week, Fiji's former major champion Vijay Singh also announced that he would skip the Olympics, citing concerns over the Zika virus.
Scott has long been lukewarm on attending the Games, maintaining that the four major tournaments remain the pinnacle of the sport.
"I'll still base my schedule around the majors and if the Olympics fits in, then it does," he said at the Australian Open last November.
"That's just where I see it and the point I'm at in my life and the other priorities. And the gap in the schedule there, some time off looks quite good actually."
- © AFP 2016.
The42 is on Snapchat! Tap the button below on your phone to add!