THE CLOCK OF Clery's on O'Connell Street, Dublin stared at me. It was 2.57am.
In search of comfort, I twisted and turned on the pieces of cardboard I had retrieved from a nearby recycling bin.
Source: The42.ie/YouTube
This was a street I had patrolled thousands of times before but on Saturday I saw it from a new perspective because for one night only, I was at a fabricated rock bottom as my eyes flicked from the concrete slabs of the street, to the bullet holes on the GPO pillars and then to the herds of people passing by.
400 or so former and current GAA inter-county players answered the call from 'Gaelic Voices For Change' to take part in a solidarity sleep-out for the homelessness crisis in Ireland, and about a quarter of that total gathered in Dublin. Others joined forces in nine other counties around the country as well as New York and Boston.
Earlier in the evening fellow Cavan men Ray Galligan, Dara McVeety and I wandered the streets shaking buckets and handing out leaflets. It wasn't the first time we had gone past the likes of Kehoe's, Mary's and McDaid's as a part of a group but on this occasion we wore high-vis vests and a number of wooly layers instead of jeans and a fresh dose of aftershave. We were joined by Dublin camogie players Alex Griffin and Eimear O'Leary.
It was a humbling experience. In general, the public were very receptive to our efforts and donations varied from fifty cent to the same number on an orange note. We had a bit of craic along the way too and were happy to be the butt of a few Cavan man jokes from those enjoying the festivities.
An old manager of mine found me and handed in €200. At the time of writing, over €200,000 was raised thanks to generosity of the people and the selfless efforts of GAA players.
At midnight, we regrouped and unrolled our sleeping bags behind the temporary barriers. While the second half of the night was harder, we knew we weren't experiencing the real thing. However, it was a genuine effort from players to connect with a growing social problem and raise awareness and funds. Everyone agreed it was far more powerful than just turning up for a photoshoot to do the smile-and-nod act.
Part of me wanted to sleep because I was tired but mainly I was determined to do it just to see if it was possible with all the noise and bright lights. The hat pulled over my eyes and ears was no match for the sirens and the Luas. The biggest disturbance of all was the hustle and bustle of the people. I wondered how many of them even saw us at all, blinkered by phones or the desire to get to the next pub or a bed.
Raised voices nearby forced me to sit up. The reality was that our group occupied one of the best sheltered spots on the streets of the Dublin and others needed it more than us. As the night went on, three homeless men joined our group and with a concrete roof over their head, safety in numbers and the arrival of a sleeping bag, they all nodded off to sleep one by one. I wasn't far behind them and caught an hour of shut-eye.
As 6am loomed, we swept the floors and cleaned up our mess but as everybody left to return to normal life and their bed, the motionless bodies of those three men were all that remained behind.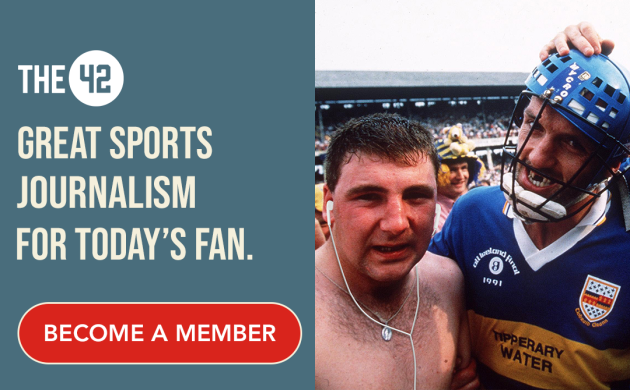 Source: The42.ie/YouTube
When I got home, the words of Father Peter McVerry, a leading homelessness advocate, stayed with me. 8,500 people in Ireland are now homeless but rough sleepers, approximately 200 in Dublin, make up a tiny percentage of that number. Almost 50% of all homeless please are under 24-year-old and thousands of people are bouncing around emergency accommodation such as B&Bs and hotels.
There has to be a better way of doing things.
Signing up for this challenge, some of us naively thought we might find answers. Truth be told we headed home with only more questions.