JOHNNY SEXTON'S REACTION when Anthony Belleau missed his 78th-minute penalty for France yesterday was telling.
Had Belleau been on target with his very kickable shot at goal, les Bleus would have opened up a 16-12 lead and with Ireland looking very unlikely to score a try, it is probable that it would have been game over.
But Belleau, the inexperienced 21-year-old, pulled his effort left and wide. When the ball sailed beyond the dead ball line, it was Sexton who waiting there to catch it.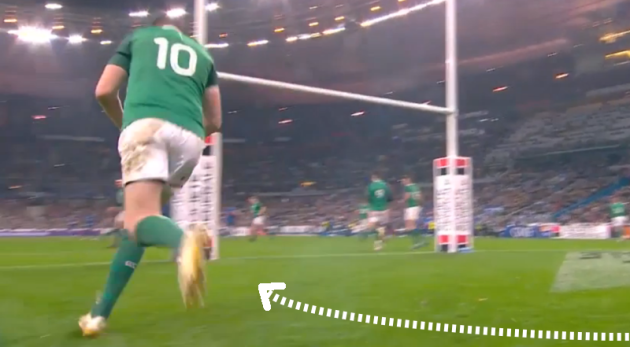 Immediately, Sexton strides out towards the Ireland 22 and his body language is positive.
The Ireland out-half is urgent but there is a sense of calm too as he passes the Ireland posts en route to take the drop-off that will spark a remarkable 41-phase passage of Irish attack ending with Sexton's game-winning drop goal passing through the uprights at the opposite end of the pitch.
Over the course of a scarcely credible five minutes and four seconds from Sexton's 22 drop-off to the moment the ball sailed between the French posts, Ireland relentlessly hammered at les Bleus in search of their opening.
When the moment came, after a sensational work rate, detail and intelligence from himself and his team-mates, Sexton took his chance in style.
77:28 – Phase 1
The first problem for Ireland is that they are kicking back at the French from the 22 restart. There is never any doubt that they will to go short and compete, but the drop-off has to be absolutely perfect under severe pressure.
To Ireland's credit, they pull it off expertly.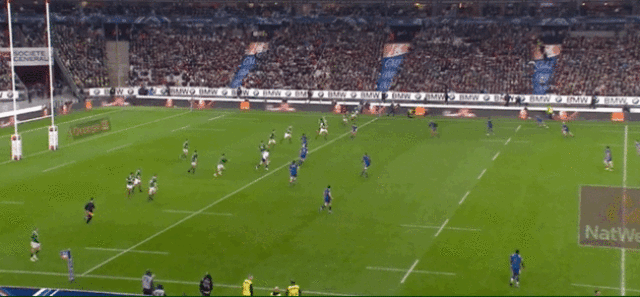 Click here if you cannot view the clip above
It's the first moment of perfect skill from Sexton, this kick arguably as difficult as the other two that are to come.
Sexton is aiming for a tiny pocket of space [red below], just over Sébastien Vahaamahina's head [4] and in front of Teddy Thomas [14], who will advance towards the ball.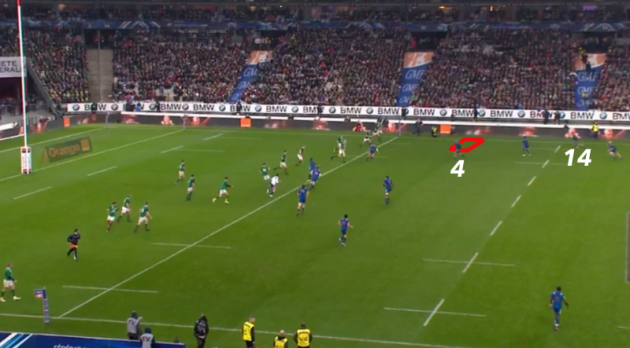 As well as aiming for a sliver of space, Sexton needs to be 100% accurate with the trajectory of his drop-kick, sending it low across the pitch to ensure that one of his chasing players – Iain Henderson being the primary target – can gather it on the move.
Even under the intense pressure on himself and Ireland, Sexton nails the skill.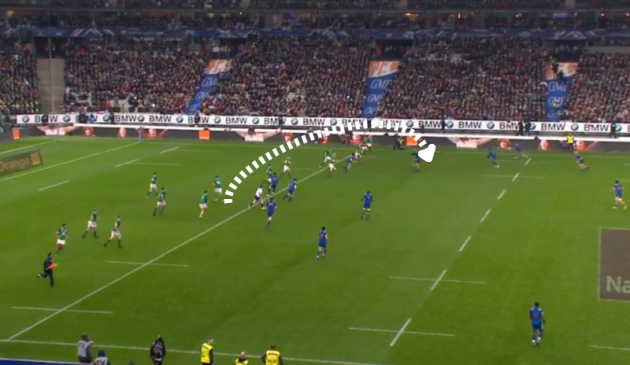 The accuracy of Sexton's kick allows Henderson to run directly onto the ball and he makes a wonderful catch over his head, another show of skill under pressure.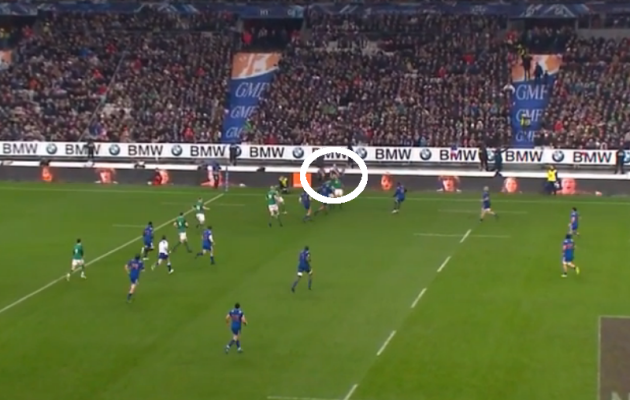 Henderson drives forward into the tackle of Cedate Gomes Sa and when he is grounded, we see Sean Cronin [white below] make an excellent clearout on Vahamaahina, driving him deep beyond the ball.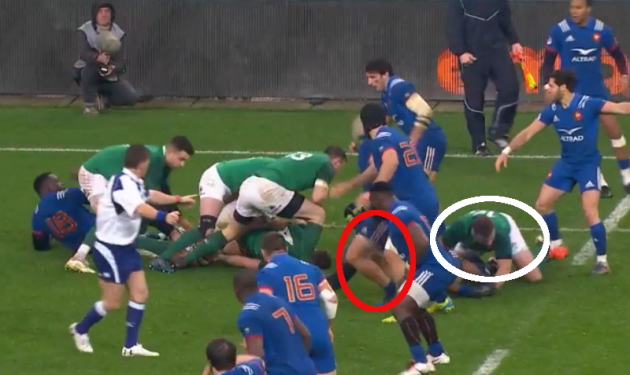 Another unintended benefit of Cronin's deep clearout is the fact that Vahaamahina swings into team-mate Kevin Gourdon, injuring the number eight in the process [red above] and leaving him on the ground for the next 12 phases of Ireland's attack, giving them a numerical advantage.
With Cronin having cleared out, we can see above that Robbie Henshaw and Fergus McFadden have arrived in as 'guards' over the tackle, dissuading France from contesting.
77:37 – Phase 2
Conor Murray passes to the right of the ruck for Peter O'Mahony to make a one-out carry but France replacement hooker Adrien Pelissié brings aggressive linespeed to tackle the Ireland blindside well behind the gainline.
Marco Tauleigne senses an opportunity to steal the ball at the breakdown, meaning Devin Toner has to make an important clearout on the French sub back row.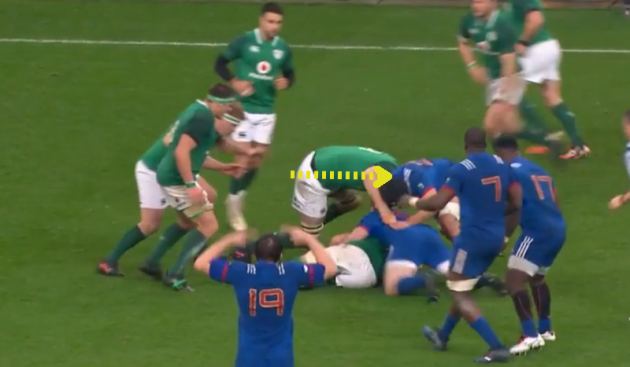 With Toner having shunted Tauleigne off the ball, CJ Stander and John Ryan stand in as the guards.
77:40 – Phase 3
Ireland look to shift the ball a little further out on the next phase, with first receiver  Sexton finding Bundee Aki on a screen pass behind Dan Leavy after Jack McGrath runs the dummy switch line.
Click here if you cannot view the clip above
However, France centre Henry Chavancy reads the situation well and makes a low tackle on Aki, providing the arriving Paul Gabrillagues with a sniff of a possible turnover [as indicated by red below].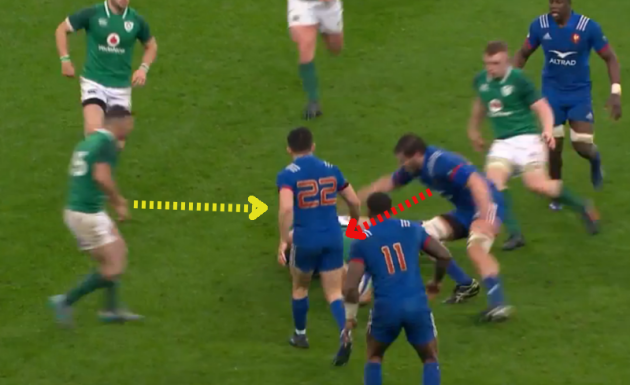 Rob Kearney is the first arrival for Ireland [yellow above] and he has to nail his 'barrel' and clear the danger of Gabrillagues.
Kearney is decisive, and though his angle of arrival is slightly from the side, his actions are swift in driving Gabrillagues to ground, allowing Aki to place the ball.
This time, Henshaw and McGrath serve as the guards following Kearney's clearout.
77:48 – Phase 4
Murray fires the ball back to the left, finding Cronin but again the French linespeed is oppressive.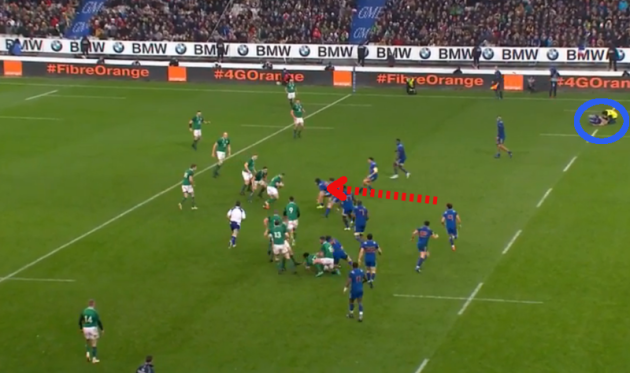 As indicated above, it's Tauleigne who leads the French rush and his tackle on Cronin ensures a gain of metres for the home side.
We can also see above that Gourdon [blue] is still on the ground. France opt not to contest the breakdown here, allowing Ryan, Stander and Toner to act as guards.
77:54 – Phase 5
Sexton is back at first receiver and attempts to run one of his famous loop plays around O'Mahony.
However, O'Mahony is tackled by Gomes Sa and bounces into Sexton, forcing the out-half back infield. Again, Sexton is decisive as he darts around Dany Priso and surges upfield.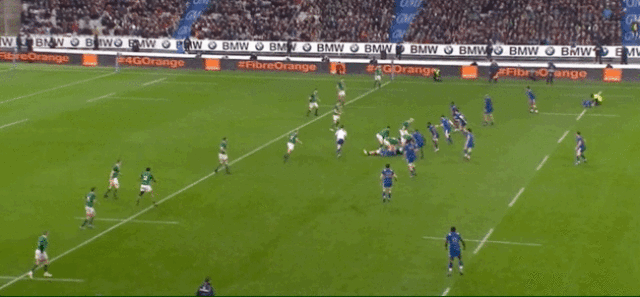 Click here if you cannot view the clip above
Sexton's burst leaves him slightly isolated as Yacouba Camara and Pelissié react to ground him, with the French hooker immediately bouncing back to contest for the ball.
Again, Ireland are in danger of being turned over but O'Mahony arrives to rescue the situation.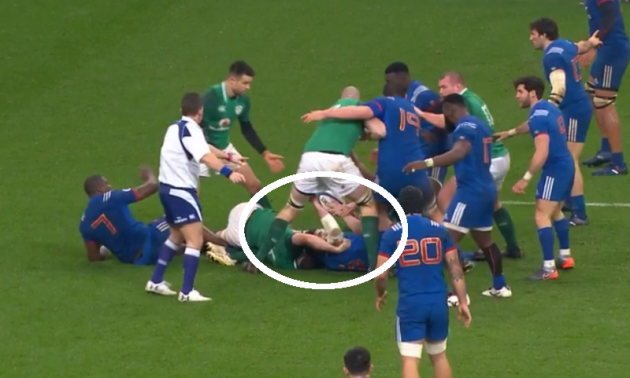 He latches onto Pelissié and uses a 'croc roll' to remove the French hooker, essentially rolling him violently to the right and off his feet.
As we can see above, Pelissié's hands are on the ball but with O'Mahony having taken him to deck with his croc roll, he must release. Toner and McGrath arrive in to act as guards after O'Mahony does his job.
78:07 – Phase 6
As Murray moves play to the right with another accurate pass, Ireland have found their shape and we see an impressive phase against what is still 14-man France.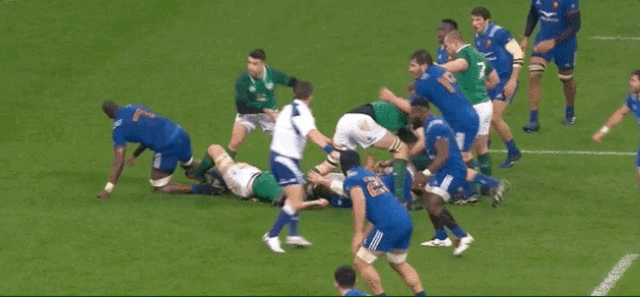 Click here if you cannot view the clip above
In the build-up to this game, we analysed the development of Ireland's forwards' passing and Stander featured in several examples.
The Munster man is the link passer in this instance again, in the middle of that familiar three-man forward pod.
With Henshaw offering an option out the back, Stander swivels to pass.
Kearney then juggles Henshaw's pass but recovers and turns on his footwork to get outside Belleau with a sharp left-footed step, before Leavy hits Aki to carry for good Irish gains.
Virimi Vakatawa helps to complete the tackle on Aki and Leavy arrives in decisively to clear him away before he can regain his feet, with Earls aiding the clearout.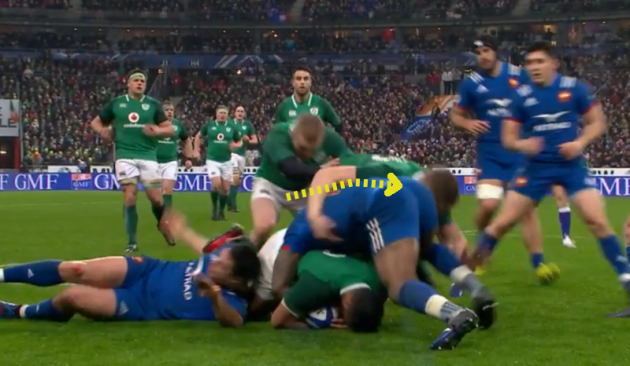 After a gain of almost 10 metres for Ireland, Kearney stands guard.
78:20 – Phase 7
With Ireland playing to the left, Murray skips a pass to Cronin but it's always going to be difficult to make yards coming off the touchline – when the opposition can really ramp up their linespeed.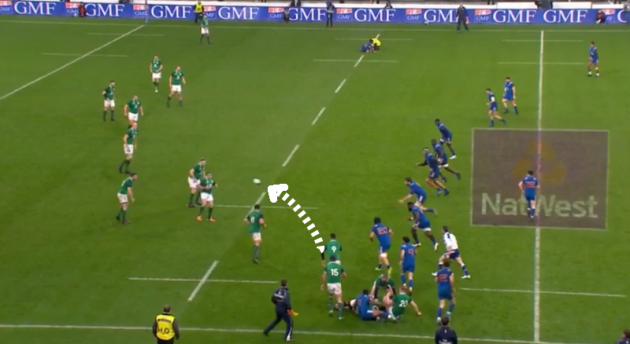 Cronin uses his footwork to step back inside and evade the possibility of a dominant French hit and with les Bleus not competing at the breakdown, Ryan and Stander act as guards.

78:36 – Phase 8
Having hovered in behind Cronin on the previous phase, Henshaw now steps in at first receiver and sends the ball on to McGrath for a direct carry.
Click here if you cannot view the clip above
With O'Mahony and Toner quick to clear Pelissié and Vahaamahina away effectively, Ireland have quick ball after a slight gain of ground.
78:33 – Phase 9
Over a minute into the Irish attack, Murray switches play back to the right from midfield and finds Stander.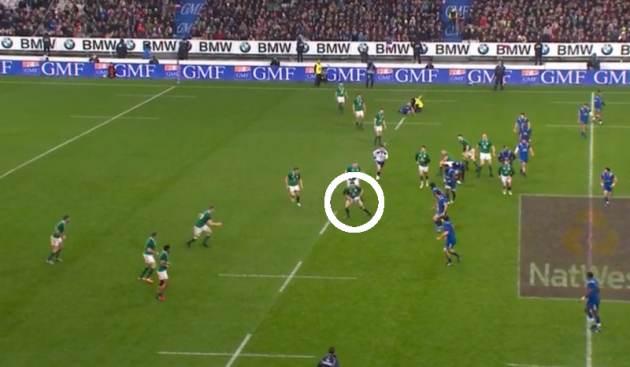 The Ireland number eight turns and thinks about passing towards the touchline but even with space in evidence, he doesn't quite back himself to make the pass and instead turns back upfield to carry.
Tauleigne makes the tackle and now Priso threatens the ball on the deck [red below] just before Ryan arrives [yellow].
Ryan's first intention is to simply drive Priso off the ball, but realising that the French prop has a good grip around Stander, Ryan changes tack.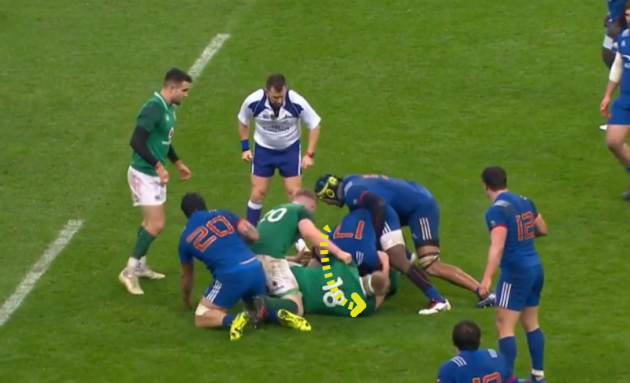 Readjusting to grasp under Priso's shoulder, Ryan switches to the croc roll and does enough to convince referee Nigel Owens that Priso is not in control of his bodyweight, Owens shouting for Priso to "leave it!"
Though Ryan prevents any turnover, Ireland have lost ground again.
78:41 – Phase 10
Sexton is back at first receiver and having a positive influence on the next phase as Ireland continue towards their right.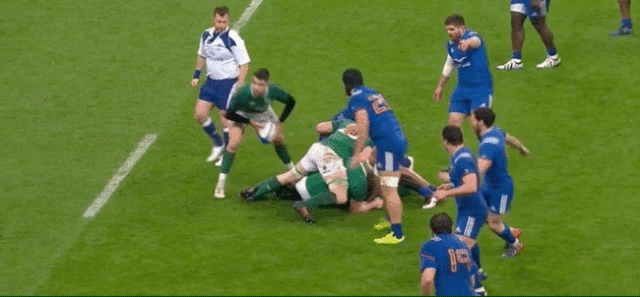 Click here if you cannot view the clip above
Though Sexton throws the screen pass to Kearney here, he is as effective as ever in offering the possible running threat himself and interesting the inside defenders.
Sexton stays square up the pitch before passing [indicated in green below], hinting at a run himself and keeping the possibility open if defenders do drift off him too early.
Sexton instead opts to pass [white above] in behind the decoy line of Cronin [blue].
Kearney steps off his right foot this time, carrying into the tackle of Gabrillagues and Chavancy, with Aki clearing out the French second row effectively and Cronin dissuading Chavancy from having a dab at the ball, Earls finishing the job as the guard.
78:49 – Phase 11
Again, Ireland find themselves playing right to left into the face of French linespeed, this time led by Vahaamahina.
Leavy is the carrier for Ireland on this occasion and he uses his feet to step to the inside of the onrushing Vahaamahina to avoid being the recipient of the kind of dominant hit that France are desperate for.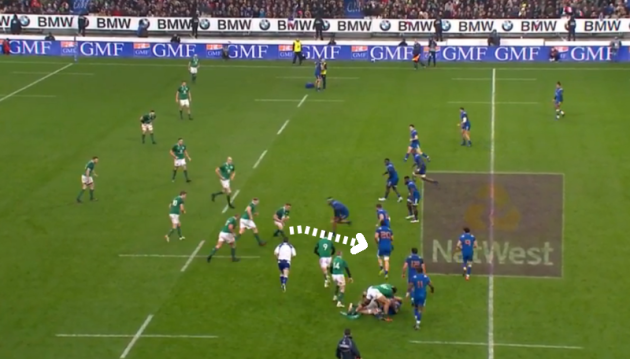 Tauleigne is the jackal threat for France after Pelissie tackles Leavy – still behind the gainline despite his footwork.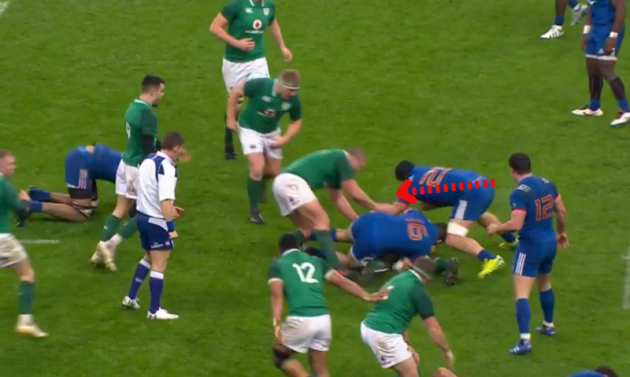 But Ryan and McGrath combine, the loosehead going at Tauleigne's left leg and the tighthead hitting in on his upper body, to remove the danger.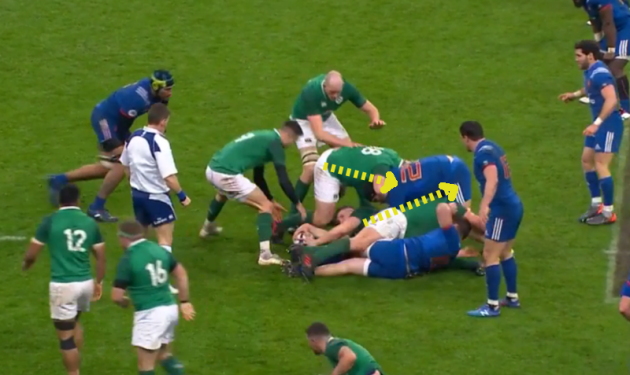 Toner is third man in as the guard in front of Murray.
78:54 – Phase 12
Stander carries off Sexton on phase 12 of Ireland's attack but Gomes Sa fells the Irishman behind the gainline.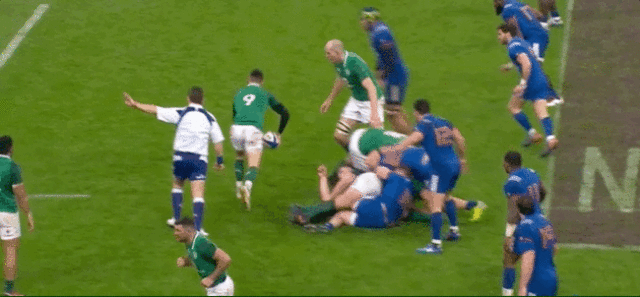 Click here if you cannot view the clip above
Priso is the threat at the breakdown this time, but O'Mahony does just enough to dislodge him and then Toner arrives from the previous ruck to thump into Vahaamahina as the France lock looks to be a nuisance.
79:01 – Phase 13
Sexton is first receiver again and fires a pass to Henshaw, who runs cross-field. Ireland are perhaps a little fortunate here not to get pinged for obstruction ahead of the ball by Henderson.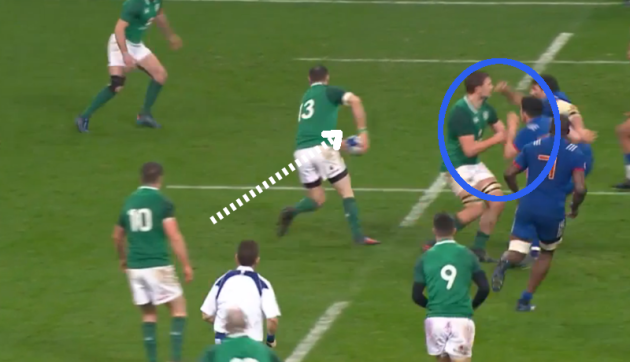 Henshaw runs in behind and across Henderson, as indicated by white above, with the Ireland lock ahead of the ball and potentially interfering with Belleau [blue circle].
The French out-half is possibly too honest here, fighting past Henderson without a major fuss, rather than looking to show Owens that he is being slightly impeded.
Henshaw is tackled and Henderson and McFadden are required to deliver an excellent clearout on Belleau as the out-half looks to pilfer.
It's also important to note that Gourdon is now back on his feet after lengthy treatment on the pitch and though looking in some pain, adds a body to the defensive line.
79:11 – Phase 14
O'Mahony shows good footwork to step off his right and inside the advancing Gomes Sa on the next Irish phase.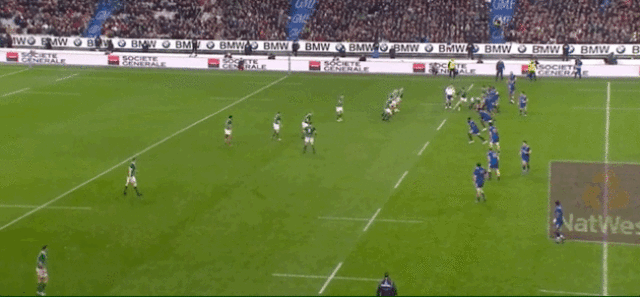 Having evaded Gomes Sa, O'Mahony powers forward and wins the collision with Vahaamahina, gaining inches for Ireland – every one of them counting at this stage.
Toner, Ryan, McGrath and Henderson all feature as guards here, without any French players near the tackle point.
79:19 – Phase 15
Sexton again uses a dummy switch and screen pass to Aki as Ireland look for a little more width on their next phase of attack.
Aki dummies a pass back inside to the supporting Earls, but the busy Gabrillagues makes a good read and tackle to ground the Ireland centre for a loss of yards.
At this breakdown, Earls and Stander combine for an effective removal of the threat of Pelissié, Henderson acting as the guard.
79:28 – Phase 16
Phase 16 is a damaging one for Ireland as Toner makes a carry off Sexton's pass but Ireland lose notable metres to the French linespeed.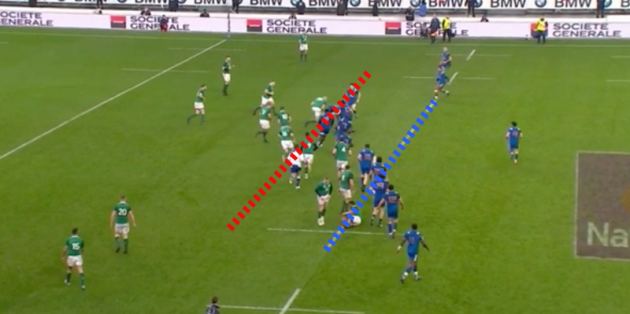 With the blue line above representing the gainline and the red indicating where Vahaamahina makes his impactful hit on Toner, the loss is clear for Ireland.
With France coming forward, centre Remi Lamerat has a sniff at the turnover, but Ryan and particularly McGrath are important in shifting him away, while Cronin plays the guard role.
79:35 – Phase 17
Having lost several metres, it's important for Ireland to make inroads into the French defence again.
Unsurprisingly, Sexton plays a key role in a successful phase for the Irish attack.
As we can see below, even as Sexton is in the process of passing to Henshaw [white] behind O'Mahony's screen run [blue], the out-half is a threat himself [green].
Belleau [22] has to just hesitate as he worries about a Sexton dummy, while Gomes Sa is also concerned.
O'Mahony's run here is excellently timed, with the kind of 'animation' Schmidt loves – hands up, running at pace – a genuine option for Sexton to hit on a flat, hard line.
After Sexton releases the pass out the back to Henshaw, we see himself and O'Mahony fulfil another Schmidt demand as they 'stay big' beyond the ball, continuing their forward runs to disrupt Priso and Belleau's passage across on the drift.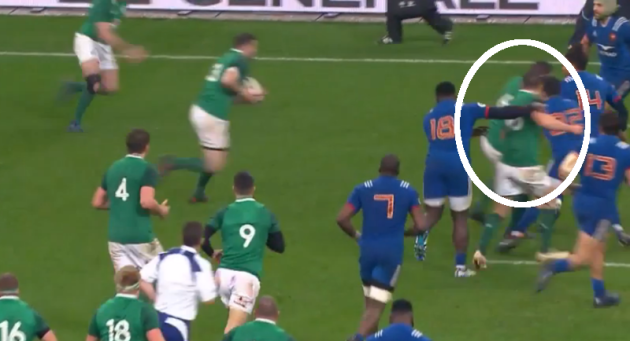 That good work leaves Henshaw carrying hard to the outside shoulder of Thomas, in turn drawing Gourdon into turning infield.
Even with the two Frenchmen combining for the tackle, Henshaw is able to get right over the gainline.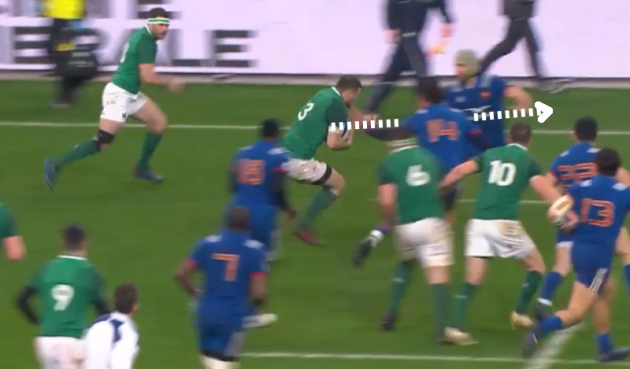 Henshaw is tackled and with Belleau over the ball, Sexton employs the croc roll…
… before O'Mahony arrives in aggressively to finish the job.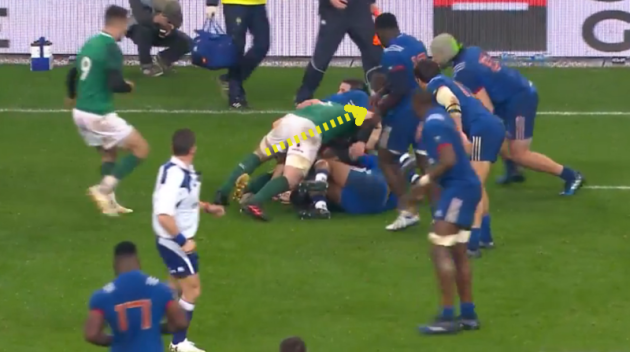 Murray is then able to pass the ball away cleanly.
79:43 – Phase 18
As Ireland move into their eighteenth phase, now over two minutes into their possession, we can see Earls wide on the right indicating that he is in space.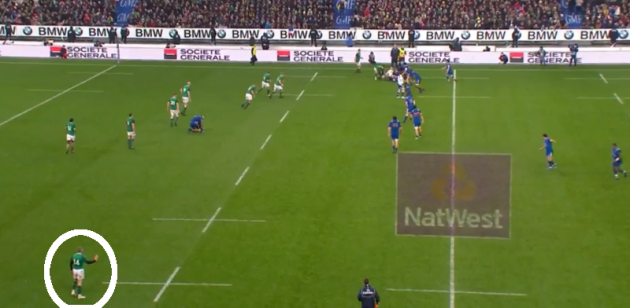 It's obviously going to be difficult for Ireland to get the ball there immediately from the other side of the pitch, but Earls is at least looking to communicate the opportunity.
Instead, Ryan takes a one-out carry off Murray and powerfully goes through the tackle of Camara to make further gains for Ireland.
Once again, Gomes Sa looks to threaten the breakdown [red below].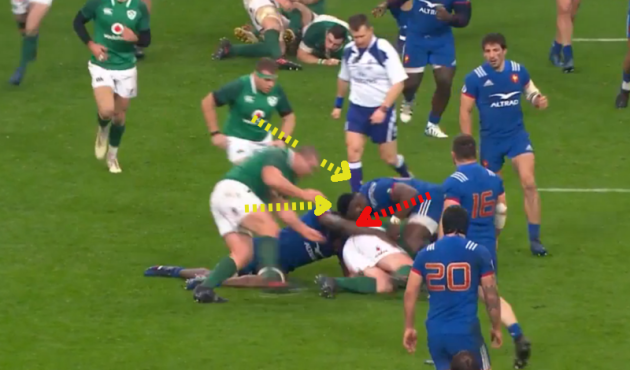 But McGrath and Cronin [yellow] arrive to thump the France tighthead and clear him away, again giving Murray access to clean possession.
79:49 – Phase 19
McFadden pops up close to the ruck on the next phase, running a short line off Murray's arc and looking to make an impact on the game.
Click here if you cannot view the clip above
As McFadden carries into the double tackle of Machenaud and Lamerat there is danger for Ireland, however, as the French pair identify a chance to create a choke tackle situation by holding McFadden up.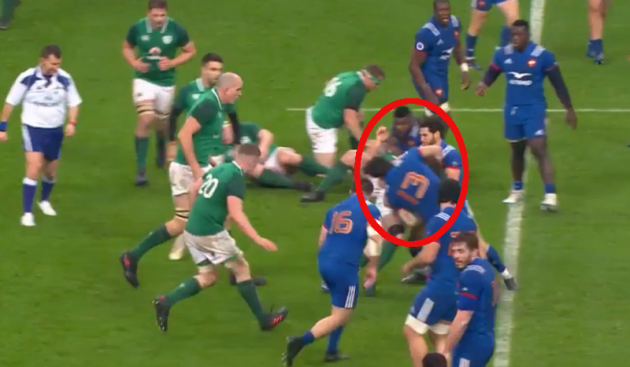 Ireland have to act decisively here to prevent the possible turnover, and it's Leavy and Toner who do the business.
Intelligently, the Irish duo target the French tacklers, with Leavy picking put Lameret [white below] and Toner sliding over McFadden to deal with Machenaud [yellow].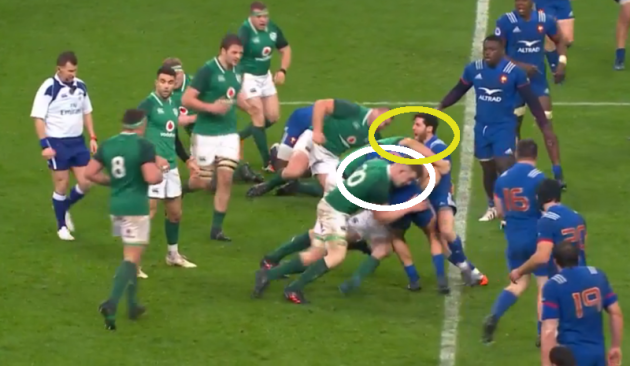 With their aggression and desperation to the fore, Leavy and Toner swiftly remove both French tacklers to ground, as we can see below.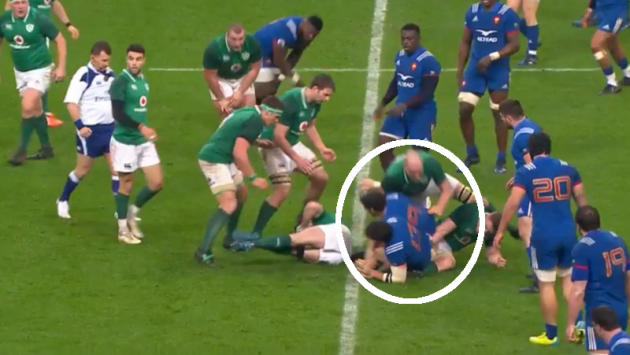 That leaves McFadden completely free to go to ground and Stander and Henderson can arrive in as guards, Leavy and Toner having saved the situation for Ireland with their intelligent contributions.
79:57 – Phase 20
Resetting themselves, Ireland look to a simple one-out carry from Cronin on the left.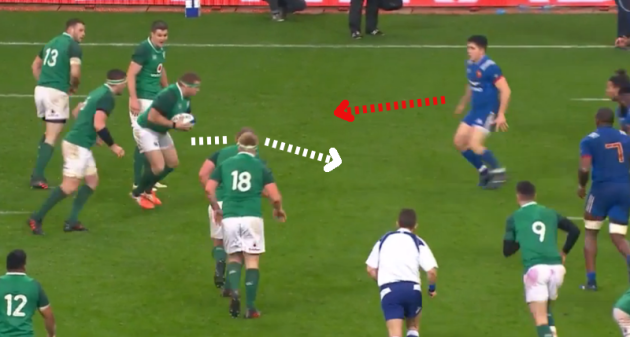 Belleau's linespeed [red above] forces Cronin to step back infield into traffic and Ireland make a slight loss of metres, although France don't compete on the ground and O'Mahony and McGrath are free to act simply as guards.
80:02 – Phase 21
With the clock now in the red and Ireland into a 21st phase, we can see that Earls is still patiently holding his width and looking to communicate the space on the right.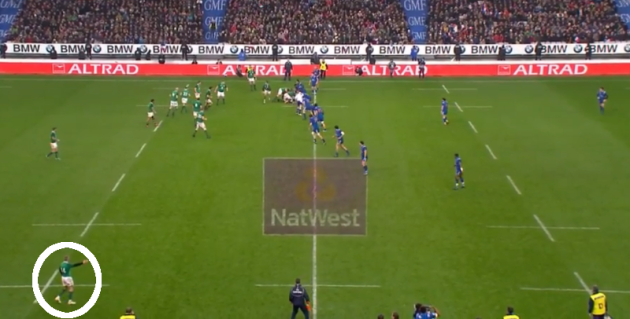 The space is obvious but, again, Ireland aren't quite in a favourable situation in which to seek it out.
Instead, Henderson takes the ball from yet another accurate Murray pass and looks to pirouette through the tackle of Pelissié.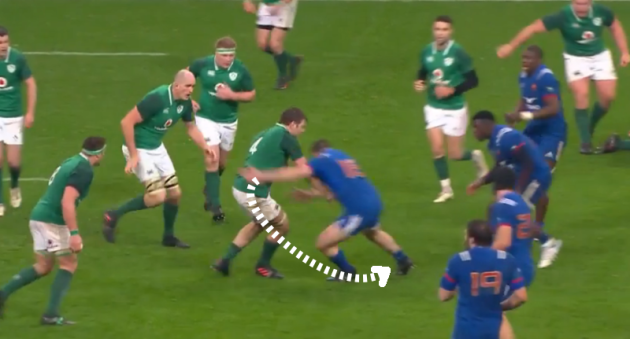 It's a technique Henderson often uses to great effect, but Pelissié makes a good tackle in this instance and Vahaamahina briefly looks to be in a good jackal position only to lose his feet, with Toner and Stander driving him into the ground for good measure and Ryan acting as the guard.
80:10 – Phase 22
Still, Earls waits on the right wing.
But Aki is taking a switch off Sexton as Earls calls for the ball above, with the Ireland centre getting smashed by an excellent Tauleigne tackle.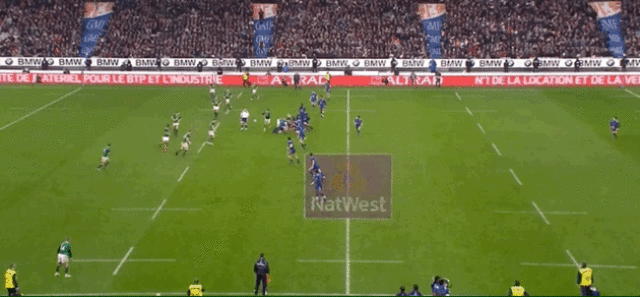 Click here if you cannot view the clip above
With Tauleigne getting a dominant hit in on Aki, France are coming forward and there is a superb turnover chance for openside Camara [red below].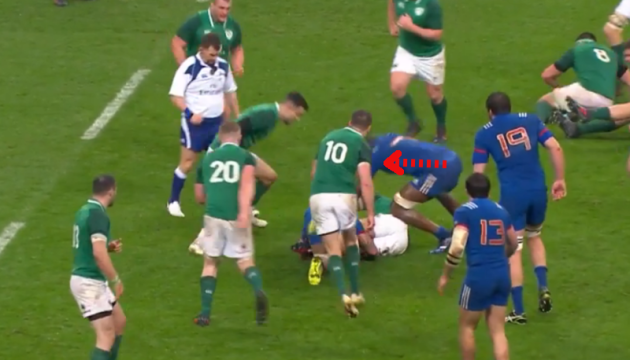 Without any of his team-mates close enough, scrum-half Murray has to hit Camara and he has to be utterly decisive to prevent the game-winning steal.
Murray employs the croc roll to devastating effect, wrenching Camara away from the ball [yellow below].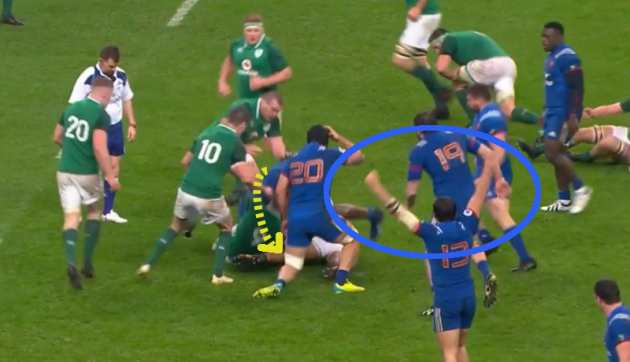 As that is happening, we can see France's Lamerat cheering [blue circle], presumably attempting to encourage the referee to award the penalty in his side's favour.
But Murray has been effective in denying Camara and McGrath then arrives in to shunt Tauleigne away from the tackle.
80:19 – Phase 23
With Murray out of the game on the ground, tighthead Ryan steps in as a makeshift scrum-half and delivers a pass left to Stander.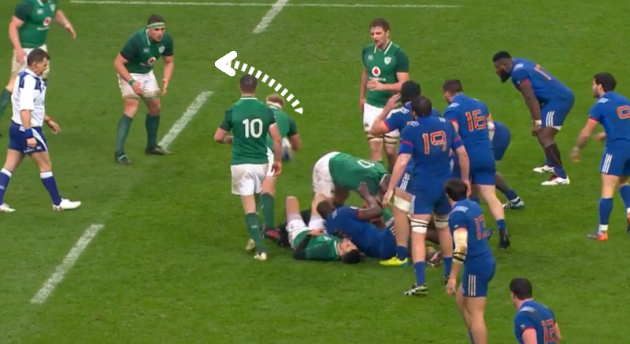 The Ireland number eight makes a fine carry when Ireland need it so badly, going through Priso before Leavy delivers a strong clearout, backed up by Toner, with Ryan arriving across as guard.
80:26 – Phase 24
Murray is back on the scene and now, finally, Earls is going to get the reward his patience and discipline in holding the width out on the right has earned him.
Click here if you cannot view the clip above
Sexton's kick pass and Earls' gather are superb pieces of skill in any circumstances, never mind after 23 phases of fatiguing attacking play at the end of a Six Nations clash, with the clock in the red and the game in the balance.
Those pressurising circumstances seem to fade away for a moment, as Sexton and Earls deliver calm and skilful contributions.
After receiving the pass from Murray, Sexton has one final glance to calibrate his kick.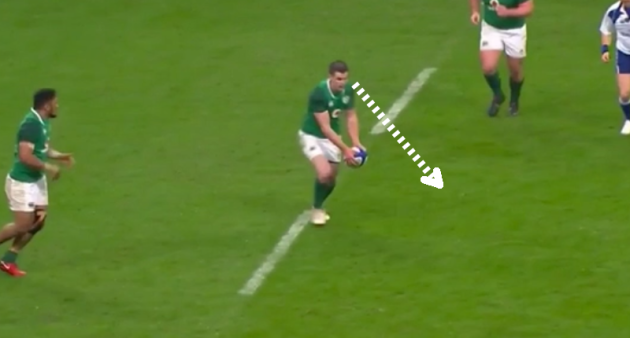 He then drops the ball straight and true, focusing his eyes on the point of contact between foot and ball, slipping into a technique he has practised thousands and thousands of times.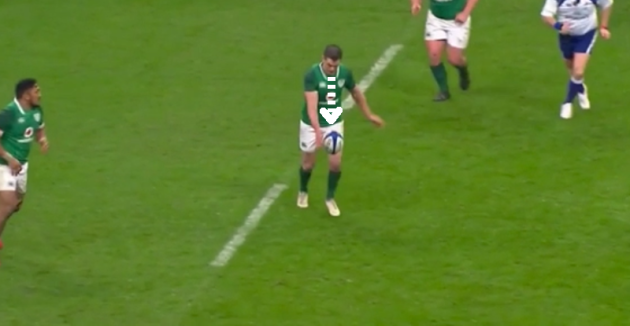 Again, Sexton has a narrow target in mind for his kick, with Vakatawa turning and scrambling across.
Too little on the kick and the French wing can potentially bat it down, too much and the touchline awaits, yearning to bring about the final whistle.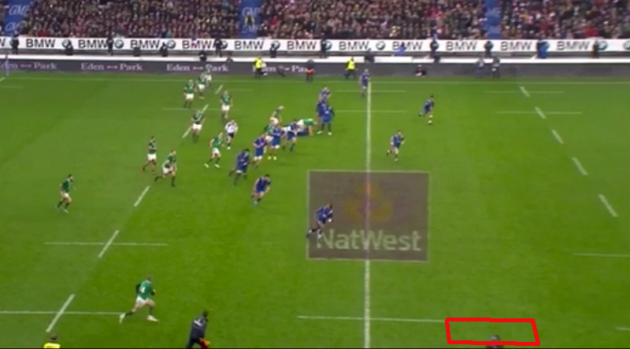 Again, Sexton absolutely nails his kick, while Earls' gather is sublime.
The Munster wing explodes off the ground and clears Vakatawa's head as he claims the ball.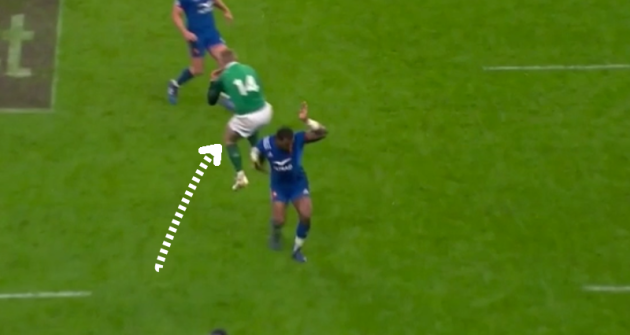 Immediately upon landing, Earls demonstrates his scintillating footwork, hammering off his right foot back to the inside of the covering Chavancy.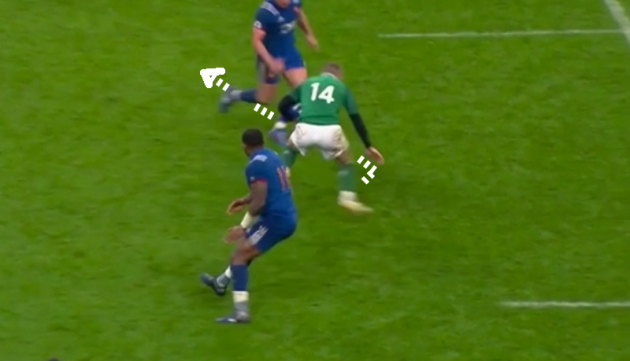 And even after two such explosive moments, Earls finds his stride instantaneously once he's on the inside of Chavancy, bursting upfield with eye-opening acceleration.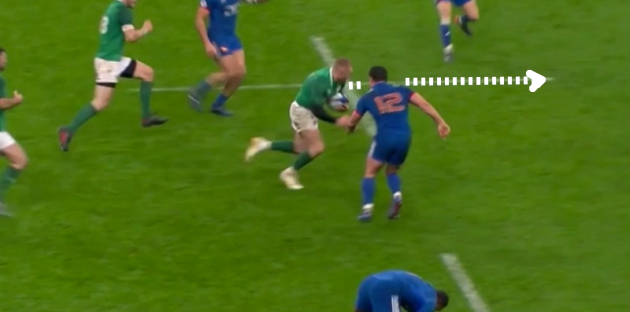 Chavancy, in desperation, recovers and scrags Earls, with Geoffrey Palis advancing from the backfield to assist in the tackle, but Ireland are moving forward again, with Kearney and Henshaw on the scene as guards after the tackle.
80:36 – Phase 25
Sexton steps in at first receiver again as Ireland come back to the left, firing a pass for Ryan to carry in midfield.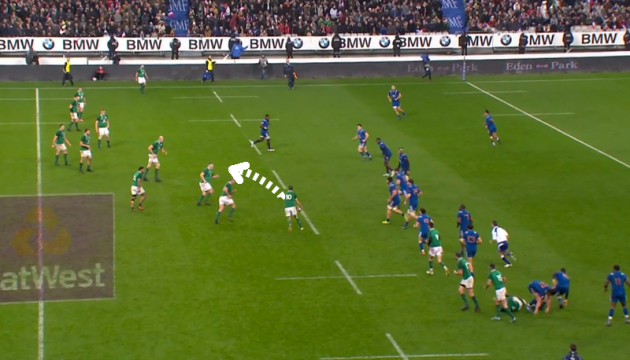 Pelissié makes another good tackle low on Ryan and Vahaamahina is the latest Frenchman to threaten the Irish possession.
As we can see below, Vahaamahina is in a fantastic position over the ball.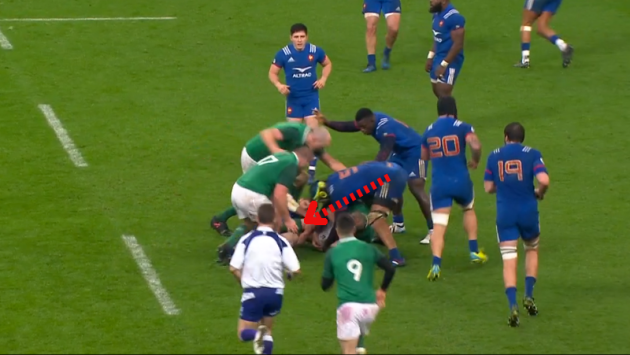 But Toner delivers a superb clearout on the French lock, lifting his right leg and driving him around and into the ground.
Toner is possibly slightly at an angle here, but his initial entry paints a good enough picture for Owens.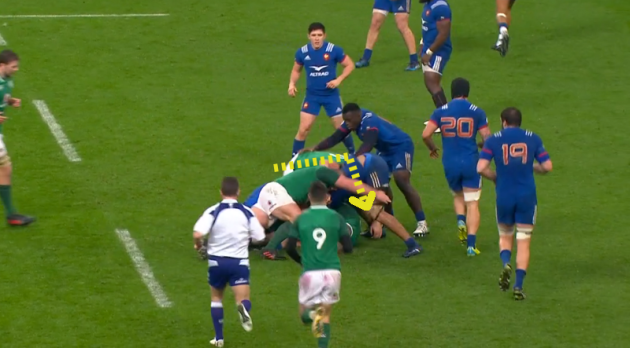 And Ireland end up as the side feeling aggrieved not to win a penalty, as Vahaamahina flops into the position below, completely preventing the ball from coming back quickly for Ireland.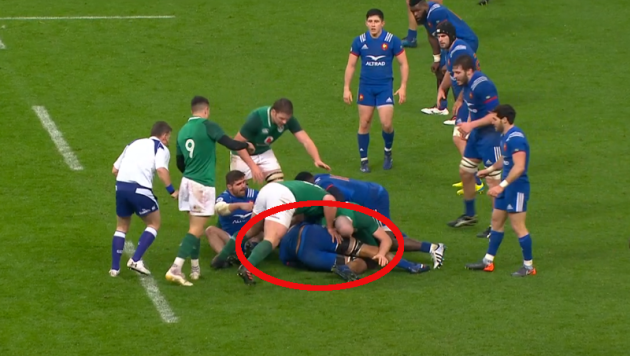 Rather than go to the penalty, however, Owens shouts "Lost now, blue, release now, hands away," and reaches in to tap Vahaamahina to bring it to his attention even further.
Murray protests twice about the slow ball as McGrath and Henderson attempt to free it up, but Vahaamahina does eventually roll away and Owens opts not to go for the penalty.
It does mean a nine-second ruck for Ireland, though, completely removing the momentum they had built when Earls gathered Sexton's kick.
80:50 – Phase 26
As Murray eventually shifts the ball on, Schmidt has to deal with the alarming sight of Sexton down on the ground, suffering from cramp.
The out-half gets back to his feet as Murray moves the ball away, Aki hitting Leavy on a short line to his left for a strong carry, before Stander makes an excellent clearout on Machenaud.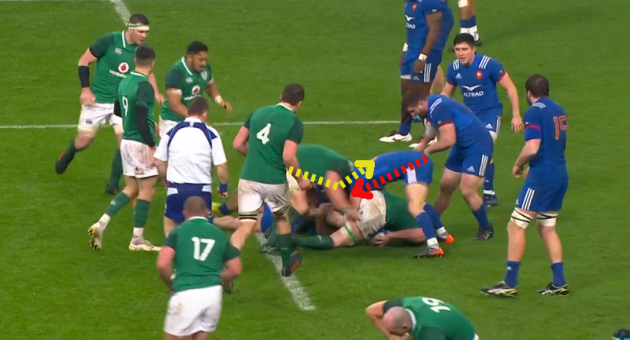 Machenaud [red above] gets there first as the French continue to look for that crucial turnover, but Stander shows his power to dip, wrap in under the scrum-half's chest and rip him up off the ball.
A firm ruck hit from second arrival Aki finishes the job, before Henderson and Leavy stand guard.
81:01 – Phase 27
Toner takes a one-out carry off Murray on the next phase, surging forward only to be felled by a fine low tackle from Gomes Sa.
With Lamerat opting not to contest the breakdown, Ryan and McGrath are free to act simply as guards over Toner, Henderson also arriving across to provide further security.
81:07 – Phase 28
O'Mahony is next up to carry off a Murray pass, as the scrum-half switches back to the left.
With deep fatigue clearly set in on both sides of the ball, O'Mahony still manages to add in a burst of footwork to get to the outside shoulder of Priso and ensure Ireland don't go backwards.
Stander clears tackler Priso away, with Cronin and Aki serving as guards.
81:14 – Phase 29
With Ireland hoping to drag another penalty out of the French, McGrath is next to carry, this time to the right.
He is hammered by a double tackle from Gomes Sa and Pelissié, however, and Ireland lose a few inches on the phase.
With France opting not to compete, Ryan, Henderson and Toner are in guard roles over the ball.
81:20 – Phase 30
Murray is forced to wait a couple of seconds before passing this time, with his exhausted forwards working back into carrying positions on his left.
Stander carries and, again, Ireland appeal for a penalty here.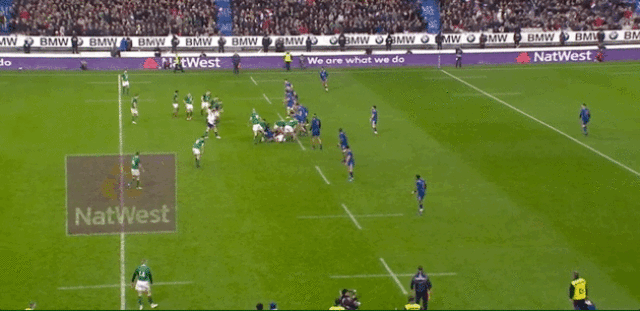 Click here if you cannot view the clip above
Stander looks to push the ball into Priso, who is lying on the Irish side of the tackle.
Though Priso has his hands up above his head to protest his innocence, Murray points him out to Owens, suggesting he is preventing the ball from coming back.
But Owens feels "the ball is available" and ignores the Irish appeals, with Murray then digging in to gather the ball.
81:29 – Phase 31
To their credit, France continue to bring linespeed and aggression in the tackle as McGrath carries off slow possession to the right on the next phase.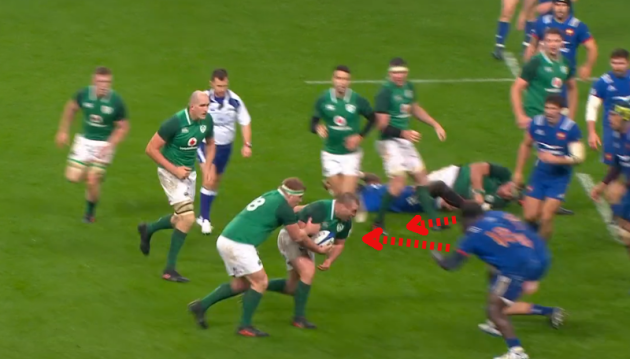 Gomes Sa and Gabrillagues make the double tackle on McGrath, who hammers at them, before Ryan and Toner clear Gomes Sa and Gabrillagues rolls away.
81:35 – Phase 32
With their possession now consistently slow, Ireland attempt something a little different as they zig-zag back to the left again.
O'Mahony takes the ball from Murray and then swivels to pass out the back of Stander to Sexton.
The out-half then screens the ball behind Cronin to Aki.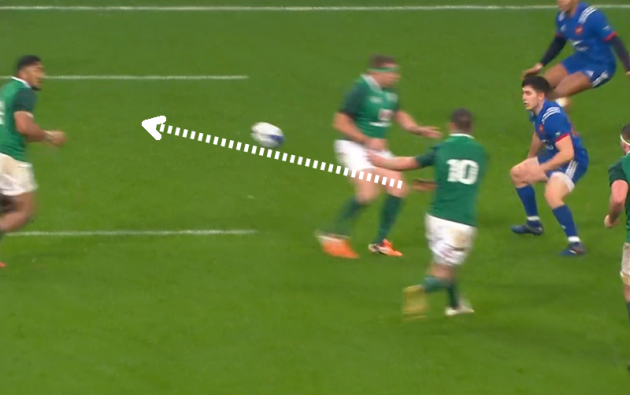 But with fatigue now such a huge factor over four minutes into this passage of play, Ireland's decoy runs understandably lack zip and energy, while the passing players aren't as much of a threat themselves.
As this play unfolds, Owens warns Murray, "Don't look for the penalty, I'll deal with it."
Out on the left, Aki is well tackled by Belleau and then Cronin clears out Gourdon before Stander, Henderson and McFadden form a tight guard.
Despite the two passes, Ireland are now in retreat and 45 metres out from the French tryline, with no sign of the penalty they have been hoping for.
81:45 – Phase 33
Lungs burning and legs heavy, O'Mahony puts his hand up to carry and summons the energy to make a metre for Ireland through Pelissié's tackle.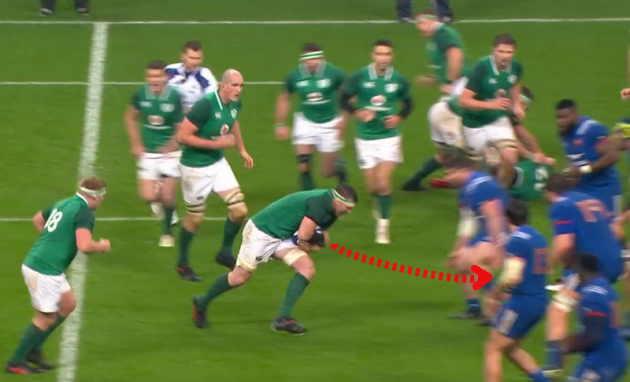 Ryan arrives to clear away tackler Pelissié, before Toner delivers another important ruck hit to remove Vahaamahina, who has intentions of spoiling. Henderson again acts as the guard.
81:51 – Phase 34
With the forwards so fatigued, McFadden comes off his wing once again to combine with Murray on the fringe of the ruck.
He takes Murray's pass and immediately pops the ball back inside to the scrum-half before delivering an outstanding clearout.
Click here if you cannot view the clip above
As this is happening, we can see Earls out on the right again, indicating that there is space. But getting the ball there after so many phases is going to be a tough ask for Ireland, and they remain focused on a narrow carrying game.
McFadden's interplay with Murray is intelligent to allow the scrum-half to make a dart and win metres for Ireland.
Priso looks like he's going to jackal over the ball, but McFadden accelerates violently towards the breakdown and drives up into the France loosehead just as he decides he'd better not attempt to clamp over the ball. Again, Henderson is on scene as the guard.
81:55 – Phase 35
No scrum-half? No problem. Toner steps into the breach and delivers a pass to Leavy.
Again, the 23-year-old Leinster man shows his footwork to step inside off his right and then back outside off his left foot, earning another couple of inches for Ireland.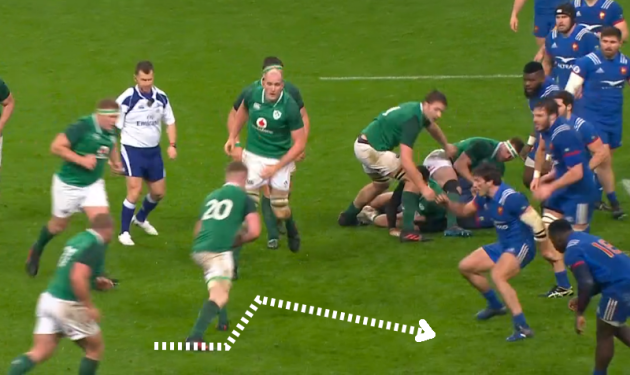 Toner clears Lamerat away, with McGrath, Ryan, Henderson and Stander all standing guard over the ball.
82:02 – Phase 36
Back on his feet, Murray wants another phase to the right but we can see below that O'Mahony is a little isolated.
While Sexton directs Cronin to cross over from the left and support O'Mahony, the Munster captain also screams out a demand, with Henshaw responding by advancing up too.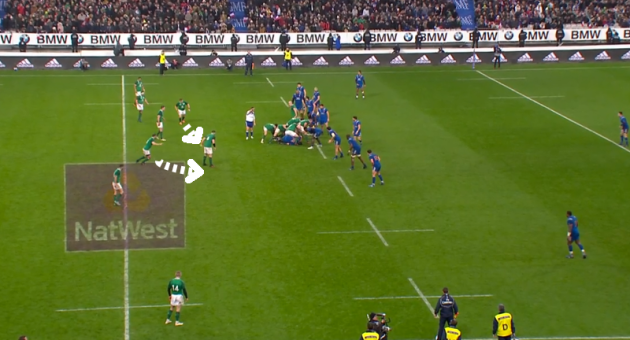 O'Mahony takes Murray's pass and Henshaw latches onto him to provide momentum into the double tackle of Camara and Lamerat.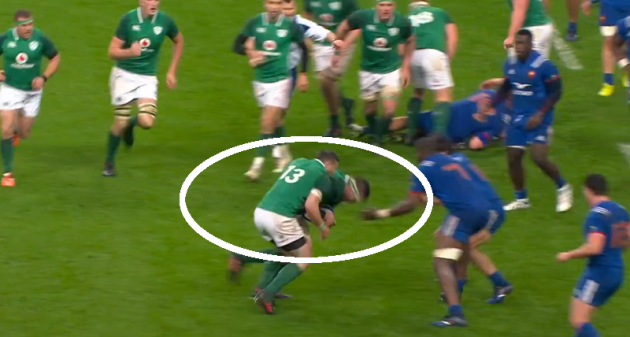 Henshaw then drives beyond O'Mahony on the ground to remove Camara, while Toner arrives at speed from around the corner to blast Lamerat clear, Cronin and Stander acting as guards this time.
82:10 – Phase 37
It's pure work rate now and as Murray finds Sexton to the right on the next phase, Henderson has worked around the corner to offer an inside pass option.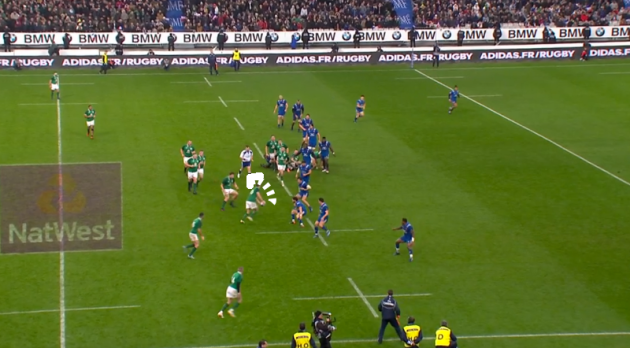 Henderson drives into Pelissié, before Ryan and Leavy clear away Machenaud and McGrath plays the guard role.
82:17 – Phase 38
Murray finds O'Mahony on the left and the blindside flanker ducks down and drives into Camara's tackle.
Suddenly, Priso is over the ball in a fine jackal position.
Stander and Toner again must remove him instantly or the ball will be turned over.
Click here if you cannot view the clip above
It's a superb clearout, with Stander particularly effective by lifting Priso's right leg with violent aggression to destabilise him.
Initially, Priso appears to be in a superb position [red below].
But the reaction from Stander and Toner is excellent, with the number eight dipping to drive up and through Priso's right leg and the Ireland lock taking out Priso's left after driving into him from the other side.
Cronin can act as the guard with possession retained.
82:24 – Phase 39
Henderson is back on his feet to the right and Murray fires yet another of his sharp passes to the Ulsterman, who dummies a pass to his right initially, ensuring Chavancy stands off him [red below].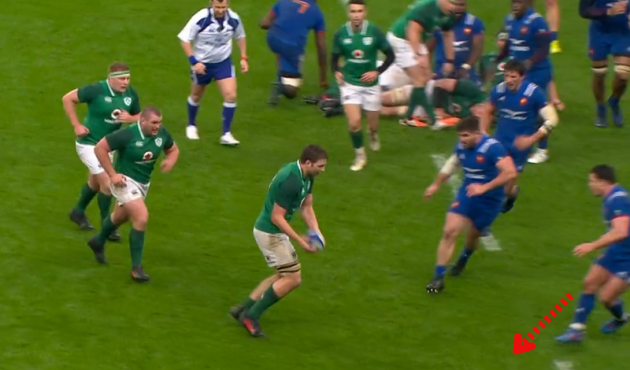 It's a small detail but it's crucial as Chavancy standing off allows Henderson to get to Pelissié's outside shoulder, and make a springy carry into space, almost bounding through the tackle attempt.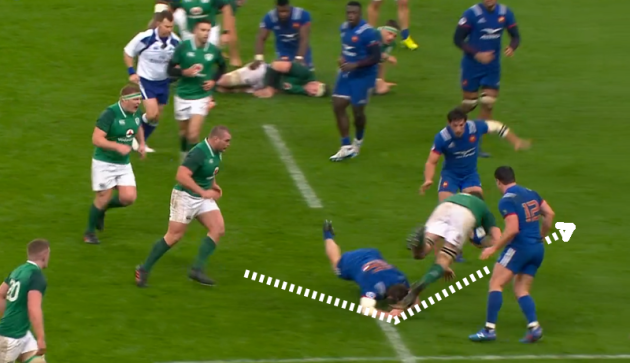 Adding in a roll on the ground, Henderson makes absolutely vital metres for Ireland.
Lamerat looks to slow him up, but McGrath accelerates into the contact and slams the French centre into the ground with real venom before Ryan guards the ball.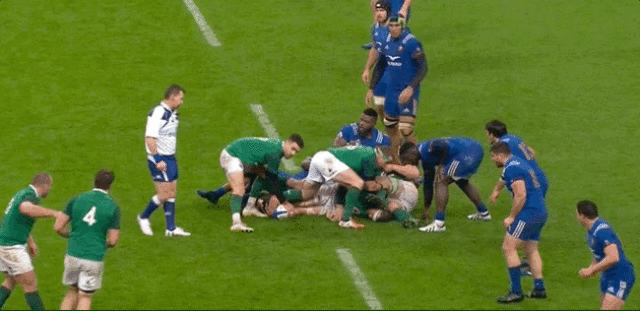 Click here if you cannot view the clip above
It's a hugely effective phase from Ireland and sends them back onto the front foot as the drop goal becomes a distinct possibility.
82:30 – Phase 40
Stander is back on his feet in midfield and offers himself up once again to carry the ball.
It's a superb carry from the number eight, who dips low coming into contact with Tauleigne, eager to win that shoulder battle and get underneath the Frenchman.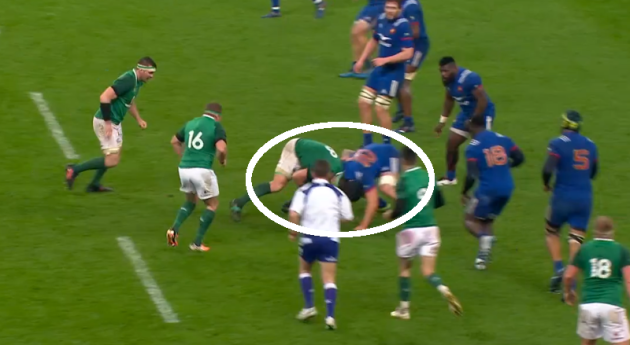 Stander then cleverly spins out of the collision to his left.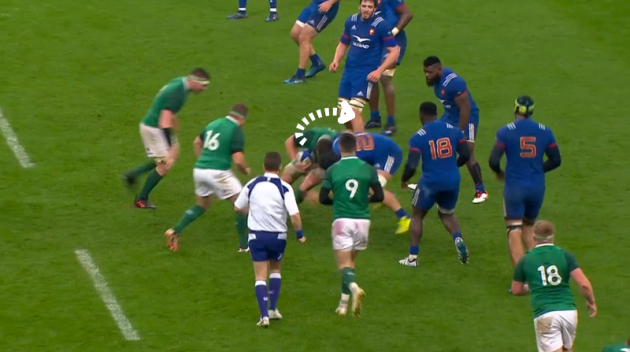 And leaves Tauleigne in his wake as he drives forward, but falling.
With Priso standing over him, Stander is somewhat vulnerable to a potential turnover below.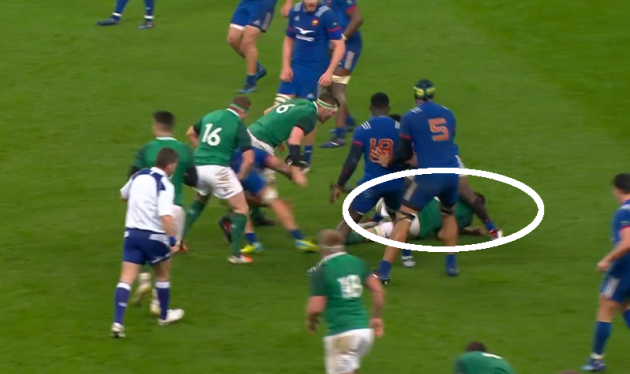 But as O'Mahony finds the energy to arrive in and drive into Priso [yellow below], preventing him from jackaling, Stander adds a little fight on the ground, presenting clean ball back for Murray.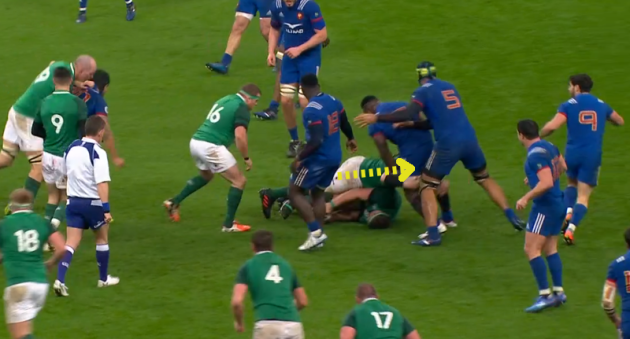 In the meantime, Murray has received the signal from Sexton that he is ready for the drop goal while the scrum-half is moving towards the ruck, where Cronin stands guard.
Murray glances back at Sexton three times on his way to the ball and on the third occasion, he gets the signal.
"I think it was just a look really," said Murray afterwards. "You can judge by his body language, and then he just gave me a flick of the eyebrows to know he needed it. We got a bit of momentum and a quick ruck and that was perfect for us."
82:37 – Phase 41
Acting without hesitation, Murray saves his very best pass for last.
Planting with a wide base, his left foot pointing towards Sexton as his guide, Murray fires a bullet from the base of the ruck.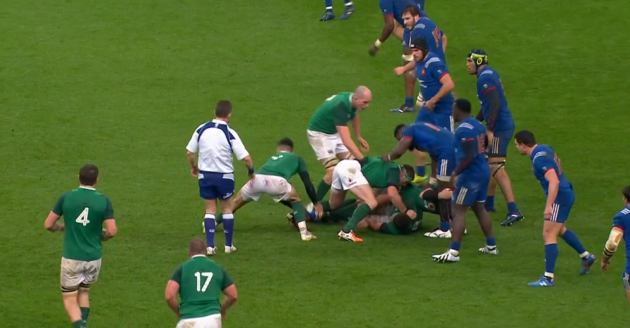 It couldn't be a better pass for Sexton, arriving to the right side of his body [his kicking side] and at an ideal height.
The sheer velocity of the pass also buys Sexton a valuable extra couple of split seconds, and the accuracy means the out-half does not have to check or break his drop-kicking stride in the slightest.
In a long passage of excellent passes, this is by some distance Murray's best.
Sexton's drop goal is a masterpiece too.
As with his earlier kick, the release of the ball is key.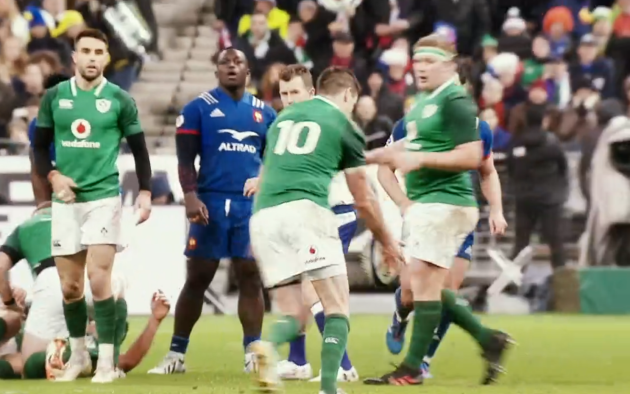 It may seem like a facile point but Sexton drops the ball completely straight, releasing with both hands at exactly the same split second.
That might sound easy, but with the clock in the red and kicking for a win from 45 metres out, it's really not that straightforward.
Many drop goal attempts are spoiled by a poor release, but Sexton is calm and composed.
It means that as he strides forward to kick the ball, it lands on the ground on its very point.
As the ball makes contact with the ground and begins to rebound, it leaves Sexton essentially in a goal-kicking position.
His left arm is outstretched to provide balance, while Sexton is still tall, rather than hunched down over the ball.
The perfect release means all elements come together to provide Sexton with the opportunity to strike the ball as though it were sitting on a tee. His laser eye focus on the ball – rather than being distracted by the onrushing defence – means Sexton makes pure contact with the sweet spot he is aiming for.
Sexton keeps his head down throughout his kicking process, only raising his eyes to follow the ball's trajectory after he has kicked through the ball.
82:41
Sexton's third kick of the passage sails between the posts to cap a truly remarkable passage of play that will give Ireland a huge psychological boost moving forward in the Six Nations.
Though they stuttered in Paris at times during the course of the 80 minutes, Ireland showed grit, rucking quality, ball-carrying ability, work rate, skill, patience and intelligence in the crucial closing five minutes to keep their championship hopes alive.
Sexton's mental steel sealed the deal.
The42 is on Instagram! Tap the button below on your phone to follow us!