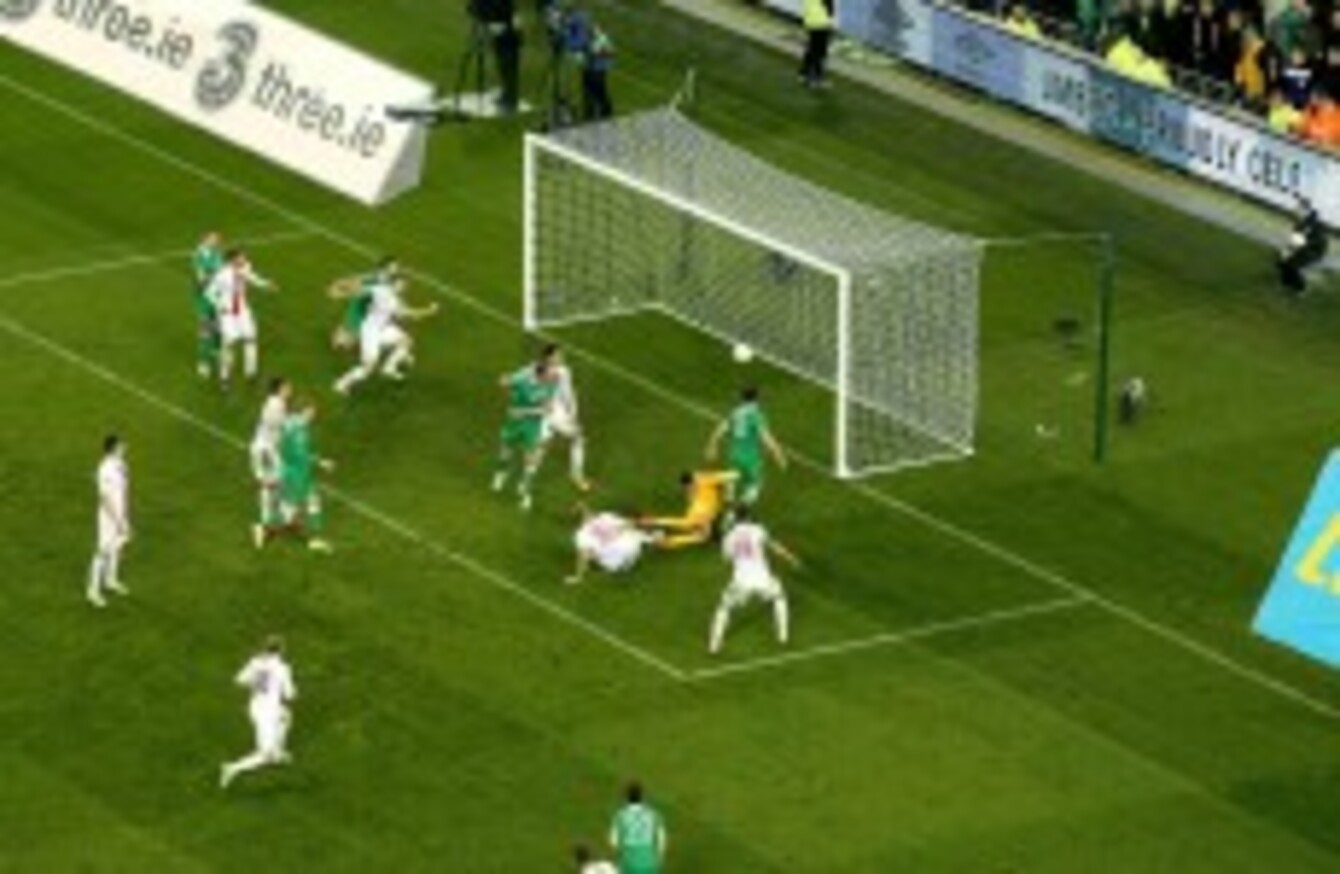 Ireland's Shane Long scores the equalising goal.
Image: Ryan Byrne/INPHO
Ireland's Shane Long scores the equalising goal.
Image: Ryan Byrne/INPHO
IT WAS SOMEWHAT ironic that, given all the talk of Sunday's game between Ireland and Poland being a 'must-win' encounter for Martin O'Neill's side, there was a general feeling of satisfaction with the 1-1 outcome.
As Roy Keane said prior to the game though, sometimes a draw doesn't feel like a bad result ultimately, even if a team doesn't necessarily set out to play for one, and while Ireland failed to earn a win, the manner of the performance provided scope for optimism.
Similarly, the feeling in Poland ahead of the match was that a draw would be a far from disastrous result from the visitors' perspective, and this sense of caution was invariably reflected in Adam Nawalka's side's play, while the coach ultimately did not seem too disappointed with the outcome.
Even at 0-0, Poland showed no great desire to go and win the game, creating relatively few chances, with Slawomir Peszko's opening goal coming about owing to an unforced error in the Irish defence, rather than enterprising attack play.
Teams and formations
Martin O'Neill made a number of surprising and bold selections in his starting XI.
Shay Given playing in goal, in particular, seemed a left-field choice, especially after David Forde retained the number one jersey in previous matches despite the Aston Villa man's return to the international fold.
Robbie Brady at left-back, although still a gamble, was perhaps less of a shock. The Hull man had performed with distinction in the position in the November friendly against the USA, scoring a brace, and with regular first choice Stephen Ward not fully fit, O'Neill wasn't exactly blessed with alternatives in the position.
The other eyebrow-raising calls were the selections of Wes Hoolahan and Robbie Keane. Hoolahan was starting his first competitive fixture since the Gibraltar game, while Keane was recalled in place of Shane Long, who had been given the nod ahead of him away to Scotland last November.
O'Neill started with a 4-5-1 formation, playing Keane up front, while Hoolahan was just behind him, but had a license to roam. The Norwich midfielder came deeper as the game progressed, as he sought more of the ball, while once Ireland needed a goal, Jon Walters became much more of an orthodox forward to give Ireland's attack more physicality.
Poland's team was a little more predictable, with Swansea's Lukasz Fabiański being selected in goal, as Wojciech Szczesny's lack of game time with Arsenal cost him his number one spot at international level to boot.
Similarly to Ireland, the Polish side played a 4-5-1 that bordered on 4-4-2 at times, with Arkadiusz Milik in the Wes Hoolahan role, whereby he was required to link up the attack and midfield.
So Szczesny aside, the selection was relatively straightforward for Adam Nawalka, with Paweł Olkowski and Maciej Rybus among those coming into the team on account of other players' unavailability.
Wes Hoolahan the one bright spark in mediocre Irish first-half performance
While from an Ireland fan's perspective, the opening stages may have seemed tense, a neutral watching might have described it as a game that needed a goal.
The first 20 minutes were frustratingly stop-start, with plenty of free kicks being conceded.
Seamus Coleman made one of his characteristic darting runs forward in the opening moments, but for the most part, the Irish play was disappointingly short of urgency, as they afforded their opponents time on the ball and space to play.
(Poland played in a more attacking manner early on, getting plenty of bodies into the Irish half)
Consequently, Poland saw a fair amount of the ball and looked the more controlled side in possession in the first few minutes, as Ireland produced a display marked by a sense of hesitance that was also prevalent against Scotland in November.
The Boys in Green seemed a little nervous on account of the magnitude of the occasion, with Robbie Brady — a normally accomplished footballer — the most culpable offender when it came to conceding possession cheaply.
(Ireland sat off Poland in the opening stages and allowed their defenders time on the ball)
In addition, if Ireland were going to score, Wes Hoolahan was looking like the most likely source, with the Norwich man comfortably Ireland's busiest player in the opening half.
The 32-year-old midfielder produced a pot shot that went narrowly wide on 11 minutes, and shortly thereafter, played an intelligent through pass to James McCarthy, but the Everton man's subsequent cross was disappointing.
Hoolahan's performance has garnered mixed reactions in the wake of Sunday's game. Some critics believe he was comfortably Ireland's best player, while others will counter these claims with suggestions that he gave the ball away too often and that his influence lessened as the game wore on.
Both assertions are understandable to a degree. But surely the most crucial part of the argument was that Hoolahan had the courage to make mistakes and adopt a positive mentality — something some of his teammates were conspicuously lacking in the first half at least.
(Hoolahan initially played off the striker with Jon Walters on the right, before the two switched positions)
While the Norwich player was always probing and trying to make something happen, the likes of Glenn Whelan and James McCarthy were all too often willing to take the easy option and play a sideways pass or hit a long ball to Jon Walters. That said, sometimes the easy option is also the correct one, as Robbie Brady found out the hard way for the game's first goal.
Poland goal forces Ireland to change mentality
Although a win was vital for Ireland, a loss was unthinkable if the team sought to retain any aspirations towards Euro 2016 qualification.
The cliché about goals changing games was definitely applicable in this case – Peszko's 26th minute strike meant Ireland no longer had anything to lose, as they were effectively facing the prospect of a premature elimination from the qualifiers.
(John O'Shea failed to anticipate the danger for the Poland goal, while his teammates were also at fault)
Some hesitant Irish defending, most notably by Marc Wilson and Robbie Brady, but also by John O'Shea, who failed to anticipate the danger early enough, all contributed to a poor goal from the home team's perspective.
They had already been given a warning when an unmarked Grzegorz Krychowiak headed off target from a dangerous free kick flighted in, before Peszko added to an already excellent defensive performance on his part (he helped keep Brady and Aiden McGeady quiet down the other end for the most part) with a superbly taken goal.
However, Ireland responded in a positive manner thereafter, with their increasing dominance reflected in the possession stats. Before the goal, Poland enjoyed the marginally superior possession (52% to 48%), but by the final whistle, Ireland were well on top in this regard (55% to 45%).
Tactical switch helps Irish team adopt a more direct approach
With desperate times calling for desperate measures, Martin O'Neill responded appropriately.
While his initial starting line-up was generally agreed to be attacking, Ireland — despite some eye-catching build-up play orchestrated mainly by Hoolahan — seldom looked like scoring in the first half an hour.
As a consequence, shortly after the opening goal, the Boys in Green switched to what was, more often than not, an orthodox 4-4-2.
(Ireland made a tactical switch after the Poland goal, as Hoolahan dropped deeper and influenced the play more)
Wes Hoolahan withdrew to a deeper role on the wing (but with a license to roam), while Jon Walters joined Robbie Keane up top, to give the attack some much-needed bite, as the LA Galaxy man struggled badly to make an impact on the game.
Walters, while not exactly pretty on the eye, was undeniably effective in certain respects — he won more free kicks (5) than any other player on the field apart from Seamus Coleman (who also won 5), creating several set-piece opportunities for the home side, which were more often than not squandered by an out-of-sorts Robbie Brady.
Ireland ultimately improved and looked more threatening as the game wore on, and Hoolahan initially at least, looked more influential than ever, as epitomised by an exquisite through ball to the onrushing Seamus Coleman, who failed to make the most of the resulting opportunity, as Poland breathed a sigh of relief for one of the few times in the opening 45 minutes.
Yet while the Irish team enhanced their performance as the game developed, the display of their most influential player grew more mixed. Perhaps owing to a combination of tiredness and being asked to play a more rigid role out wide, Hoolahan was less involved in the second period and started giving the ball away more frequently.
Luckily for Ireland, other players subsequently became more prominent, while the Norwich man's contribution still ultimately turned out to be invaluable, as his intelligent header set up Shane Long's last-minute goal.
Poland contribute to their ultimate undoing
Although from an Irish perspective, it's tempting to assume the improved performance was purely on account of the home team's brilliance and Martin O'Neill's astute substitutions, in truth, this was not the case.
(Poland played a conspicuously defensive game in the second half, with the away side's 11 players all visible in the shot above)
After half-time, the Polish team became so negative that it's not a stretch to compare the performance to the one that saw them unexpectedly beat Germany 2-0 last October.
The famous defeat of the world champions was a classic smash-and-grab display. The Germans dominated large portions of the game, and while Poland defended well and took their chances expertly, it was also true that they enjoyed tremendous good fortune on the day, with an inspired performance from Szczesny among other factors working in their favour.
And for quite some time, it appeared as if they were set to repeat the trick at the Aviva Stadium last weekend.
Goal-bound efforts deflected in Adam Nawalka's side's favour, most notably when a Robbie Brady cross ricocheted onto the post early in the second half, while Robbie Keane and Seamus Coleman both squandered good opportunities.
(Poland were increasingly pinned back into their half and consistently put 11 men behind the ball)
Moreover, the Poles regularly defended with all 11 men in their half, showing virtually no attacking intent, even when opportunities arose, preferring instead to try to keep possession or win a free kick (often by cynical means).
With Ireland increasingly attack-minded however, by almost refusing to show any ambition and exploit the increasing gaps in the Irish defence, the Poles played into the hosts' hands, and the goal, when it came, felt totally deserved.
McClean fieriness epitomises Ireland's rejuvenation
Aside from the goal, the biggest roar of the night was reserved for James McClean's crunching tackle on Milik, but ultimately, the Wigan winger's performance amounted to much more than a Vine-worthy moment of Roy Keane-esque brilliance.
Source: Patrick McCarry/Vine
A second-half replacement for Aiden McGeady, whose lack of match sharpness became increasingly apparent as the game progressed, McClean managed to have more of an influence in just over half an hour of hour of game time than many of his teammates managed in the full 90.
In addition to regularly beating the opposition full-back and producing three excellent crosses, all of which could easily have resulted in goals, McClean also gave the Irish team a lift through the sheer energy and enthusiasm he provided, in what was a crucial period of the match, inspiring others to lift their game in turn.
(James McCleam produced an influential second-half display after coming on as a substitute in the 67th minute)
Despite not having the best of seasons with Wigan (who currently sit third from bottom in the Championship), McClean must now be well placed to start against Scotland in June, with O'Neill subsequently acknowledging that his influence was "pivotal".
Much of the above praise applies to Shane Long as well. The Tipperary native, brought on in the 82nd minute, had even less time to influence proceedings, but his pace and power provided a breath of fresh air, particularly with fellow striker Robbie Keane clearly labouring.
Source: Darragh Murphy/Vine
And although there was an element of good fortune about the equaliser, owing to the decisive deflection it took, Long still had to produce a near-perfect first touch to create the chance in the first place.
Conclusion
Ireland ultimately claimed a deserved draw, and will still feel there's hope yet in their Euro 2016 qualifying campaign.
Yet rather than this positive climax being down to the introduction of James McClean or the decision to play Wes Hoolahan deeper, the reasons for Ireland's stirring second-half comeback after a relatively underwhelming first period are somewhat more complex.
The manner in which the Polish team approached the second half was undoubtedly as significant a factor as the Irish team's willingness to change their mentality and put a greater emphasis on attack.
(Poland adopted an ultra-defensive strategy in the second half)
The Poles, in a manner not altogether dissimilar to Chelsea's recent Champions League performance against PSG, seemed to prioritise not conceding over scoring, appearing confident that their defence was strong enough to hold out whatever attacking threat Ireland offered.
Again in a Mourinho-esque manner, the visitors increasingly engaged in Machiavellian tactics in order to try and ensure a victory, and the cynicism rife in their second-half display was typified by one incident involving substitute Sebastian Mila.
The 32-year-old winger was involved in an off-the-ball incident with James McCarthy, standing on the Everton man's foot before theatrically falling to the floor after the 24-year-old midfielder merely pushed him away, with both players booked as a result.
Such gamesmanship only served to enliven the crowd and probably the players too, as Poland's negativity failed to earn a scarcely deserved three points.
And while Ireland delivered arguably the best 45 minutes of their campaign so far in the second period, the performance still raises as many questions as it does answers: is Robbie Brady still a viable option at left-back? Has Wes Hoolahan done enough to earn a regular spot in the first XI? Is Shane Long now the side's most reliable striker? And should someone other than Glenn Whelan be given a chance in midfield?
Whatever happens, the return fixture at home to Scotland in June will surely prove to be fascinating viewing.