IT'S BEEN A largely dire season for Ulster but last weekend Jono Gibbes' side showed signs of life.
Their bonus-point win away to Edinburgh was a major boost in two ways.
Firstly, it keeps them a point ahead of Benetton in Conference B of the Guinness Pro14, with the Irish province also having a game in hand. That means Ulster remain in the Champions Cup play-off spot ahead of clashes with the Ospreys [home], Glasgow Warriors [home] and Munster [away].
PRO14 Rugby / YouTube
But secondly, the victory in Murrayfield reignites Ulster's hopes of reaching the Pro14 play-offs and qualifying directly for the Champions Cup as one of the top three sides in Conference B.
Ulster also have a game in hand over third-placed Edinburgh, who are still eight points ahead of them.
It would be an impressive turnaround for Ulster to save their season in that manner, but Edinburgh may be looking over the shoulders a little more nervously now ahead of their own two final fixtures of the regular season against Scarlets and Glasgow, both at home.
Iain Henderson was immense for Ulster in the second row alongside academy lock Matthew Dalton in Edinburgh, while hooker and captain Rory Best was also important.
Gibbes' side put lineout possession to good use early in the game, scoring three tries from that platform in the first-half.
Strike early
Ulster's third lineout in the 12th minute saw them strike for a first-phase try that would have been a major lift to their belief.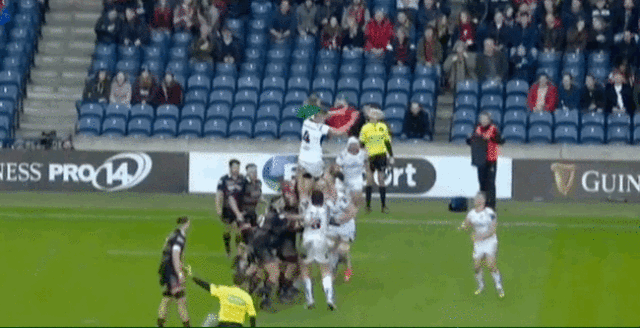 Click here if you cannot view the clip above
Scoring on first phase is always a boost to the confidence of any team, the preparation and planning paying off, and particularly so early in the game like this.
Dalton wins Rory Best's throw cleanly in Ulster's six-man lineout with tighthead prop Tom O'Toole and Henderson getting a fine lift in, as we can see below.
Nailing these basics – the throw, the lift and the jump – are as important as anything that is to come in this Ulster move.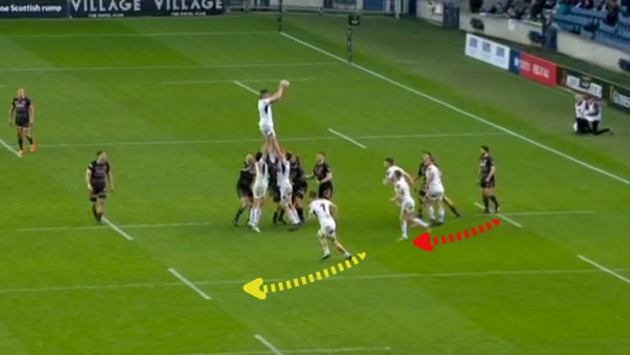 As the catch is happening, Ulster scrum-half John Cooney is moving from his starting position at the front of the lineout in behind Dalton to accept the pop off the top [red].
Cooney shifts into the space vacated by Nick Timoney, who starts as Ulster's receiver but moves out beyond the 15-metre channel [yellow].
Timoney then offers a decoy to the Edinburgh defence as Cooney skips him, the openside flanker's presence keeping their defence at the back of the lineout tight.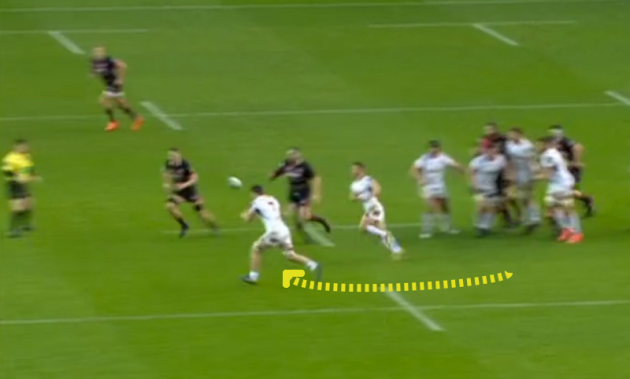 Cooney finds out-half Johnny McPhillips with an accurate pass, and Ulster run the first of their two screen plays.
Number eight Jean Deysel is used to run the first screening line, with McPhillips going out the back to Stuart McCloskey [white below].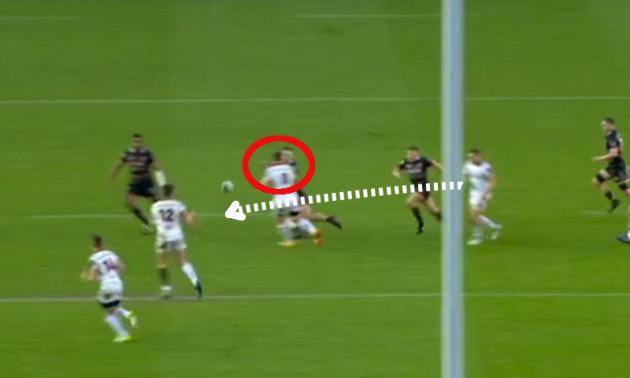 Deysel could probably get his hands up and offer more of a threat as he comes towards the defensive line, but he does well to get in a subtle nudge [red above] on Edinburgh's Stuart McInally to bump him back and out of the defensive line, ensuring he can't realistically drift onto McCloskey.
The Ulster inside centre throws the second screen pass, behind Darren Cave to Louis Ludik, infield off his right wing.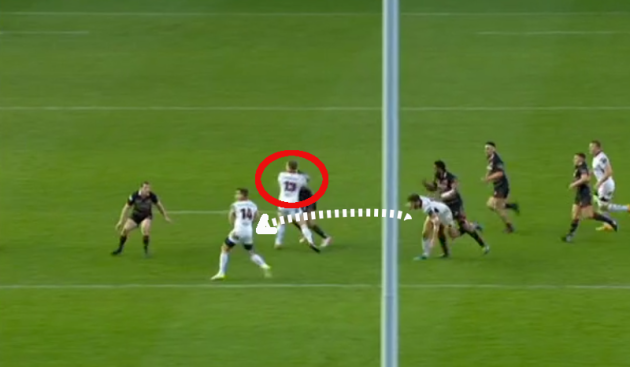 Cave is a viable option to take a short pass from McCloskey here, and he runs an excellent line to get to the outside shoulder of Edinburgh centre Phil Burleigh [red above], essentially taking him out of the defensive equation as Ludik gets on the ball.
With Burleigh unable to drift quickly enough, his centre partner Mark Bennett now has to bite in on Ludik, as we see below.
Even after Ludik passes, Edinburgh will still feel they should have managed this situation defensively.
As we can see below, Dougie Fife should be able to tackle Charles Piutau [red], while fullback Blair Kinghorn is advancing up from the backfield to deal with Jacob Stockdale [blue].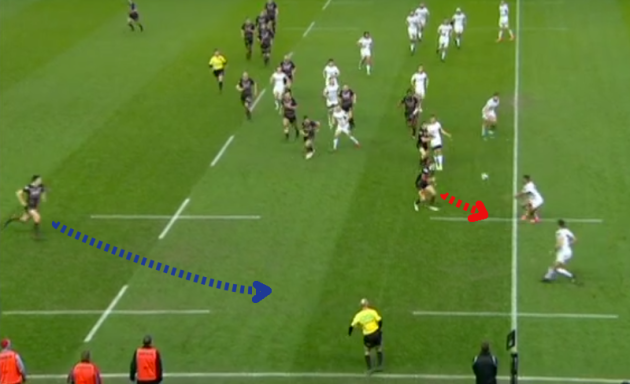 But Piutau's brilliant individual skills make the difference on the edge here.
He is able to rapidly tuck the ball into his left arm after Ludik hits him and he fires out his right hand to fend Fife, driving forward and into the contact.
Fife initiates the tackle but Piutau's fend means he can keep his feet for long enough to tempt Kinghorn into biting in [blue below] towards the tackle too.
Piutau fights to keep his feet until he feels Kinghorn has turned in on him, then releases a beautiful one-handed offload to the waiting Stockdale.
Kinghorn can't recover as Stockdale's excellent acceleration takes him clear of the Edinburgh fullback and down the left touchline.
As Stockdale is striding forward, we can see the work rate and energy from Cave below [white] as he sprints upfield following his decoy run.
Cave is ever so slightly ahead of the ball, running the optimistic support line and ensuring he will be alive for a second touch.
Cooney is doing the same, working in behind the defence to give that pre-emptive support.
It means that when Stockdale draws in final defender Duhan van der Merwe – moving over from Edinburgh's left wing [blue below] – he has Cave clear on his inside to take the pass.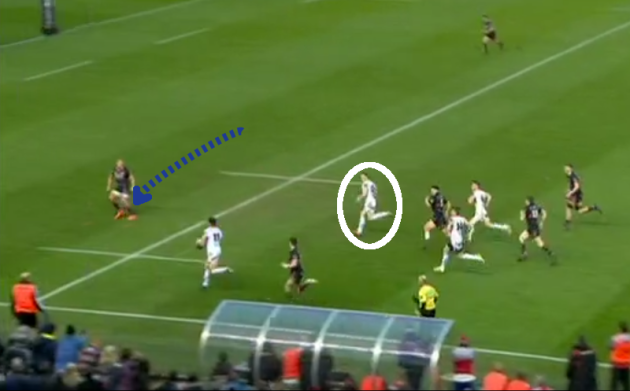 It's a classy first-phase try from the lineout for Ulster, providing them with a confidence-boosting lead in the 13th minute.
While the structure of the strike move is useful, what's most important is the execution of the skills - throw, lift, pop off the top, accurate passing from right to left, viable decoy work, Piutau's fend and offload, and the support play.
Strike again
After a second Edinburgh penalty draws them back to within a point at 7-6, Ulster strike again from a lineout platform.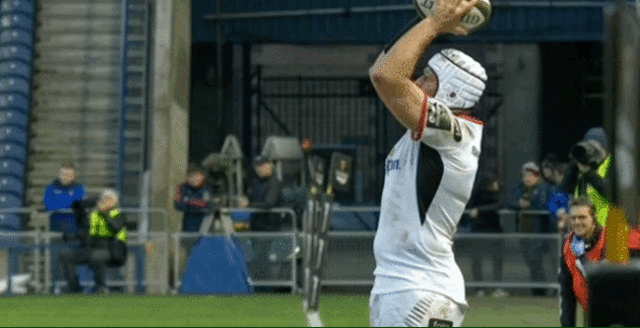 Click here if you cannot view the clip above
There is more pressure in the air this time but Best, Dalton, Henderson and O'Toole combine again to win possession at the tail, this time bringing the ball back to ground.
Ulster set themselves as if to maul, with Timoney arriving in from the receiver position to accept the transfer from Dalton.
However, the real intent is for Timoney to break infield.
Cooney is at first receiver to accept Timoney's pass from the set-piece and again Ulster use a screen play off the lineout.
Exclusive Six
Nations Analysis
Get Murray Kinsella's exclusive analysis of Ireland's Six Nations campaign this spring
Become a Member
McCloskey runs the hard 'front door' line [red below], while Stockdale bounces out the 'back door' [yellow].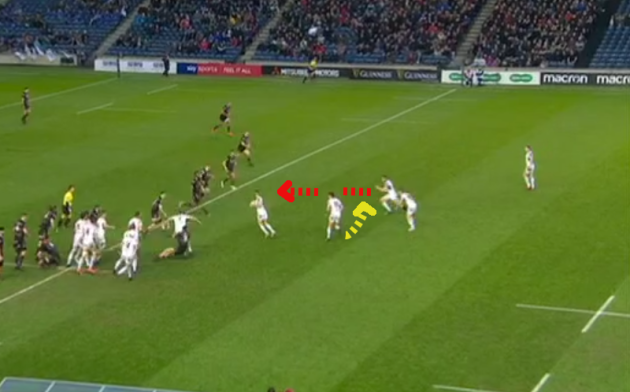 McCloskey's well-timed running line and his size make him a danger to the Edinburgh defence and he successfully gets Burleigh to bite in on him.
Burleigh turns in and looks to tackle McCloskey [red below] even as the ball is going behind McCloskey's back, and with Edinburgh number eight Viliame Mata covering McCloskey.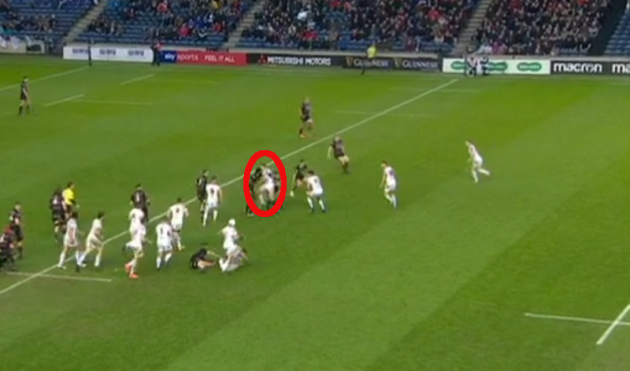 That means Stockdale suddenly has a sliver of space to run into on Burleigh's outside shoulder, where he darts.
Burleigh does recover to turn out and tackle Stockdale, but not before his centre partner, Bennett, has turned in to also tackle Stockdale.
That means both Edinburgh centres have committed to this tackle on first phase.
Ulster's McPhillips and Cave initially move towards the tackle to resource the ruck, but they both make excellent late decisions to back away [yellow below].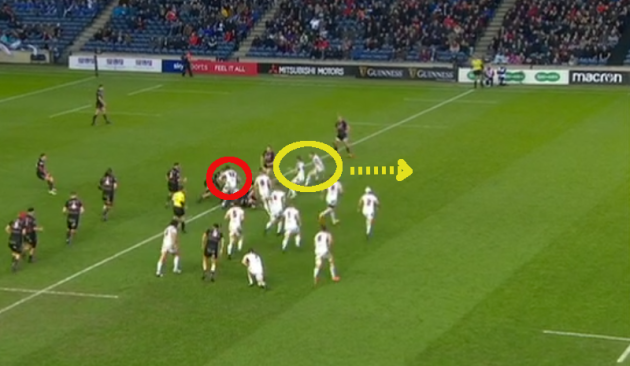 McCloskey [red above] is left to hit the ruck on his own and he has to be hugely accurate in removing turnover threat McInally, which he is.
A one-player clearout for Ulster, having drawn both Edinburgh centres into the tackle, is going to be important on the second phase.
As we can see below, all but one of Ulster's forwards have worked around the corner [yellow] for the second phase.
In stark contrast, only two of the Edinburgh pack have done so.
That leaves Edinburgh with seven defenders [blue above] on the right of the ruck, marking up on only one Ulster player in Timoney [white].
It's a catastrophic defensive failure and Ulster are quick to recognise their overload on the right-hand side.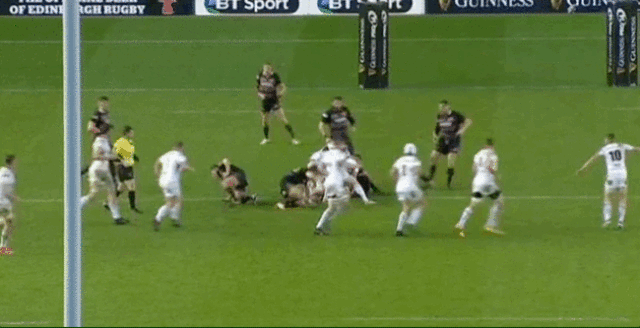 Click here if you cannot view the clip above
Again, it's about basic skills here.
Captain Best catches, draws and passes before McPhillips does the same to send Cave scampering into space.
Edinburgh do their best to scramble but with Ulster moving forward into space at such speed, they're never likely to recover and Cave feeds Piutau for a strong finish.
Cooney's class
Ulster strike for a third try from a lineout platform in the 24th minute as their confidence clearly soars.
Again, it takes two phases to score and again the simple structure allows Ulster's players' skills to flourish.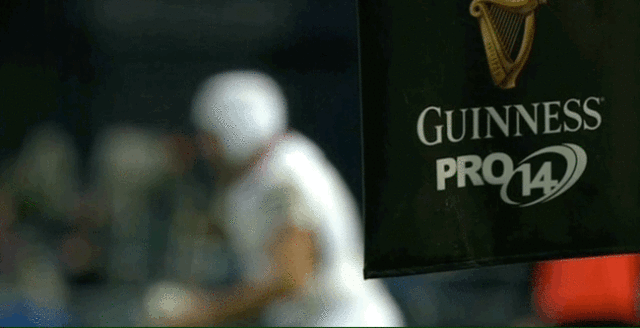 Click here if you cannot view the clip above
Cooney is back at the front of the lineout for Ulster here - Edinburgh don't actually number up identically in the lineout – with Timoney in the receiver position initially.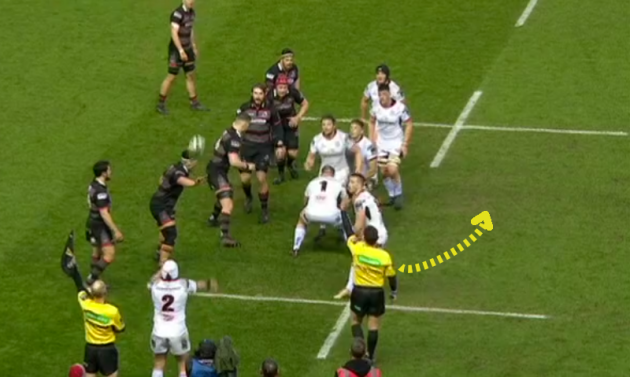 Cooney and Timoney's movements are similar to the first try, as Henderson wins the lineout ball with a lift from Andrew Warwick and Matty Rea.
Again, Cooney skips his pass in front of Timoney after the openside breaks the 15-metre line, finding out-half McPhillips.
McPhillips has Deysel and McCloskey in similar positions to the first try but this time he takes the front-door option, hitting Deysel to have a surge at the defensive line.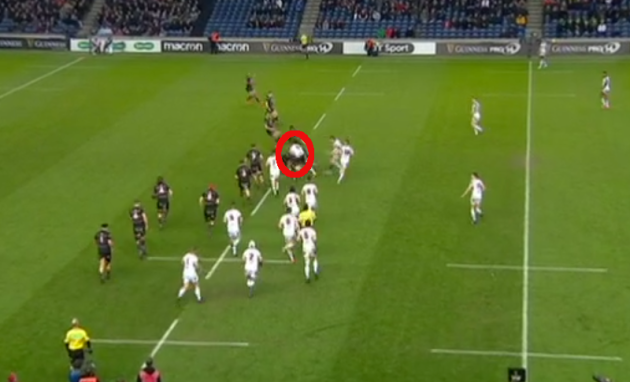 Deysel was tireless against Edinburgh, carrying the ball 18 times, and we see his power in this instance as he sits McInally into the ground.
The strong carry means Ulster have quick ball to play with – McCloskey and Timoney don't even have to clear anyone out – and Cooney is rapidly on the scene.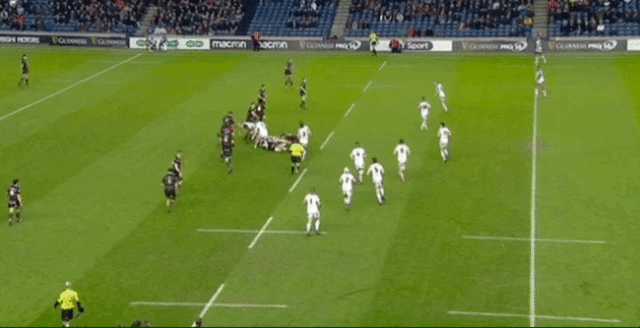 Click here if you cannot view the clip above
Cooney scoops the ball and, rather than passing directly again, bursts to the right on an arcing line away from the ruck [yellow below].
As he's running that arc, Cave is coming back against the grain [red] on an aggressive line to offer a short option to Cooney, while Stockdale is bouncing out the back of Cave [green].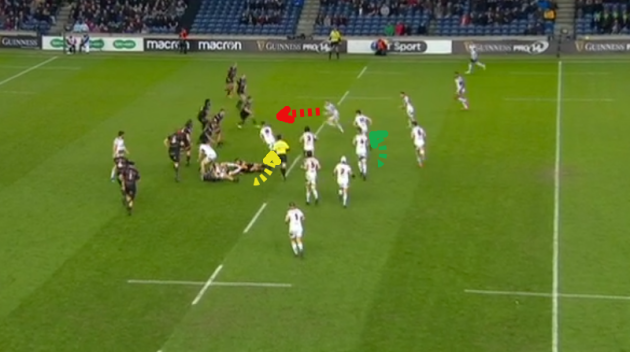 Cave's line to offer the 'front door' option proves pivotal again as his acceleration and body language – and quite probably a shout for the ball – lure Burleigh in on him.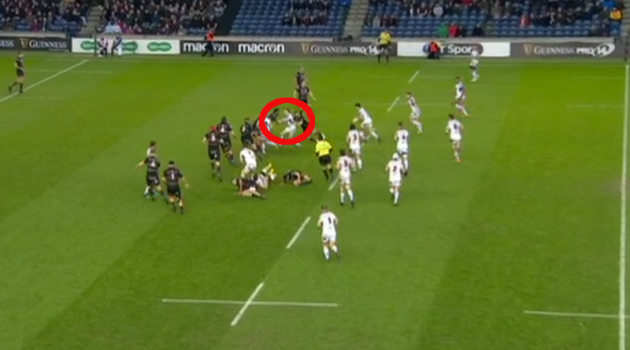 When something like this happens more than once, it's usually a good indicator that the attacking team have picked out this defensive tendency as a potential weakness in their pre-match analysis. Ulster's homework pays off.
Burleigh biting in on Cave means that he and Mata are both tackling one Ulster midfielder again and that opens the door for Stockdale as he accepts the screened pass from Cooney.
The Ireland international's acceleration is excellent for a second time, taking him beyond the despairing diving tackle attempt of Bennett turning in.
Cooney's class shows after his pass to Stockdale, as he again bursts upfield optimistically.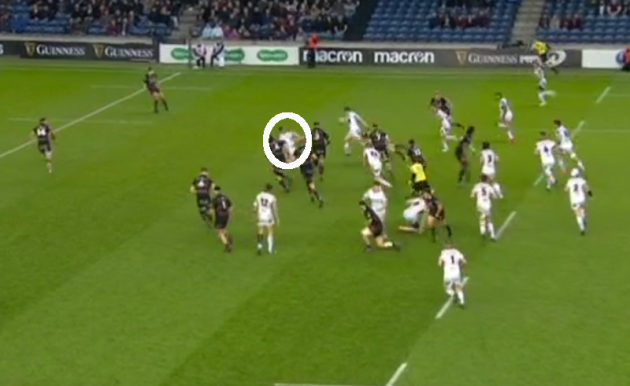 Cooney is ahead of the ball above, as Stockdale breaks, meaning that he is going to be in an ideal supporting position when Stockdale meets the second line of defence.
Stockdale gets the ball into two hands, draws in Fife and takes the straightforward option of hitting Cooney on his inside.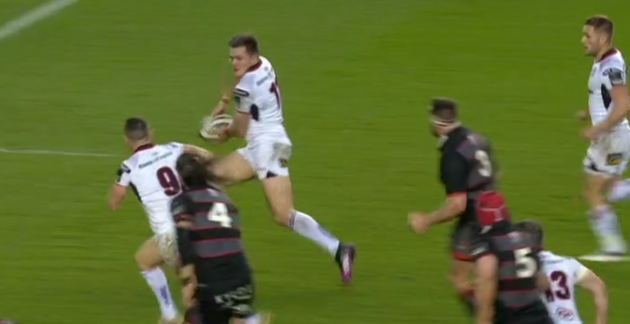 That Stockdale had options to his right too is a further encouragement for Ulster, demonstrating the enthusiasm of their players to get in support.
As it happened, Ulster did concede an intercept try from a lineout attack before half-time, but their three first-half strikes were an important factor in deciding the outcome.
The game was still in the balance until Henderson's 79th-minute try, although the first-half scores allowed Ulster into a lead that they never relinquished.
If Gibbes' side can show similarly strong individual skills within simple structures over the course of their three remaining regular season Pro14 games, their campaign might just have a relatively happy ending.
The42 is on Instagram! Tap the button below on your phone to follow us!