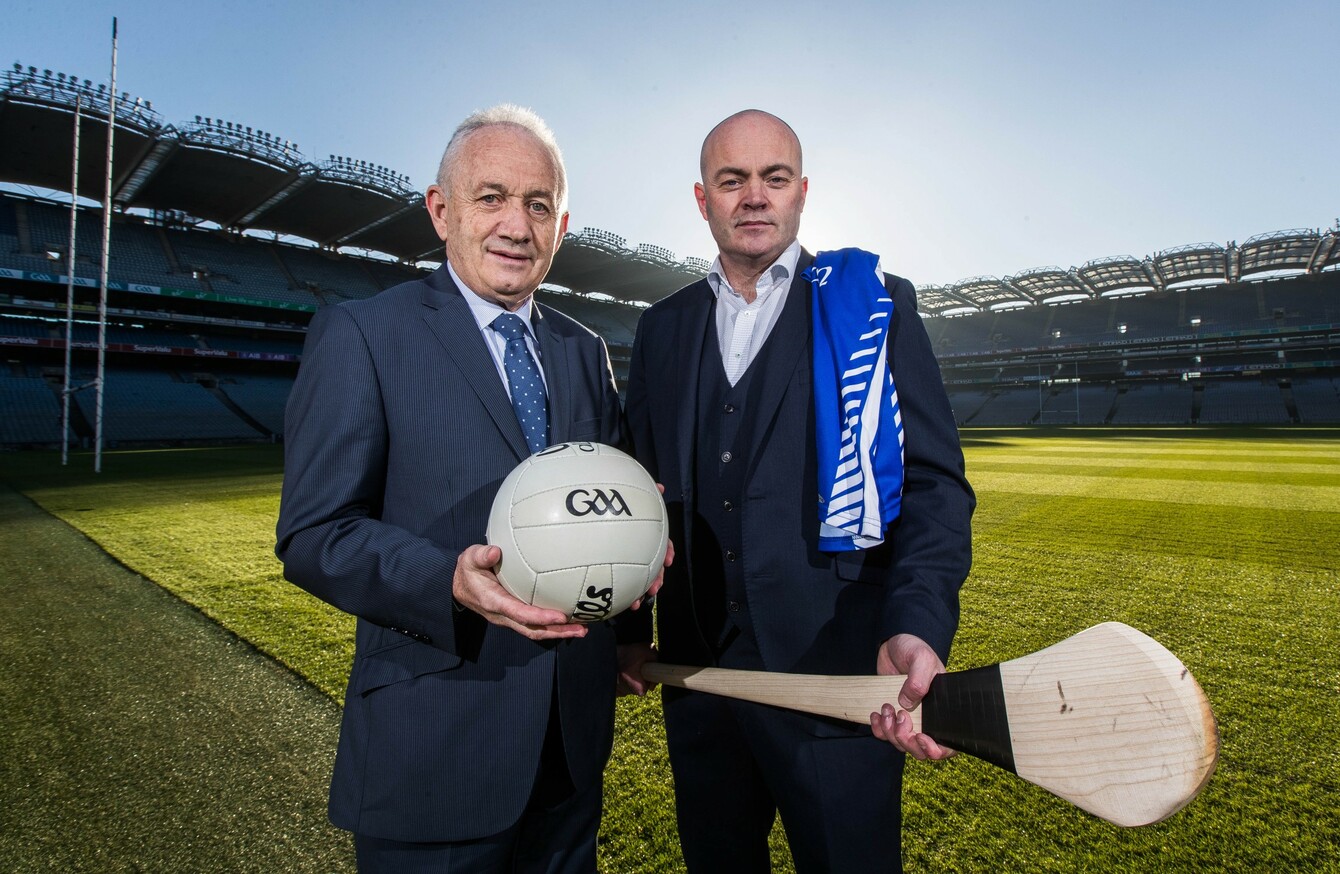 Munster football manager Ger O'Sullivan and Munster hurling manager Anthony Daly (right).
Image: Ryan Byrne/INPHO
Munster football manager Ger O'Sullivan and Munster hurling manager Anthony Daly (right).
Image: Ryan Byrne/INPHO
ANTHONY DALY SAYS he is surprised by the way Dublin hurling has gone since his departure as manager in 2014 but understands his successor Ger Cunningham's desire to mix things up.
The Dubs enjoyed long-awaited success during the Clare native's six-year tenure, including a Division 1 league triumph in 2011 and the first provincial title for the county's hurlers in 52 years in 2013.
But the transition to Cunningham's management certainly hasn't been smooth, mixed results on the field being overshadowed by unrest among some of the stalwarts during the Daly era.
Some of Daly's regulars have walked, some have retired and some have been dropped but either way, the make-up of the Dublin hurling panel is much changed from two years ago and the likes of Danny Sutcliffe, Peter Kelly and Johnny McCaffrey are among the high-profile absentees.
"When I was quitting, I wouldn't have forecast it," Daly suggests.
"In other ways, I can understand a little bit Ger's thinking.
"He had to come in and freshen it. I wouldn't have seen it like that. And I suppose people might have accused us of hanging on to the same fellas.
"But you have to remember, in our time scale, we won in '13 – that was year five. We won Leinster, that was the one we were craving all along.
"I didn't know what would happen. A lot of them were there for the first year. But then Ger wanted to put his own stamp on things."
Former All-Star Sutcliffe stepped away from the panel last year to reportedly focus on his studies while this year it is believed he will remain unavailable as he pursues travel plans.
Daly is a big fan of the St Jude's forward but explains it is not always as straightforward as it seems with young players.
"The likes of Danny Sutcliffe I would have thought would have played for 10 years solid at that level and would have been one of the best in the country.
"That's unfortunate. I'm sure Ger would love to have him. But look, I don't get involved in the ins and outs of it now."
For all the negativity that has emerged in recent months, particularly from some players who are no longer on the panel, Daly believes the Boys in Blue are still within touching distance of the country's top teams.
"I don't think Dublin have slipped back in the pecking order," Daly, the Munster manager for the upcoming interprovincial championship, adds.
They're still Division 1. [They reached] an All-Ireland quarter-final in 2015 and were a bit unlucky against Waterford. That match was in the balance right up until the last goal.
"Last time again, maybe the 14 men down in Cork, it was tight, like, fine margins and maybe people are judging it on Cork being beaten by Wexford, but here (Croke Park) in the first round Dublin beat Wexford handy.
"Dublin are Leinster minor and 21 champions as well, that didn't happen too often in our time either, so there's a fair depth, although they will be young, I suppose, looking at the fellas that aren't there."
Another issue that Cunningham has to deal with, and one Daly knows well too, is the unavailability of some of the county's best hurlers because of their decision to pursue inter-county football, even if they are on the periphery of the team in the other code.
Ciaran Kilkenny, Diarmuid Connolly and Conal Keaney were among the more high-profile examples of talented dual players throwing their lot in with the footballers in recent years, although the latter did return to the small-ball code eventually.
But one of the latest multi-talented Dubliners off the minor production line is Con O'Callaghan, brother of inter-county full-back Cian, who has been a revelation in Cuala's Leinster club hurling championship campaign to date.
However, his involvement with Jim Gavin's footballers, featuring as a substitute in this year's Leinster championship campaign, means Dublin hurling fans won't be seeing him in sky blue any time soon.
"There is a touch of torture in it [the dual player situation], I suppose. I knew coming that it was going to be an issue.
"We had victories as well in our time, I'd say.
"I'd say the Schuttes (Paul and Mark) and Danny (Sutcliffe) even and Rushey (Liam Rushe) could have gone playing football very easily coming out of minor, but they picked the hurling.
"And I suppose that's always what we were hoping to create – that it would be a real option for a lad coming out of minor, that he could say, 'ah, I prefer hurling, I'm going with that'.
"I think that's still the case really, but Con I suppose is very talented – I saw him play football and he's a bit of a boy wonder, but he's a brilliant hurler as well.
"If it was me, I'd be getting on to Ciano to have a good lot of words in his ear at home – 'are you talking to the young fella, are you?'
"But, sure, look, he probably has his mind made up that that's the route. He went that way last year so he's probably not for turning and obviously the football is flying at the moment."
Daly has been in the news himself recently, having been nominated for a return to the Clare managerial role after the departure of his former team-mate Davy Fitzgerald.
But after a hectic 48 hours, Daly withdrew his bid, which included Brian Lohan on the management ticket, and backed former minor and U21 managers Donal Moloney and Gerry O'Connor to succeed Fitzgerald.
"It came out of the blue. I couldn't see Davy going. All of a sudden, when they weren't appointed, there was a board meeting on a Tuesday night, it was deferred. Then the talk started that he might be thinking of quitting.
"Straight away there was clubs saying, "have you any interest?"
"I thought, I don't know what's going to happen. Then there's clubs on to you then to ask would you be interested in being nominated.
"If you said 'no' there and then you were out. I said, 'yeah, sure, nominate me'.
"I talked to a few people, spoke to Brian Lohan. We both were interested. Then you sort of knew the lads were very interested as well.
"We met and we'd a pot of coffee and we just said we didn't want to be going down the dividing people route.
"Obviously, there would be a ferocious grá as well for the two boys for all they've achieved as joint managers at minor and U21.
"You'd be friendly with them as well. Brian worked with them at minor level. I would have played with Donal, played against him so it didn't feel right to be going against them. So we said we'd wish them the best of luck."
Daly says he isn't craving a return to inter-county management — his coaching role with Limerick's minors helps keep him sated and experiencing an All-Ireland final with them earlier this year brought back some great memories.
"I wouldn't say I'm itching [to return], no. Ah sure look, I don't know. I was a long time doing it, nine years at it," the former All-Ireland-winning captain says.
"It becomes a bit of a way of life for you in one way. There's a great buzz off it. There's fierce highs and lows.
"The highs would be high and the lows would be low. But still, it's a bit of a drug as well. But I'm getting my aul fix with Limerick.
"It was fantastic to be here with the minors.
"It was great because I hadn't been back here being involved on All-Ireland final day since '97, bar doing a bit of punditry."
For all the talk about being happy for now, Daly openly admits he'd like another crack at the top Banner job further down the line. Hurling, and more particularly Clare hurling, is in his blood.
"I took it (the Clare job) on when I was young. I was only finished when I went back doing it. You'd always like to think you'd get another shot at it and maybe we will.
"But we'll be a hundred per cent behind the boys (Moloney and O'Connor). They'd be the finest types. They'll have massive backing."
The42 is on Instagram! Tap the button below on your phone to follow us!