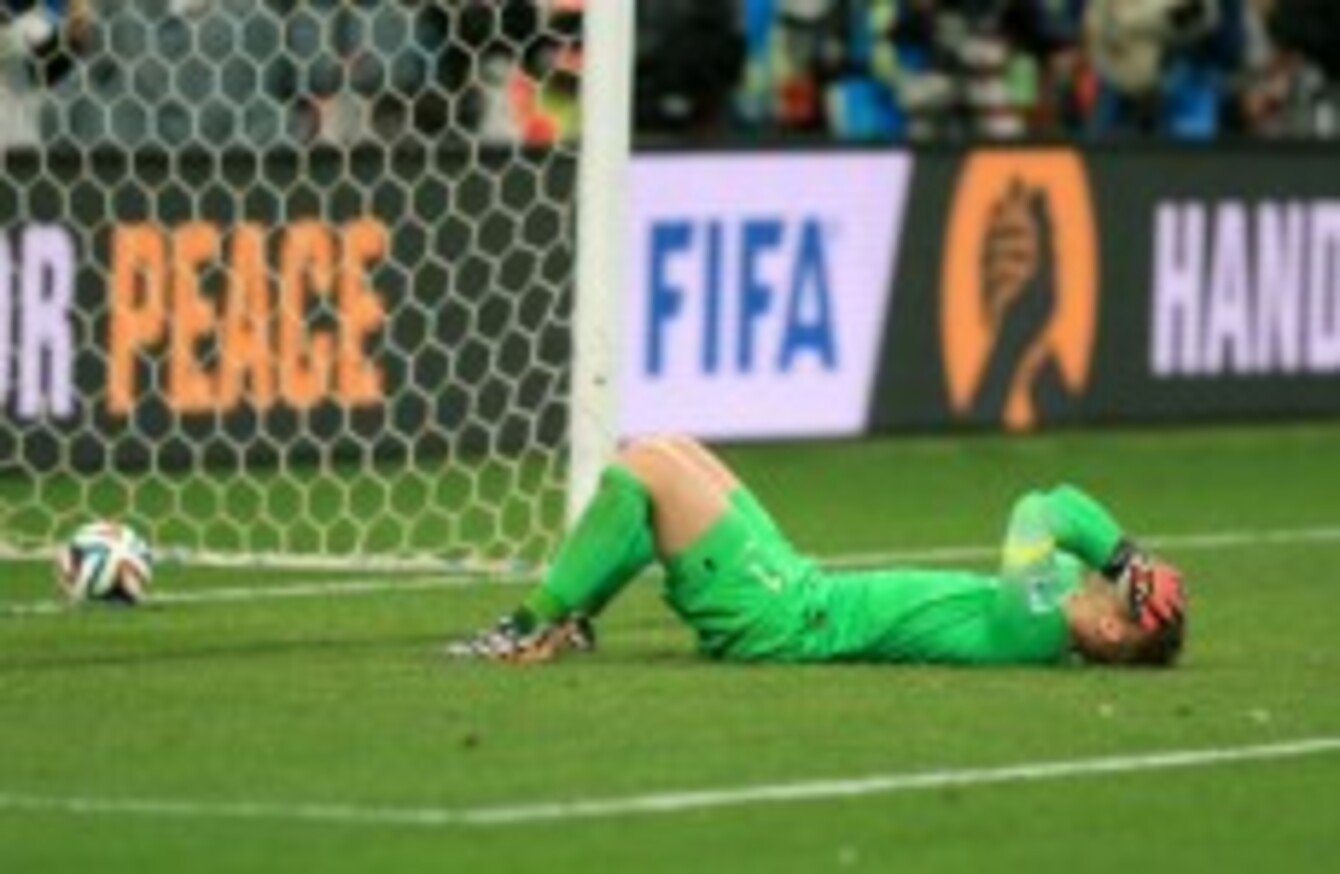 Image: Mike Egerton/PA Wire/Press Association Images
Image: Mike Egerton/PA Wire/Press Association Images
IGNACIO PALACIOS-HUERTA is the definitive penalty expert. He's studied over 11,000 of them since 1995. He has written extensively on the theory and science behind what others dismiss as 'a lottery'. The patterns he detected has led many teams to approach him for advise and unsurprisingly, he watched with intrigue as events unfolded in Sao Paulo last night.
Speaking to TheScore.ie, the London School of Economics professor acknowledged that a key shoot-out moment actually occurred early in extra-time when seasoned penalty-taker Robin van Persie was replaced by Klass Jan Huntelaar.
A most important aspect was van Persie being brought off. Afterwards, Van Gaal said that he would have introduced Tim Krul had he more subs left. I'm not sure it's entirely 'correct' to put Ron Vlaar first. If you construct an index of 'penalty kick importance', it looks like a U-shape – that is the most important penalties are the first and the last. This is why I thought Van Gaal had Van Persie take the first kick against Costa Rica. Perhaps Van Gaal thought that Vlaar, who had an excellent game, was in the right psychological frame of mind and was the best possible choice. But Argentina chose Messi as their first taker!"
The Vlaar miss and the subsequent successful Messi attempt were the deciding factors of the shoot-out. One of Palacios-Huerta's findings a number of years ago was the importance of the first penalty. The team that scores it has a 60/40 chance of winning. Van Gaal echoed this post-game when he said: 'You have to maximise the first penalty shot'. Once Vlaar missed, the pressure on Dutch goalkeeper Jasper Cillessen to get his team back in the game became intense. But according to Palacios-Huerta, Cillessen should've made it a lot harder for Messi to score Argentina's first penalty.
With Vlaar missing and Messi scoring, Holland's initial 60-40 advantage quickly turned into a 31-69 disadvantage. But why didn't Cillessen stop Messi's kick? Last season, Messi put 5 kicks to the right and 4 to the left. 1 goalkeeper dived to the right and 8 to the left. Surely Messi was thinking that the right side was working very well for him. Did Cillessen know this? If he did, did he remember this?
Keeping with the pattern, Messi put his penalty to the right and Cillessen dived to his left. Still, the goalkeeper guessed correctly for two of Argentina's four kicks – the same as Romero. The only difference was that Romero saved two. It seems cold and callous to be critical of Cillessen in such a pressurised situation like a shoot-out but there was an obvious reason why Krul was brought on against Costa Rica: the reserve is simply better at stopping shots from twelve paces away. At one stage, it seemed Cillessen was set to be a hero and palm away a poorly-directed Sergio Aguero effort. Instead, he dived over the ball. He got a strong hand to Maxi Rodriguez' winning strike too but could only push it up rather than out and it went in via the underside of the crossbar.
Given Cillessen's performance in the shoot-out, Van Gaal will surely regret taking Van Persie off when he did. Though the Manchester United striker was jaded and seemed a shadow of himself, Huntelaar's introduction didn't exactly prove a game-changing switch. And, there was a two-fold negative effect: firstly, it ensured Holland would have to find someone else to take the crucial first kick if the game went to a shoot-out and secondly, it meant Tim Krul couldn't be introduced.
Of course, one of the biggest talking points today is Sergio Romero's performance and whether he looked at pre-prepared notes to help guide him through the shoot-out. If anything, the way he reacted to the Dutch kicks would point to him having acted on instinct rather than research. Another penalty pattern is that takers vary kicks when taking them in quick succession (usually two in one game). As per that pattern, both Arjen Robben and Dirk Kuyt put their penalties in the opposite corners to the Costa Rica shoot-out. But Romero still dived the wrong way for both of them, indicating he hadn't done his homework.
In 2006, during a World Cup quarter-final shoot-out against Argentina, German keeper Jens Lehmann took some notes that had been tucked into the top of his right sock, glanced at them and saved two penalties. But according to Palacios-Huerta, there's a possible psychological effect on takers when they see a goalkeeper looking at research before a kick is taken.
The 'true and original Lehman' is the one where the opponent sees the goalkeeper looking at the note. The keeper knows that the kicker knows and the kicker knows that the keeper knows he knows and …. ad infinitum (we economists call this infinite chain of knowledge "common knowledge")."