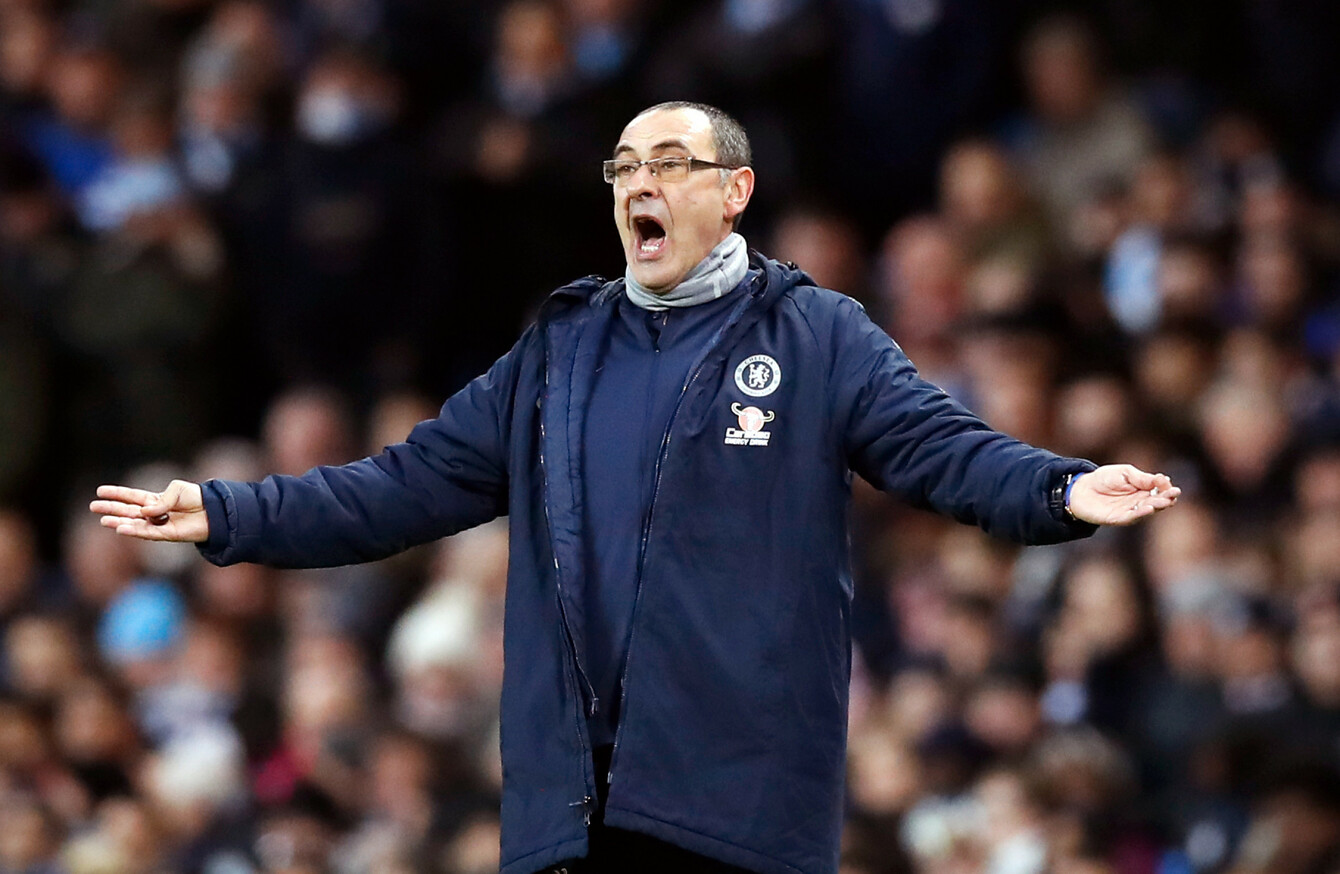 Maurizio Sarri, who is closing on on official 'beleaguered' territory.
Image: Martin Rickett
Maurizio Sarri, who is closing on on official 'beleaguered' territory.
Image: Martin Rickett
FORMER IRISH INTERNATIONAL Kevin Kilbane believes that arrogance played a small part in Maurizio Sarri and Chelsea's 6-0 shellacking at Manchester City yesterday. 
The defeat was Chelsea's heaviest in 28 years, and Kilbane believes it stemmed from Sarri's refusal to alter his 4-3-3 system to nullify City's many threats. 
"Slightly", responded Kilbane when asked by The42 if Sarri's principled approach is informed by arrogance. 
"I always feel, no matter what level you are at, you have to make some sort of plan for how the opposition can do to you.
"Going there and thinking you can out-City Man City isn't going to work consistently. If you play them ten times, you'll lose eight or nine of them.
"It is great that he has total belief in his system and his players, but ultimately those players aren't good enough so there has to be some kind of plan to stop the opposition.
There has to be reservations made away from home against better opposition. But he doesn't think that way. We've seen it in the past with Arsenal, whose belief under Wenger was 'We are better than you, so we will outplay you. We are better footballers than you.'
"It doesn't work when the opposition have better players than you." 
Sarri's refusal to compromise was evident in the positioning of N'Golo Kanté, once again shunted to the right of midfield to allow Jorginho play centrally. 
"Kanté has so much more to offer than Jorginho when they are without the ball. I think Sarri doesn't have a big awareness of what they do when they don't have the ball, bar trying to win it back quickly.
"Kanté is clever enough to spot what opposition players are doing away from the ball, and Jorginho doesn't see that. That's why Chelsea are a lesser side when Kanté isn't playing that role.
"He's not going to change it. Jorginho is a brilliant footballer, but he isn't as good without the ball." 
In spite of Chelsea's hideous away form -preceding yesterday's humiliation was a 4-0 defeat to Bournemouth – Kilbane stopped short in joining the braying masses labelling Sarri a 'fraud'. 
"It's harsh to say he is a fraud. If you look at his record, he has had inconsistent spells through his career. He has had a lot of clubs, but had a consistent spell at Napoli.
"He had very good players at Napoli, and then he came to Chelsea and started the season well. They haven't had a consistent forward line, and defensively they are too open." 
Given Roman Abramovich's infamous impatience, Kilbane does fear for Sarri's future, although didn't agree with The42's suggestion that John Terry – currently cutting his coaching teeth as an assistant at Aston Villa – would be the club's next caretaker manager. 
"[Frank] Lampard is a step ahead of Terry at the moment. There might be an argument for a Lampard/Terry partnership, but I don't necessarily see it. Over the last ten years, Chelsea have brought in experienced, successful managers to plug the gap." 
And what of the still-unemployed Jose Mourinho, and the possibility that he could be installed in time for next weekend's FA Cup game against Manchester United? 
"No. I genuinely can't see it." 
Kevin Kilbane was speaking to promote Virgin Media Sport's coverage of the Champions League and Europa League knockout stages, which resumes this Tuesday.