THE STRENGTH AND conditioning sphere is an ever-growing one in Irish sport and Ed Slattery, who works with the Ireland women's rugby team, is hopeful that a new event can contribute to the educational process.
Slattery is running the 2016 Athletic Performance Seminar in Dublin on 8 October, when the likes of Connacht's Paul Bunce, Neil Welch of the Sports Surgery Clinic, and the IRFU's Martin Kennedy and Marian Earls will be among the speakers.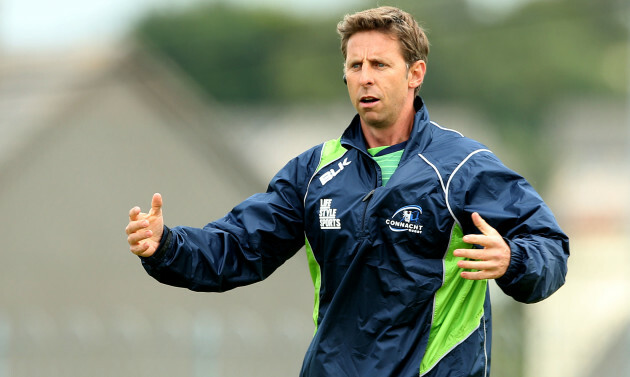 James Crombie / INPHO Connacht's Paul Bunce is one of the key speakers. James Crombie / INPHO / INPHO
"I think the knowledge base is definitely increasing, and that's only a good thing," says Slattery of strength and conditioning in Ireland.
"It's definitely a booming industry and in a lot of ways it's almost bottlenecking in that there are more and more people getting qualified but the number of professional jobs is limited.
"The knowledge is improving, but it's a case of picking and choosing knowledge. You can go on the internet to look up a topic and become overwhelmed very quickly by the amount of information that's out there. I think picking and choosing your sources is important."
Slattery is confident that the Athletic Performance Seminar can be a valuable and affordable source for S&C coaches around Ireland, particularly with some of  the best practitioners in the country featuring on the list of guests.
"Sometimes we look too much to the outside, to the US and the UK for what they're doing," says Slattery about how the idea for the event came about.
"Obviously, they are doing great work in strength and conditioning, but I think we sometimes neglect to look inside our own country to see what's going on.
"A guy like Neil Welch is a phenomenal coach, an expert when it comes to dealing with injuries, but maybe doesn't really get any recognition here. Paul Bunce has been with Connacht through the Pro12 success, so it's interesting to see how they did that.
"It's about looking inside Ireland and saying, 'We have got really good coaches working here, let's look at what they're doing.'"
Slattery himself has developed on home soil, completing his S&C degree in the Setanta College at LIT Thurles, while also volunteering with Munster's U19 and U18 Clubs sides.
Dan Sheridan / INPHO Marian Earls is on the seminar's guest list. Dan Sheridan / INPHO / INPHO
He took on an internship at the Sports Surgery Clinic in Dublin upon graduating, before his current role with the Ireland Women opened up. Just over a year later, he is thankful to have a professional S&C job and to have worked with many experts around the country.
The theme of the seminar in Dublin next month is 'Individualising and Evaluating Your Athletic Development Program,' and Slattery is excited about the insight the likes of Bunce can provide in this area.
"It's definitely growing a lot," says Slattery of individualisation in rugby S&C. "For example, it was a goal of the Connacht S&C department last year to increase their individualisation.
"It maybe gets exaggerated and sometimes people want to see a squad or 30 or 40 players on 30 or 40 completely different programmes.
"Realistically, you probably have one main programme for a block and then you tinker and tailor it to each individual player. It might be small things like one player doing a deadlift while another does a squat. It might be a case of one player working on strength, with another working for power depending on their requirements.
"It's about the athletes achieving their priority goals. It can be tough if you have a team of 30 or 40 players and limited time; how do you manage to actually do that individualisation? So we will cover that on the day."
Working alongside the highly-regarded Earls, Slattery gets hands-on experience of the importance of individualisation every day with the Ireland Women.
"We fitness tested last week," he says. "With those results and the results from the strength tests a few weeks prior, we'll track priorities with players.
"With some players, it's aerobic fitness they need to develop; with other players they are weak for their position and need to continue developing their strength. We'll make small adjustments to their programmes.
Dan Sheridan / INPHO The Ireland Women in the gym at the 2014 World Cup. Dan Sheridan / INPHO / INPHO
"We trained this morning, for example, and we had one large block that was the template for the programme, but within that certain players did specific exercises or maybe different reps or tempos through the exercise to target their individual goals."
Knowing that "coaching is not a massively-paid job," Slattery was keen for the seminar to be affordable.
While visits from high-profile coaches from abroad often mean €200 for a day-long event or even €400 for a weekend, tickets for the Athletic Performance Seminar – running from 9am to 4.30pm on 8 October – are available at €80 on an early bird basis.
"We're going to be talking about the evaluation of a programme, in terms of what needs to be done, where do I need to get a player to, and how do I structure the programme in order to achieve that?" explains Slattery.
"We're going to look at injury management – so injury prevention strategies for the most common injuries and then how do you individualise that injury prevention? If you have a squad of 30 players, how can you structure that prevention system to get to each player's weakness?
"We'll look at managing the individual through competition phases, so Martin Kennedy will speak about his time with the Ireland U20s at the World Cup and two All-Ireland trophies with Dublin.
"Paul is going to speak on fitting that individualisation into the programme itself and then how you evaluate the programme. Connacht won the Pro12; does that mean the S&C programme worked?
"You can't just take the trophy and say it worked; how do you look at it and evaluate if you accomplished what you wanted to accomplish?"
The42 is on Snapchat! Tap the button below on your phone to add!