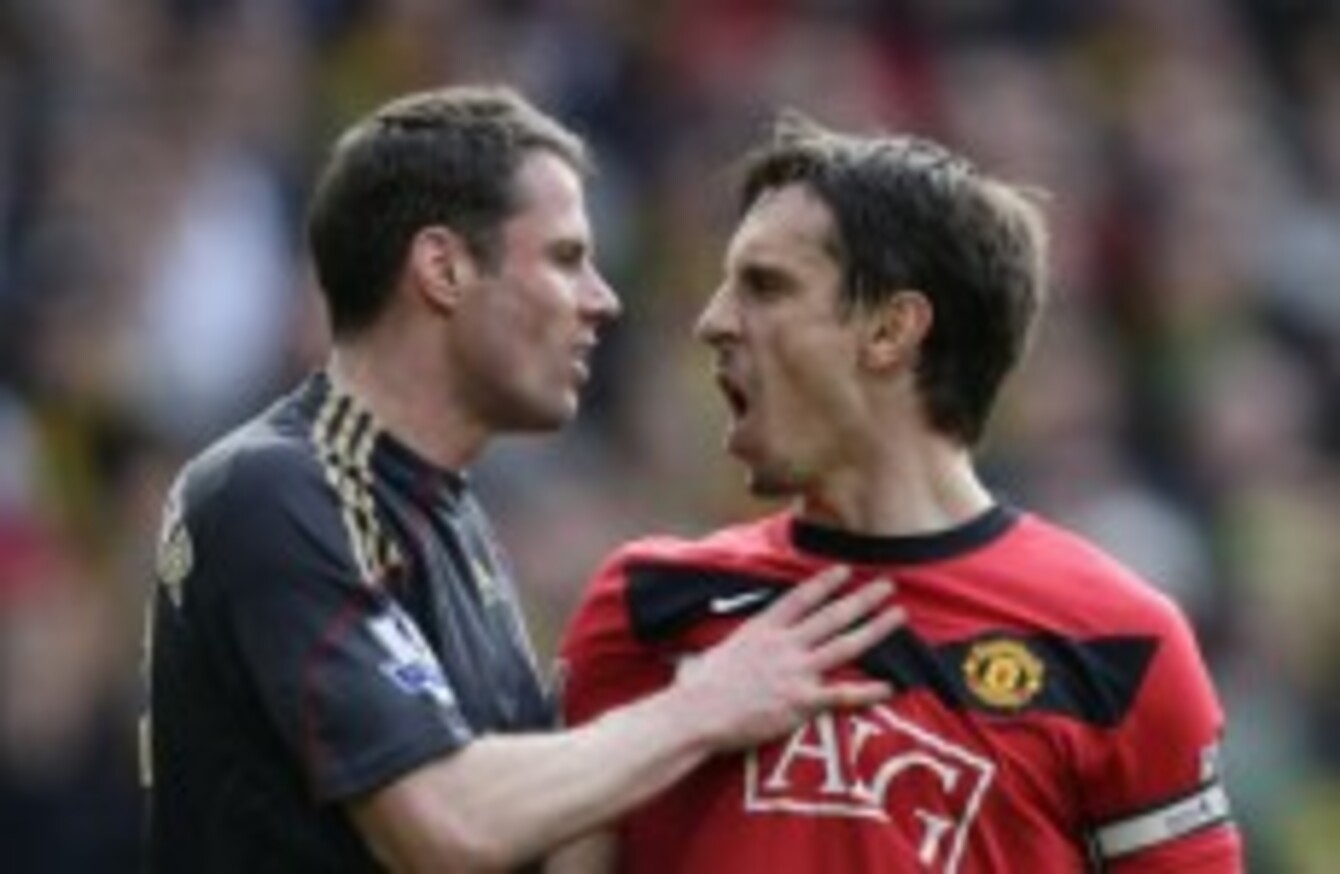 Somehow this hasn't happened on MNF yet.
Image: Associated Press
Somehow this hasn't happened on MNF yet.
Image: Associated Press
1. Neville's perfectionism is matched by that of Carragher, who seems equally determined to get things just so, albeit in a more relaxed fashion. In afternoon rehearsals for their season debut – four hours of detailed analysis interrupted by a match between Chelsea and Burnley – the pair stand at their respective video plinths, sonic screwdrivers in hand, refining a discussion on the excruciating minutiae of wing-back play that began via a series of text messages the previous Saturday afternoon. The five-man defences deployed by Manchester United, QPR and Hull last weekend are being discussed and the veteran Clint Hill is one of few players under the microscope to emerge with anything resembling credit. Neville bemoans the paucity of decent left-sided centre-backs in the transfer market.
Neville: "Name two or three left-sided centre-backs Manchester United can try to get."
Carragher: "Ehhh …"
Neville: "OK, name one."
Carragher: "Clint Hill?"
Barry Glendenning of The Guardian went behind the scenes of Monday Night Football to highlight the meticulous preparation that Gary Neville and Jamie Carragher do before the show goes on air.
2. Go back to a cold November day in 1997. Dublin have just been beaten by Offaly in Parnell Park and Mickey Whelan is being given considerable personal abuse by a group of Dublin people behind one of the goals. He's had enough, and minutes later he has resigned as Dublin senior football manager after two very disappointing years in charge of the team.
Given the current status of the Dublin senior football team and their relationship with their supporters, it's a sobering memory. Whelan had taken over Dublin following their 1995 All-Ireland win, but it hadn't worked out.
Arthur Sullivan explores the GAA life of former Dublin player and manager Mickey Whelan, including his torrid two year stint as Dublin manager.
3. On a Saturday afternoon, a bewildering array of links are on offer to stream Premier league football to your computer screen whatever your bandwidth. The websites are far from user-friendly, adding to the impression that this all feels a bit wrong:
If you have ever streamed a sporting event to your computer, then you will relate to this story from Adam Hurrey in the Telegraph. 
4. Judging from last season's stats, Di María would offer significant improvements in perceptive passes and dribbles. That would make a big difference. He is well ahead of any United player in terms of key passes (2.7 per game), assists and accurate crosses (2.1 per game). Meanwhile, he completed a dribble (1.4 per game) more than anyone except Januzaj (1.9).
Given these stats, it's essentially impossible not to imagine that Di María will bring a radical improvement in the level of United's attacking, making them much more dangerous. That Van Gaal possession will surely have more end product, particularly if the Dutch coach's plan is to utilise him in that Arjen Robben type role the Netherlands play.
Manchester United may have paid a large price for Angel Di Maria, but Miguel Delaney has crunched the numbers and thinks the Argentine can make a big impact for the club.
5. Here was Devaughn Darling.
He died after a winter offseason workout in a hot second-floor gym on the Florida State campus. The school said it didn't do anything wrong. The family said the school didn't do everything right. They settled before a trial for a payout of $2 million. The school paid the family $200,000. Florida law said the remaining $1.8 million would have to come straight from the state. The family is still waiting.
Devaughn Darling died more than 13 years ago.
Devaughn Darling was a Florida State football player who died during a practice in 2001. 13 years on, Michael Kruse of SB Nation explores the hurt that Darling's family has gone through.