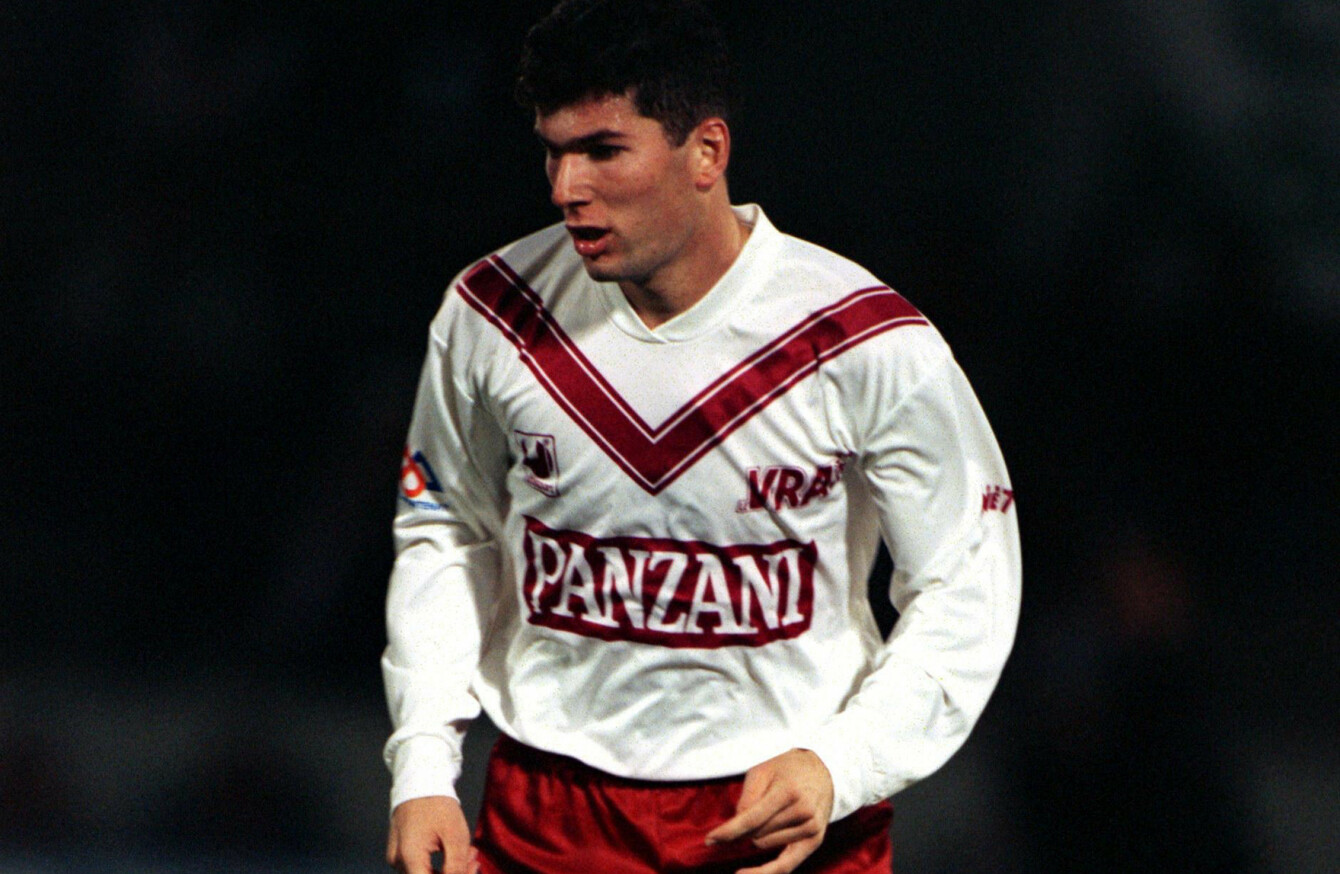 Image: Neal Simpson
Image: Neal Simpson
IT'S BEEN A long time but Serbia boss Slavoljub Muslin can still probably recall his last game in Dublin.
It was the 8 July, 1995 and the start of an arduous trek for his side through the backwaters of European football.
Muslin had taken charge of a young, raw but exciting Bordeaux team that had finished seventh in Ligue 1. It was enough to secure qualification to the Intertoto Cup and the club was drawn in Group 5, alongside Odense from Norway, HJK Helsinki, IFK Norrkopping from Sweden and Turlough O'Connor's Bohemians.
Bohs had already lost their opening two fixtures when they welcomed Bordeaux to Phibsboro for the second time in less than two years.
Before Muslin's arrival, the sides had met in a Uefa Cup tie in 1993 and, despite the Gypsies making life tough for their French visitors in the first game – going down 1-0 on a windswept, torrential night – they were thumped 5-0 in the second-leg.
"We were slaughtered over there," Dave Henderson remembers.
"The score was, sort of, kept down. I played really well – I have to throw that in there – and they took it easy on us in the second-half. It was 4-0 for a long time. Then, Tilo (Dave Tilson) tried to nutmeg one of their players and they got annoyed and went and got another one.
I got pissed off at the end. It wasn't taken as seriously as it is now. It was just a trip away. Everybody had planned where they were going afterwards and whether they were staying over. We were all part-time and you'd normally start off well and give someone a game for 20 or 30 minutes and they'd slaughter you in the end.
I'd had an unbelievable game. But I got really pissed off. I didn't enjoy it anymore. The professionalism just wasn't there to give them a proper game. And you had every chance of going out and people just making a fool of you. You were going to big stadiums and you knew you were better than the result."
Henderson's memories of that away trip remain as vivid as ever. Before a ball was kicked, Bohs knew they were up against it. It was damage limitation against a side who knew how good they were.
Up front was Christophe Dugarry. In defence was Bixente Lizarazu. And in midfield was Zinedine Zidane. All three had come through the club's youth academy.
"They made it look so easy and comfortable," he says.
"They wore all-white, a fabulous kit. We walked out together, through this really long tunnel in their old stadium. It was fabulous. The dressing rooms were in the far corner and you had to go all the way around and come out at the halfway line.
The previous week, the Dubs and Kildare got involved in a major fracas in the tunnel and we knew the only way we were going to get a result was to do something similar!
But even going in at half-time, their gear was still spotless. Not a bit of muck on their socks."
In 1993, Bordeaux ended up making it through to the third round of the Uefa Cup before eventual elimination to Karlsruher. But, their youngsters stepped up to the plate. They stayed. They were nurtured. They developed. And in 1995, under Muslin, everything was better.
By then, Dugarry, Zidane and Lizarazu had all been capped at senior international level and, more importantly, were seen as the future of French football. Richard Witschge – the blonde left winger – was also part of the side. The Dutch international had played in two World Cups and won back-to-back La Liga titles and the 1992 European Cup under Johan Cruyff at Barcelona. There was also a combative, bald centre-back – William Prunier – who would play two games with Manchester United while on loan there at the end of the year.
Back in '93, Dugarry had scored the decisive goal at Dalymount and Zidane netted in the second-leg. Both would feature prominently in the 1995 game too.
"It was some recruitment job done at Bordeaux at the time," Henderson laughs.
"They knew how good they were. Zidane had hair, Lizarazu was unbelievable at left-back – just up and down all day – and Dugarry was unbelievable in the air. It was seldom you'd come across someone from a foreign team who was so good in the air and he was brilliant. As he went on he scored a lot of headed goals.
At the time, there wasn't much between us and teams from Cyprus, Norway or Sweden. But their development plans took off for their leagues and we were left behind in terms of professionalism.
Nobody was sent out to watch Bordeaux. There wouldn't have been anything like that. Even at Pat's, you'd have (former assistant boss) Billy Bagster with French or Italian football magazines. Honest to God. That was as good as it got. We didn't know who to look out for. But we'd played Bordeaux a few years before so, to a certain extent, we knew what to expect."
Already up against it because of two losses in the group, Bohs put up a decent show against a glittering array of talent.
But Dugarry scored just before the break and Zidane delivered a moment of magic late on to seal a 2-0 victory.
"We still talk about those players even to this day," Henderson admits.
"Like, they talk about the great players and the great things they do. Well, Bordeaux had a free-kick at the School End in Dalymount, at the corner of the area and to the right. Normally you'd have a two-man wall. And Zidane shapes to whip it into the box and he's giving you the eyes. But he leaves his foot on the ball and drags it. And it went in off the near post. I'd never seen anybody do that before. You probably get loads of people doing it now but that's the type of thing great players do. They're creative and inventive. Those are the things you're not used to when you're playing in your own league."
For Bordeaux and Muslin, it was the start of a relentless European adventure. After their four group games, they beat Frankfurt in the round of 16, Heerenveen in the quarter-finals and Karlsruhe in the semi-finals. The format of the competition meant that the winning semi-finalists didn't meet in a decider but, instead, qualified for the first round of the 1995/96 Uefa Cup.
Having played all summer, the hard work had only started for Bordeaux. Still, quite inexplicably, Muslin pushed them well in Europe that season. And, though he left in the spring because of poor domestic results, the team made it all the way through to the final – memorably beating reigning European champions AC Milan in the quarters – before succumbing to Bayern Munich in the decider.
Though League of Ireland sides have enjoyed a string of high-profile European assignments since, Henderson believes the Bordeaux team Bohs faced three times in the mid-90s remains the best.
We changed the league around and become more competitive in Europe but we haven't come across anyone of that ilk since. Not that I can remember. Now, you wouldn't get a team with four world-class players that you're playing against until you get to the latter stages of a competition.
That team – they went all the way to the Uefa Cup final. For a side to go so far all the way from the early rounds was really unusual. But they had the young players coming through.
They were just a terrific team."
And Henderson feels that Muslin may take a moment, in advance of tonight's clash with the Republic of Ireland, and think about his trip to Dalymount a lifetime ago. A gifted set of individuals who came to Dublin and had to work hard to get a result.
"The class of a Serbian team or a Bordeaux team against a really up-for-it Irish side," henderson says.
"We probably could have got a draw at home when we played them in 1993. And probably deserved it. Tony Cousins hit the bar and we played really well. So, Muslin is probably well used to that Irish spirit that we talk about a lot and how it's capable of causing talented teams problems in Dublin. So, maybe those games against us are to his benefit."
Subscribe to The42 podcasts here: