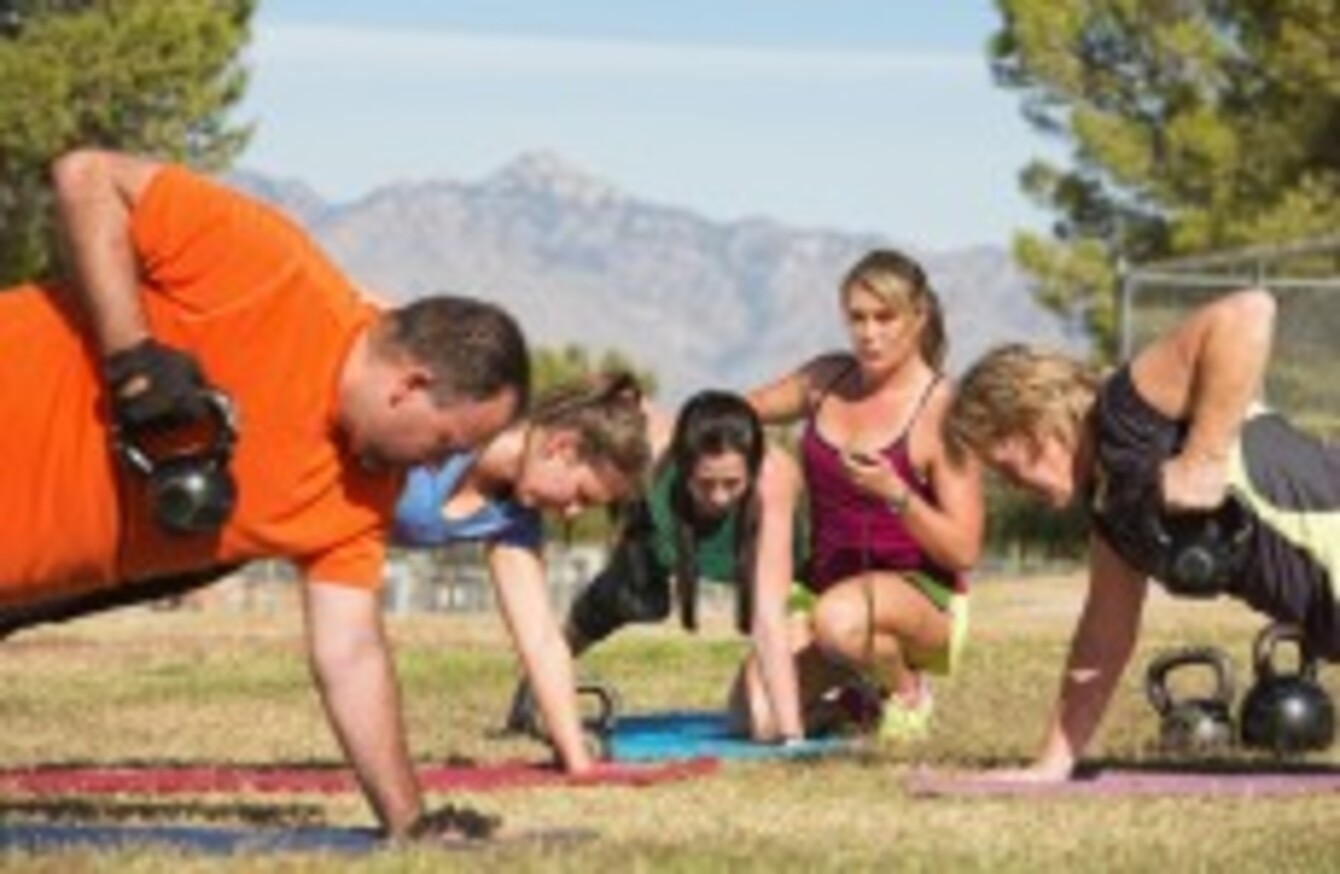 Kettle bells are often used in boot camps.
Image: Shutterstock/CREATISTA
Kettle bells are often used in boot camps.
Image: Shutterstock/CREATISTA
BOOT CAMP IS a mix of many forms and styles of exercises, planned around a group workout in an environment that allows the body to be fully challenged in order to achieve maximum results in a 60 minute session.
By the end of it you should be pretty whacked, but not so destroyed that you'll be turned off coming the next time.
So says David Branagan, owner FitnessBootcamp.ie, ExtremeBootcamp.ie and The Basement Personal Training.
If you're thinking of starting a new fitness class or training programme for the summer then you can do a lot worse than boot camp.
The classes are varied, they're often held outdoors and implementing many of the same exercises used in a circuits class, they're as hard as you want to make them.
Here are a few more things you might want to know about it before you sign up to a class.
If you're looking to fast-track your fitness or tone up within a designated time frame, there is no faster workout than boot camp.
"It's a kick-ass one-hour session which will leave your muscles aching but feeling awesome," says Branagan.
Most classes are between 60-70 minutes but depending on the instructor and the goal in mind, some classes run to 90 minutes.
Are the classes hard?
"The classes have been designed so beginners and advanced athletes can train side by side, we want people to progress week in, week out so the idea is each individual gives 100% of their best at each session. If you give 100% every single week your body grows stronger, gets leaner and your fitness levels keep on improving."
Who can do it?
"Boot camps are for men and women of all ages. We love when there's an even mix of both genders as it adds a fantastic dynamic to the training and also the banter is great."
Why should one do it?
"Fitness in general should be a way of life. Every single week I read a new article which proves that exercise is the best form of medication for the most serious of illnesses.
"From depression to anxiety to diabetes, heart disease and even cancer, studies have proven that 30-60 minutes of strenuous exercise every day is more effective than the leading medications offered by doctors.
"The most important thing is to do something you enjoy and that challenges you and boot camp is as good as anything for this."